30 Photography Business Cards for Professional Creatives
Reading Time:
7
minutes


Clients love a strong brand identity. Especially for businesses in the industry of making things presentable like photography. The photography business cards in this collection will help you build an image that your audience will trust and remember.
In a million-dollar market like this one, it's a good idea to make sure that your company has a visually appealing image from your photographer logo up to various branding assets.
A photographer business card can help you reinforce your brand identity and, at the same time, help you generate leads. It has a dual purpose that many small businesses will find helpful. Having one will help you get closer to your business objectives, be it improved brand awareness or quick information dissemination.
We prepared this roundup to help you explore your options when it comes to professional business cards for photographers and photography companies. Take a look at the overview below.
With a real estate photography business card, you can let your potential clients know that you are skilled in presenting different property types. At the same time, it can also show them how they can learn more about your services.
Combining drawings of a camera and a home is a great way to start conceptualizing your design. But you can make it even better by adding details that will let people know more about your brand.
For example, if you specialize in drone photography and videography, you can incorporate that into your design. What this does is signal to your target audience that you offer the services they are looking for.
Make sure that you're not overloading your card with details, though. Otherwise, you may end up with an oversaturated design that's hard to understand.
This section has more ideas for you below.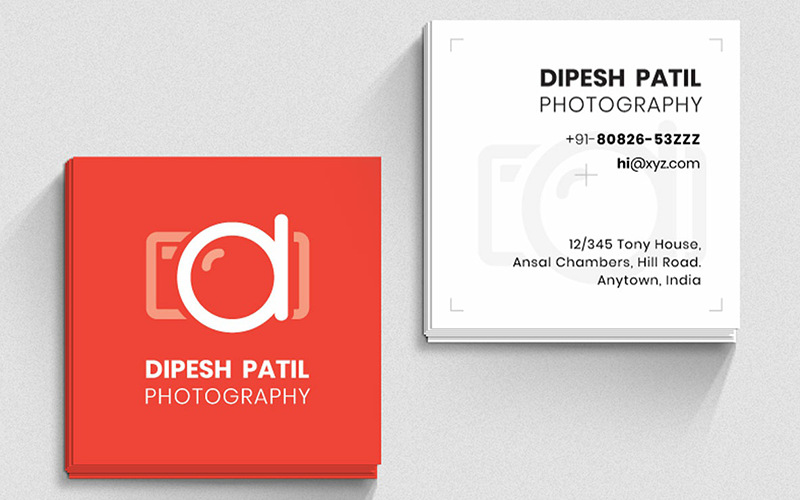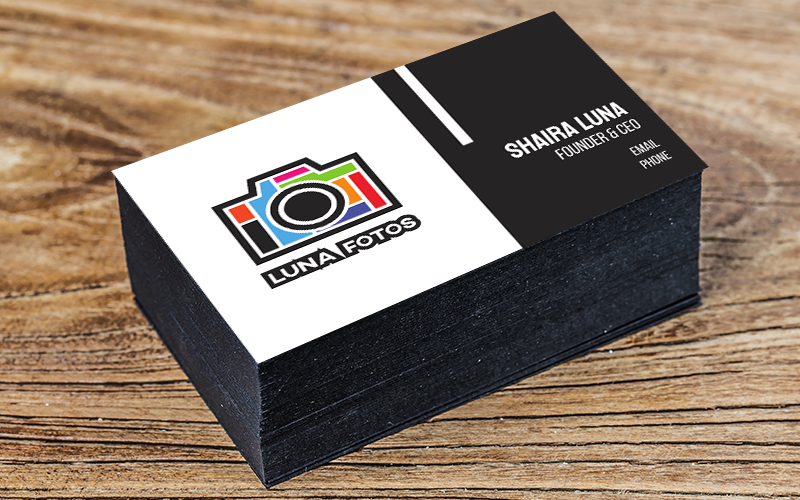 Colorful Photography Business Card by BrandCrowd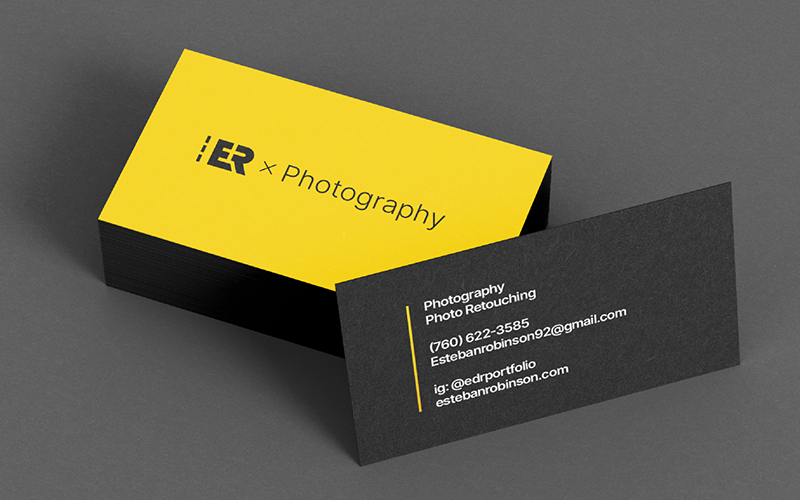 ER Photography Business Card by Vincent DiBernardo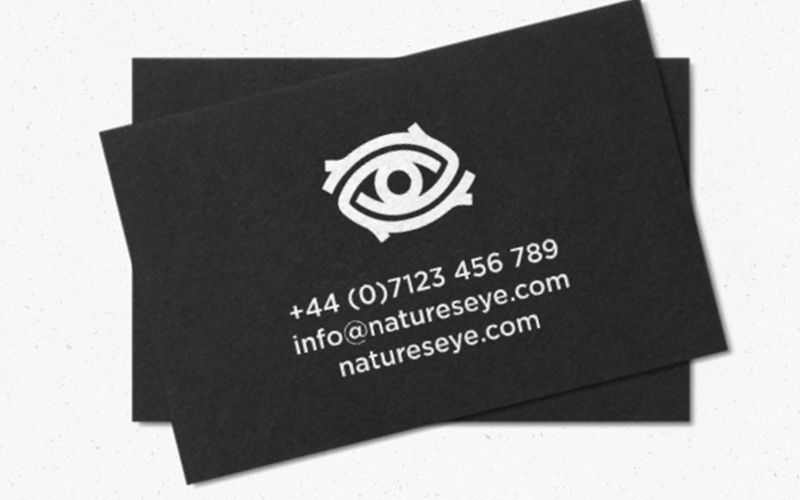 EYEVY 1 by Connor Fowler (.com)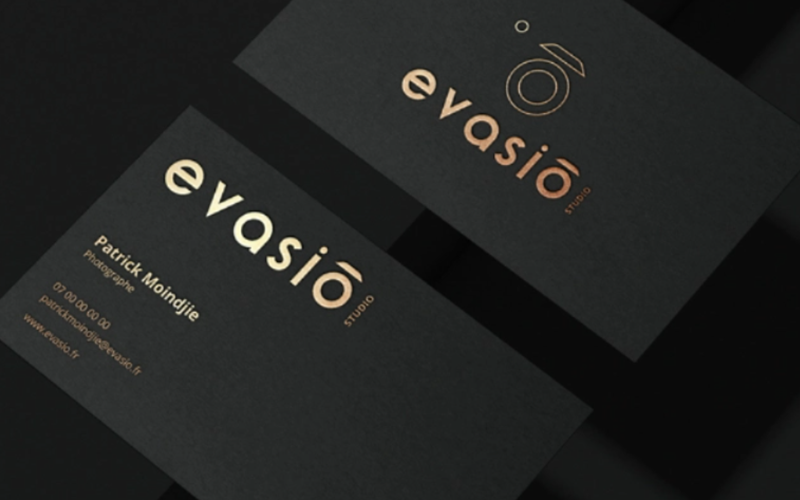 Gold card business "Evasio studio" by kevin neron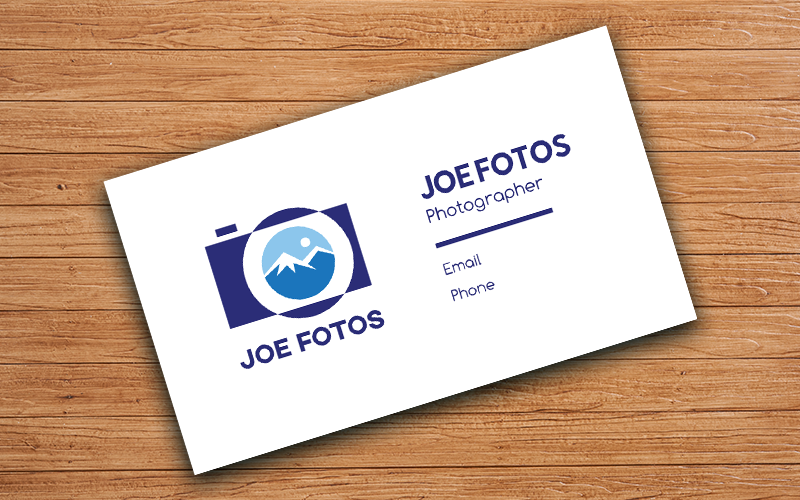 Mountain Photography Business Card by BrandCrowd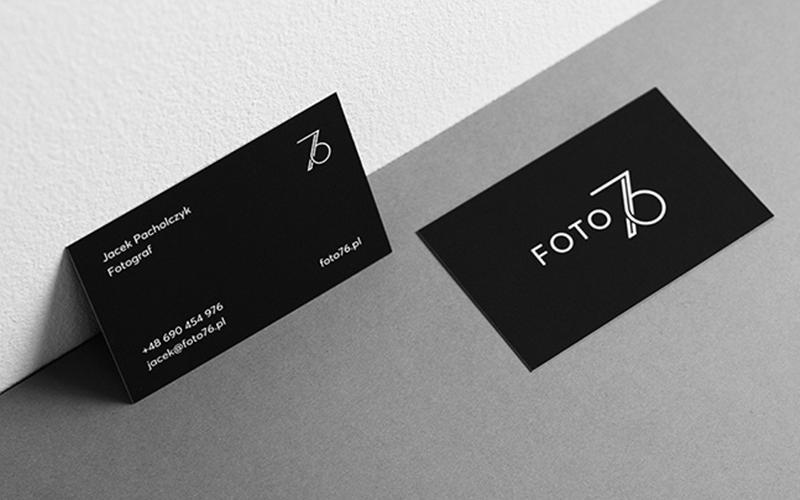 Photographer Business Cards by Dominik Pacholczyk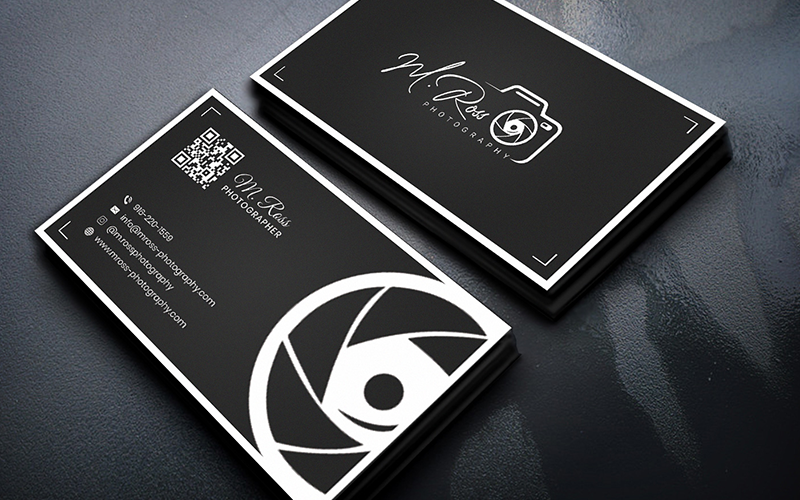 Photography Business Card Design by Sandaruwan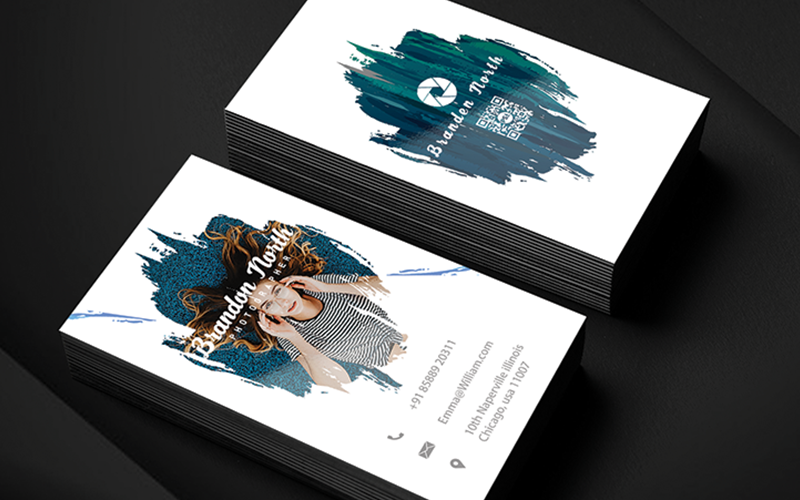 Professional Photographer Business Card by Salmaan Ansari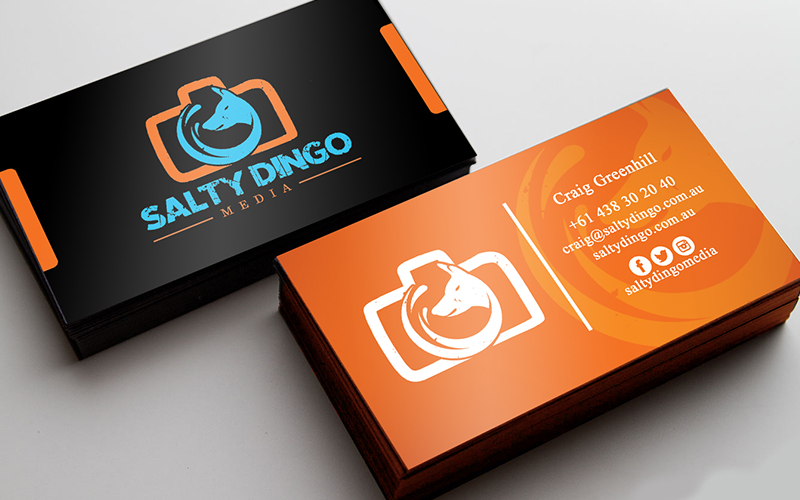 Pro tip: Try different materials
You have a ton of options when it comes to card stock. Picking the right one can make a world of difference to your design. Glossy, matte, or plastic are some of the most common materials to use when printing your cards. Make sure you explore your options and see which one best fits your brand.
People want the best when it comes to their big day. A wedding business card will help you assure them that you can provide high-quality photography service for them.
Design elements like floral patterns, heart shapes, and illustrations of happy couples are some of the most informative symbols that you can put in your design.
But you can also use other elements like color to help embody this. It helps to use color psychology to gauge what colors you should put in your design. For example, you can use subtle shades of red, pink, and yellow to evoke a romantic and joyful mood.
Find more concepts below!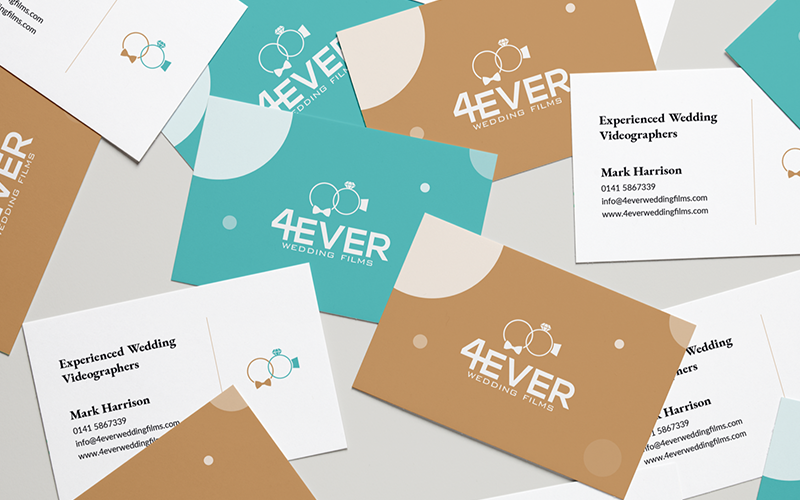 4Ever Wedding Films Business Cards by Stephanie Post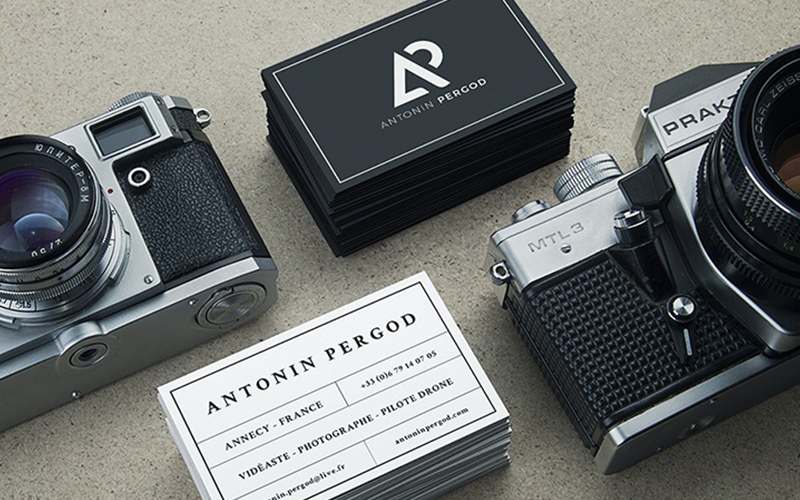 Antonin Pergod – Stationery by Raphaelle Monvoisin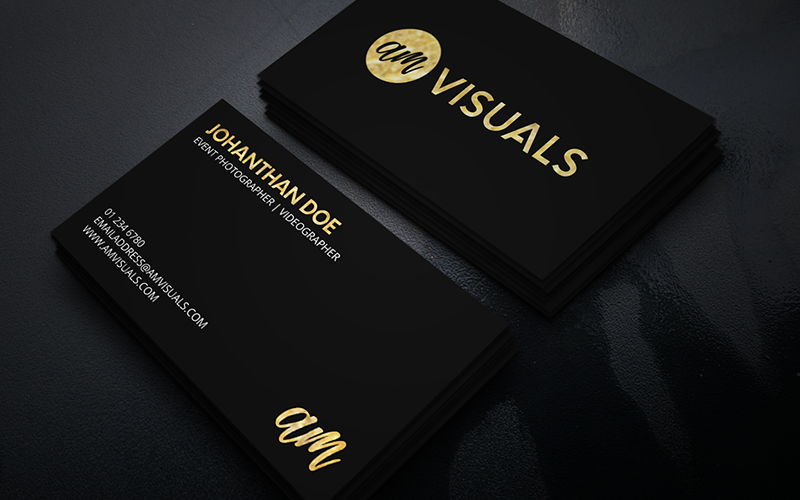 Business Card for my Photography by JK18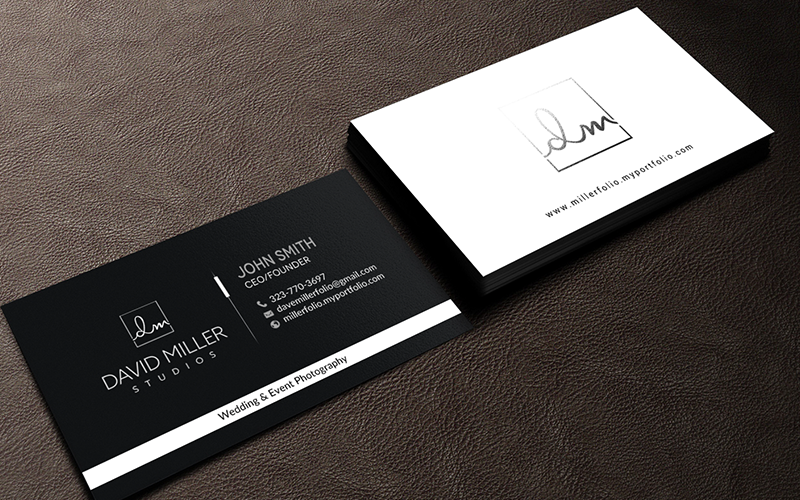 David Miller Studios by chandrayaan.creative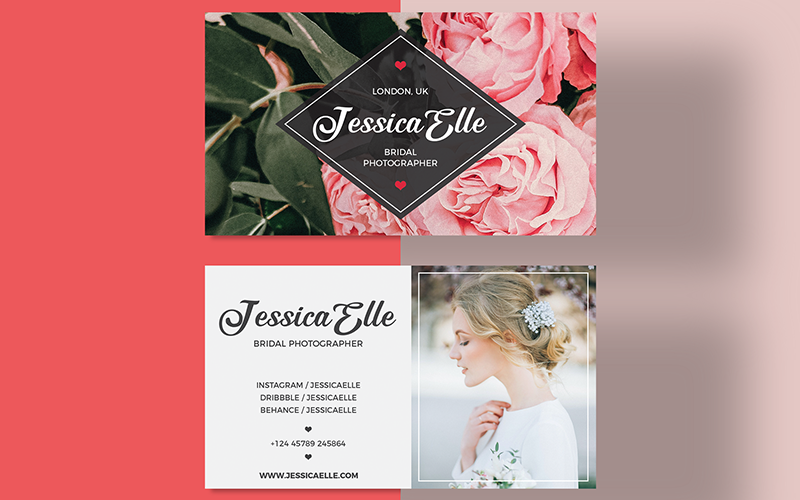 Free Bridal Photography Business Card Template by Jessica Elle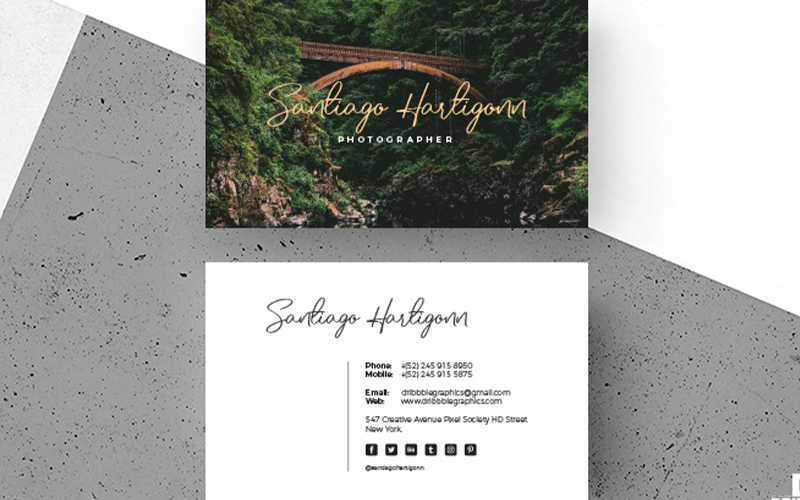 Free Modern Photographer Business Card Template by Jessica Elle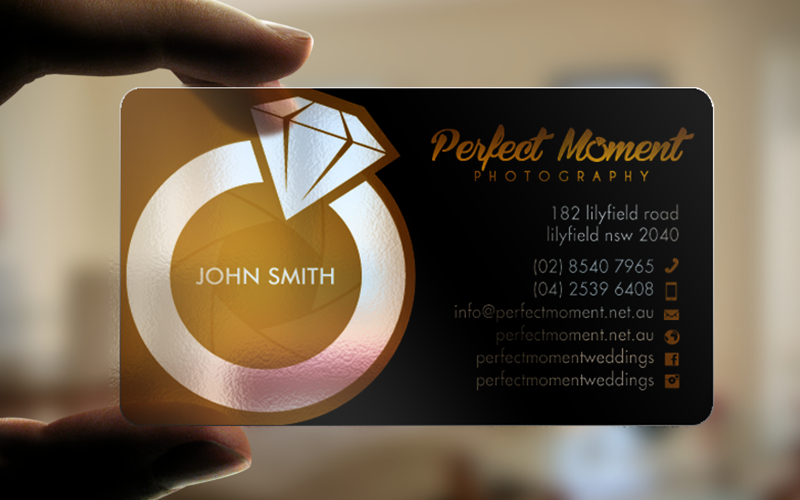 New Stage Media PTY. LTD by chandrayaan.creative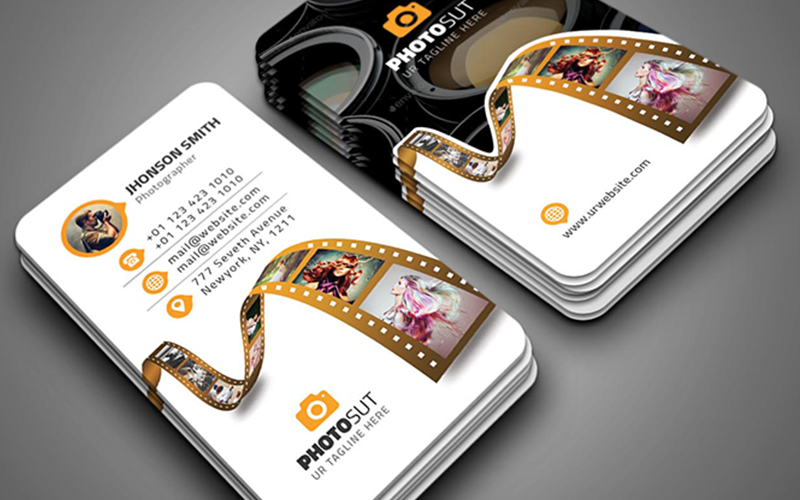 Photography Business Card by madmindgraphics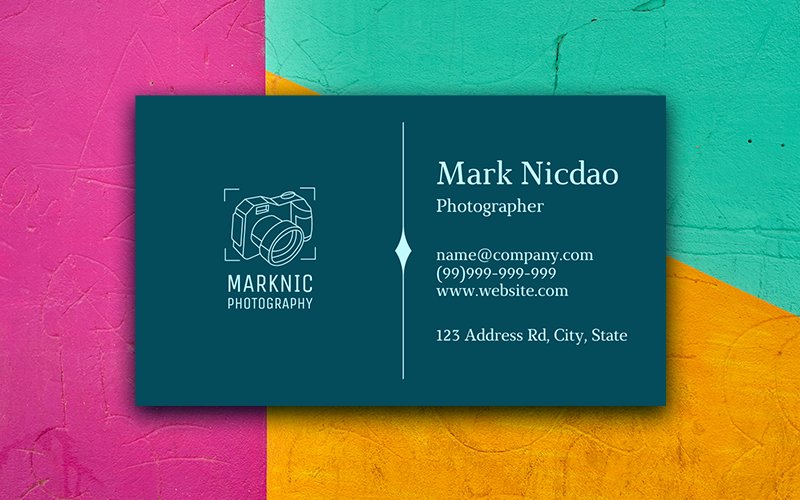 Photography Camera Business Card by BrandCrowd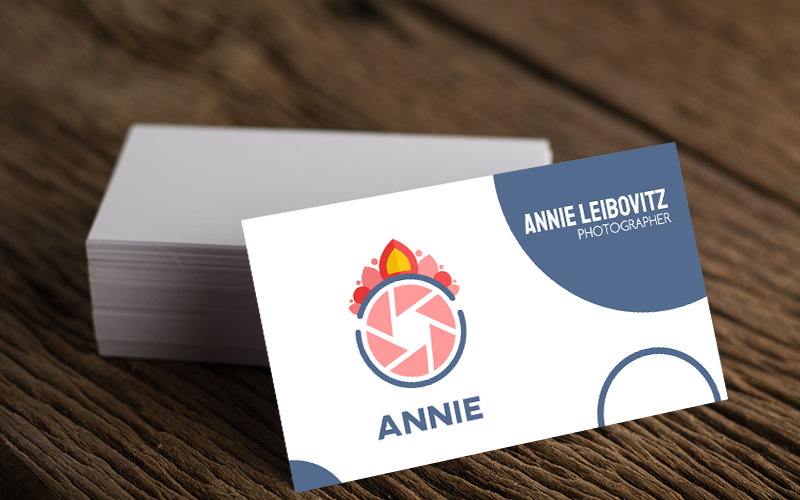 Princess Photography Business Card by BrandCrowd
Pro tip: Include important details
Do you know what to put on a photography business card? Make sure to determine which details you need to share before you start designing. For starters, a logo, name, job title, contact number, email address, and website are great launching points. This will give your recipients enough information to work with should they be interested to learn more about your company.
Stand out from other photographers with a unique business card. You can put a spin on basic ideas and avoid having a calling card that looks just like other business cards. This way, you can become memorable and develop a distinct identity.
Put a spin on your design by changing the shape of your business card. Shapes like circles, squares, film reels, or polaroid shapes are a few examples of shapes that photography businesses can use. You can pick the best one that complements your brand personality and specialty.
Find more ideas in this section.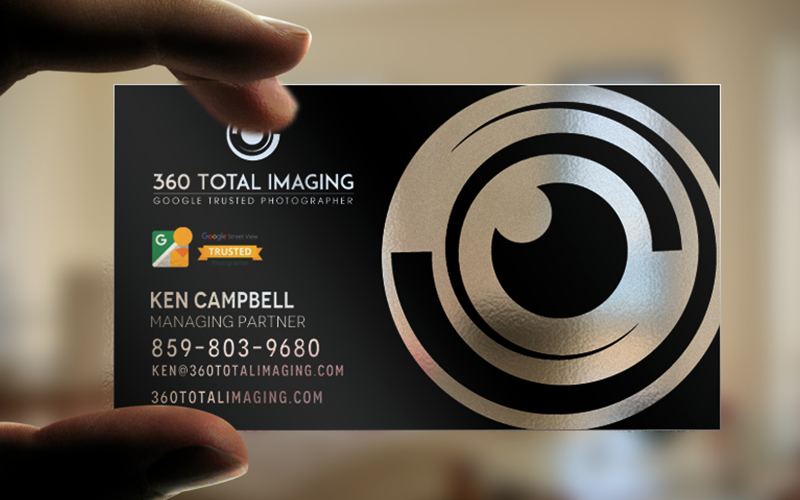 360 Total Imaging Business Card Design by chandrayaan.creative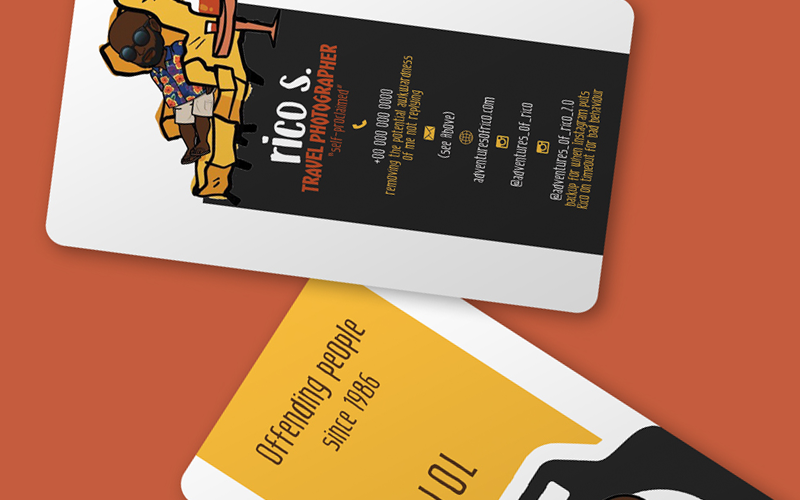 Adventures Of Rico Photography by Riz'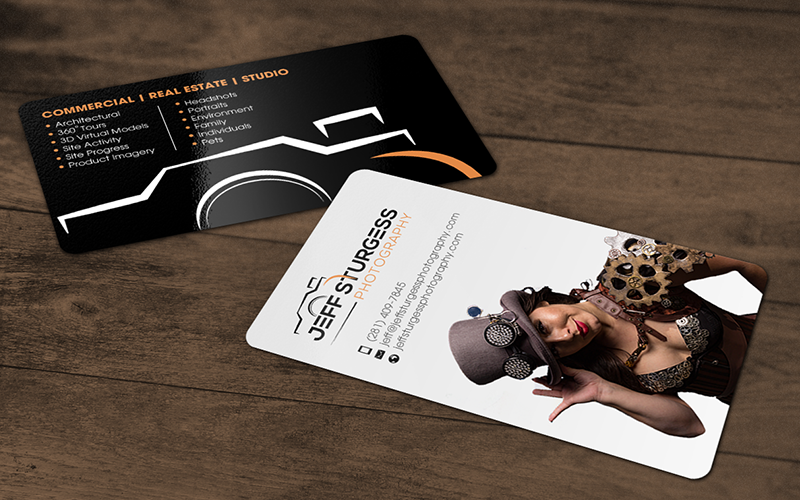 Jeff Sturgess Photography LLC by chandrayaan.creative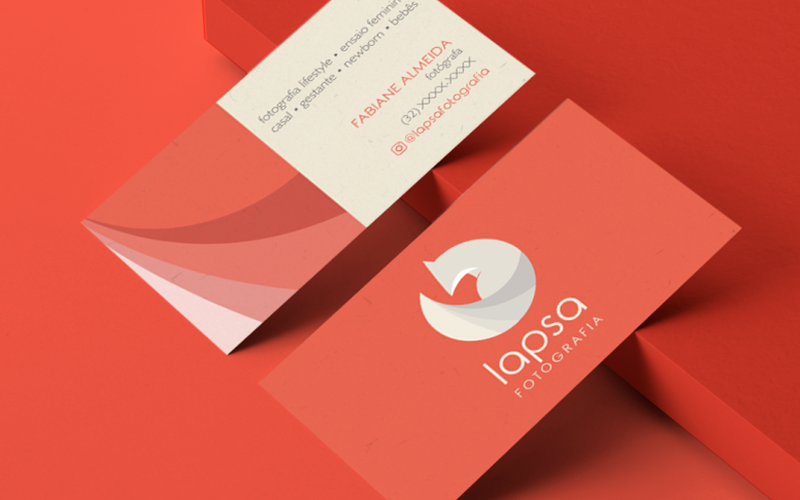 Lapsa Photography by Alyne Rocha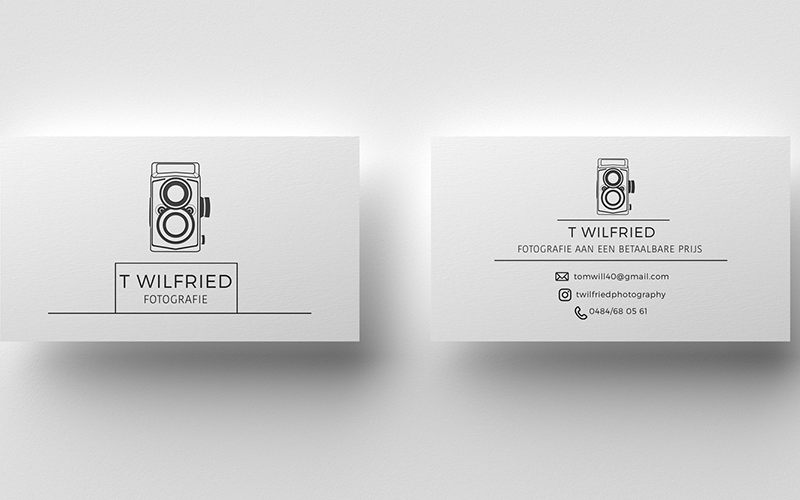 Logo & Business card design by 90FOUR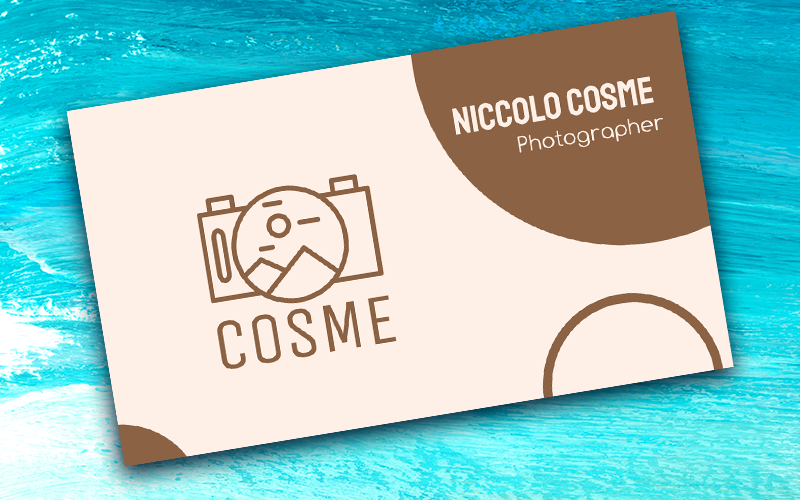 Outdoor Camera Photography Business Card by BrandCrowd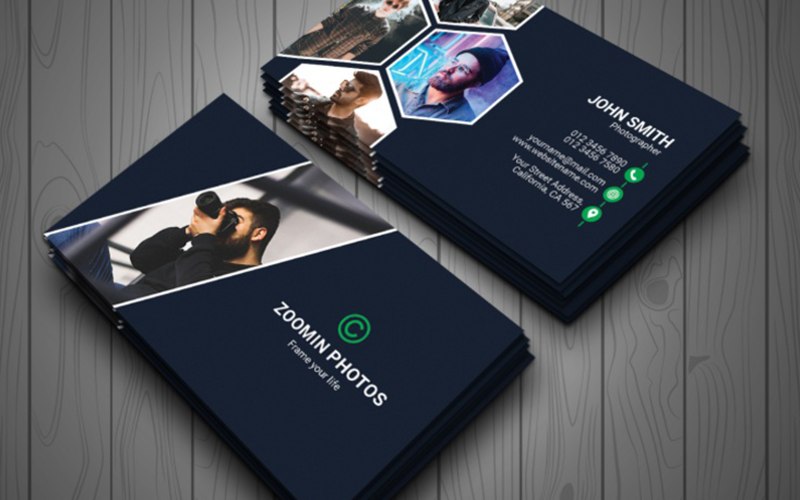 Photography Business Card Design by Forhad Hussain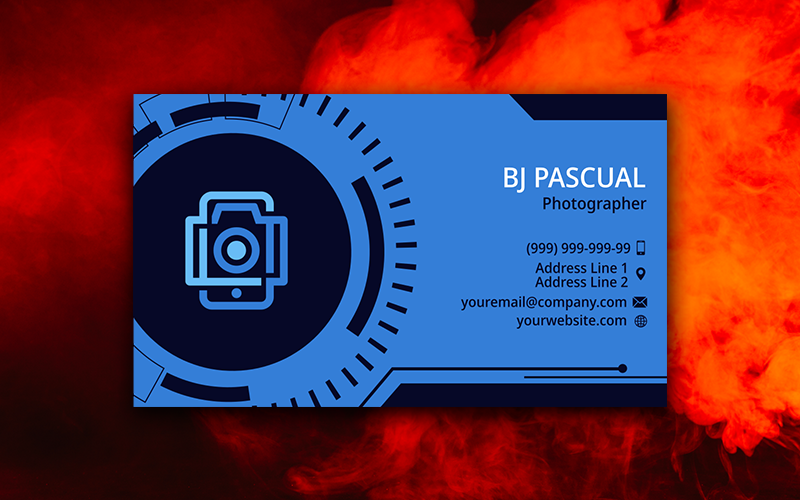 Photography Gadget Business Card by BrandCrowd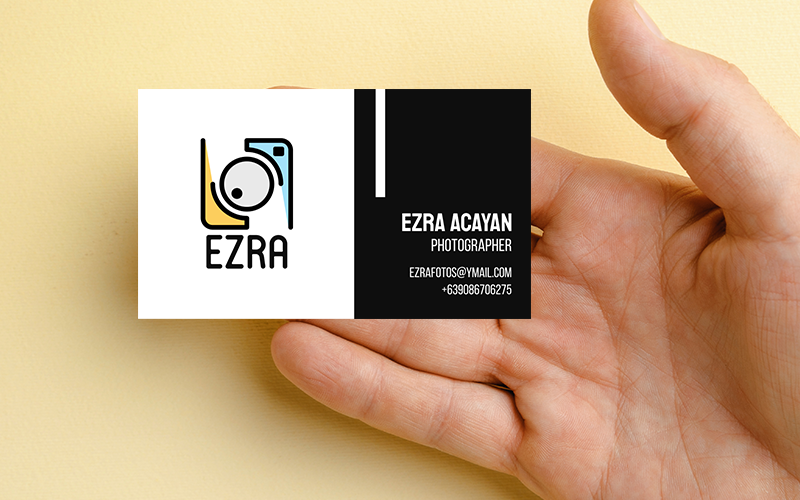 Photography Illustration Business Card by BrandCrowd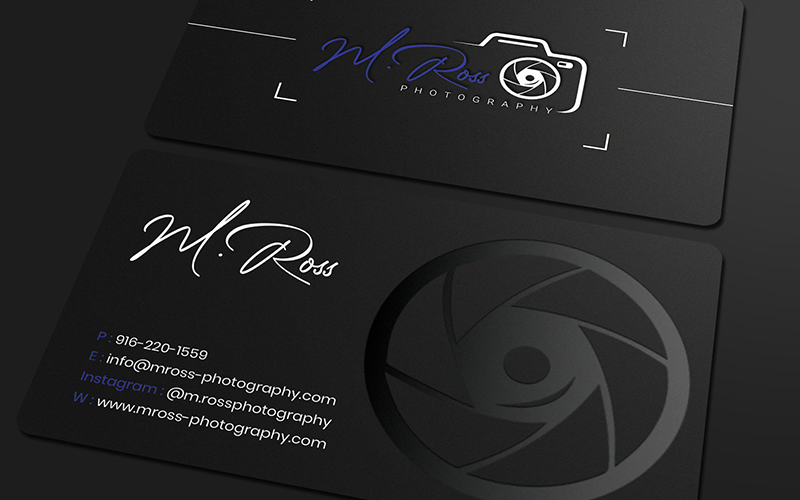 Professional Photography Business cards by Sandaruwan
Pro tip: Add a QR code
In case you didn't know, a QR or a Quick Response code is a barcode that people can scan using their phones to access documents, files, or websites. You can include this in your card and lead your audience towards your portfolio or website. This is another way for you to generate traffic and provide a sample of your work.
Conclusion
The business cards in this list can fit a whole array of brands. It's a valuable asset for brands, whether it be artistic business cards or commercial business cards. You can use these ideas to propel your career as a photographer and broaden your reach.
When you're ready to bring your vision to life, learn how to source a business card design below.
The DesignCrowd business card design contest gives you the chance to work with a community of freelance designers. Expect to receive up to 50 design bids to choose from. Or you can also work with a designer you prefer the most. It also lets you run flyer design contests and other graphic design contests. Learn more about it today.
Alternatively, you could use the BrandCrowd business card maker to create a design of your own. Browse its library to find the design you like the most. Then you can head over to the editor to personalize the design and make it yours. It also has other makers for Facebook ads, invoices, and other brand collateral to get your business running. Try it right here.
Read more articles on design and inspiration below: