Create a Gaming Logo for Your Team or Clan
Reading Time:
4
minutes


Do you have THE dream team haven't launched it because you don't know how? Have you been browsing gaming logos, looking for inspiration? Are you looking for resources to finally get a gaming logo? Are you looking for ways on how to create a gaming/ esport logo for your team? If the answer to all of that is 'YES!', then you have come to the right place! BrandCrowd's logo maker can help!
Creating your gaming logo is not hard or complicated at all. Basically, all you'll need to do is:
1. Enter your business name and related keyword on the starting page to generate logos ideas.
2. Browse through the results and choose the best one for you.
3. Customize the logo according to your desired design. You can add color, shapes, and symbols to the logo idea of your choice.
4. Download the logo and voila! You are done!
To give you an idea on how to create a gaming/ esport logo, below is a step-by-step guide to help you out on your first try.
Discover your logo.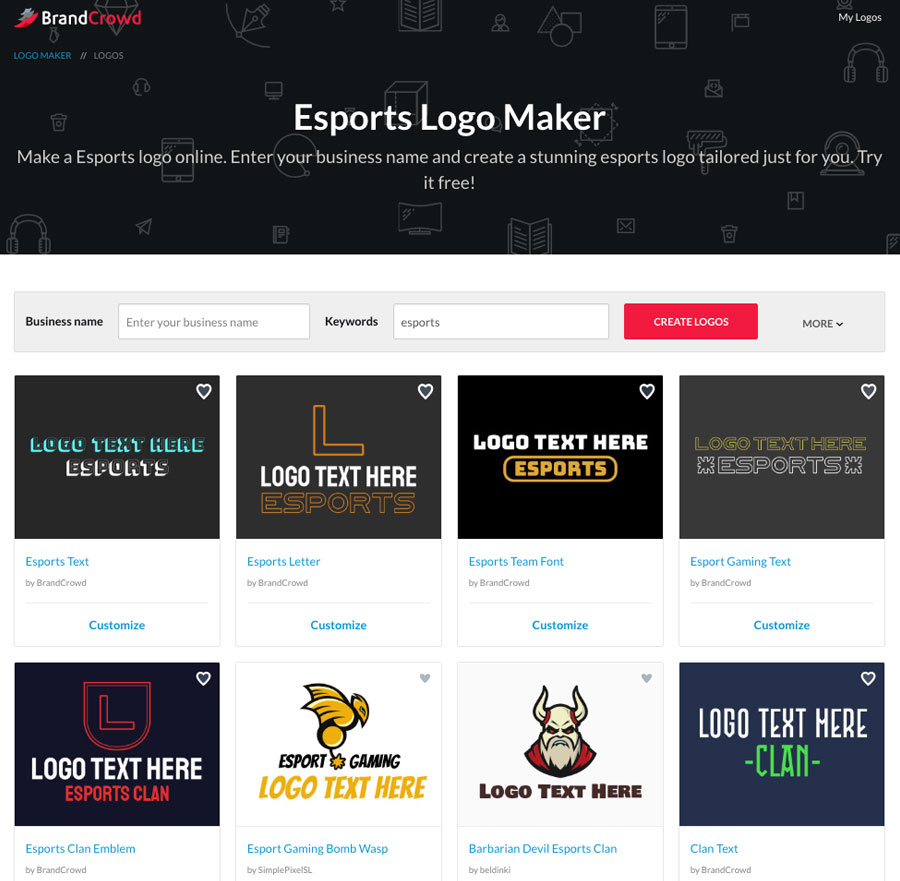 On the homepage, enter your team name on the 'Business Name' bar and click the red button for 'Make Logos Now'. Another option is to search by keyword on the bottom portion of the page then click 'Search Logos'. Once the keywords are completed, designs after designs will be displayed on the screen. Take your time scrolling through them until you have narrowed it down to your favorites.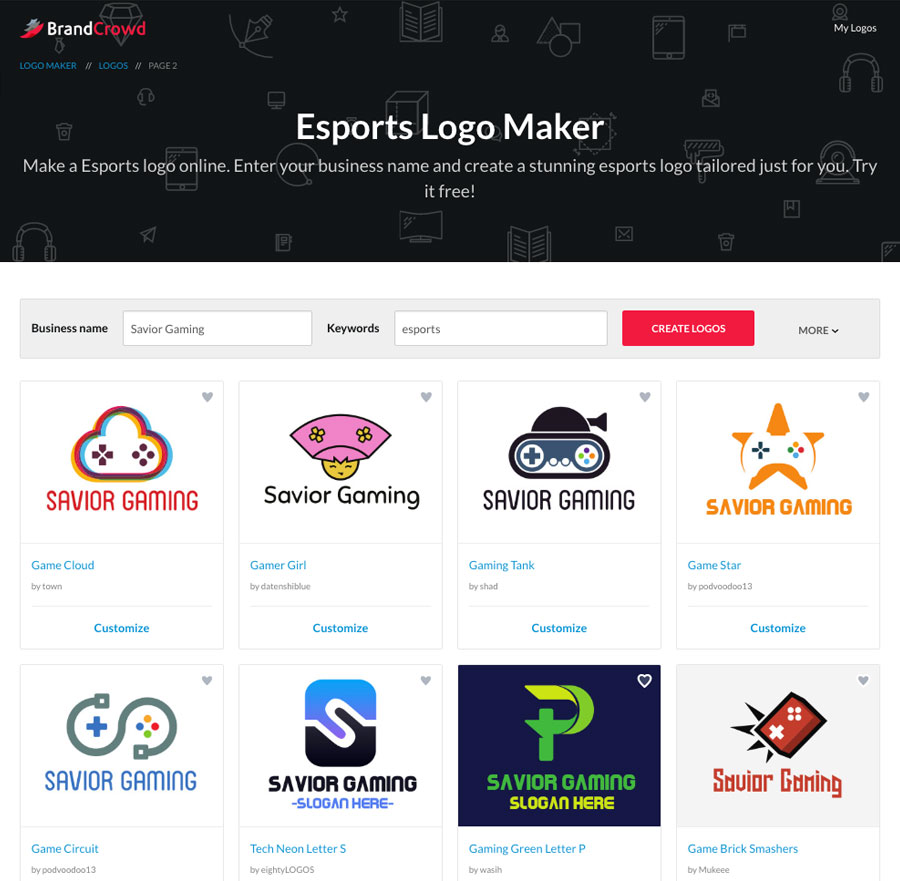 Remember that the more specific your keyword is, the more specific the designs are. An example is our team name: 'Savior Gaming'. With this sample business name, the designs have been narrowed down to specific images like console and other modern designs.
Gaming/ esports logos are usually represented with fierce warriors and monsters. Our favorites are those of a Viking, warrior, dragon and bear.
Pick a logo and start customising.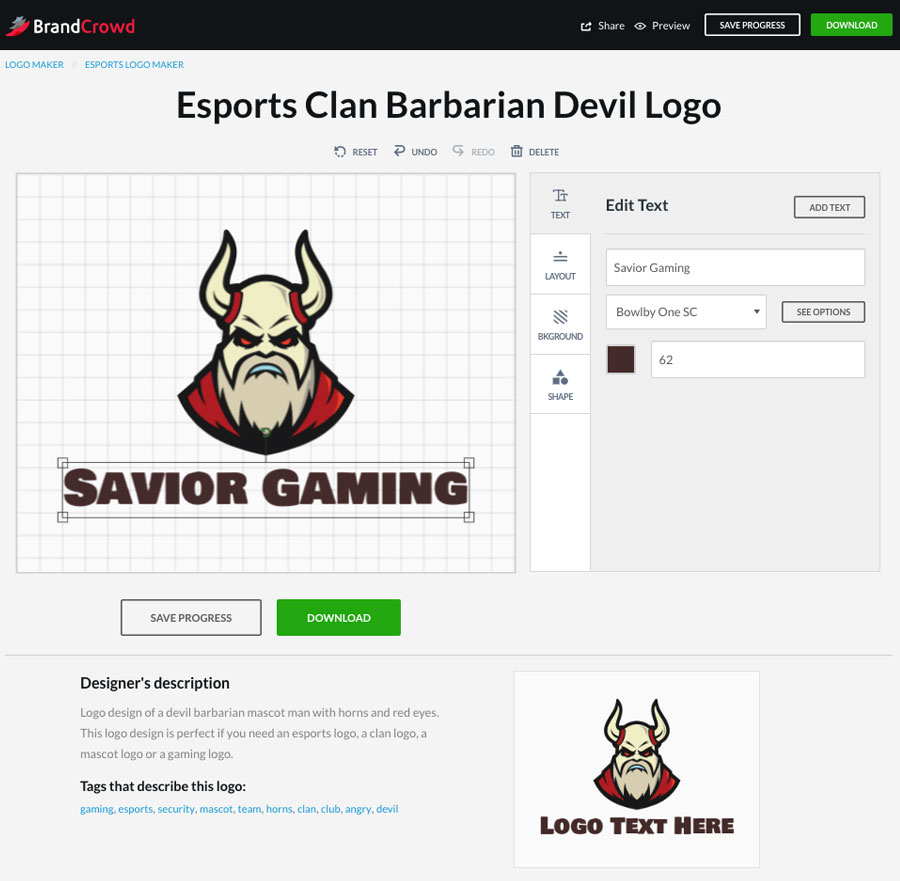 Now you can customize your chosen design according to your preference. BrandCrowd offers several tools to help you with logo designing, including text, layout, background and shape options.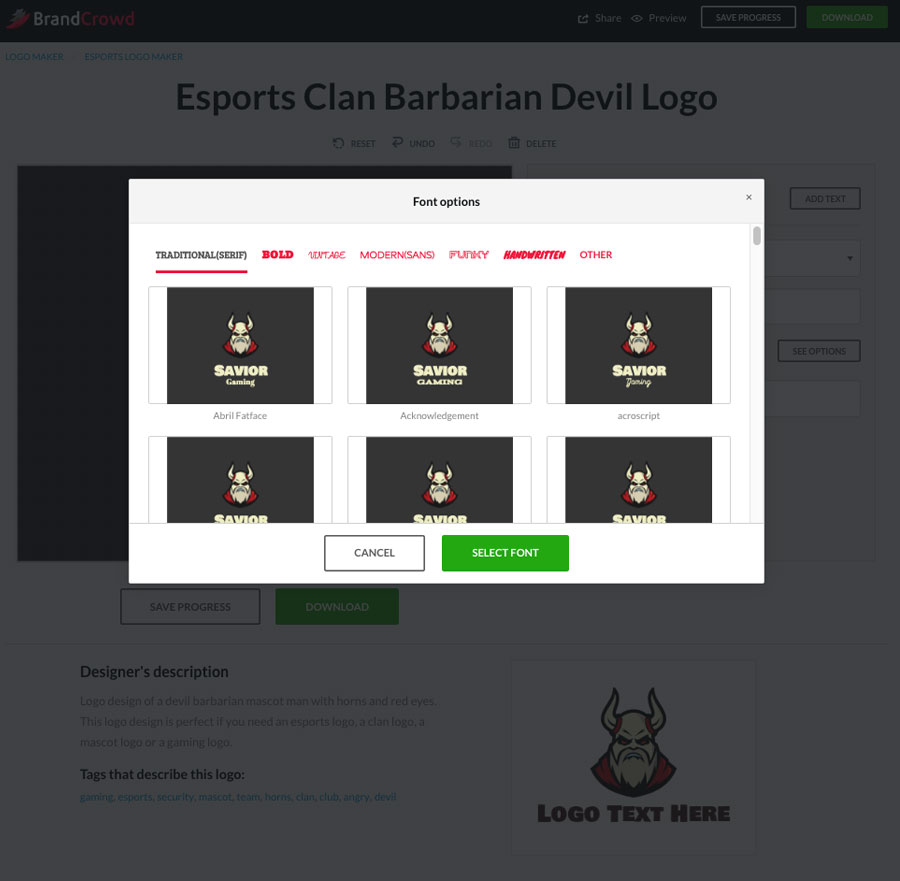 If the current background color, layout and font doesn't work for you, you can play around with the editor as you please. You can add text and change the font and its color by using the drop-down list on the 'Text' category or by clicking the 'See Options' box on the editor. A pop-up box will appear with the variety of font options to choose from.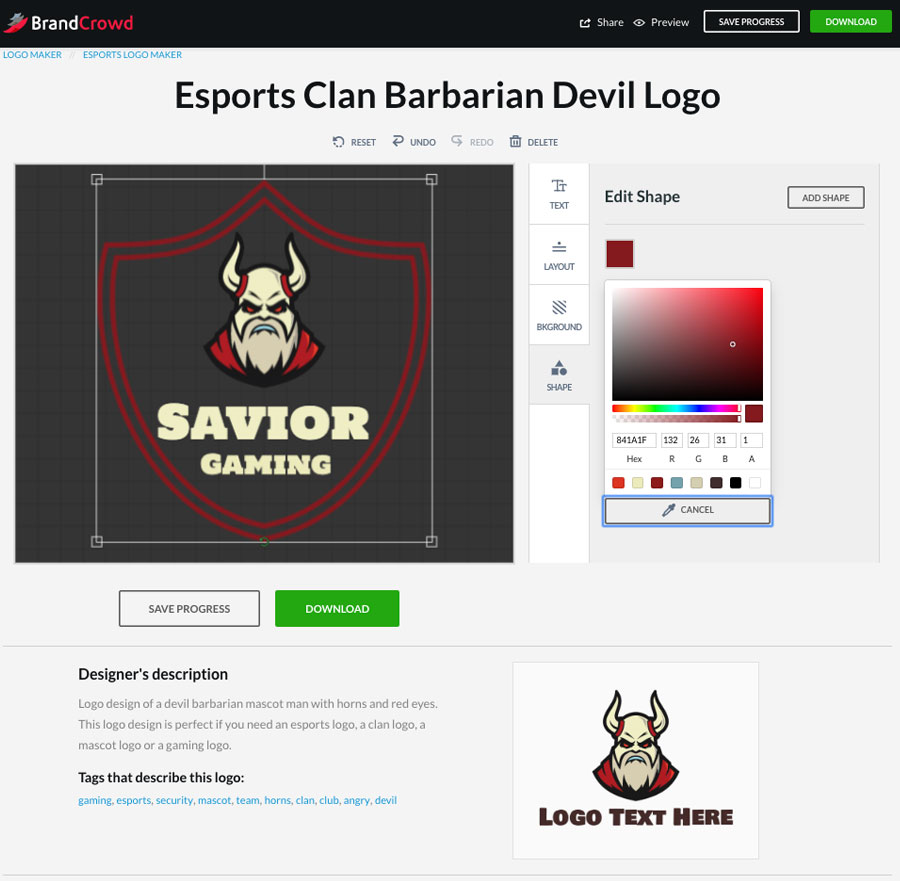 If you want to try out different looks, you can add shapes and change the layout. When adding shapes, simply click the 'Add Shape' box and a pop-up of shape options will appear. Click the shape you want and combine it with your current logo design. You can edit the colors too to compliment the design.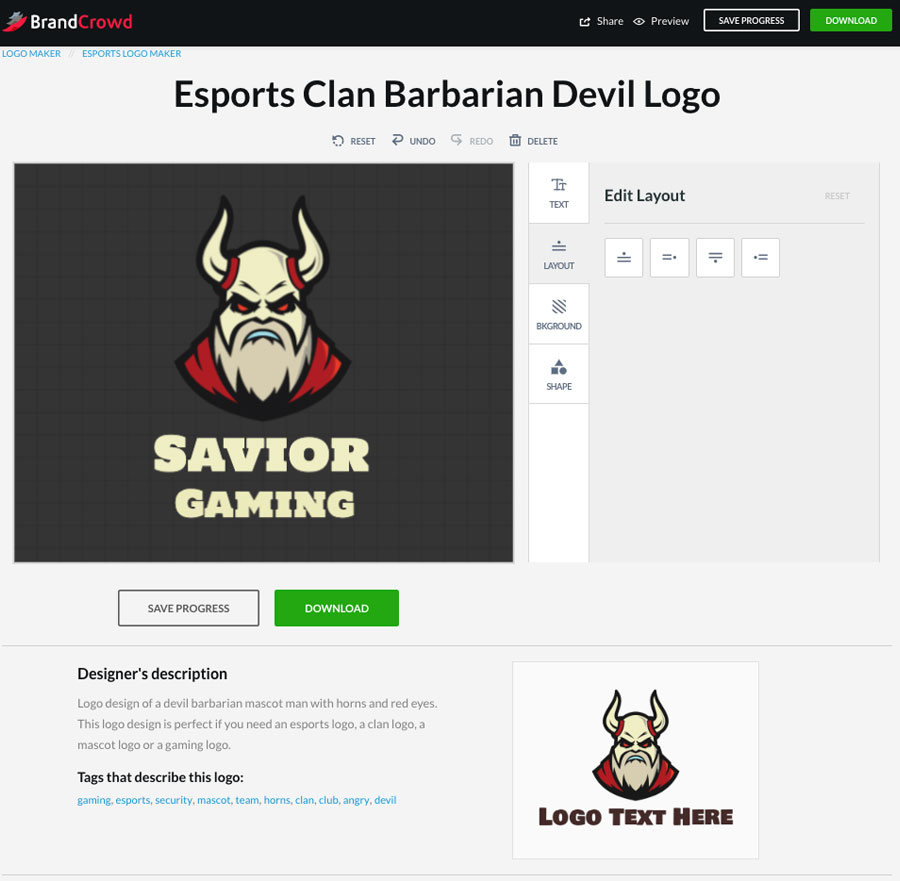 If it doesn't work for you, change the layout by clicking on 'Layout' and selecting from the pre-set layout. Otherwise, you can just move it around.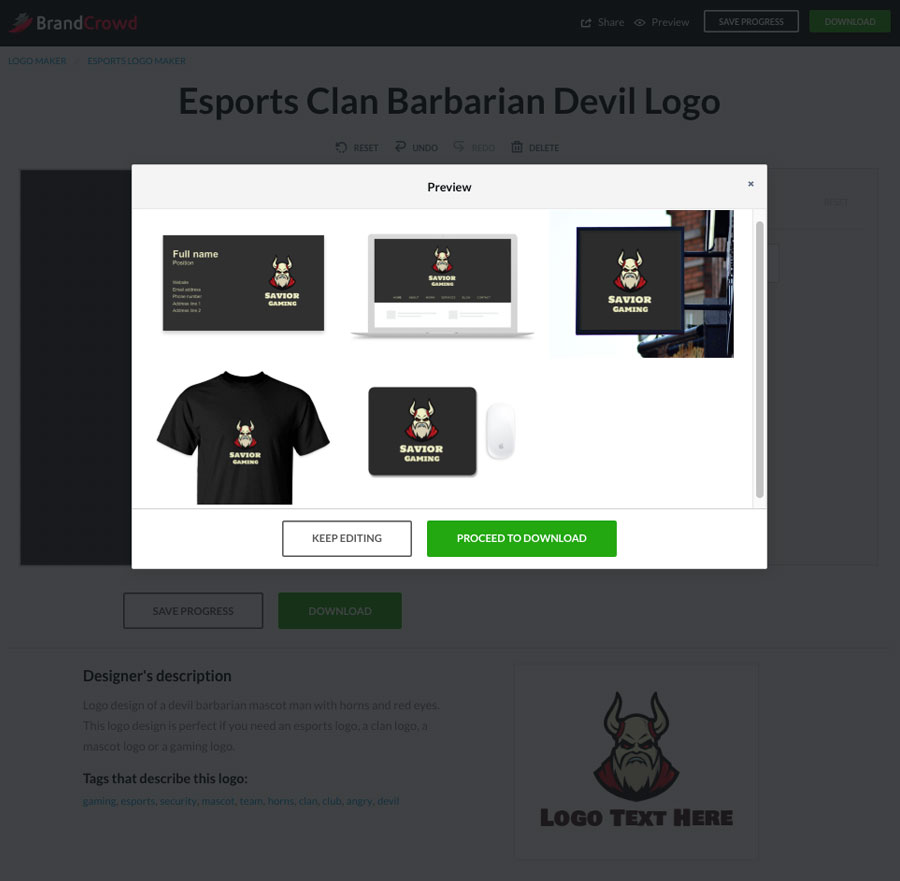 If you are curious on how the logo will look on merchandise items, click the 'Preview' button on the upper right side. A pop-up of image previews will be shown.
If you want to sit on it before downloading, simply click 'Save Progress'. You'll be required to enter your e-mail address to let you get back to it later. If you have already decided to get the logo, click 'Download' to complete the process.
Buy your license.
When purchasing the rights for your logo design, you have two options: buy the Standard License or the Exclusive License. Buying the Standard License means that the design will remain property of BrandCrowd and will be available for sale to other clients.
The Exclusive License, on the other hand, gives the client exclusive rights to the design, meaning it will not be sold to other clients.
For more information on the licenses, feel free to check out BrandCrowd's Client Contract.
Inspiration.
If you need more ideas for your logo, you can also check out these 5 cool logo designs that you can customize and own right now!
2. Red Dragon Mascot Logo Maker