How to Get a Modern Logo Design and Become A Big Brand
A modern logo is often identified with a set of similar characteristics. This includes easy-to-understand symbols, original patterns, simple designs, overlapping colors and presence of geometric shapes. It is not a new design technique generally speaking as it refers to a specific era that dates back from the 1900s. Regardless of the dates when it is referred to, modern designs have a specific look that differentiates it from the rest of the logo style.
While not every business type will work well with a modern logo, it is safe to say that most big and popular brands are sporting a modern logo design and are very recognizable because of it. Some of the famous brands today including Google, eBay, FedEx, and ABC are using a modern logo to represent their business. They all have the same simplified style as well as a clean and minimalist design.
Most, if not all, entrepreneurs will want a logo design that is memorable and unique. After all, that is generally what a logo is used for. A modern logo can be used everywhere, in every business, no matter what industry. It is generally up to the logo designer on how to incorporate it into the brand or business name.
If you are looking at a modern design as your business logo and don't know where to get one, worry not because we have an amazing 'Do-It-Yourself guide for you. We are going to walk you through the process of creating a modern logo design using BrandCrowd's logo maker tool in 3 easy steps:
Step 1: Generate logo ideas.
Step 2: Choose and customize your logo design.
Step 3:. Download.
It is very easy and simple!
Now, let us take a closer look at these processes:
Step 1: Generate Logo Ideas
BrandCrowd's logo maker has thousands of premade logo ideas that up for taking. It's hundreds of keyword ideas mean that you'd have plenty of options to choose from.
First is to generate logo design from BrandCrowd's modern logo maker by entering either the keyword or your business name on the text box.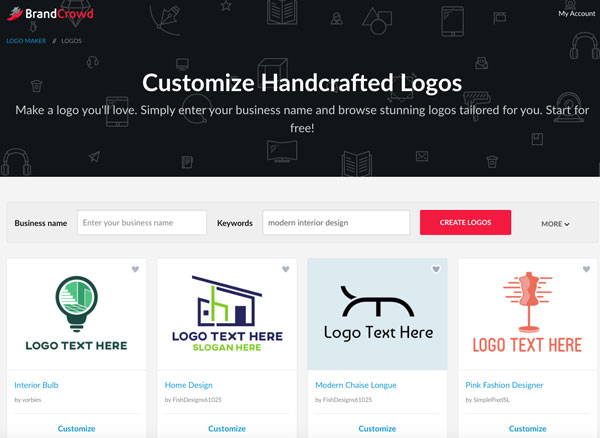 The logo maker will generate several logo ideas for you. Scroll through the design and choose your desired design.
In the example above, we have added a new keyword which is interior design since the 'modern' keyword generated lots of logo ideas for various industries or niche.
You can also view our famous logo maker for more options of modern-related logo designs.
Pro Tip: You can add more keywords to your search box to narrow down your results. This will also give you more specific details on the design for your business.
Step 2: Choose And Customize Your Logo Design
Once you found your logo, click it and you will be taken to the customizing page.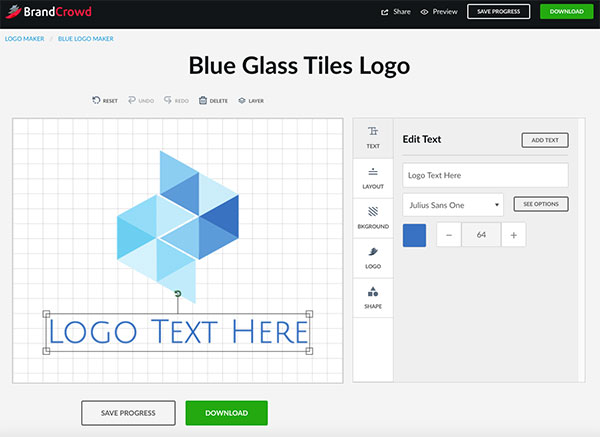 On our above example, we chose the Blue Glass Tiles Logo and our example business is for modern home interior designers.
There are several categories on the customizing features of the logo maker. You can edit the text, layout, background, logo (for the color only) and the shape.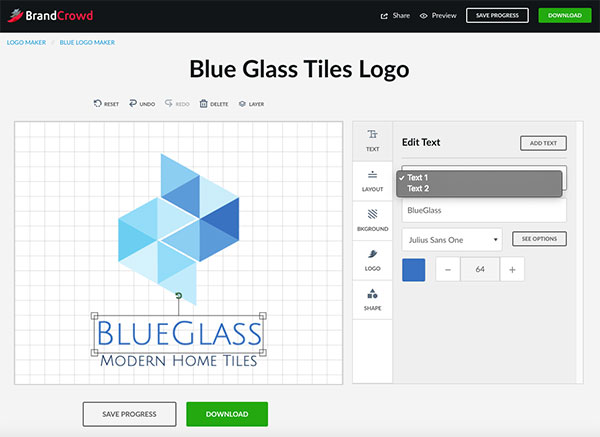 If you have a tagline, simply click the 'Add Text' button. You can edit the text on the design at the text box only.
If the font style doesn't fit the image you have in mind, you can look for more options by clicking on the 'See Options' button right beside the font style. A pop-up window will appear for a preview of the font option.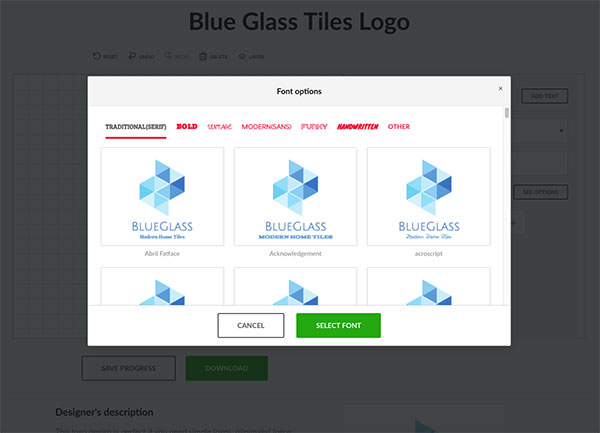 Scroll through and select the font style you like and click 'Select Font'.
The layout of the logo can also be changed if you are not happy with the current layout. You can move the text and the logo around on the canvas until you get it right.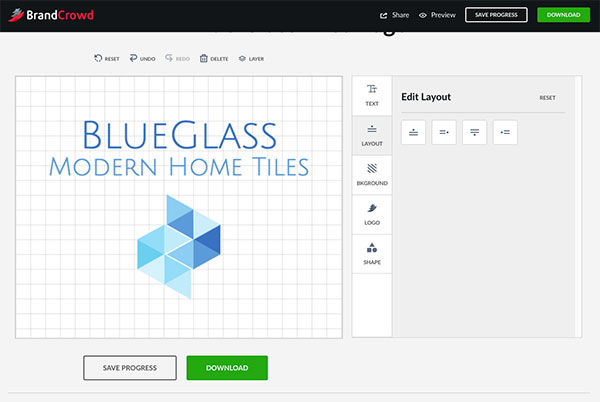 Similarly, you can make the text and the log bigger or smaller depending on your preference. If you are not happy with the output of the layout, click 'Reset' on the upper left corner.
You can see a preview of your modern logo by clicking on the 'Preview' button on the upper right corner of the website. This will show you how the final logo will look on selected merchandise and your website (if any).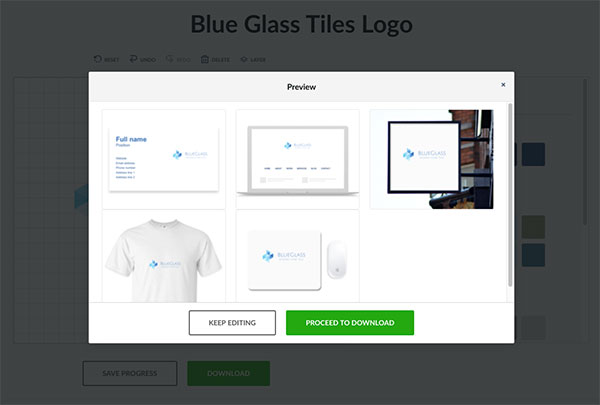 Pro Tip: You can revert to the original design by clicking on the 'Reset' button on the upper part of your canvas. An 'Undo' button is also available for smaller changes or deletion on the design you have made (example: color or font style).
Step 3: Download
Once satisfied with your design, you can now opt to download your logo design by clicking on the 'Download' button. Otherwise, simply click the 'Save Progress' button and then input your email address in the text box. This will send you a copy of the draft and you can go back to it later on.
If you are ready to download, you will be given the option to buy the 'Standard Licence' or the 'Exclusive Licence' for the logo.
The 'Standard Licence' gives you the right to own and use your designed logo for your business. It does not, however, give you exclusive rights to the design. This means that the raw design will still be available for other clients to use.
The 'Exclusive Licence', on the other hand, gives your exclusive rights to the logo you have designed as well as the raw design. This means that the design or template will no longer be displayed on the BrandCrowd logo maker tool and will not be available for other clients to use.
For more details, you can check out our Client Contract.
Modern Logo Design Inspiration For Your Brand
If you are ready to take on the challenge of creating your very own logo, here are our top picks for you!
Modern Elephant God
Modern Builder
Modern Spike Polygon
Modern Red H
Green Modern City
What are you waiting for? Work on your logo today!