Logos of Highly Paid DJs Worldwide
Reading Time:
9
minutes


Ready to get hyped with fresh new beats? Check out this list of highly paid DJs. Get to know how they got famous, what type of music they mix, and their iconic logo.
Get inspired and use our logo maker to create your DJ music.
What's a DJ?
When you enter an event, you hear the loud, upbeat music that makes your body want to move to the beat. That's a PART of a Disc Jockey's (DJ) job description.
Coined by Walter Winchel, an American radio commentator in the 1930s, DJ has become a household term in today's music industry. Later in 1943, Jimmy Savile, a radio DJ, hosted the first DJ dance party by playing jazz records in the function room of the Loyal Order of Ancient Shepherds in Otley, England.
The craft of mixing music and adding a personal touch takes time and effort like any other craft created on the planet. DJs are in-charge of beat matching, smoothly transitioning beats, and live performance since DJs shine when the music is hip.
They have to ensure that the audio they prepared sounds great and dance-worthy. After all, not all songs jive together in tempo and drum beats, that's why it's the DJ's job to compile and remix songs to keep the parties alive.
And to stand out in the industry, they pair their awesome beats with DJ logos that exude their personality and music all the same.
They're literally the support system of musicians worldwide, but they can standalone as artists as well. Depending on your need, their music will surely give your a mood boost. And their chosen logo design makes them stand out from the rest of the community.
Highly Paid DJs of 2022
Now you know the time and talent that goes into DJing, let's meet some of the famous and highly paid artists. We'll be delving into their net worth, trending song/s, and their visual design. We researched seventeen artists with diverse backgrounds of being dance, radio, club, etc. DJs to give you inspiration.
Calvin Harris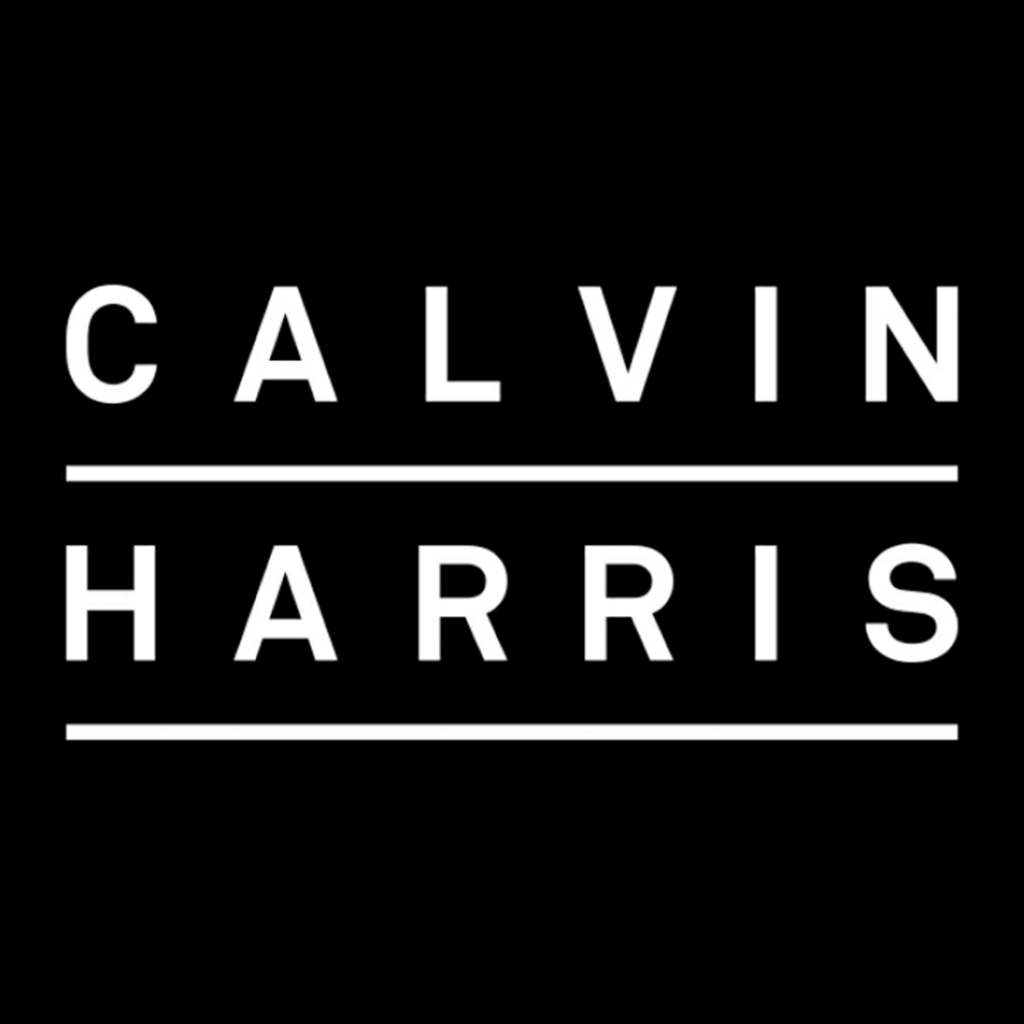 Calvin Harris is a Scottish DJ who specializes in dance/electronic mixes. Some of his biggest bangers include One Kiss with Dua Lipa, Slide, and We Found Love with Rihanna. And as of 2022, his total net worth is $300 million.
Now let's get into his logo. It's a wordmark logo of his name in NeoGram Condensed DemiBold typography with lines separating his two names. They give emphasis and power to his name.
Gianluca Vacchi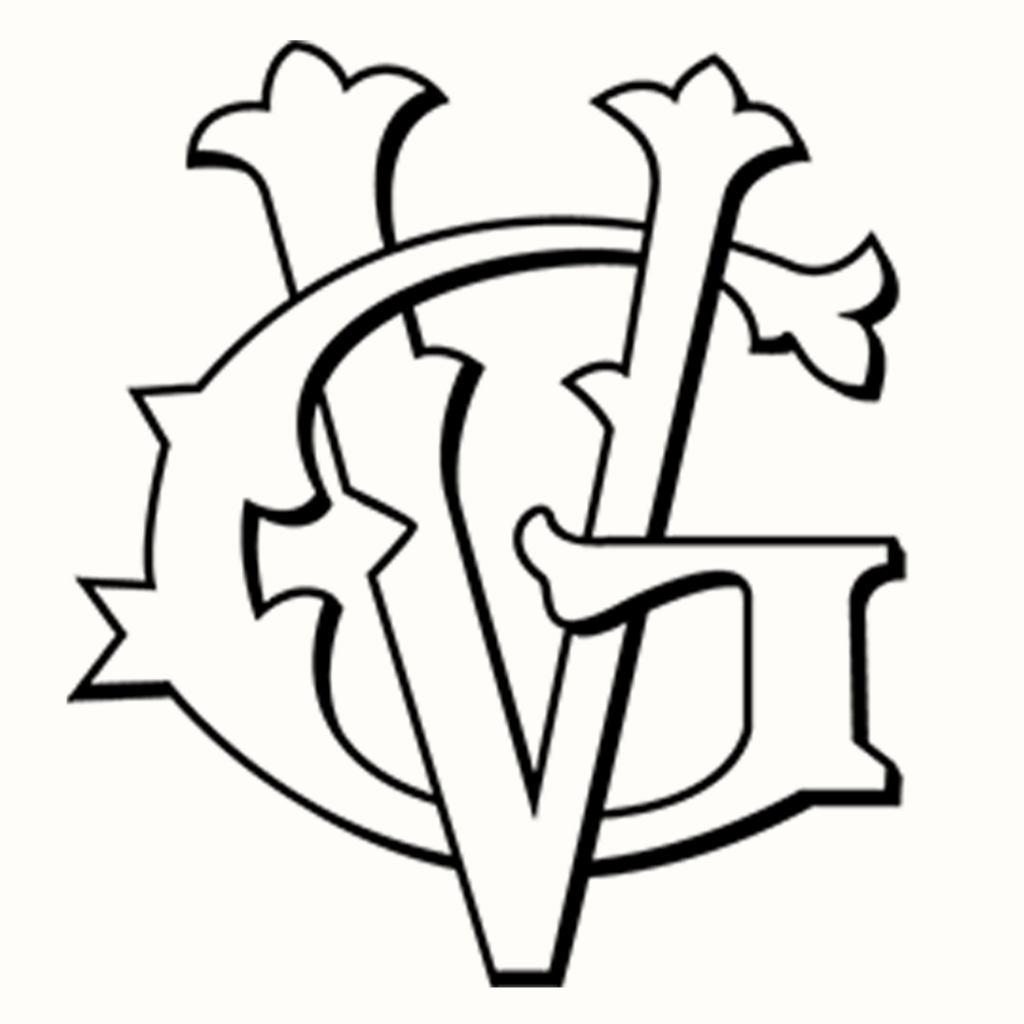 The second DJ on the list is from Italy. Gianluca Vacchi specializes also in dance/electronic beats created songs like LOVE with Sebastian Yatra, Viento, and Para with Ir Sais. And his net worth as of 2022 is $200 million.
Vacchi's logo is a letter logo of his initials V and G locked together. Both letters look like they have thorns of vines for tips.
Tiesto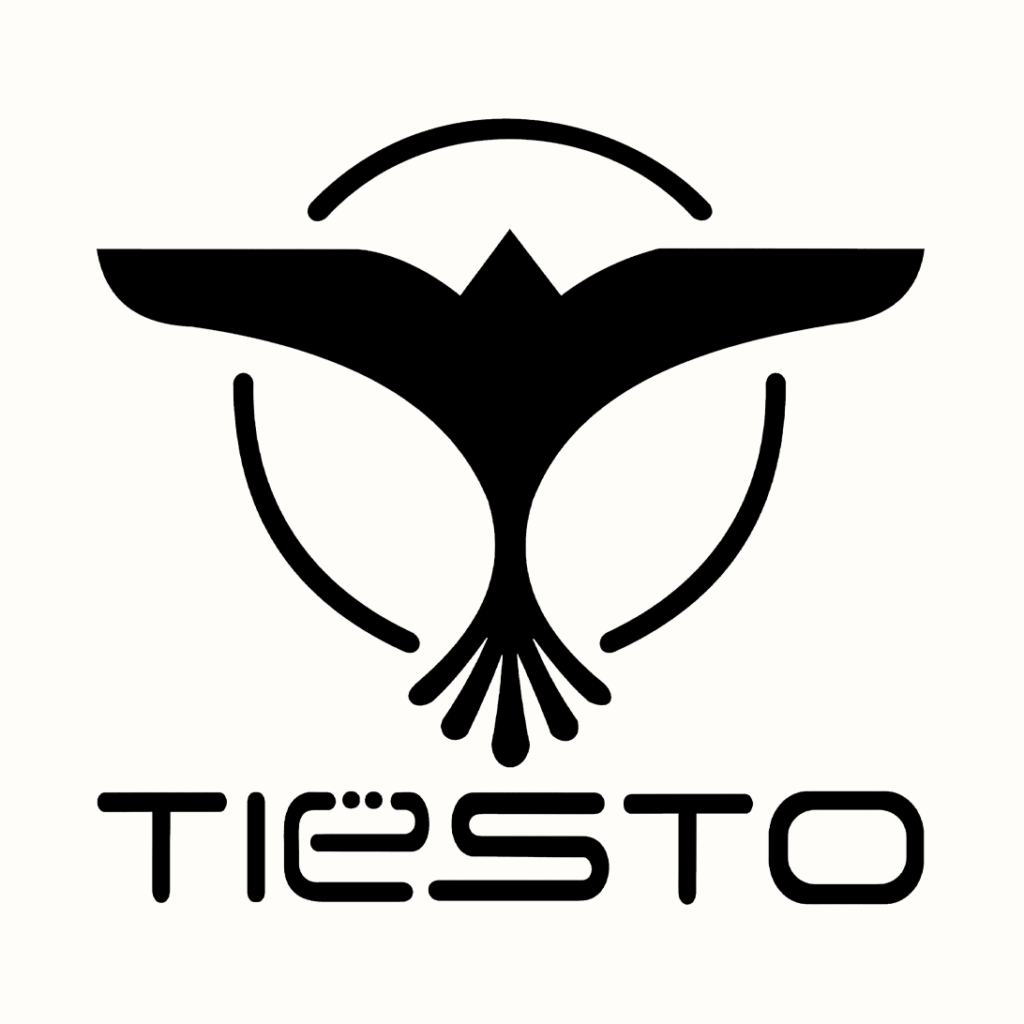 If you're into electro or house music, DJ Tiesto is the man for you. He's from the Netherlands and has a net worth of $170 million for 2022. Some of his famous songs are Secrets with KSHMR & Vassy, Love Comes Again with BT, and Split with The Chainsmokers.
As for his logo, it looks like a car emblem with a swallow (songbird) inside a circle. It's an emblem logo with his name under the icon itself.
David Guetta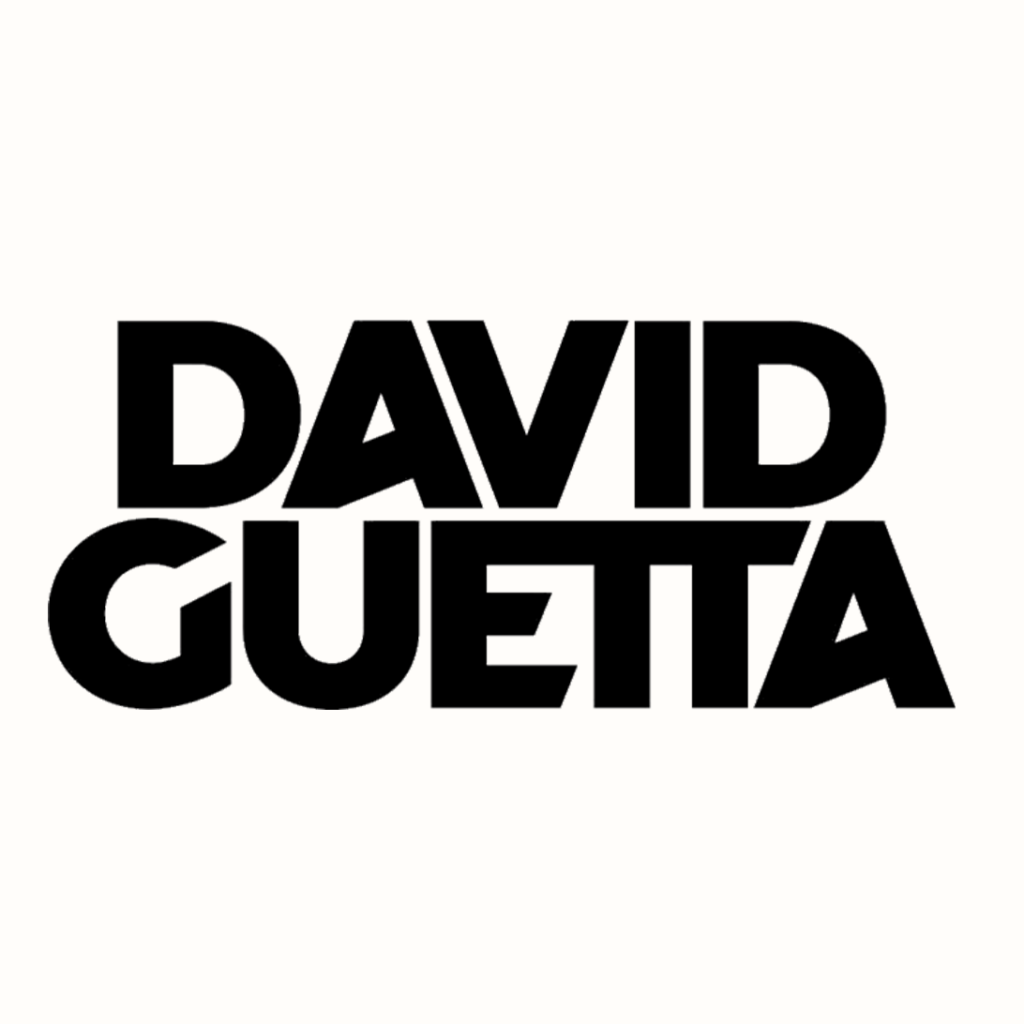 Next, we have a DJ from France, David Guetta. His music is focused on electronic dance. You probably know one of his famous songs, Titanium. Aside from that, there are Hey Mama with Nicki Minaj and Afro Jack, and Where Them Girls at with Flo Rida and Nicki Minaj. Lastly, his net worth is $150 million this 2022.
His logo is also a wordmark with his iconic typography. Though now, it's more on the bold thick side rather than slim letters.
Steve Aoki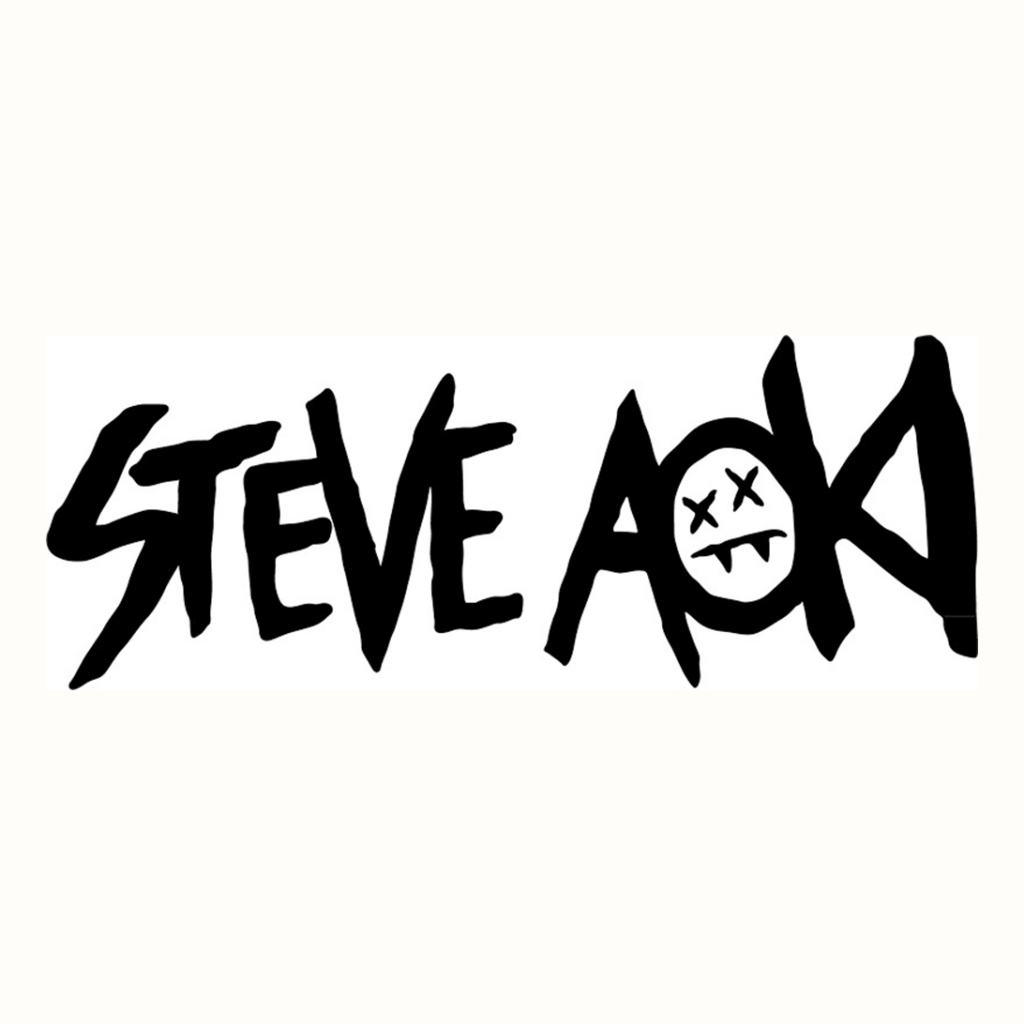 We have another electronic dance-focused DJ, Steve Aoki, he was born in the USA. Some of his famous songs are Just Hold On with Louis Tomlinson, Boneless with Chris Lake and Tujamo, and Beat Down with Angger Damas and Iggy Azalea. And his net worth is $ 120 million.
For his logo, it's like graffiti with the O showing a passed-out guy with fangs since his eyes are Xs. Though his old logo was his face in silhouette form utilizing negative space for his face.
Swedish House Mafia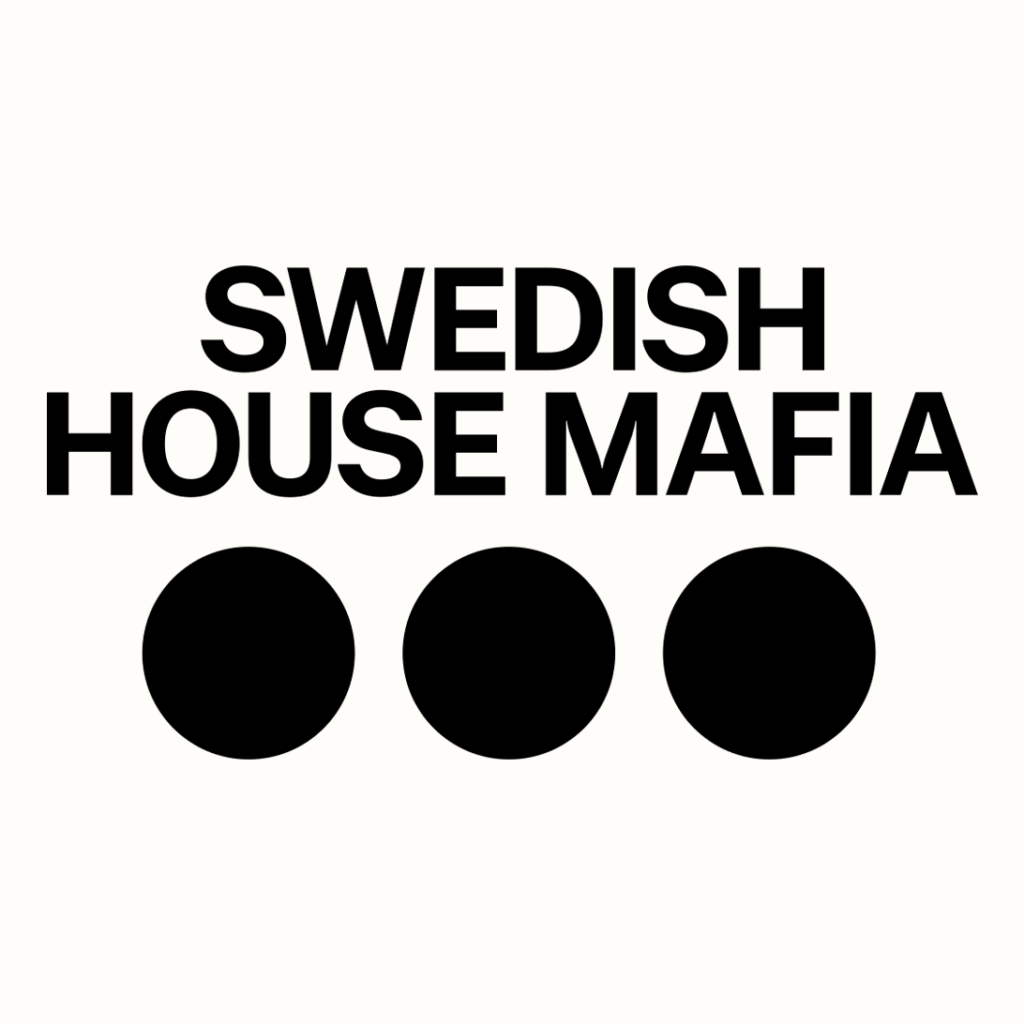 The first DJ group on our list, Swedish House Mafia consists of Axwell, Steve Angello, and Sebastian Ingrosso. Some of their famous songs are Don't You Worry Child, Redlight, and Lifetime with Ty Dolla $ign & 070 Shake. Their overall net worth is $ 100 million.
And their dj logo design is a combination of wordmark and icons as well with three dots representing each of the DJs and their name on top of it.
Guy-Manuel de Homem-Christo and Thomas Bangalter (Daft Punk)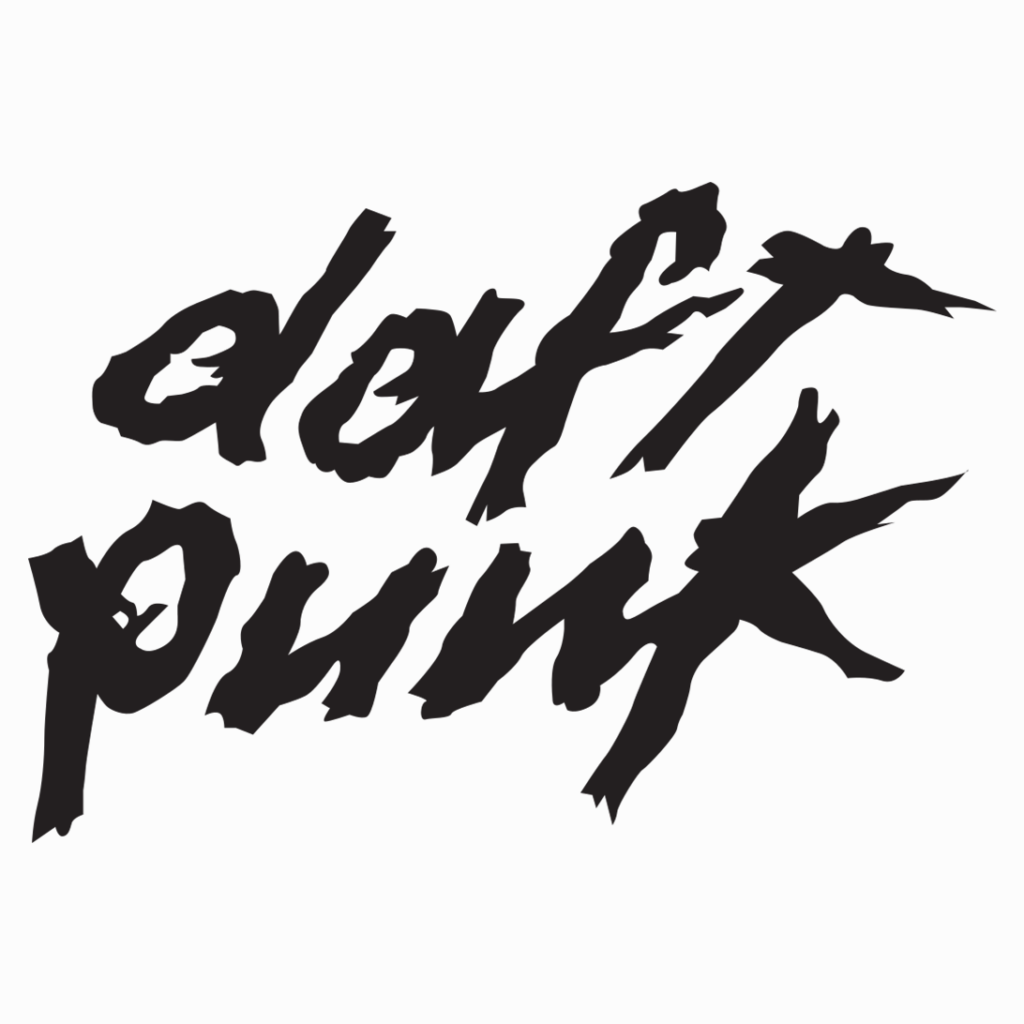 The only duo on our list is DaftPunk. The pair met in school and have been creating music since 1993. Their collated net worth is $ 140 million, but they broke up last year.
Individually, Guy and Thomas have $ 90 million as their net worth. Daft Punk's most famous hits are Get Lucky, Hard, Faster, Better, Faster, and One More Time.
Lastly, the logo is also their name with a handwritten design using paint.
Alex Pall and Andrew Taggart (The Chainsmokers)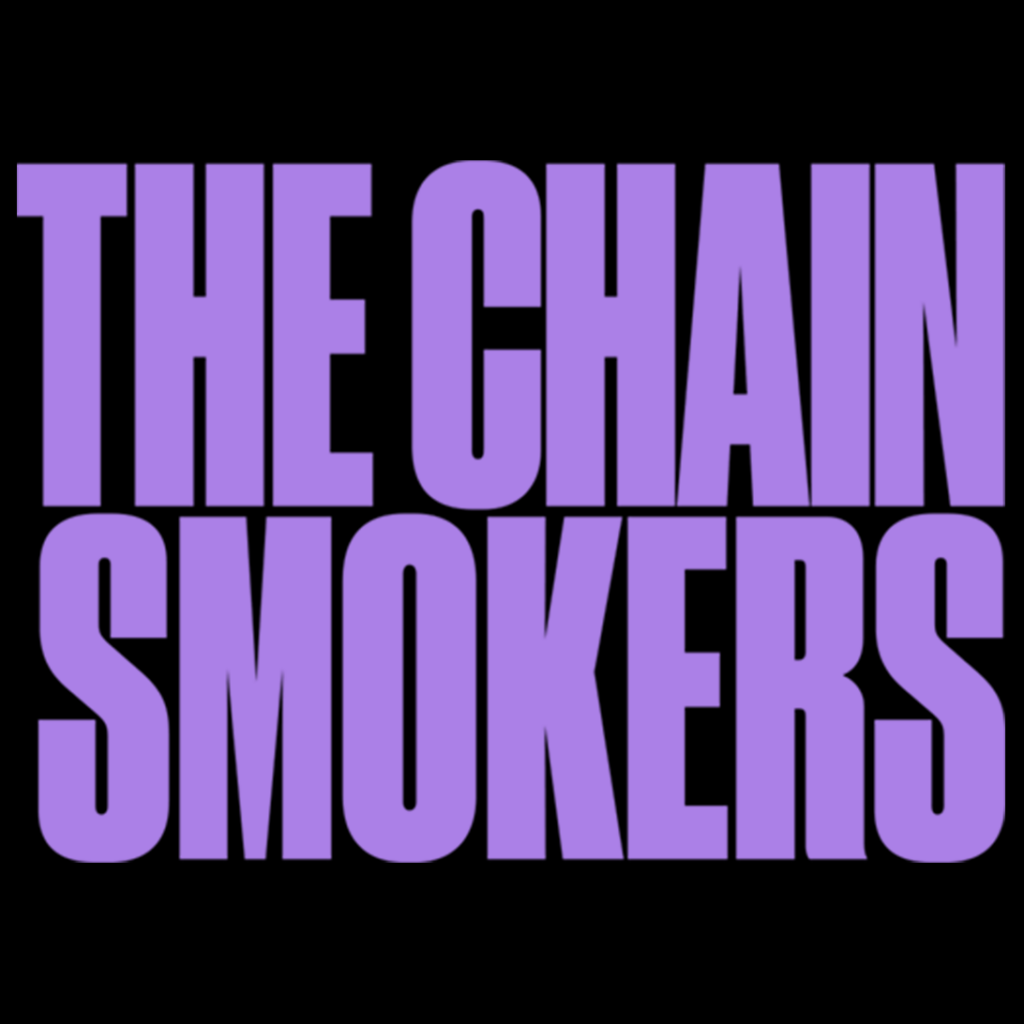 The second pair of DJs we have are The Chainsmokers. They met on a smoke break so they adopted the name. Their net worth as a duo is $ 45.5 million, but individually, both earn $ 80 million.
A few of The Chainsmokers' songs are Closer with Halsey, Something Like This with Cold with Coldplay, and This Feeling with Kelsea Ballerini. And their logo is their name with The Chain on top of Smoker in purple.
Skrillex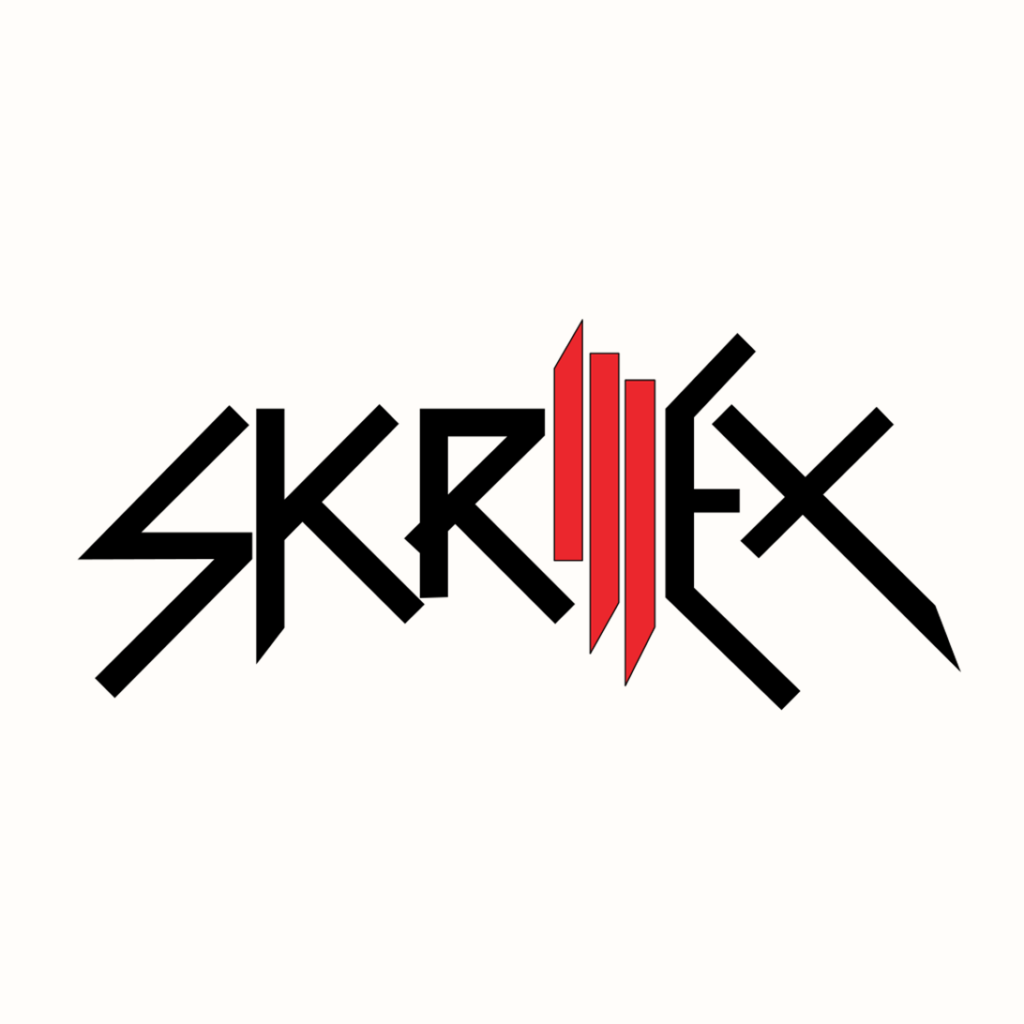 Before becoming a full-fledged DJ, Skrillex was the lead vocalist of From First to Last. That helped him build his fanbase before being a disk jockey.
Now, as a disk jockey, his net worth is $ 70 million. Some of the songs that contributed to this are Bangarang with Sirah, Scary Monsters and Nice Spirits, and Take U There with Kiesza.
His logo consists of his name with band-like font and the E being three red lines. It pays homage to where he started before becoming a DJ.
Afro Jack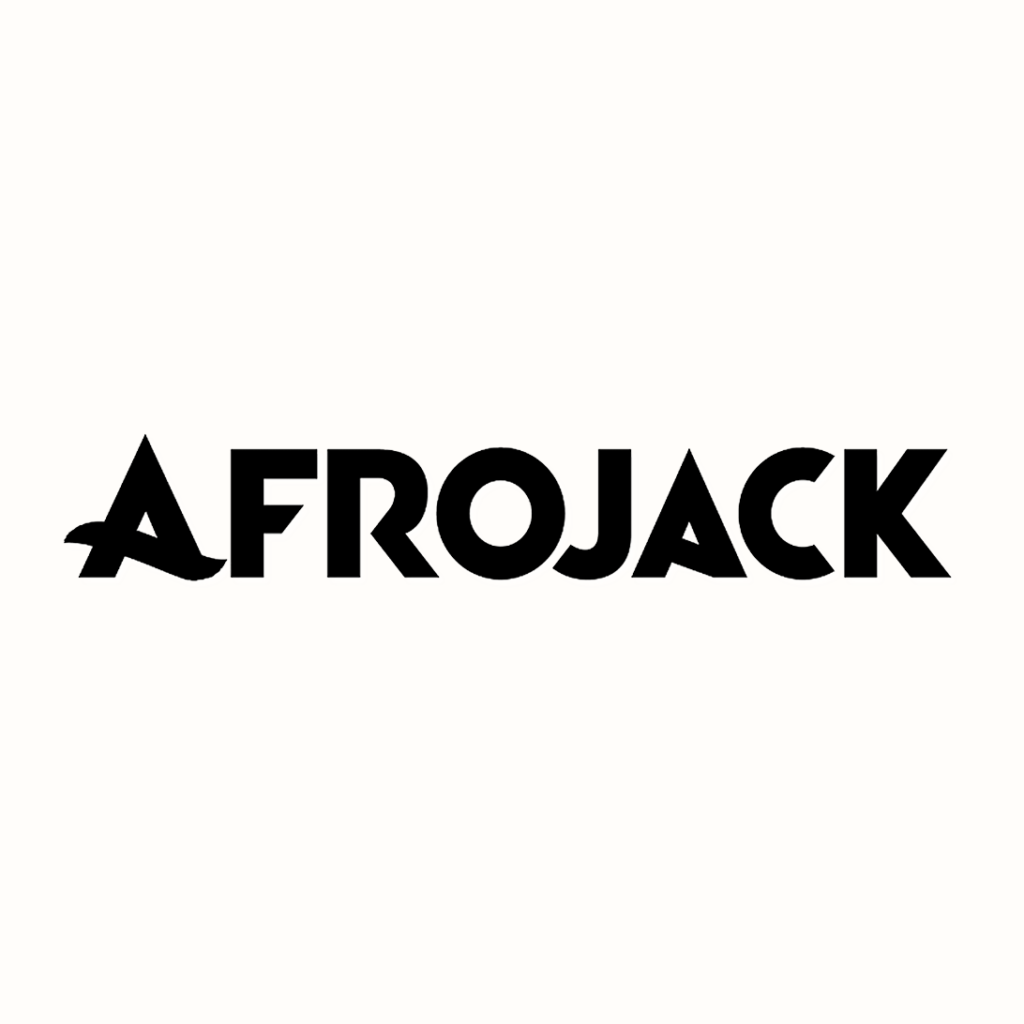 Wondering how Dj Afro Jack got his name? Well, he had a great afro do back in the nineties and the term Jack was the term for house music. Combine those two and voila! The famous DJ is born.
His net worth as of 2022 is $60 million because of songs like Ten Feet Tall, Hey Mama with David Guetta, and Take Over Control with Eva Simmons. Like the other artists above, his logo is a wordmark of his name.
Paul van Dyk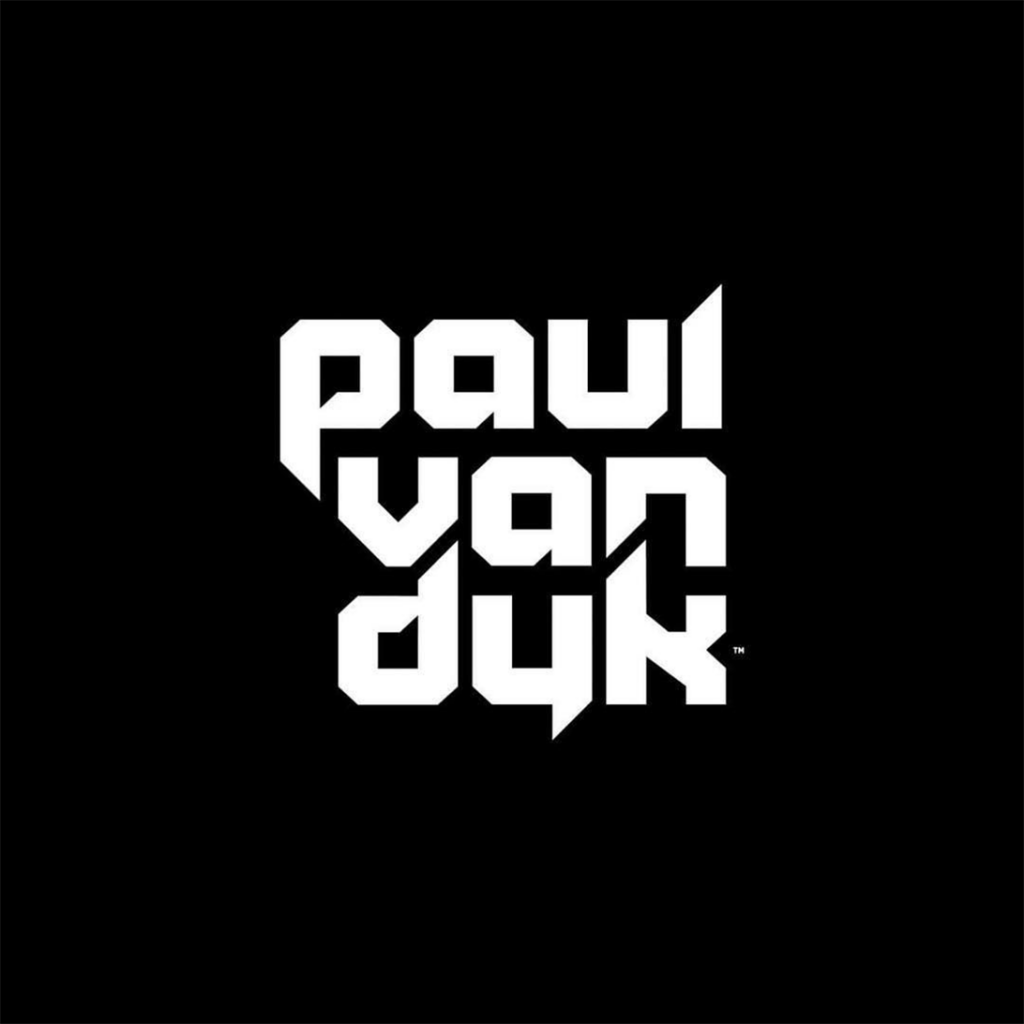 Paul van Dyk is one of the DJs that paved the way for the industry since he's one of the first few who won a Grammy as early as 2003. Songs like In Your Arms, Duality, and 1998 helped boost his career to greater heights.
His net worth as a DJ is $ 60 million like Afrojack. And his logo is also his name which kinda reminds us of GTA font.
Armin Van Buuren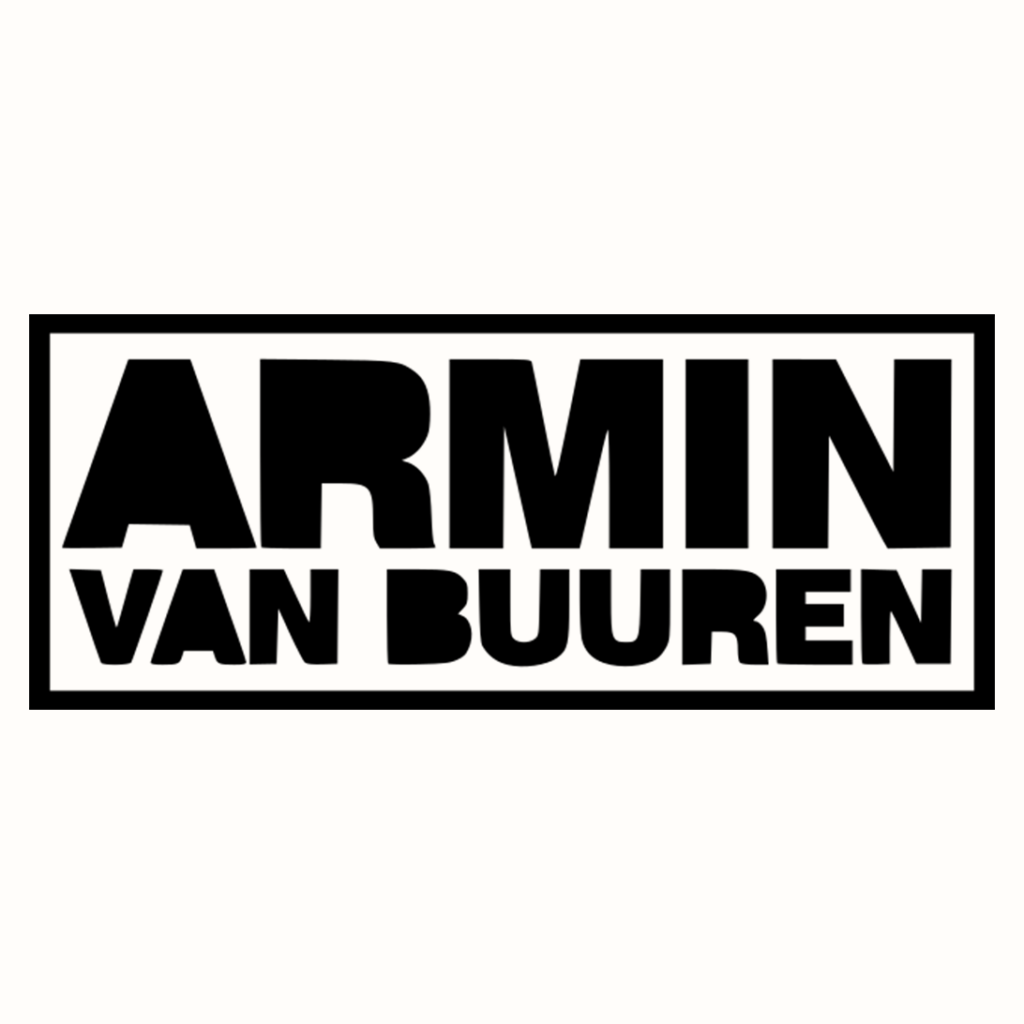 You've heard of electro and house music, but what about trance? Armin Van Buuren from the Netherlands is the king of trance music. As the name suggests, it's a mixture of hypnotic beats and rhythms in an electro style.
Dj Armin popularized this trend in electro music with songs like Come Around Again with Billen Ted and JC Stewart, No Fun with The Stickmen Project, and Leave A Little Love with Alesso.
Lastly, his net worth is $ 55 million with a logo that's his name encased in a box.
DeadMau5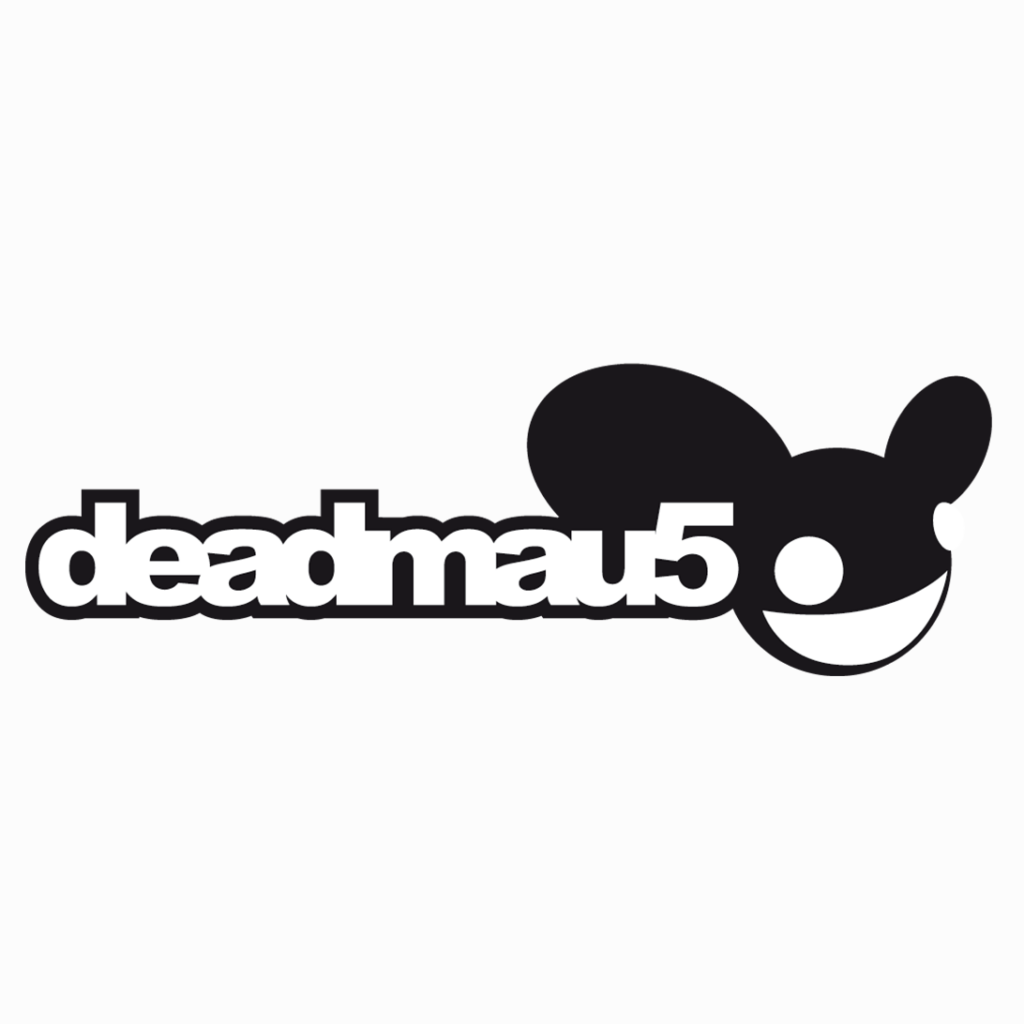 Ever seen a DJ wearing a mouse helmet? Then you've seen DeadMau5. His music is focused on progressive house music which means that the house music you hear is predominantly based on melodies and rhythm.
Some of his songs that express that are Ghosts N Stuff, Raise Your Weapon, and Animal Rights. One of the aspects aside from his music that made him famous is his logo. It's the iconic mickey-mouse-like design, but more in the design of his helmet with his name beside it. And his net worth is $50 million.
Marshmello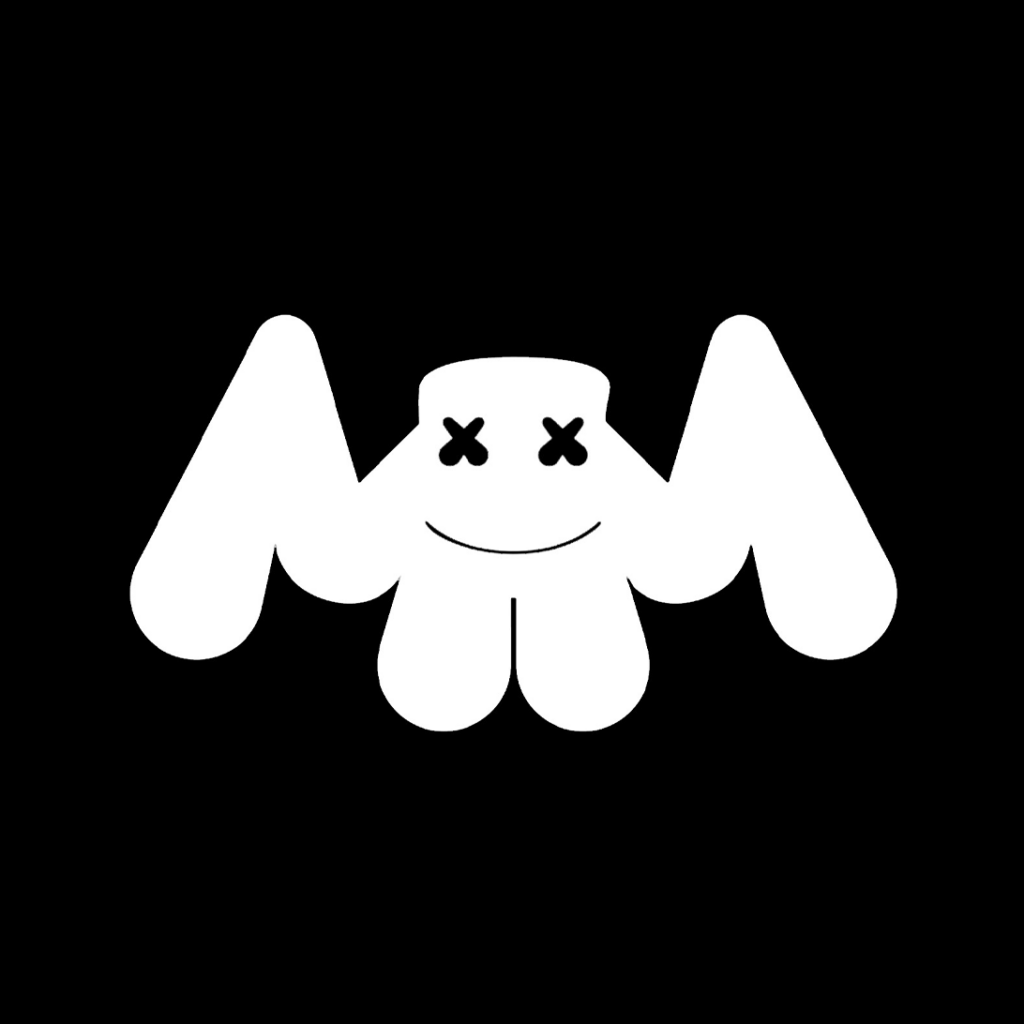 Like DeadMau5, Marshmello is also known for wearing an iconic helmet. It's a marshmallow with X for eyes with a big smile. The DJ says that he wears it since " I don't need the fame and it focusing on creating something positive for people to connect with…"
That's the main theme of his pictorial logo as well with the famous happy face on a character with wings. Some of his iconic songs that reached platinum records in various countries are Wolves with Selena Gomez, Friends with Anne-Marie, and Happier with Bastille. Lastly, his net worth is $40 million dollars which makes him part of this list.
Zedd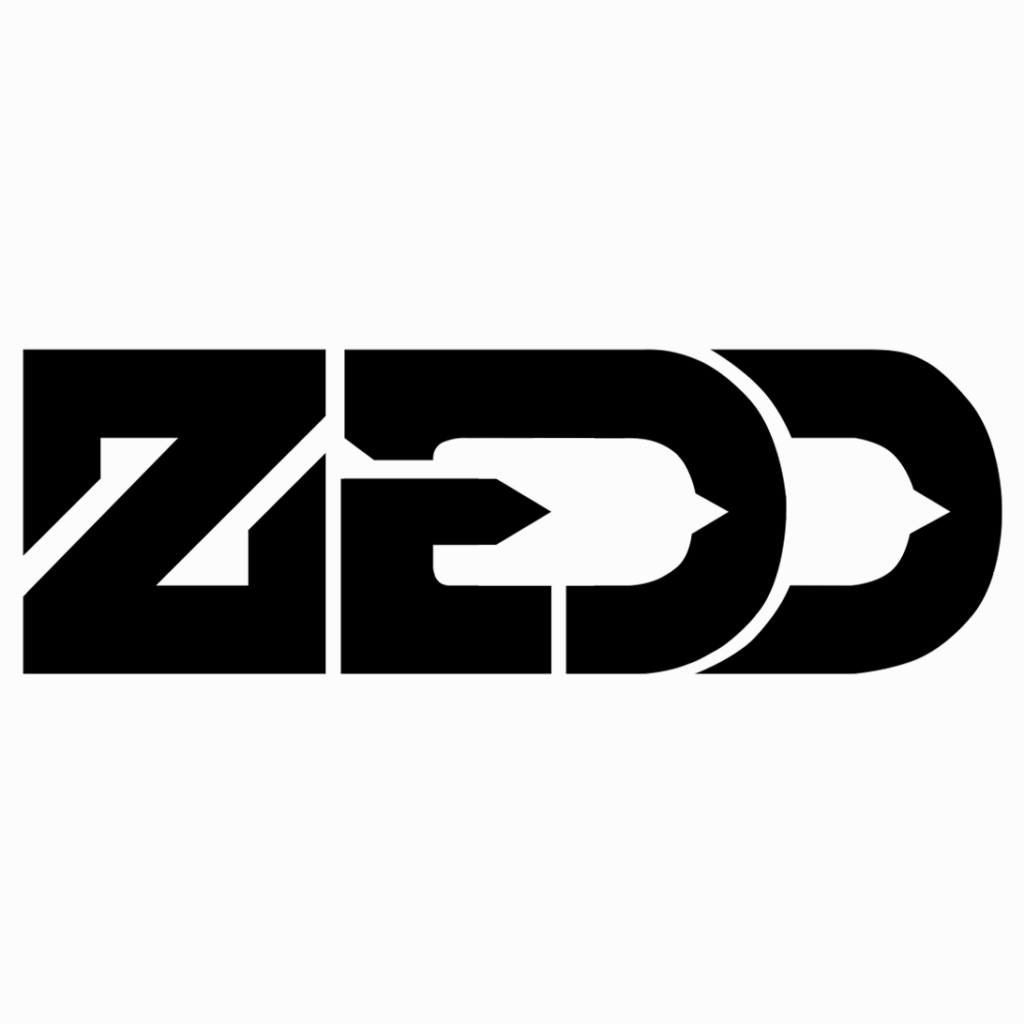 As a DJ, Zedd created covers first like his remix of Skrillex's Scary Monsters and Nice Spirits before blowing up in the music industry with Clarity back in 2010.
He's known for creating multiple types of music from futuristic pop to EDM and progressive beats. Some of his famous songs are True Colors with Ke$ha, The Middle with Maren Morris and Grey, and Starving with Halie Steinfeld and Grey.
He paired his music with another wordmark design with the font that's distinctly associated with him. If you notice, the letter Ds utilizes white space to help in creating a unique effect of a moving arrow through his name. And to top everything off, his net worth is at $50 million as well.
Diplo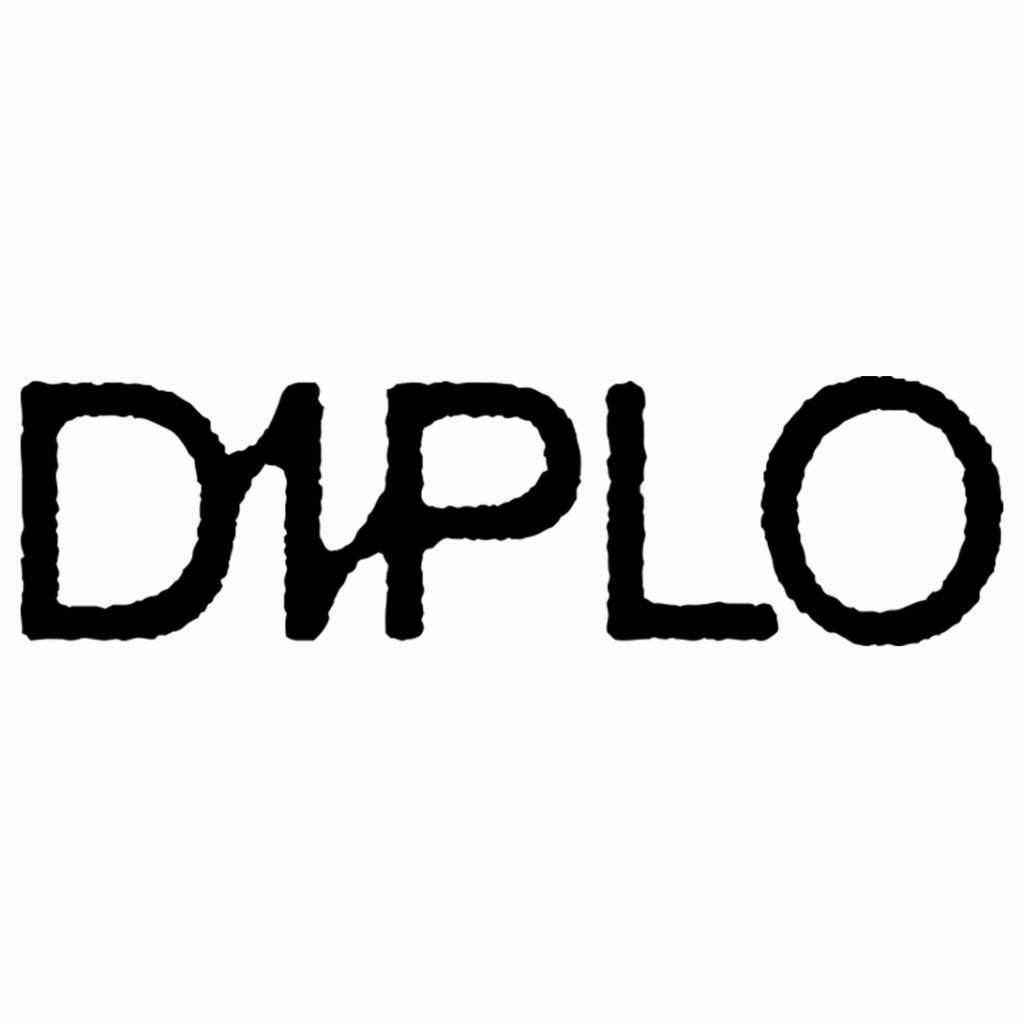 DJ Diplo is known for being one of the founds of the group Major Lazer. Songs like Lean On with DJ Snake and MØ, Light it Up with Nyla and Fuse ODG, and Cold Water with Justin Bieber.
As an individual DJ though, he's made his name through collaborations with DJ Skrillex and the singles like Take Ü There and Where Are Ü Now. His net worth is at $50 million dollars making him part of this list.
Now looking at his logo, it's also a wordmark with the I connecting to D and P giving that unique Z between both letters.
Kaskade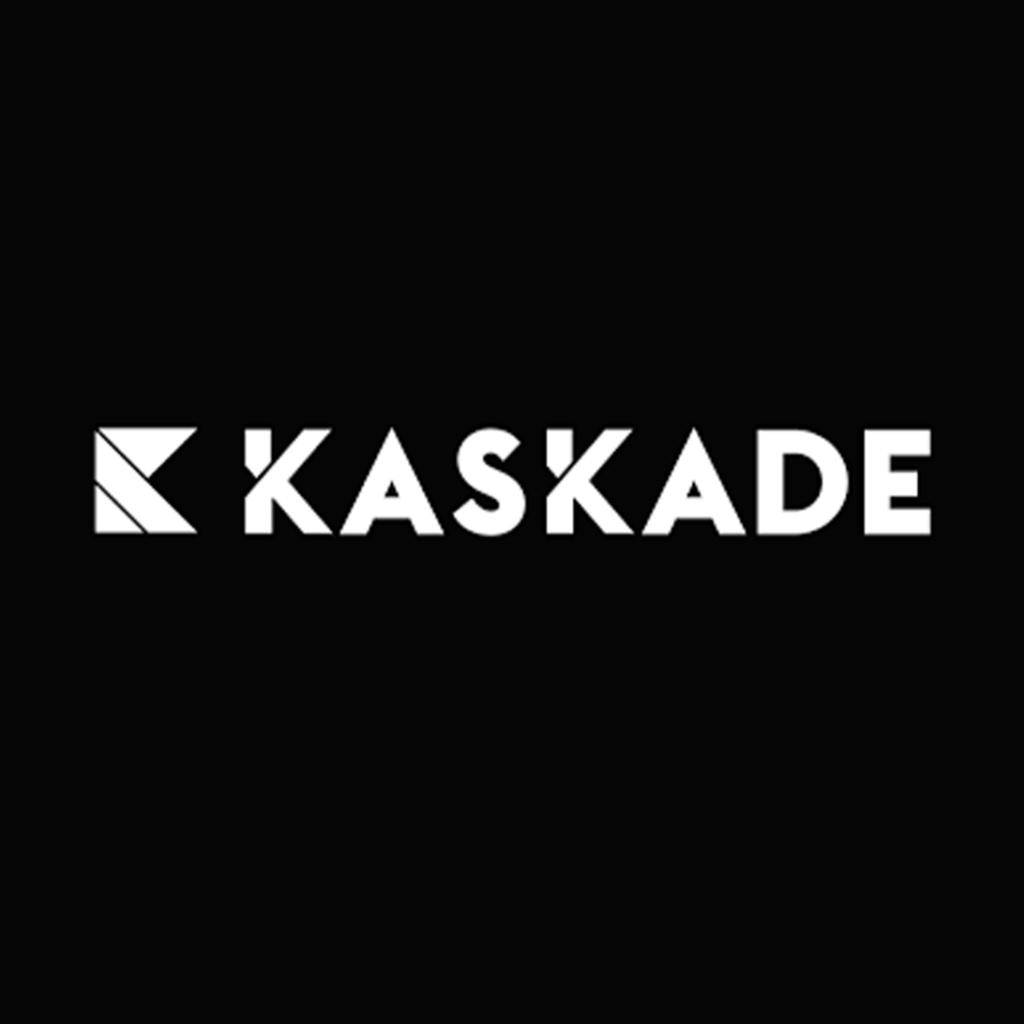 He was America's best DJ in 2011 and 2013. He's best known for being the DJ that promotes happiness and friendliness amongst the community of disk jockeys and fans alike. And, Kaskade is one of the forerunners in making EDM a staple for party music.
His net worth is around $17 million and produced the iconic songs Disarm You with Ilsey, Empty Streets with Becky Jean Williams, and I Remember with DeadMau5.
Kaskade's logo looks a bit like an abstract letter K beside his name. It kinda reminds us of Valorant's design with their V as well.
Create Your DJ Logo Today
And there you have it! Logo designs of highly paid DJs of 2022. The key takeaways are:
Most DJs have a wordmark to uniquely identify themselves.
Association and meaning matter if you'll use a pictorial mark as a DJ.
Typography counts especially when ensuring your uniqueness as a brand.
Make sure to do thorough research when it comes to your DJ name and logo to avoid plagiarism. Either way, we know you'll do great as an upcoming artist in the music industry.
Why you're at it, create a DJ logo design that tells your audience who you are. You can even put it on your t-shirt design, albums, business cards, and more!
Happy designing, upcoming DJ!
Read More on Logo Design Here: