Cosmetics & Beauty Logos
Welcome to BrandCrowd... The World's #1 Cosmetics & Beauty Logo Maker. Try it for FREE!
Make a logo you'll love, instantly. Try for free.
Whether you need a beauty logo, a logo for your real estate business or even a logo for your new startup, we help you generate thousands of logo designs in seconds.
How to create a great cosmetics & beauty logo?
Being in the beauty industry means that you already have a good eye for creativity. Seeking good design comes naturally for you. But here's how you can take your logo up a notch.
Pick a cosmetics & beauty logo
Pick one of the cosmetics & beauty logos on this page or update your search
Customize your cosmetics & beauty logo
Change colour, fonts, add a tagline... Our cosmetics & beauty logo maker is 100% customizable and easy to use
Download your cosmetics & beauty logo!
Download your cosmetics & beauty logo files and start sharing it with the world!
Your cosmetics & beauty logo, made easy.
Be the talk of the beauty community. Whether you're a hairdresser or run a nail salon, master the art of brand identity like top companies with the logos you'll find below. A team of professional designers supply the designs with versatile and original concepts to make sure you end up with the best one. Find your perfect logo at BrandCrowd.
Cosmetics & Beauty logo not exactly the right fit? Check these out:
What makes a transformative cosmetics and beauty logo?
Make your customers excited about your product and most importantly, themselves. Use the following design elements right.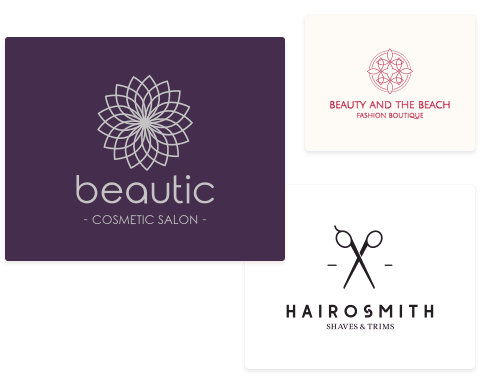 Logo Type
Help your audience spot you in a crowd. Fusing your company name with never before seen styles will make heads turn.
Colors
You can easily improve brand recognition with remarkable colors. Cast intriguing hues over your design.
Fonts
Highlight the value of your brand through visual balance. The right font combination will bring harmony to your logo.
Shapes
Move your audiences with a powerful silhouette. Try out which cut works best for your brand.
This site is amazing. My first logo and they did a great job with everything from start to finish. I would recommend using BrandCrowd to anyone. BrandCrowd

Super fast and easy to craft such an integral part of your business! BrandCrowd

So easy to navigate the website and an amazing range to choose from. BrandCrowd

Very easy to use and many alternatives to choose from. Thank you very much for your service. BrandCrowd

Very easy to use. Great People BrandCrowd

Brandcrowd is an amazing website with lots and lots of creative ideas BrandCrowd