Medical & Pharmaceutical Logos
Welcome to BrandCrowd... The World's #1 Medical & Pharmaceutical Logo Maker. Try it for FREE!
Make a logo you'll love, instantly. Try for free.
Whether you need a beauty logo, a logo for your real estate business or even a logo for your new startup, we help you generate thousands of logo designs in seconds.
How to create a great medical & pharmaceutical logo?
Our logo maker empowers medical professionals from all around the world to speak to their audience using the language of design. Its simple and effective design tools guide business owners in creating the perfect logo.
Pick a medical & pharmaceutical logo
Pick one of the medical & pharmaceutical logos on this page or update your search
Customize your medical & pharmaceutical logo
Change colour, fonts, add a tagline... Our medical & pharmaceutical logo maker is 100% customizable and easy to use
Download your medical & pharmaceutical logo!
Download your medical & pharmaceutical logo files and start sharing it with the world!
Your medical & pharmaceutical logo, made easy.
A logo from us will keep the rebrand away. Whether your a doctor or run a pharmacy, scan this selection of medical logos for your business. We cover a variety of industries such as nutrition, pediatrics, denistry and more. Discover more templates and tools for you to cure ineffective branding. We streamline logo creation to make you a healthcare leader.
Medical & Pharmaceutical logo not exactly the right fit? Check these out:
What makes a cutting-edge medical & pharmaceutical logo?
Visually communicating your medical expertise in your logo is important. Make sure you get the perfect logo with these tips.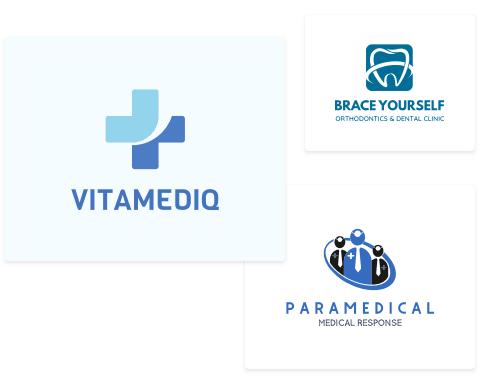 Logo Type
A notable focal point can draw the eyes of your audience to you. Effective word mark design gives your logo a lift.
Colors
It is crucial for brands to use colors as a branding advantage. A strong scheme brings businesses to higher recognition.
Fonts
Reader friendliness is a top priority among healthcare professionals. This is a key player in design accessibility.
Shapes
The healthcare industry has a lot of beloved shapes and symbols. Learn which one is the perfect fit for your company.
This site is amazing. My first logo and they did a great job with everything from start to finish. I would recommend using BrandCrowd to anyone. BrandCrowd

Super fast and easy to craft such an integral part of your business! BrandCrowd

So easy to navigate the website and an amazing range to choose from. BrandCrowd

Very easy to use and many alternatives to choose from. Thank you very much for your service. BrandCrowd

Very easy to use. Great People BrandCrowd

Brandcrowd is an amazing website with lots and lots of creative ideas BrandCrowd