Restaurant & Catering Logos
Welcome to BrandCrowd... The World's #1 Restaurant & Catering Logo Maker. Try it for FREE!
Make a logo you'll love, instantly. Try for free.
Whether you need a beauty logo, a logo for your real estate business or even a logo for your new startup, we help you generate thousands of logo designs in seconds.
How to create a great restaurant & catering logo?
Building a culinary empire does not start in the kitchen alone. Creating a bullet-proof branding plan with a stunning logo is a huge part of it. Mix it up and save time with our easy-to-use logo maker.
Pick a restaurant & catering logo
Pick one of the restaurant & catering logos on this page or update your search
Customize your restaurant & catering logo
Change colour, fonts, add a tagline... Our restaurant & catering logo maker is 100% customizable and easy to use
Download your restaurant & catering logo!
Download your restaurant & catering logo files and start sharing it with the world!
Your restaurant & catering logo, made easy.
Level up to the competition with the stylish logo that'll keep your customers coming back. Get a taste of what quality food logos should look like in our collection and never look back again. Our logos fuse functionality and style in every single concept. Entrepreneurs and foodies can browse thousands of logos and make their favourite design their own.
Restaurant & Catering logo not exactly the right fit? Check these out:
What makes a zesty restaurant & catering logo?
You don't have to be a design expert to land a logo that hits the spot. We've simplified the design process into four easy steps.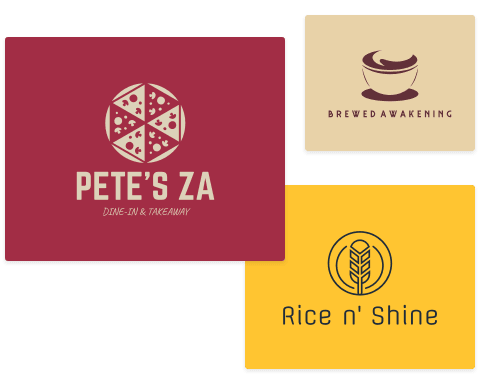 Logo Type
Ensure freshness in your logo. The food industry places value on novelty, but never forget to keep it timeless.
Colors
Color tricks improve purchasing decisions. When picking brand colors, consider appetite encouraging colors like red.
Fonts
Fonts will add character to your brand with ease. You can also allude them to your brand's chosen cuisine.
Shapes
Be sweet or be savory. Figures in your logo serve as cues as to what your patrons can expect from you.
This site is amazing. My first logo and they did a great job with everything from start to finish. I would recommend using BrandCrowd to anyone. BrandCrowd

Super fast and easy to craft such an integral part of your business! BrandCrowd

So easy to navigate the website and an amazing range to choose from. BrandCrowd

Very easy to use and many alternatives to choose from. Thank you very much for your service. BrandCrowd

Very easy to use. Great People BrandCrowd

Brandcrowd is an amazing website with lots and lots of creative ideas BrandCrowd