This logo is not available for sale anymore. Please browse our other logos.
Make a beautiful logo in seconds
Welcome to BrandCrowd... The World's #1 Logo Maker. Try it for FREE!
Make a logo you'll love, instantly. Try for free.
Whether you need logos for your startup, a real estate business or a wedding, we can help you generate thousands of logos in seconds.
Generate 1000's of logo ideas in seconds
BrandCrowd has thoughts of unique, premium logo design ideas created by designers from around the world. Here's how it works:
Generate logos
Enter your business name and our Logo Maker will generate logo ideas in seconds.
Edit your logo
Change colours, fonts, add a tagline... Our logo maker is 100% customizable and easy to use.
Download your logo!
Download your logo files and start sharing it with the world!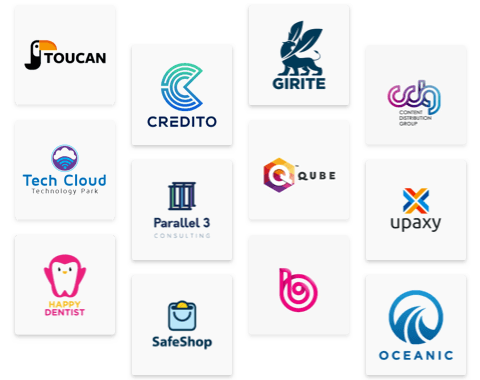 Your logo says everything about you
Want that dream logo for your business? Want it to be the cream of the crop, the crème de la crème and elevate you above competitors? Then you're in the right place. Our logo maker lets you generate thousands of logos from a professionally designed library in seconds. You can then customise the logos for free - who doesn't like the sound of that?
Find your logo >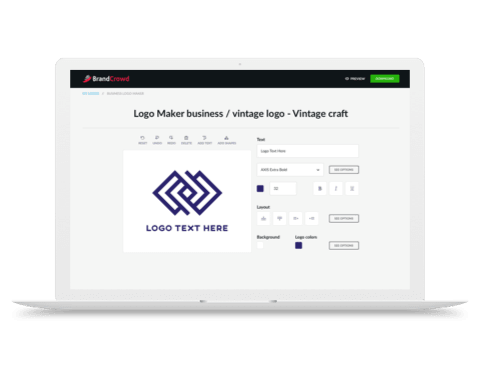 Create a professional logo with ease
We know starts-ups, entrepreneurs and new businesses are all short on time - in fact who isn't? We also know that you want a tool that's not just free to use, but super simple to use. that's why we've spent many long hours perfecting our logo maker, so you can get the job done and get the perfect logo in minutes.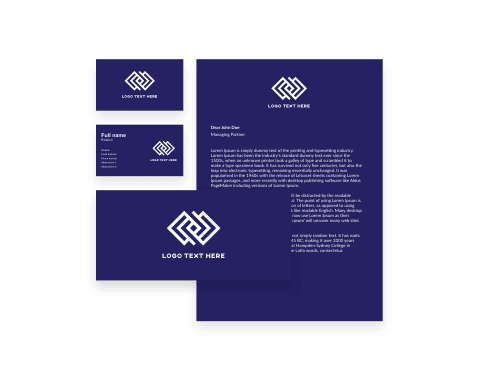 Get more than just the perfect logo
Now you've created your new logo it's time to put it to good use. Don't miss the opportunity to get matching social media pics, banners and covers. Then plaster your new logo on business cards, envelopes and letterheads. We can also get your matching merch, office supplies and stationery printed - making BrandCrowd the one-stop-shop for launching your business.
Browse handcrafted logos >
Generate logo designs for any industry
Choose an industry or keyword below and we'll start creating logos in seconds...
... or enter any keyword and we'll start making logos for you
Make your dream logo - in minutes!
Why should you use BrandCrowd Logo Maker to create your logo?
Unique designs
Unlike other logo makers that use stock icons, our 10,000+ designs have all been handcrafted by a community of top designers. Get a stunning logo - always!
Free to use
BrandCrowd Logo Maker is free to use. Browse thousands of different logo designs, edit and save as many as you like.
It's fast - create a logo in 2 minutes
Pick a design you like and start editing it. In minutes you can make a logo you will love.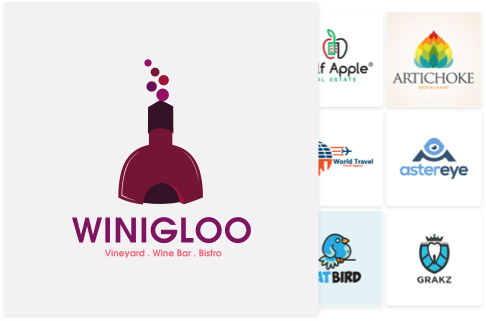 This site is amazing. My first logo and they did a great job with everything from start to finish. I would recommend using BrandCrowd to anyone. BrandCrowd
Frequently asked questions
What is the BrandCrowd logo maker?
Only the most awesome logo maker tool every made! But seriously, our logo maker allows you to easily generate thousands of logo ideas by simply entering your business name. You can then further customize the logo, colors, fonts, layout using our free to try, easy-to-use logo maker tool. With a few quick clicks and zero design skill you can create a logo you love.
Can I request changes and revisions?
Yes! On the logo editor, you have an option to request changes to your logo. If you require more complex changes, we offer the option to work directly with one of our in-house designers to get you the perfect logo. Simply purchase our Senior Designer add-on.
I need a lot of different logo sizes and file formats, do I get those?
When you purchase your logo, it does come with a standard pack that includes the following:
Your logo without a watermark
High-resolution files (PNG and JPG files) - perfect for your website
Vector files (SVG, EPS and PDF) - perfect for print
Files with transparent backgrounds
Multiple logo variations
Can I get full copyright ownership for my logo on BrandCrowd?
Yes.
For 'standard' logo purchases we will grant you a worldwide, irrevocable license to use your logo for any commercial and non-commercial purpose.
If you buy an 'exclusive licence' the designer will transfer any copyright that exists for the logo. The logo will be automatically removed from the site.
Generate logos by keyword