Making a Flyer is easy with BrandCrowd
Create a professional Flyer in minutes with our free Flyer maker. BrandCrowd's Flyer maker is easy to use and allows you full customization to get the design you want!
1. Find a Flyer template
To get started with BrandCrowd's Flyer maker simply enter your business name and we'll show you related designs, instantly. Browse thousands of Flyer templates and find a design that's perfect for your business. You can also enter keywords to help find a Flyer you really love.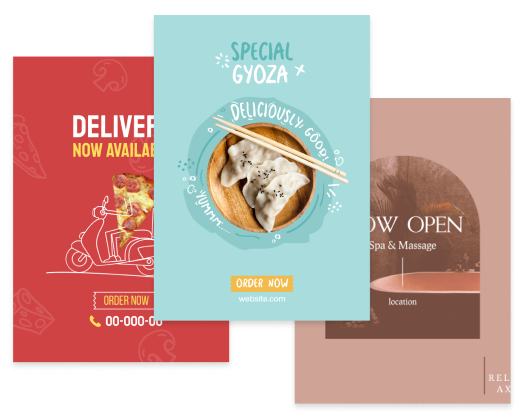 2. Customize your Flyer
Now that you've found a great Flyer, changing the colors, fonts and layout takes just a few clicks. You can move the logo icon, elements, and text. Adjusting the layout of the Flyer template is simple. You can add individuality by adding gradient colors, more shapes, or even some curved text - it's easy to create your perfect Flyer.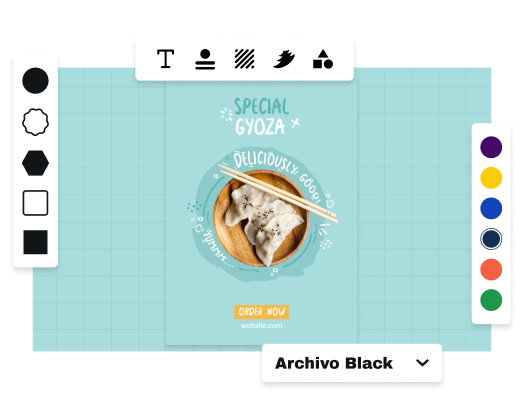 3. Download your Flyer!
Easy, right? Crafting your Flyer was too easy! Now it's time to download. Downloading your Flyer design on BrandCrowd is instant with all your files available in your account. Your Flyer comes with the following:
High-resolution files (PNG and JPG) - perfect for sharing

Vector files (SVG, EPS and PDF) - perfect for print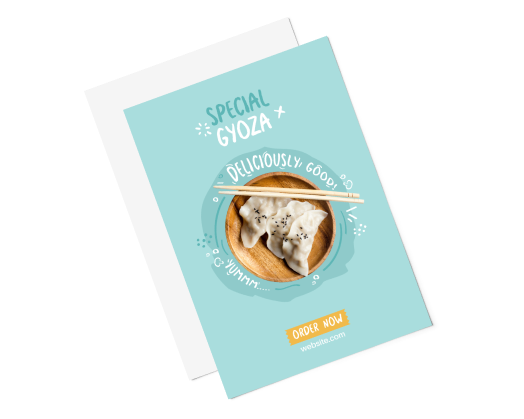 Get started with BrandCrowd's Flyer maker
Enter your business name and we'll start creating Flyers in seconds...
What you get with BrandCrowd's Flyer maker
Thousands of Flyer Templates
Choose from thousands of Flyer templates, customised with your logo colors to match your brand.
Premium Flyer Designs
Every Flyer in our library is created by professional designers from around the world.
All The Files You Need
Get high-res files & vector files (SVG, EPS and PDF) ready for sharing or printing.
Color and Layout Variations
Choose from several layout options and use any color for your Flyer.
Social Media Templates
Create branded social media designs to match your Flyer. Social posts & stories customized with your brand colors.
Brand Identity Templates
Get access to letterheads and email signatures matched to your brand colors to complete your brand identity.
Unlimited Customization
Edit the layout, colors and font on your Flyer. With unlimited edits you can create as many variations as you want.
Support
24/7 support from our team of design experts, means you're always looked after. Help with customization, download and print.
Royalty Free Logos
Get a worldwide, irrevocable license to use your logo for any commercial and non-commercial purpose.
More than just a Flyer maker
Tell your story with personalised Flyers
Complete your brand identity with a personalized Flyer design. A great Flyer helps you create a recognizable brand and grow your network. Don't just inform people of who you are and how they can reach you, but tell your story too - create a high-impact Flyer using the BrandCrowd Flyer maker.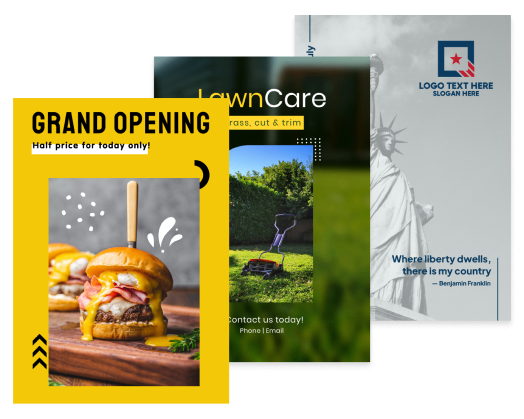 Create the perfect Flyer
Getting a stunning Flyer doesn't have to be a pain. In fact, you can create the perfect design in minutes. All you have to do is use the BrandCrowd Flyer maker to find the perfect design for your business - simply start personalizing the fonts, colors and layout until you've got what you want. Express your brand identity with a Flyer today.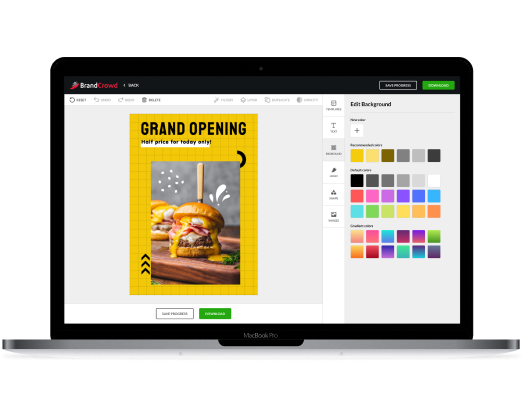 Get more than just a Flyer design
Looking to complete your marketing collateral checklist? BrandCrowd gives you more than just awesome Flyers. With easy-to-use design tools, you can ensure your brand consistently looks its best across the web, social and print. Try our social media and print design tools today - you'll find everything you need to launch your business at BrandCrowd.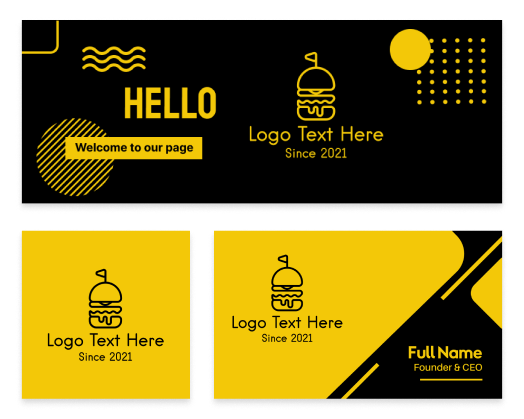 How to create a memorable Flyer
Not sure where to start? Need some help creating a great Flyer? Here's a few bitesized tips from the pros:
Get started with BrandCrowd's Flyer maker
Enter your business name and we'll start creating Flyers in seconds...
Make your perfect Flyer
Why should you use BrandCrowd to create your Flyer?
Unique Flyer designs

Unlike other makers that use stock icons, our designs have all been handcrafted by a community of top designers. Get a stunning Flyer - always!

Free to use

BrandCrowd's Flyer Maker is free to try. Browse thousands of different Flyers, edit and save as many as you like.

It's fast - create a Flyer in 2 minutes

Pick a design you like and start editing it. In minutes you can make a Flyer you will love.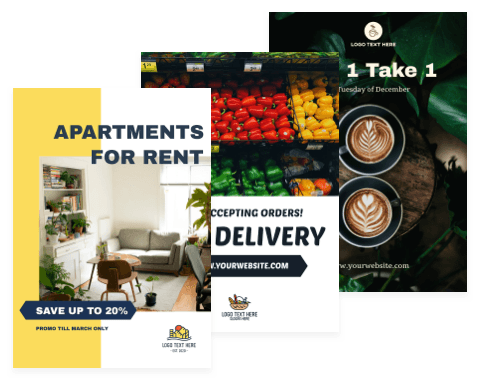 These businesses loved using BrandCrowd
BrandCrowd provided an excellent selection of high-quality images for viewing which allowed creative ideas to spawn. The logo design that I selected fit my theme perfectly.

Joel Eady
How do I make a Flyer with BrandCrowd?
Creating the perfect Flyer is easy with BrandCrowd. Follow these steps an you'll have a design ready to share with the world in no time.
1. Start searching:
To find Flyer templates related to your business enter your business name - we'll show you designs relevant to your business. You can browse the Flyers and choose one you like.
2. Refine your search:
Can't see the right Flyer? No problem, you can refine your search by entering related keywords.
3. Edit your Flyer:
One you've found a Flyer design, you can customize all the colors, fonts and even the layout. You can add more flair with shapes and gradient colors.
4. Download your Flyer:
When you're finished editing, you can download your Flyer, instantly. You'll get all the files you need.
Get started with BrandCrowd's Flyer maker
Enter your business name and we'll start creating Flyers in seconds...
Frequently asked questions
Creating that perfect Flyer with BrandCrowd is easy - but just in case, here's some FAQs to help you get started.
What is the BrandCrowd Flyer maker?
The BrandCrowd Flyer maker is a do-it-yourself online tool to create high-quality designs in minutes. It has a library of professionally crafted designs for different brands, including Flyers for restaurants, construction companies, photographers, and many more. Create a stunning Flyer in minutes with our online Flyer maker.
Can I create a more than one Flyer?
Absolutely. Our Flyer design maker allows you to create as many Flyers as you want. Once you have created your first design you can then create not only unlimited Flyers, but but unlimtied social media and print designs. It all starts with the first Flyer.
Can I edit my Flyer after I've downloaded?
Yes. You get unlimited access to edited designs you've already created. Don't want to start from scratch and just need to tweak your Flyer, you can easily edit fonts, colors and layout in a few clicks.
Does my Flyer come with a logo?
Yes. We are logo experts, and we know how important it is to put your logo in everything you do. The BrandCrowd Flyer maker enables you to create a business logo design or upload your existing logo to your design. Ensuring brand consistency has never been this easy.
Generate Flyer designs for any industry
Choose an industry or keyword below and we'll start creating Flyers in seconds...