How Typography Impacts Your Brand and How to Pick the Right one
Reading Time:
9
minutes


The way we print letters and words has come a long way. From the mechanical typesetting process using metal and wooden blocks of letters, we've advanced to keyboard inputs. Writing software like Google docs and Microsoft Word allows us to use a number of different letters and character designs, aka typeface.
But, these advancements breed a new dilemma. From the thousands of options, which typeface do we use? Typeface designs proliferated as more and more companies cash in on a unique branding image. For instance, Coca-Cola and Disney typefaces have made a mark. Today, there might be half a million fonts across the web, as font families and type designers continually grow.
That sheer size might be overwhelming, yes. But, not until you know the practical steps to find your way out of this maze. This article intends to demystify the process of choosing the right typeface. So buckle up and follow along.
First, let's define some terms:
What is typography?
Typography is the art of arranging letters to make them appear clear and beautiful. This arrangement includes selecting the typefaces, point sizes, line lengths, line spacing, letter, and word spacing. In short, typography deals with everything about the design and appearance of letters and words.
What is the difference between typeface and font?
We often interchange typefaces and fonts so much that the difference becomes blurry. However, it's important to distinguish what's a typeface and what's a font.
A typeface is a set of alphabet and punctuations that have a common design. The most common typeface groups are serif, sans serif, slab, and script. Helvetica, Calibri, and Arial fall under the typeface group. Yet they are all called typefaces. They have the same designs all throughout the alphabet including characters.
Fonts, on the other hand, are more specific kinds of typefaces. They can be bold, italic, 12 points, upper case, etc. For example, Bold 12 point Helvetica is a font, same with Italic 10 point Arial, Light Calibri, etc. The typeface is the bigger category where the font falls under.
However, this distinction is not as important as it was decades ago. That's when publishing goes through a typesetting machine and the letters are etched in metals or woods. Publishers or typesetters needed to determine the typeface and the font together to come up with a consistent design throughout the publication.
How typography impacts your brand
It Affects Brand Perception
Successful branding is partly about presenting an attractive and consistent visual appearance. From the website to typography, brands must present a beautiful experience to the customers. People not only buy because of the products but also because of the experience. A good way to give these customers a great experience is through clear, legible, and beautiful typefaces.
Typography is everywhere in the brand. From the logo to the website content, typography occupies a good deal of space. So whether you like it or not, customers will have either a positive or negative perception of your brand through the choice of typefaces. Will they consider your brand as serious or quirky, energizing or professional, minimalistic or complicated? You may not notice but typography can help shape these perceptions.
It influences decision making
Some typeface designs are overused or overdesigned. The likes of Comic Sans, Papyrus, and British Script can appear on personal blogs but never on a professional website, or else viewers or potential buyers might not take them seriously. Hence, most successful business brands use clear and legible typography such as Arial and Roboto either for the logo or the website body.
People are more likely to trust and buy from brands that have a good font choice. Especially with brands that are consistent with their tone and message. Typeface is another form of visual language. As long as it helps forge connections with customers, it's critical to the sales process.
It holds the readers' attention
Several things can affect readers' attention when they view a website: content, persuasiveness, pictures, authority, length, etc. Typography also plays in the background. The design, space, and size of the characters can nudge the readers to either finish reading or jump to the next website.
Studies say that the bigger the fonts, the faster the reading experience. Also, larger font sizes elicit a stronger emotional response, according to a Tel Aviv University study.
So basically the kind of typeface evokes emotions. And emotions are what drives sales, right? Hence, you might as well spend some time researching the best typeface for your business, something that resonates with the target audience.
How to pick the right typeface and fonts:
Know Your Brand Personality
Typefaces are not one-size-fits-all. That's the reason typefaces grew in number over time. Companies want to brand themselves as unique, hence the use of custom-made typefaces.
So to choose the right one in an ocean of typefaces, first, you must understand your brand personality. It's simply choosing words that best describes the brand: professional, artsy, unique, high-end, cheap, minimal, sustainable.
On a small piece of paper, write down any words you may want to associate with the brand. Think of lively, artistic, ethical, eco-friendly, pretty, etc.
Think of the customers — what kind of service do you give, what kind of experience? Jot down as many right words as possible.
Know the Personality of a Typeface
Depending on their design, typefaces give off different meanings. Once you figure out the brand personality, it's time to understand the typeface personality.
Now typefaces might be so many. Yet there are only five major typeface groups from which other specific typefaces belong: serif, sans-serif, slab, script, and decorative.
Serif is the most well-known group of typefaces. Timeless and classic brands like Time Magazine, The New York Times, and Rolex use this typeface either in their logo or website copy.
"Serif" is the name of the line at end of every letter stroke: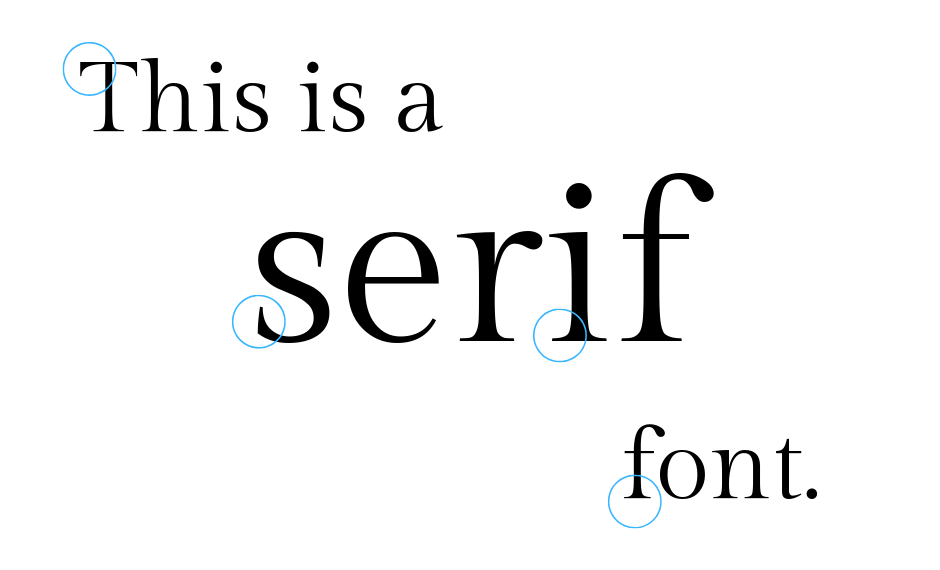 This typeface group is the oldest of its kind dating back to Roman antiquity. These days, most company brands use serif styles in the body of a text — say a copy on a website, or a brochure, or an email marketing campaign.
But for a logo, here are some of the brands that incorporate a serif design: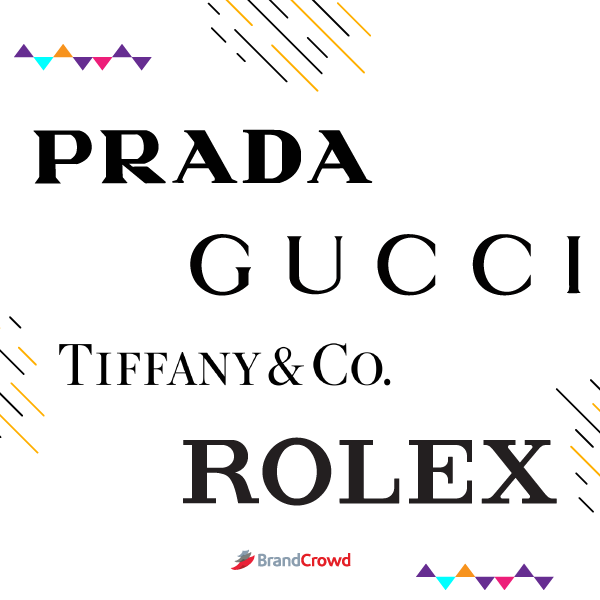 Companies that have a longstanding influence, authority, and market share use a serif typeface.
Serif fonts are classy, literary, high-end, educated, and professional. If those words seem like a good fit for your brand, go for serifs. In that case, serif works either as a logo or a body copy:

Sans-serif fonts are more modern as they appeared later in the 19th century. Sans serif designs have a clean, minimalist style.
"Sans" is a French word that means "without." Therefore, sans serif is the absence of a decorative line at the end of a character's stroke — without serif.
Sans serifs are generally reliable across all platforms. You can use it anywhere, in a logo or a body copy, in print, or in digital. Different weights can slightly alter the meaning. For example, Bold serif is attentive and hardworking, and the thin serif means glamorous and noble.
Big tech companies like Google and Yahoo ditched their serif logotypes in the past and replaced them with a clean sans serif style. So for a startup with no established authority, it's best to stick to a sans serif logotype.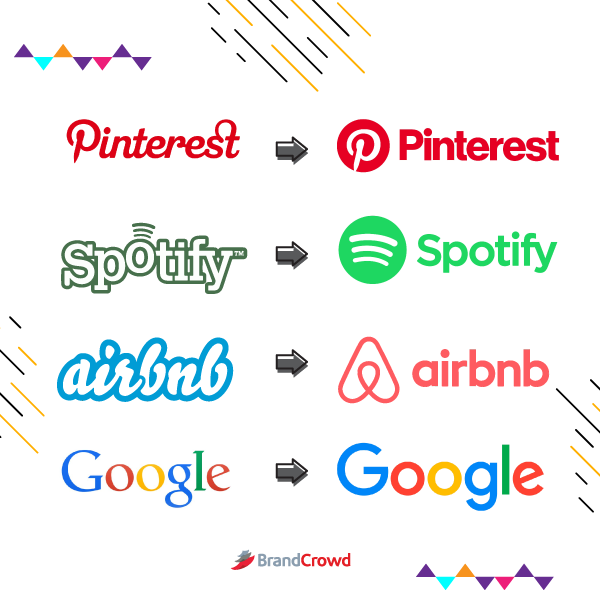 Here are the most used serifs: Helvetica, Arial, Open Sans, Roboto, and Source Sans Pro
Most websites use a sans-serif typeface in the content.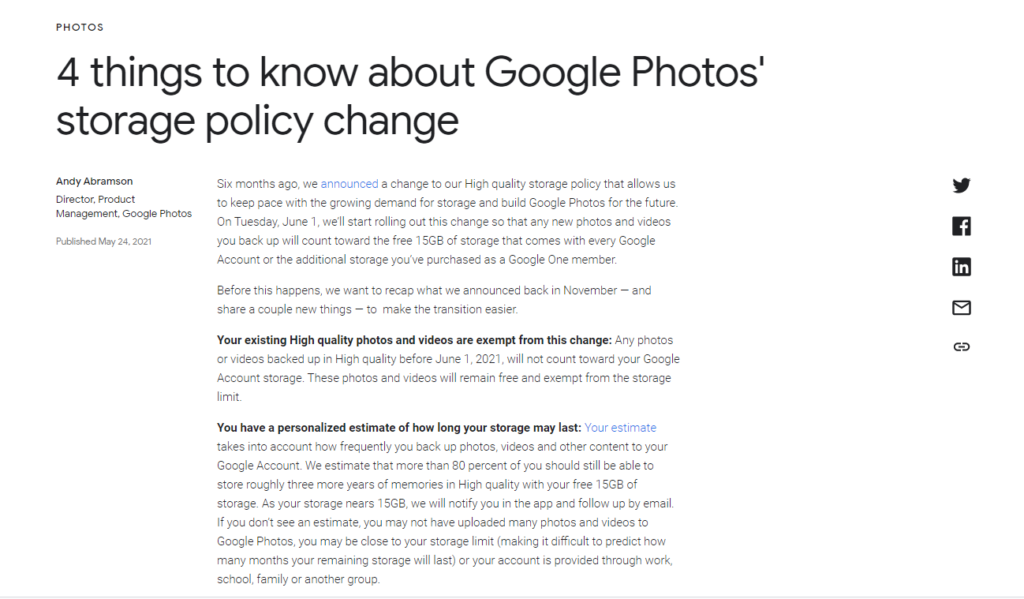 Slab typefaces are different kinds of serif that appeared in the 1800s. They are often big and bulkier with thick serifs or decorative lines at the end of the character's stroke. Typewriter font is one example.
Slab serif is famous among posters and flyer designs as it tends to be bold and eye-catching.
Some long-standing brands use a slab serif logotype.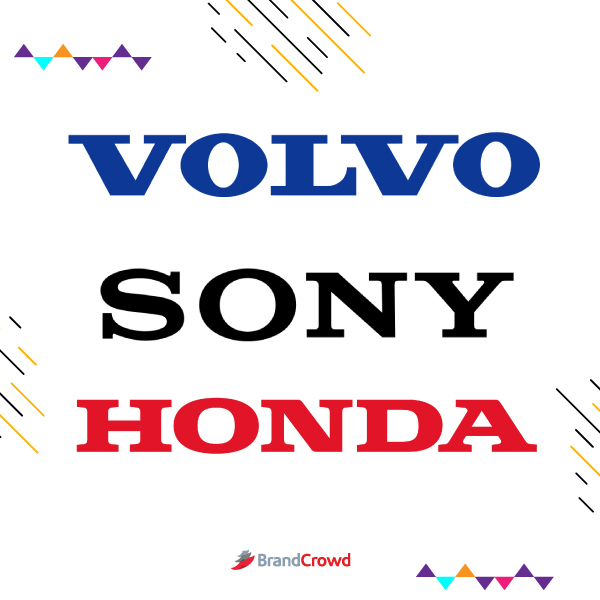 Script is a special group of typefaces derived from a cursive handwriting style. They can be casual and playful, unique and artistic. Hence, you must use this style with intention and restraint. They're best as logos not as a body copy as they can be illegible sometimes.
Script styles can be formal or cursive. Formal scripts are more graceful, elegant, and fluid, while cursive scripts are a bit loose with thick strokes as if written with a pen or a brush.
Here are some of the brands' script-laden logos: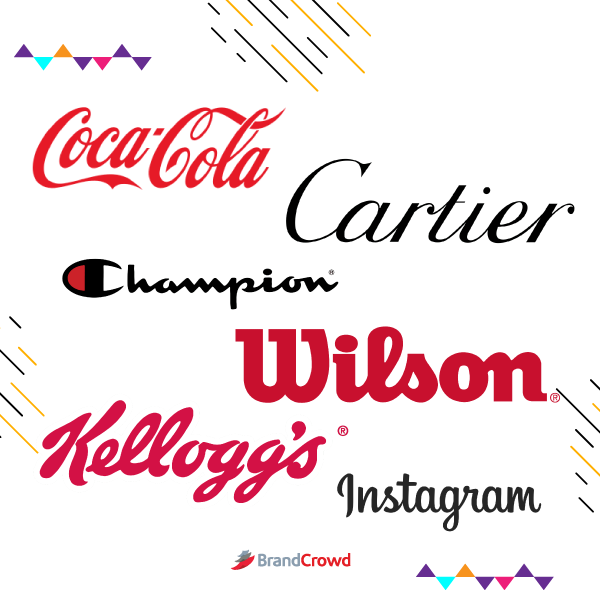 Decorative typefaces can be of any style. They're the most varied kind of typeface group. They're for brands that prioritize creativity, uniqueness, and playfulness.
A decorative typeface may not be for everybody. They are very specific and unique to a brand. To use a decorative typeface in the logo, it's best to customize.
Also, decorative fonts are only applicable to logos not for a header and body copy.
Find inspiration from these brands for a stylized logo typeface: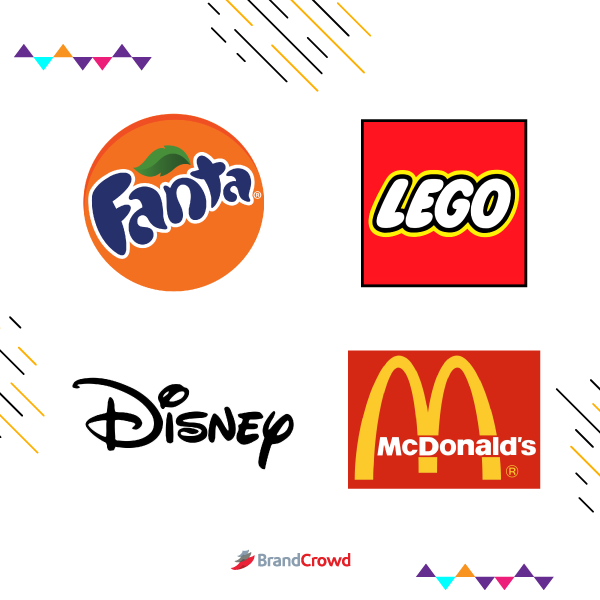 3. Know Your Budget Limits
Before we even choose from the hundreds of font selections, we should first look into what our budget allows.
Our first option is to scour the web for free typefaces. The web has blessed us with several open-source fonts. They're the best options for startups with a limited budget and design resources. The catch is that everybody uses them.
Where to Look:
Font Squirrel
Font Library
Font face Ninja
Google Fonts
Open Source
Type Navigator
The second option is what's called "primary" fonts. While there are inexpensive options, licensing can be a bit of a problem. When you use these paid fonts, you must also pay for the license to use them across all platforms. So the expenses can pile up. Apart from owning the fonts, only a limited number of brands use the same style.
Primary fonts can be found here:
Fonts.com
FontShop
Linotype Library of Fonts
Typekit
The last option is the most expensive: custom-made typefaces. Here, you have the utmost control of the output and the copyrights. Professional designers may stick to your core branding strategies allowing you to create not only a unique style but also a product that is relative to your branding message.
If you plan to use a specific design for the long haul and across multiple platforms, custom-made is the best way to go. That's what Microsoft thought of when they created the Segoe, NFL when they designed the NFL Endzone Slab, and Netflix when they made Netflix Sans.
Where to find designers:
BitFontMaker
Fontstruct
Font Shop
Glyphs
Robofont
MCKL Type
Commercial Type
OH no Type Co
Delve Fonts
4. Match the Brand Personality with the Right Typeface
Once you have the brand personality and the budget in place, now is the time to choose which is which.
The brand personality is a good starting point. Do you want to be perceived as artistic or out-of-the-box? Might as well go for the cursive edge of the decorative and script typefaces. If you want to be called a timeless brand, shower your web copy with slab or serif typefaces. For minimal and professional brands, you'll never go wrong with a sans-serif.
While some typeface designs are trendy, it's better to use a style that will last. Some fonts are still relevant despite being around for years. Fonts such as Calibri, Gill Sans, News gothic, Akzidenz Grotesk, and a lot more are classic yet legible designs.
5. Understand Typeface Hierarchy
Remember: Logo typeface is different from the website body typeface. So you must choose three to four typefaces. Typography involves a hierarchy: from the logo down to the body.
Some websites play with fonts. Their logo typeface is different from the typeface of the header and the body: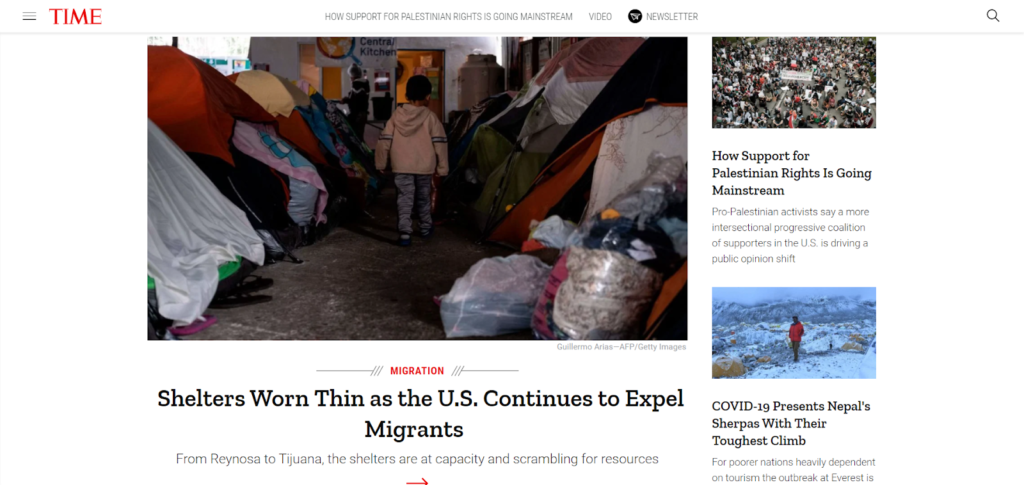 This website combine serif (header and logo) and sans serif (copy) with bold and italic fonts.
However, some websites use only one typeface all throughout: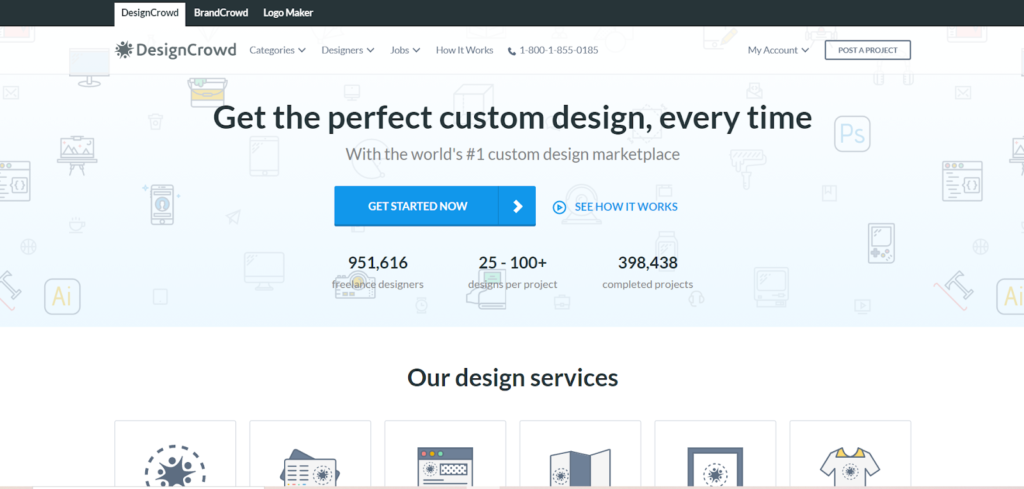 We can see a consistent serif typeface.
The logo can have its own style separate from the rest of the website. You can use decorative and script fonts for the logos, but certainly not for the website body. This means for the body, you're left with either serif or sans serif. The kind of font, i.e weight, size, etc will depend on you.
Final Thoughts
Unless you use a typeface that is not legible and clear, you're most likely going to be safe. To say that typography determines a brand's success is an exaggeration.
Ultimately, everything trickles down to the successful execution of products and services, and branding and marketing efforts. Yet it does not mean typography is a world on its own, separate from a brand. They are a vital piece of a good brand, a crucial recipe. It's just that it doesn't affect a company as much as other aspects like products, customer service, pictures, and content.
If you're a startup struggling with the right typeface, might as well use the kind of typeface that every brand uses. Don't go overboard with artistic fonts unless you have the resources and designers to come up with a complete character design.
Although it's easy to look for inexpensive freelance designers from DesignCrowd, you might want to consider using typefaces that are free from Google Fonts or make your own logotypes from free logo-making tools. But either way, happy Typeface hunting!
Read more articles about Typography: