10 Digital Nomads to Start Following in 2021
Reading Time:
4
minutes


Why settle to work the same job at the same place and prohibit yourself from seeing what the rest of the world has to offer?
That's why digital nomads have grown over the past year. They are workers who travel the world all while balancing their job. Hopping to and from digital nomad cities and countries is possible today because of the accessibility of coworking spaces, tech, and digital work platforms.
In the U.S., the digital nomad population has increased by 49% from 2019 up to 2020. This growth is understandable. This way of living does have its perks. Here are some advantages of being a digital nomad:
Less stress
No commute
Flexibility
Culture enrichment
Economical
Millions of workers now aspire to follow suit. If you want to be like them, you can start looking up content creators that share their experiences and knowledge about this lifestyle.
Find out which digital nomad brands you should put on your radar. This roundup will shine the light on some of the blogs and influencers emerging in this industry.
Famous digital nomads and influencers
Once Upon A Saga
Torbjørn C. Pedersen or Thor is a Danish traveler who aims to visit over 203 nations through land and sea travel alone. The man behind this blog also stays in every country for at least 24 hours. He has been a Goodwill Ambassador of the Danish Red Cross since 2013.
Chasing the Donkey
The blog is run by a couple who moved to Croatia from Australia. The blog has been featured in established travel publications like Lonely Planet. This leading travel website provides readers with the information needed to explore European destinations.
Green Suitcase Travel
Founded by Misty Foster in 2015, the lifestyle platform has helped readers become more socially-conscious tourists. The brand now offers services to help travel companies improve their brand identity and travelers plan their destinations.
Digital Nomad Girls
This blog puts an emphasis on women workers. You can read different blogs about traveling, productivity, and other nomad topics on the website. It also offers free workbooks, networking membership, virtual coworking, and more.
Chris Guillebeau
Renowned nonfiction author Chris Guillebeau writes about entrepreneurship, travel, and self-growth on this blog. He is known for writing The Art of Non-Conformity, The $100 Startup, and more. The Art of Non-Conformity started out as an account for his adventures but has since evolved to tackle subjects about personal matters.
Every Queer
Formerly known as Dopes on the Road, Every Queer was created by Meg Ten Eyck. Eyck was inspired after learning that there aren't many travel resources developed for the LGBTQ community. The blog also provides readers with organized trips to different countries like Spain, Iceland, and more.
Chubby Diaries
Jeff Jenkins aims to help plus-sized people travel with his content. His blog has been recognized by Lonely Planet, NYT, and Forbes, among many other publications. This digital nomad content creator gives readers advice, tips, and additional information to improve their travels.
Runaway Juno
The blog was created by Juno Kim, who lived in South Korea before deciding to pursue a career while traveling. Kim, originally a mechanical engineer, has embarked on over 50 different countries since starting this project. Each blog entry is complete with stunning photos from the writer's trip.
Too Many Adapters
Too Many Adapters publishes guides on the best products and reviews of the newest gadgets for techie nomads. The writers for this website are all travelers and provide real insights. It was established in 2011. The New York Times, Chicago Tribune, BBC, and other websites have featured the blog in the past.
Simply Emma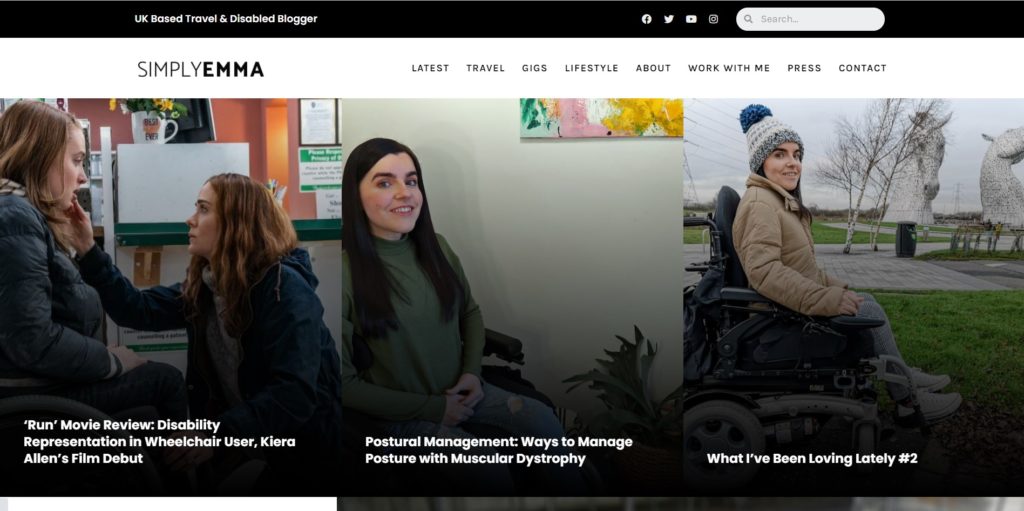 Simply Emma is a travel blog for people with disabilities created by Emma Muldoon. The travel guides in this blog focus on accessibility to encourage wheelchair users to explore the world. Readers can also expect to learn more about live events and personal stories of the UK-based author.
Conclusion
You can live a life of adventure and share it with your community through proper branding. Improve your travel and professional career through storytelling and developing a memorable brand identity.
Sourcing a logo that will capture your brand is efficiently done by crowdsourcing. DesignCrowd is one of the leading platforms available that lets you launch a logo design contest for a community of freelance graphic designers. Start one today and get ready to receive up to 50 original design bids.
Alternatively, you can also try making a logo. The BrandCrowd logo maker is easy to use, allowing you to customize logos even without design experience. You can generate the ideal design in a matter of minutes. It has a library full of travel logos, blogger logos, and more. Try it right here.
Read more articles on design and inspiration: