3 easy steps to create a business logo
Reading Time:
4
minutes


Starting a business? Don't forget, a business can't survive with a successful marketing effort. A part of having a solid marketing strategy is an easily recgonisable brand – that includes a memorable logo. If you're looking for an eye-catching business logo to help represent your brand but don't know how to create one, then in you're in the right place. But how can you create a business logo?
Well, we have a great solution for you! You can create a business logo in 3 simple steps:
Step 1: Generate hundreds of logo designs by putting in your business name and a few related keywords.
Step 2: Choose among the designs and start customising by changing fonts and colors, and adding symbols and shapes.
Step 3: Download and choose your licence!
Easy, huh? If you need more guidance, below is a step-by-step guide to walk you through the entire process.
01. Generate Logo Ideas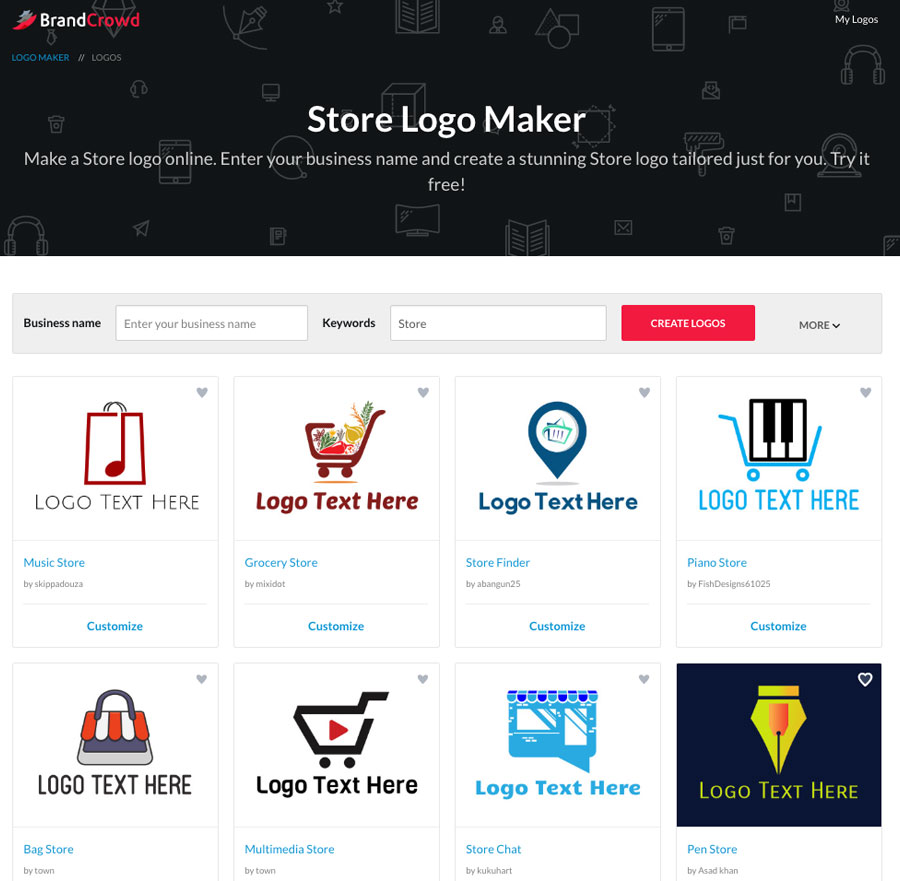 On the homepage, you can start off by entering your business name on the box then click the red button underneath it. Another option is to search logo designs by entering your keyword and making sure that the 'Logo Maker' is selected on the drop-down box beside it. After the keywords are entered, simply click the 'Search Logo's button to generate logo ideas.
If the keyword is too broad, you will be given with thousands of logo ideas. You can narrow it down by putting in the more related keyword. Let us try this out by putting in our sample business name: "Petee" with '"Shirt" as another keyword.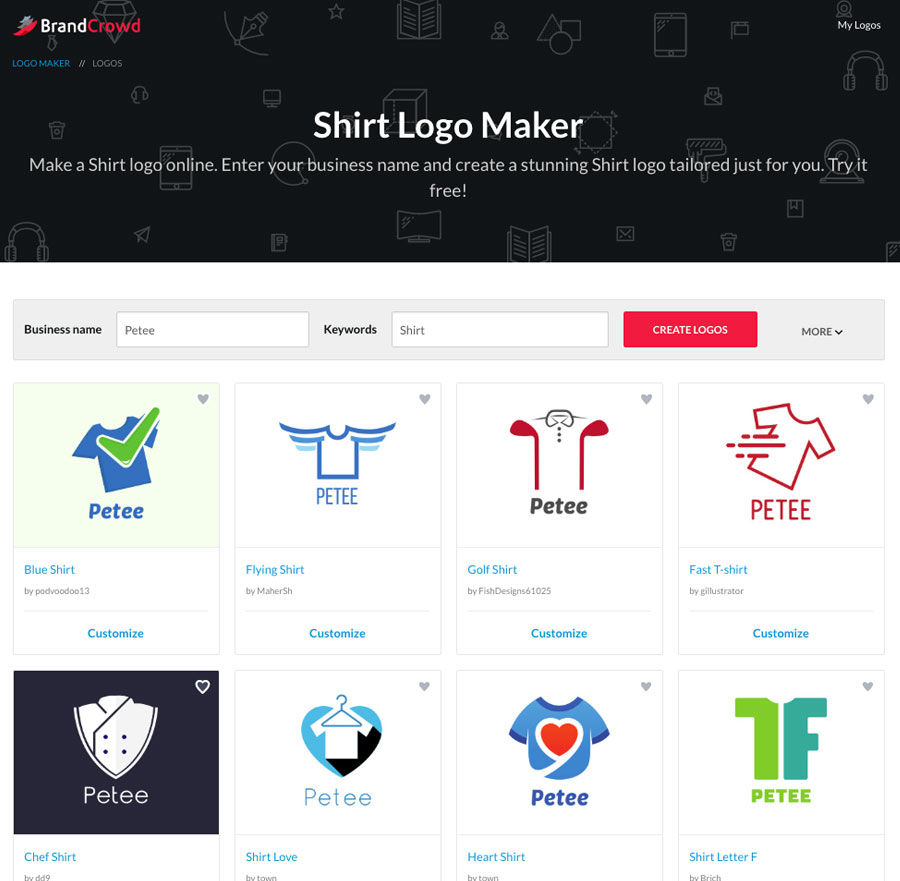 As you can see, more related logo designs have popped up, making the selection process a lot easier.
Pro Tip: One of the important factor here is to know exactly what your business is all about as well as knowing exactly where you want it to go in the future. This way, typing in keywords and selecting a logo design is easier.
02. Choose The Design And Customise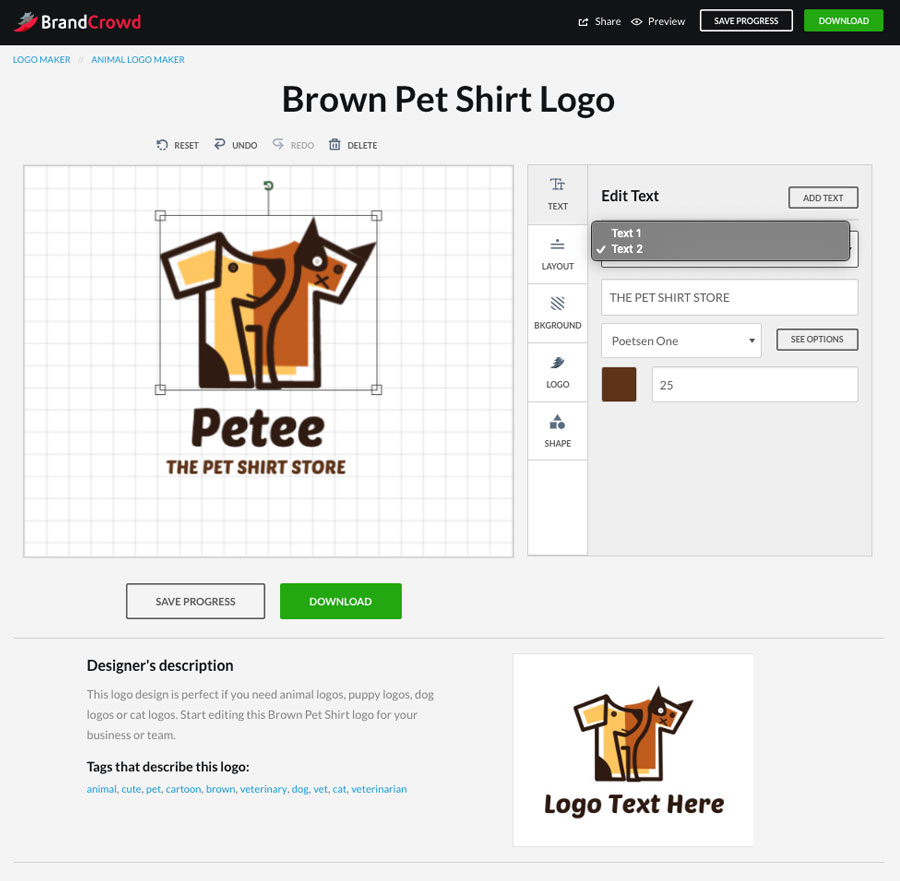 After selecting the logo design, you can now start customizing your logo. You can start by editing the fonts and adding a tagline if you have one. Simply go to "Text" and change the colors and fonts from there.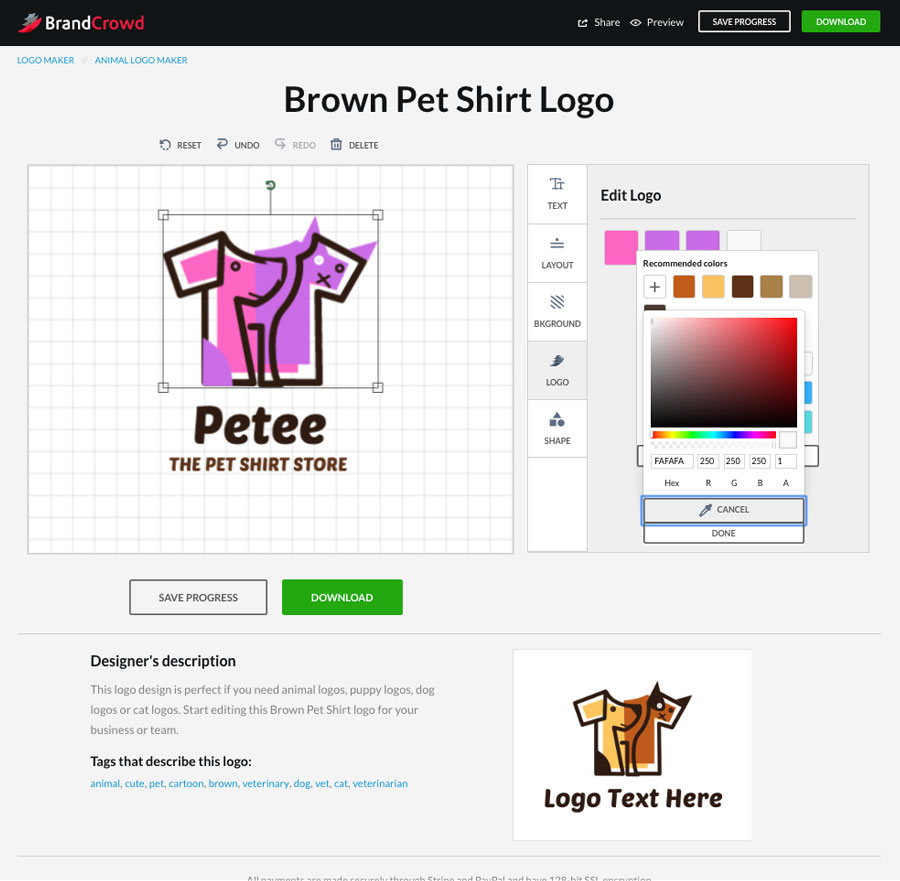 Some design allow the changing of colors of the logo. If the color doesn't work for you, you may explore more options by going to 'Logo' and then start combining colors from there.
Pro Tip: If the color choices are too limited for you, you can choose to customize the "Hex" code by clicking on the "Plus/ +" sign then putting in the code. These "Hex" code can be retrieved by using photoshop or simply searching for the code on the internet.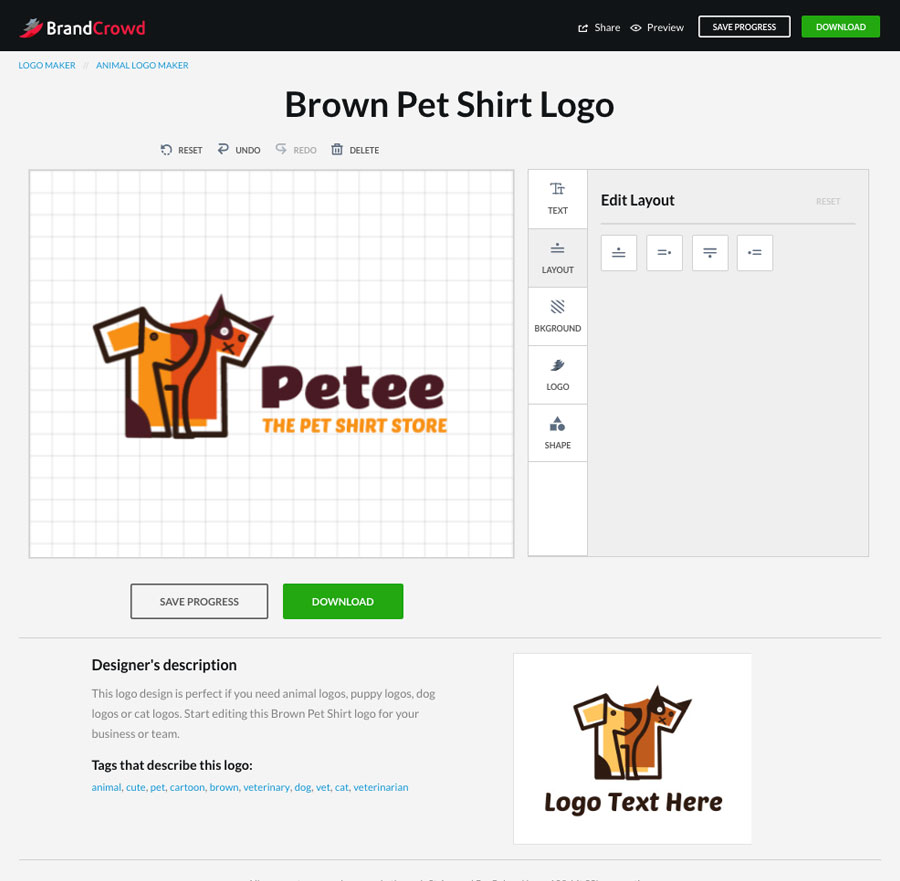 You can also play with the arrangement by clicking on the "Layout" category and choosing from the pre-set layouts there. Or just simply move the image and the texts around until you are happy with it.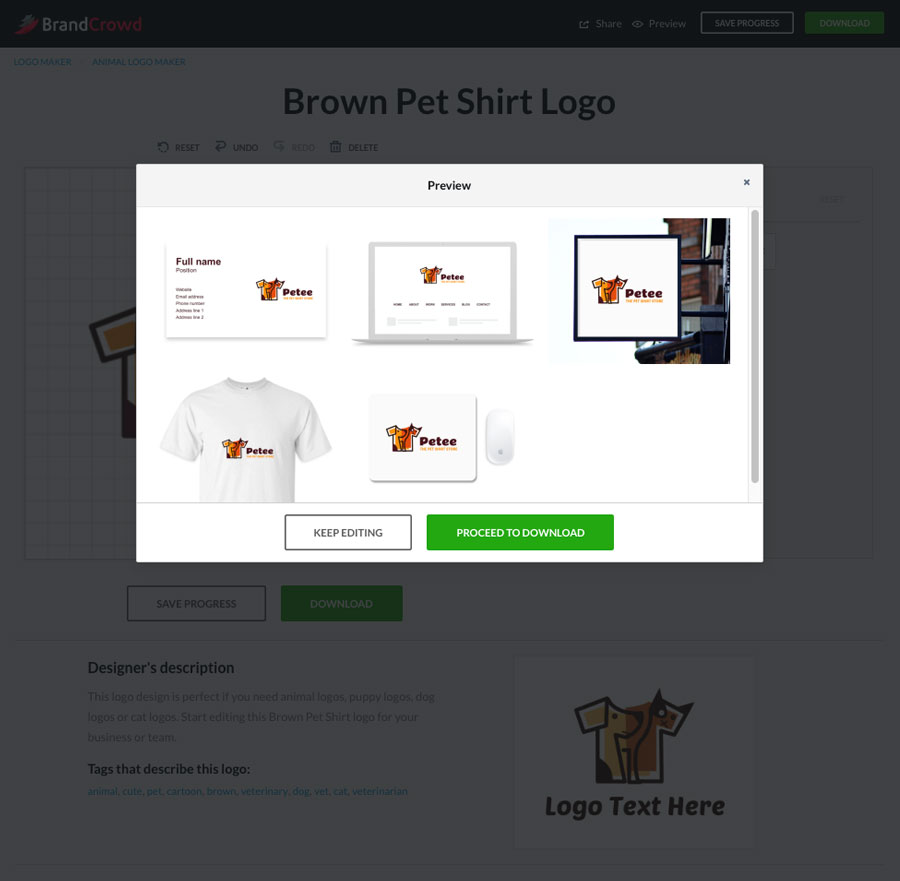 If you are wondering how the logo will look once it is used in merchandise, you can click on the "Preview" button on the upper right corner and see for yourself.
If you are happy with your design, you can now download it by clicking on the "Download" or "Proceed to Download" button on your screen. Otherwise, just click on "Save Progress" and get back to it later.
03. Buy Your Licence
Once you have decided to download, you have two options: "Buy the Standard Licence" or "Buy the Exclusive Licence".
The Standard Licence means that the design will remain as a property of BrandCrowd and will still be available for use by other clients.
On the other hand, the Exclusive Licence gives the full rights to you (the buyer) and the design will no longer be available for other clients.
Check out the BrandCrowd's Client Contract for more details.
Logo Design Inspiration For Your Business
If you are ready to start working on your logo, here are some 5 cool business logo ideas that you can customize right now!
1. Burger Shop
2. Baby Cake
3. Media Bag
4. Coffee Tank
5. Baby Food