Business Card Maker
1. Enter your business name
2. Create a logo
3. Create your business cards
Beautiful business cards for any business
Make a unique logo design on BrandCrowd as a first step to having a quality business card.
Create business cards on BrandCrowd in three easy steps
Start by making a unique, quality logo design for your business and we'll help you create a prefectly matching business card!
Enter your business name
Enter your business name and we'll start generating logo ideas for your business.
Make your logo
Change colours, fonts, add a tagline, etc... Our logo maker is 100% customizable and easy to use.
Create your business cards!
Make business cards that perfectly match your logo and click to download or print!
Make your prefect business card
Why should you use BrandCrowd to create your logo and business card?
Unique designs

Unlike other makers that use stock icons, our 20,000+ designs have all been handcrafted by a community of top designers. Get a stunning logo and business card - always!

Free to try

BrandCrowd Logo Maker and Business Card Maker is free to try. Browse thousands of different designs, edit and save as many as you like.

It's fast - create a design in 2 minutes

Pick a design you like and start editing it. In minutes you can make a logo and business card you will love.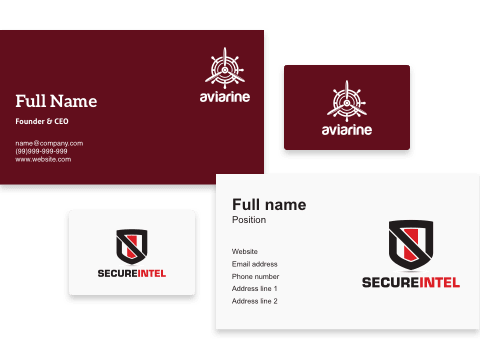 Very good service kind and helpful. Thank you BrandCrowd

I absolutely love BrandCrowd. They offer so many templates to choose from. BrandCrowd

Great looking product! Ready to take my business to the next level! Thank you BrandCrowd

It's a really helpful website and thank you. BrandCrowd

BrandCrowd removes the barrier of needing experience and artistic ability which allowed me to focus on my imagination, working with images, colors, fonts, and themes. BrandCrowd

Very good and useful! BrandCrowd
Frequently asked questions
Why am I making a logo first?
By designing your logo first, we will be able to generate business cards that perfectly match your new brand. Our business card maker will create cards that contain your new logo and choice of fonts and colors.
Can I request changes and revisions?
Yes! You can either download your business card designs for an additional $9 or we offer in-house printing services. A member of our Team will contact you via e-mail to provide you with the next steps of your Print Order and request all the information needed to customize your items to your liking.
Can I download my business cards?
Yes! Once you create your business card we will offer you an option to download your files. This option will enable you to take those files to your local printer or to an online print service like Vistaprint.
What file types can I get?
PNG - Transparent background file, perfect for web uses.
PDF - Good for printing, viewing in any image viewer like Adobe Acrobat or Reader.
JPG - High Resolution.Good to print at the current size but do not alter / enlarge.
EPS - Vector format which can be edited and resized on Adobe Illustrator software.Ideal for printing on various formats.
SVG - Scalable Vector Graphic, support for interactivity and animation purposes.
Step 1 … create your logo to get the perfect business card