Make a business card you'll love, instantly. Try for free.
Whether you need a business card for your cleaning service, real estate business or recruiting agency, we can help you create the perfect card in minutes.
Making a business card is easy with BrandCrowd
Your business card is a key element for a powerful brand. Create a professional business card in minutes with our free business card maker. BrandCrowd's business card maker is easy to use and allows you full customization to get the design you want!
Search for a design
Use our Search or browse our popular categories to find a design you like.
Customize your business card
Change colours, fonts, add a tagline, etc... Our business card maker is 100% customizable and easy to use.
Print or download your design!
Print or download your business card and start sharing it with the world!
Tell your story with personalised business cards
Reinforce your brand identity with a personalized business card design. A great business card lets you develop a recognizable brand and grow your network. Don't just inform people of who you are and how they can reach you, but tell your story too - Create a high-impact business card using the BrandCrowd business card maker.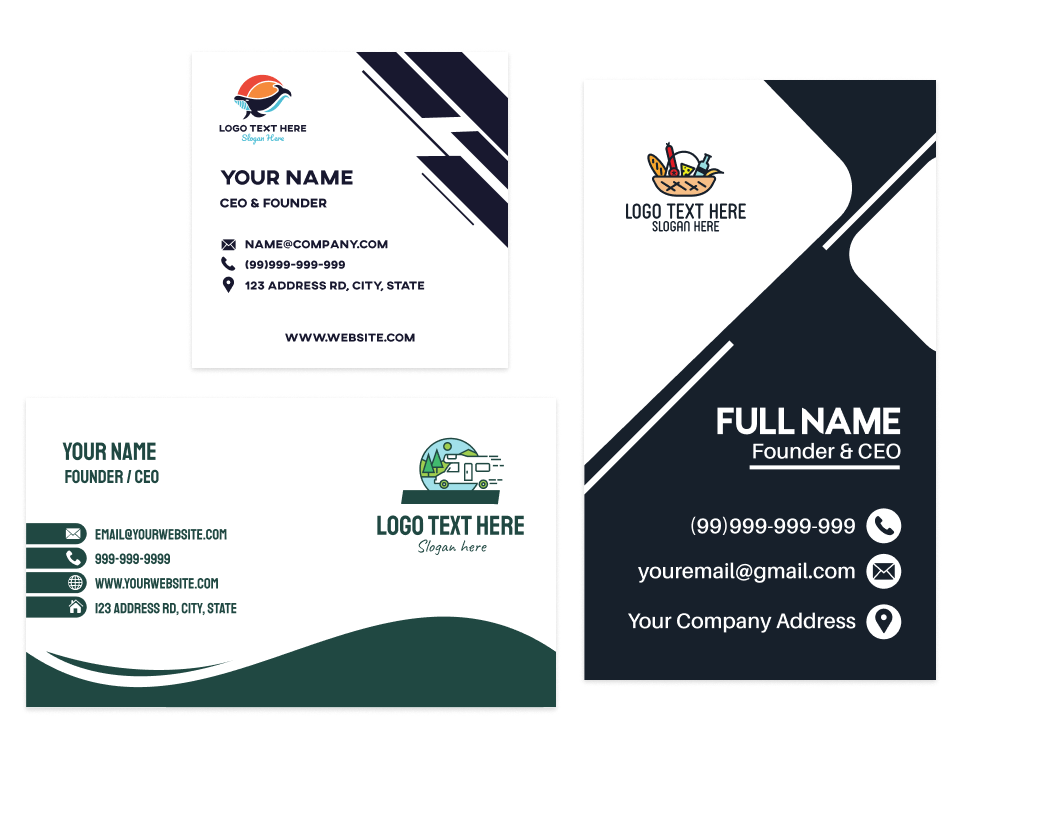 Create the perfect business card today
The business card design process doesn't have to be painstaking. In fact, you can create the perfect card design in minutes. All you have to do is use the BrandCrowd business card maker to find the perfect design for your business - Simply start personalizing the fonts, colors and layout until you've got what you want. Express your brand identity with a business card today.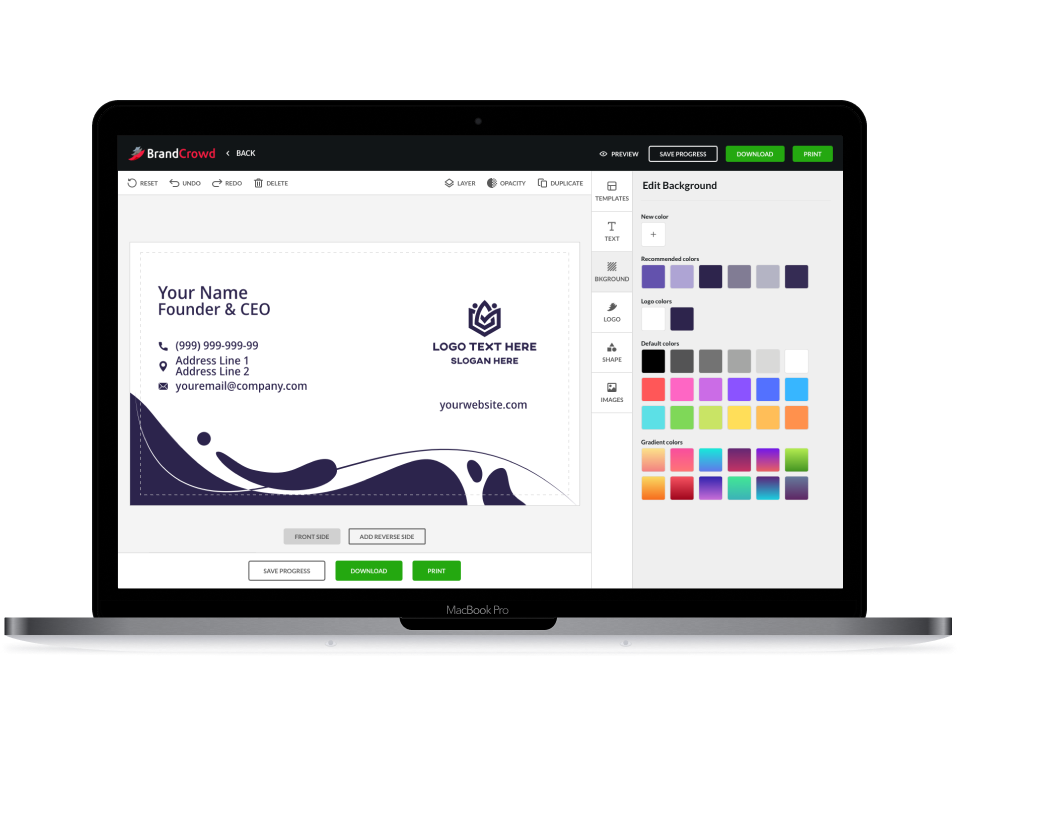 Get more than just a business card design
Trying to complete your marketing collateral checklist? BrandCrowd gives you more than just business cards. With easy-to-use design tools, you can ensure your brand consistently looks its best across the web, social and print. Try our social media and print design tools today - You'll find everything you need to launch your business at BrandCrowd.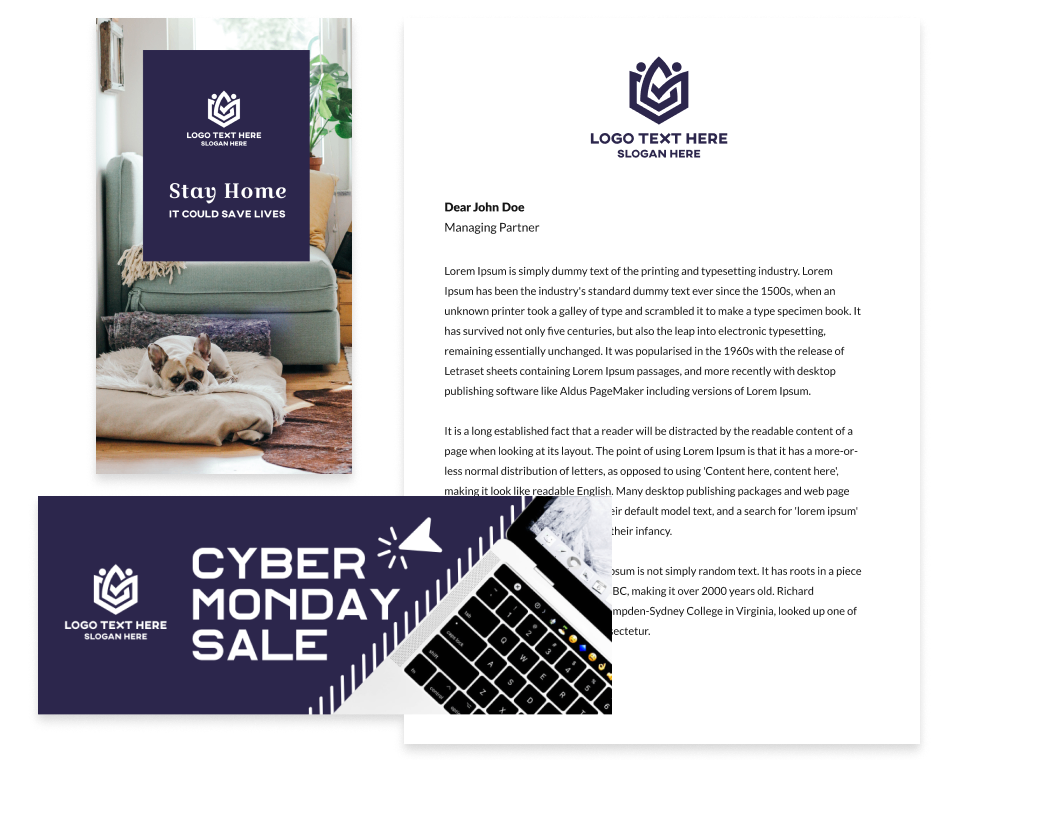 Make your perfect business card
Why should you use BrandCrowd to create your business card?
Unique designs

Unlike other makers that use stock icons, our 20,000+ designs have all been handcrafted by a community of top designers. Get a stunning business card - always!

Free to use

BrandCrowd's Business Card Maker is free to try. Browse thousands of different business cards, edit and save as many as you like.

It's fast - create a logo in 2 minutes

Pick a design you like and start editing it. In minutes you can make a business card you will love.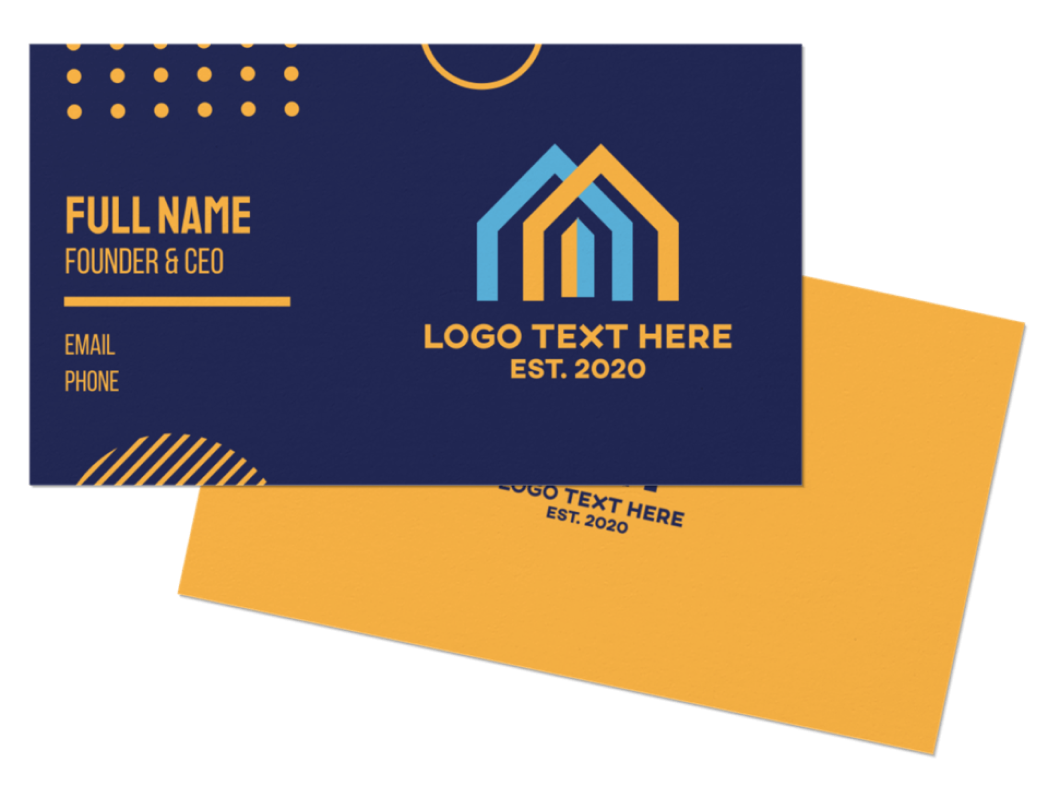 Frequently asked questions
What is the BrandCrowd business card maker?
The BrandCrowd business card maker is a do-it-yourself online tool to create high-quality cards in minutes. It has a library of professionally crafted designs for different brands, including business cards for restaurants, construction companies, photographers, and many more. Create a stunning business card in minutes with our online business card maker.
Can I get my business card printed?
Yes. We offer business card printing services. You don't have to spend your precious time learning how to print double-sided business cards or trying to find the right file type for printing. You have the option to select the paper quality, edges, and orientation you want - we'll handle the rest. Get your business cards delivered to your door at BrandCrowd.
Can I create a double sided business card?
Absolutely. Our business card design templates allow you to maximize the space with single and double-sided options. Simply choose to add a reverse side when using the business card maker. Get the most out of every inch of your business card - there's space for all those key elements including your business name, logo, contact details, address and website.
Does my business card come with a logo?
Yes. We are logo experts, and we know how important it is to put your logo in everything you do. The BrandCrowd business card maker enables you to create a business logo design or upload your existing logo to your design. Ensuring brand consistency has never been this easy.