Logos Of The Top Esports Startups And How To Get One
Esports has long made a huge impact on how we see sports. It promotes how sports can not only be about physical prowess but on strategic and critical thinking as well.
The industry's growth in terms of viewership and revenue is quite impressive given that it only had an estimate of more than 800,000 people who have heard about it in 2015. Today, it is estimated that 1.57 billion people have heard about it, thus the expected increase of viewership and revenue.
Brands, in the various niche, have also seen the potential of investing in esports marketing to reach a wider and more engaged audience. Hence the growth of multiple sponsorships and advertising in a variety of esports events.
Given the high increase of revenue in the esports industry, it is easy to see why teams are formed and events are being organized around the world.
If you have a team waiting to be introduced or a company that aims to sponsor esports events, a striking, powerful and intimidating esports logo is a good branding tool to acquire. Read on for more information on how to get an esports logo for your team.
Top Esports Startups Logo
Like the usual sports, esports also have fan-favorite teams with millions of followers worldwide. These teams and their members are household names that inspire thousands, and even millions, of aspiring professional esports players around the globe.
The teams are also represented by a fierce and unique sports logo that is used to identify them in the arena. Each logo presented has a unique characteristic and design that makes them stand out.
Take for example Fnatic's monogram logo. The logo is memorable because of its bright orange color and interesting display of letters in a single design.
Another is Team Liquid's horse logo that is ready to fight, is fast and ready to go on any battle. And of course, OG's memorable yet simple shield logo that is ready to defend it's a 2-time and back-to-back win in the latest The International (TI) tournament of Dota 2.
If you are an avid fan, you will surely be familiar with these popular and top esports startup logo below:
If you are ready to create your very own esports logo, our step-by-step guide is here to help!
How To Create An Esports Logo For Your Team
There are several ways to get a team logo, but the easiest and most convenient one is by creating it yourself. BrandCrowd's esport logo maker is one easy tool that you can use wherever you are.
You can create your own logo in 3 easy steps:
Step 1: Generate your logo design.
Step 2: Customize.
Step 1: Download.
Below are some of the customizing features of the logo maker that you can also use:
Step 1: Generate your logo design.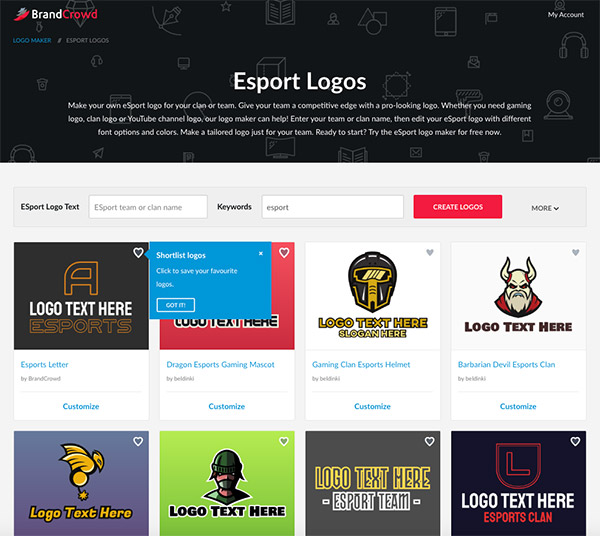 The first step in generating your logo design is by entering your team name on the text box on the logo maker home page and clicking the 'Create Logo' button.
You will be directed to the logo design gallery home page. From there, just type in your keyword on the designated text box to further widen your options.
Similarly, you can also click on the following logo maker ideas for esports team that we have prepared:
Gaming Logo Maker
Fantasy Logo Maker
Mascot Logo Maker
Ninja Logo Maker
Clan Logo Maker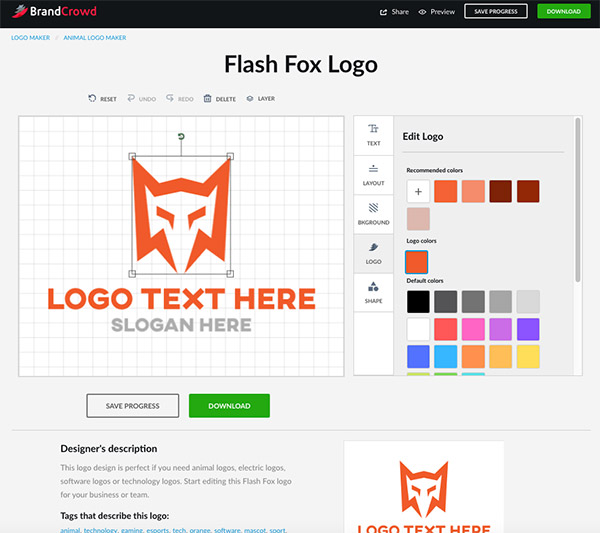 Scroll through hundreds of designs and choose the one that you think will fit your team. The design we will be working today is the Flash Fox Logo.
Step 2: Customize.
Once you click the logo of your choice, you will be sent to the customizing page where you can now edit the design.
For the text, simply click on the 'Text' tab on your screen and edit it by clicking on the 'Logo Text Here' and changing it to your team's name. Additionally, you can also change the color of the text by clicking on the colored box on the menu options.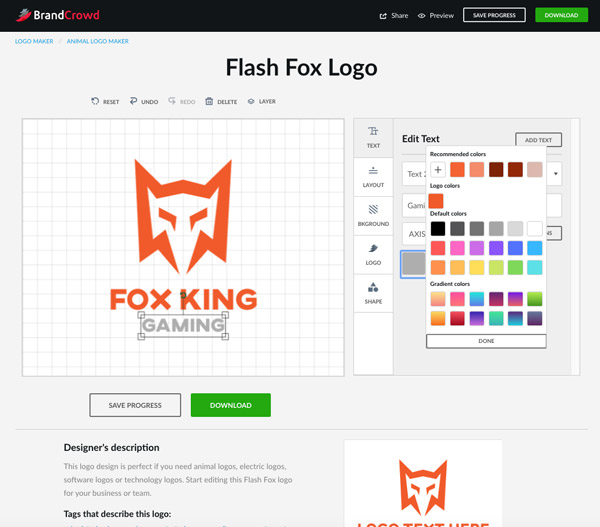 The default background color for most of the logo design is white. So if you want to change it up a bit, you can go to the 'Background' tab and click on the color of your choice.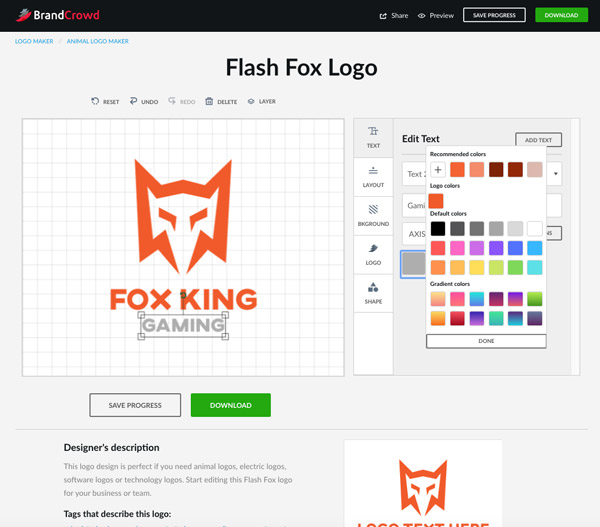 Additionally, you can adjust the hue and the shade by clicking on the box with the plus sign and adjusting the hex to your liking. The tool will automatically adjust any changes in the design and you can see how the logo will look with each change.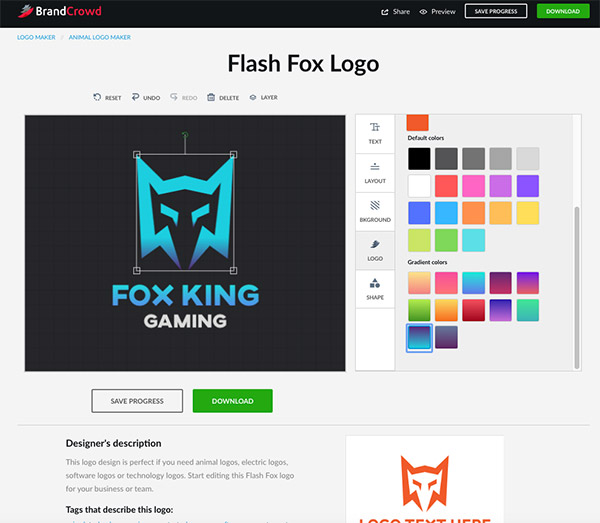 Some logo designs do not allow editing or changing of the design color. For this example, however, we can change the color of the design.
Just click on the 'Logo' tab and then choose your preferred color. There are default colors and gradient colors to choose from.
If you are happy with the design and would like to see how the design looks like on a variety of merchandise, you can click on the 'Preview' button. It is located on the upper right-hand corner of the page.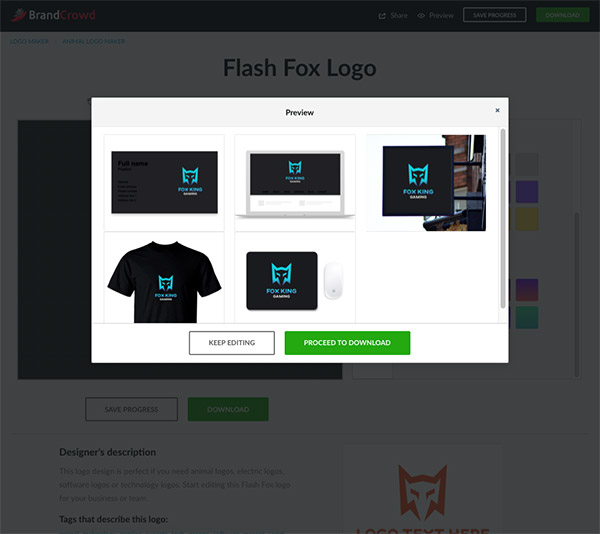 The preview will show you the finished product and how you can use it for your marketing materials.
Step 3: Download.
Once you are satisfied with the outcome, you can click the 'Download' button on the upper right-hand corner of the screen or at the bottom of the logo design.
Otherwise, if you want another day to decide, simply click the 'Save Progress' button and enter your email address to save your work. You can get back to it once you are ready to finalize the design.
If you are ready to use the logo, you can choose between 2 options to acquire it: buy the 'Standard Licence' or the 'Exclusive Licence'.
The Standard Licence will give you limited rights to the design. This means you can use it for your team, but the design will still be available on BrandCrowd's gallery for other customers.
The Exclusive Licence, on the other hand, will give you exclusive rights to the design. Meaning, the design will be taken out of BrandCrowd's gallery and no one can use it after you purchase the rights to it.
For more information about this, check out BrandCrowd's Client Contract
Looking For Design Inspiration?
If you think you might be overwhelmed with the thousands of logo design selection, we are here to help. Below are some of our recommended esports logo design that you can choose from:
Pink S Globe
Gaming Flower Bomb
Skull Emblem
Soldier Wasp
Evil Boy
Make it a point to work on your team logo today. Remember that it is your brand and will represent your team wherever you go!