20 Gamer Logos of Big Brands And How To Create Your Gamer Logo
Are you a gamer with a Youtube channel or a website where you live stream or record your gameplay and share it with your followers, viewers or readers? If yes, then at some point you might have wondered how else to promote your brand.
Having a striking and professional gamer logo will not only elevate your branding but it will give your channel a unique identity that makes people recognize you. It also attracts sponsors and advertisers who are looking for potential gamers to invest in.
If chosen, this can mean an increase in revenue for your business. After all, being a gamer nowadays is also considered being a businessman with people turning to online games and esports for leisure.
With the hundreds of esports players and popular gamers online who have large followings, it is easy to get lost among the hundreds, and even thousands, of new gamers, trying to penetrate the market.
As an aspiring gaming influencer, you will need a gamer logo to help you build up your online identity and attract the attention of avid fans of online games out there. Read on for our very useful tips on how to get one.
Gamer Logos of Big Brands
The gaming industry has produced hundreds of gaming influencers around the world, earning as much as $23 million annually, depending on the follower count and views gathered per video. It is easy to see how this head-turning number is pushing more gamers to increase the quality of their content and push their brand presence.
To get some inspiration on how you can conceptualize your logo design, below are some popular gamer logos of big brands that are well-loved and followed by gaming enthusiasts.
Looking at the above examples, it is noticeable that most of the logos have a mascot design and are created with bright and engaging colors. This is particularly evident with Gaming With Jen and Shroud's playful mascot.
Looking at their logo, you can easily tell that their channel is fun to watch. Not to mention that most have a personal touch to it since it is a personal brand.
Some also sport a fierce and intimidating logo like Syndicate with its roaring gold lion and Tim The Tat Man's fierce-looking Bleagle logo – a combination of a bear, a lion, and an eagle. And of course, Pewdipie's recognizable bright blue logo with a playful combination of a fist and the letter 'P'.
How To Create A Gamer Logo
If you are ready to get a gamer logo for your channel, creating your logo is the easiest and fun way to get one. Simply follow these 3 easy steps:
1st Step: Generate gamer logos.
2nd Step: Customise the logo of your choice.
3rd Step: Download your customised logo.
Below is a more comprehensive guide to creating your gamer logo.
1st Step: Generate gamer logos.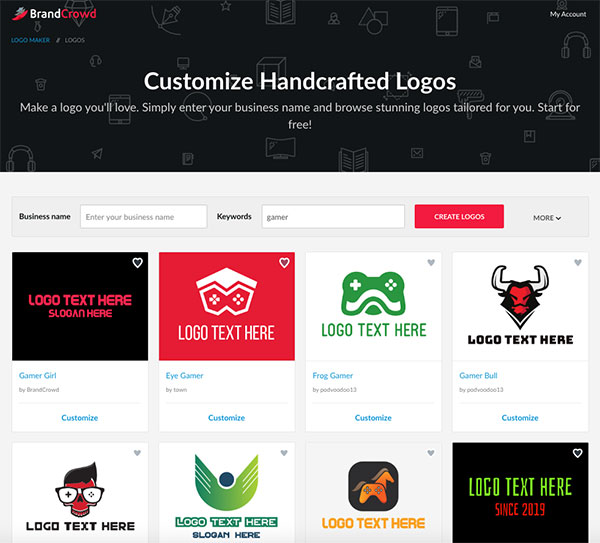 BrandCrowd has several logo designs to choose from. You can generate any category by putting in the keyword or typing your business/ brand name on the text box. Click the red button next to it and you'll be able to generate lots of logo design ideas.
You can play around with keywords to generate other creative logo design ideas. Add it on the keyword text box and you'll be surprised at the number of designs you can generate.
You can also check out our mascot logo maker, fantasy logo maker, ninja logo maker and esport logo maker.
Once you have found the logo you want to click it and you will be directed to the logo maker tool.
Pro Tip: It is easy to look for logo designs if you already have an idea on what type of gamer logo you would want. Example, would you like a logo with a mascot? Or perhaps is it a clan logo that you are looking for?
2nd Step: Customise the logo of your choice.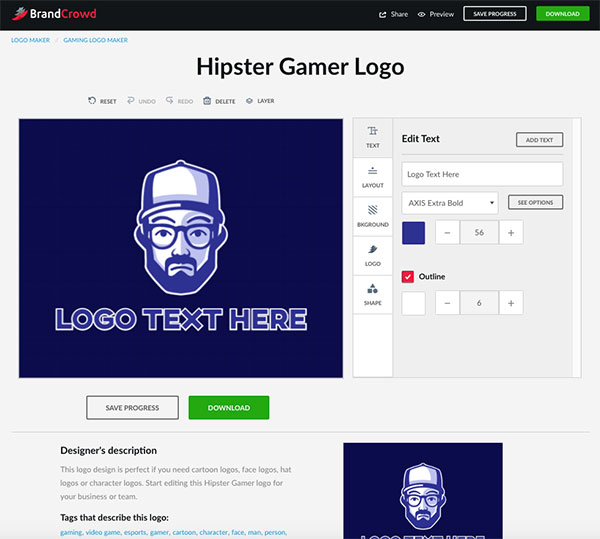 The logo maker tool has several tabs that you can use to customize the design. There is the 'Text' tab, the 'Layout', 'Background', 'Logo' and 'Shape'.
Our example is the Hipster Gamer Logo. The design has a serious-looking mascot, which is perfect for gamers who wish to have a memorable and professional brand logo.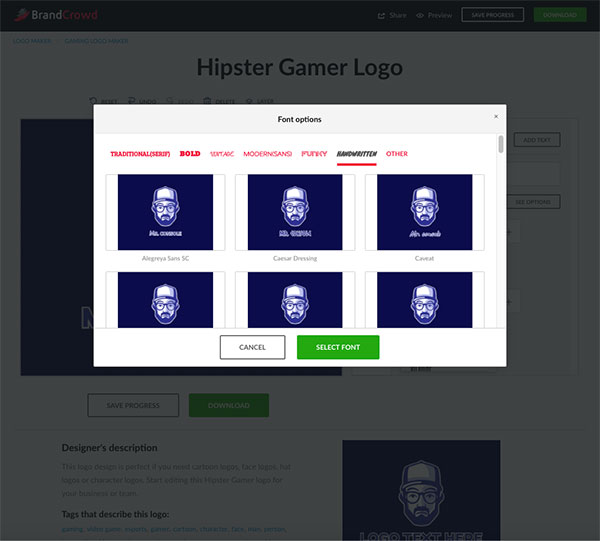 The first thing that you are likely to edit is the text to display your brand or channel name. You can do this by going to the 'Text' tab and editing the 'Logo Text Here' box. If you have a tagline or additional texts that you want to be added, click the 'Add Text' button.
For the font type, you can change it by clicking on the drop-down box or clicking the 'See Options' button on the right side. A font menu will appear, scroll through the options and click your desired font.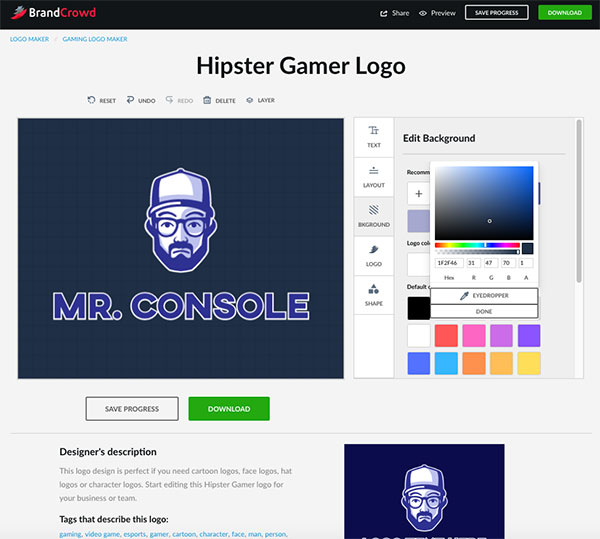 If the background color is too dark for you, you can change it by going to the 'Background' tab. There are recommended colors, logo colors, default colors, and gradient colors to choose from. Click your choice and the image on the left will automatically apply the changes you have chosen.
If you want to look for more color options, click on the box with the plus sign (+) and you can adjust the hex.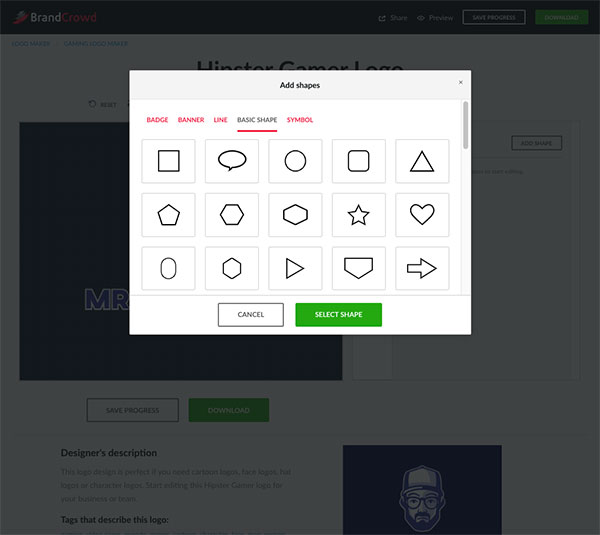 There is also an option to add a shape to the design. Simply go to the 'Shape' tab and click 'Add Shape'. A Shape menu will appear with several shape options.
You can choose from a badge, banner, line, basic shape, or symbol. Once you have selected, click that and it will automatically appear to the logo maker tool.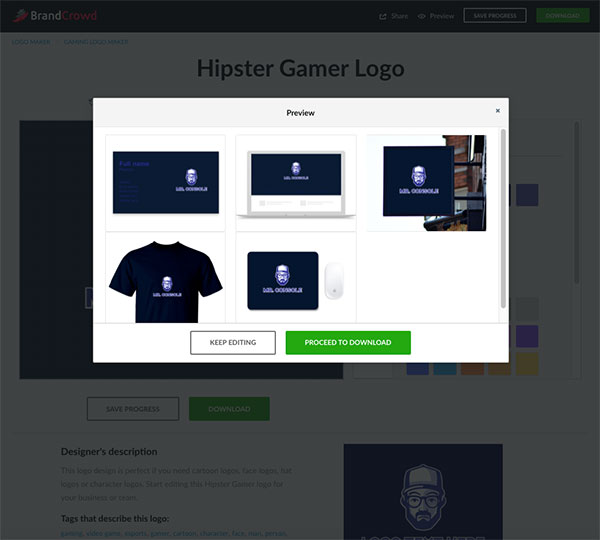 If you want a quick preview of how the logo will look on certain merchandise, you can click the 'Preview' button on the upper right-hand corner. It will take you to a preview menu with photos of the logo on a shirt, as a wallpaper, a mousepad, and even a calling card.
If you are happy with the output, you can click the 'Proceed to Download' button or click the 'Keep Editing' button to continue editing.
Pro Tip: You can reset, undo, and delete any action or object you place on the canvas by clicking on the button at the upper portion of the design canvas.
3rd Step: Download your customised logo.
If you want to sleep on it and decide later, click 'Save Progress' then enter your email address to save the work you have completed. Otherwise, if you are ready to own it, click the 'Download' button at the bottom or on the upper right corner.
There are 2 options to choose from when downloading your design. You can purchase either the 'Standard Licence' or the 'Exclusive Licence'.
The Standard Licence will give you limited rights to the design. This means that you can use it for your brand, but the logo will still be available on BrandCrowd's logo gallery. Other clients can still use it for their brand.
The Exclusive Licence, on the other hand, gives you exclusive rights to the design. This means that once you purchase it, the design will no longer be available at the gallery and no one can use it.
For more details, don't forget to read the BrandCrowd's Client Contract.
Thirsting For More Design Inspiration?
We know that too many options can be fun for others while overwhelming for some. That is why we have these recommended gamers logo for you:
Racoon Gamer
Black Skull Wings
Gaming Cafe
Abstract Pink F & G
Tech Joker
Get started today! Your gamer logo is waiting for you!