Facebook Advertising: A Guide
Reading Time:
35
minutes


I. Introduction
Facebook's growth in recent years can be largely attributed to one thing: advertising. In fact, in 2022, Meta (Facebook's parent company) generated an impressive 116.6 billion dollars from digital advertising alone. This represents a whopping 97.9 percent of the company's total revenue.
To attract more advertisers, it's no surprise that the company offers one of the most comprehensive, advanced, and affordable advertising platforms on the market. It now boasts more than 10 million active advertisers globally.
Want to join the rank of businesses getting traction on Facebook networks?
To help you get started, we've put together a step-by-step guide on how to set up, publish, and track the performance of your Facebook ads.
II. What is Facebook Advertising?
Facebook advertising is the advertising platform of the social media giant, Meta. It owns one of the largest social media networks in the world such as Facebook, Instagram, Messenger, and Whatsapp. Combined, they can reach more than 3 billion users a month.
When you advertise on the Facebook network, you can target the demographics of your audience, as well as their interests, behaviors, and more. Facebook also allows you to analyze the performance of those ads, study your user engagement, and further refine and optimize your campaigns for better results.
III. What are the Benefits of Facebook Ads
1. Facebook has the highest user base of all social media platforms
The number of users is Facebook's crowning achievement as a social media company. More users mean more eyeballs on the ads, which translates to more sales. And with Facebook having the biggest user base of any social media platform, it's the perfect choice.
The cherry on top? Facebook advertising also includes Instagram and other Meta advertising services on one platform called Business Manager. So, you can target audiences across multiple platforms without any hassle.
2. Facebook allows advertisers to highly customize their targets
Over the years, Facebook Analytics has become increasingly intelligent, providing advertisers with incredible precision when it comes to targeting their audience. In the past, advertisers could only select generic information such as age, gender, and location. But now, thanks to a wealth of data available on the platform, advertisers can target users based on the pages they like, websites they visit, and their friends, followers, and more.
With all this information, Facebook is able to create detailed profiles of every user on its platform, giving advertisers the ability to target specific audiences. In other words, Facebook has become a treasure trove of data that businesses can use to reach potential customers more effectively than ever before.
3. Facebook is the most cost-efficient advertising platform
When it comes to advertising, Twitter and Facebook are two of the most popular platforms. While Twitter boasts a lower cost-per-click (CPC) compared to Facebook, Facebook still reigns supreme as the most cost-effective platform due to its massive user base and reach.
On average, Twitter has a CPC of around $0.38, while Facebook's average CPC is approximately $0.94. However, when you take into account Facebook's vast audience, it emerges as the clear winner in terms of bringing the most number of possible conversions.
Take other social media companies into the picture, and Facebook still comes out on top in terms of cost. YouTube, for instance, has an average cost per click of $3.21, LinkedIn at $5.26, Pinterest at $1.50, and TikTok hovering around $1.00. With these figures, it's clear that Facebook offers highly competitive ad prices for businesses.
4. Facebook calls for easy tracking and measuring of ad performance
Other than the ease of creating Facebook ads, the social media platform also boasts a comprehensive dashboard that makes ad monitoring a breeze.
Analytics used to be complicated but Facebook's dashboard has improved over the years to become a user-friendly experience for advertisers of all skill levels. The platform's simplified terms and visually engaging graphs enable advertisers to quickly analyze their data and gain valuable insights into their ad's performance.
Whether you're just starting or a seasoned pro, Facebook's dashboard has everything you need to track your ads' success. It's a reliable and efficient tool that takes the guesswork out of ad optimization, making it easy to make data-driven decisions.
IV. Who Can Use Facebook Ads
1. Small businesses
Small businesses often operate with limited budgets and resources, making it challenging for them to compete with larger companies in terms of advertising. This is where Facebook advertising comes in as an ideal solution.
The beauty of Facebook advertising for small businesses lies in its simplicity and accessibility. Unlike other forms of advertising that require a lot of resources and networking to garner immediate attention, Facebook advertising can be done in minutes and from the comforts of your own home. By designing Facebook ads that are attention-grabbing, you can definitely lure your potential customers in.
You don't need to call an agency to create a massive structure for you. With the right allocation of a small budget, compelling content, and a targeted audience, your Facebook ads can be up and running in no time.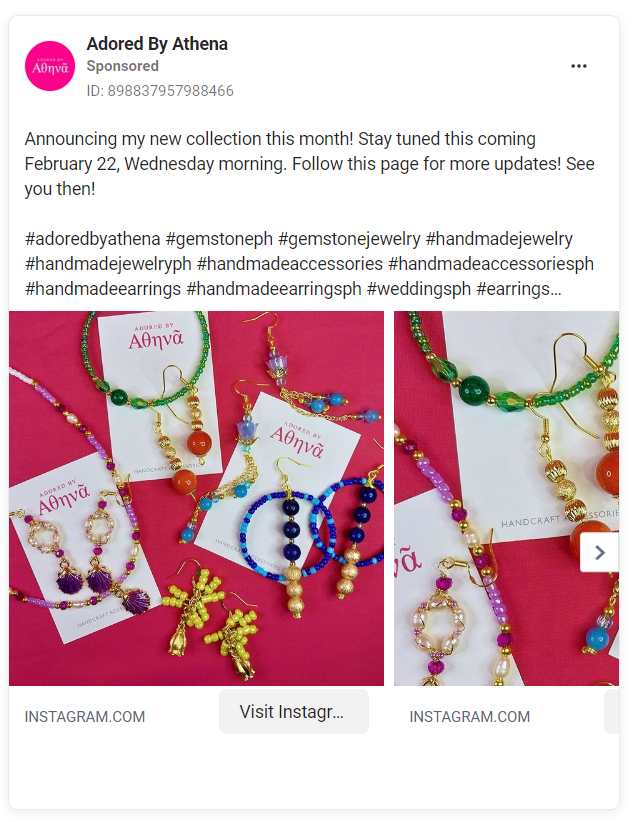 2. Big enterprises
You may be surprised to know that even big and well-known companies take advantage of Facebook for their advertising needs. You might think that with their resources, they would only choose TV and other major platforms, but that's not always the case. Firstly, Facebook is a massive platform that offers a vast audience to target. Secondly, these big companies are often targeting global audiences that traditional ads cannot reach.
If you look up the biggest advertisers on Facebook, you'll see familiar names such as Samsung, AT&T, Microsoft, PNG, and more. Disney, for example, has spent 210 million dollars on Facebook ads.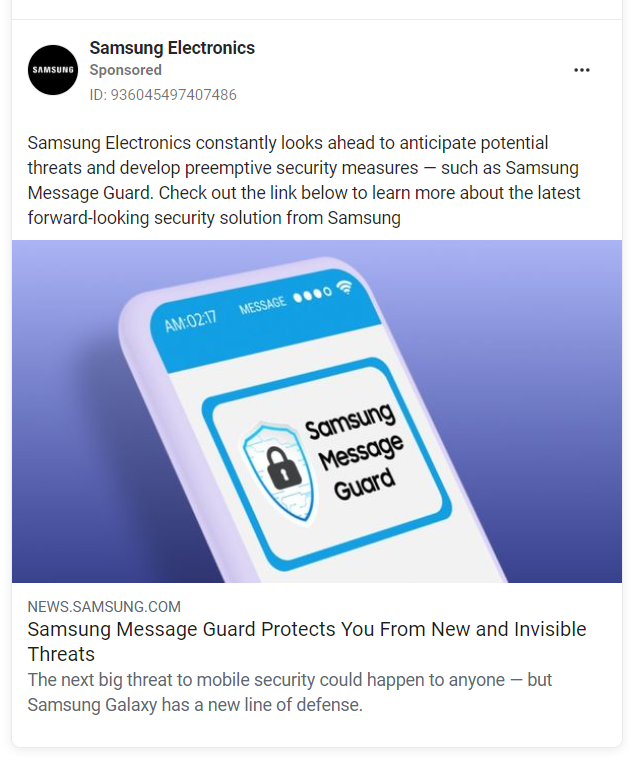 3. Influencers, content creators, and entertainers
Facebook advertising can be a game-changer for influencers and artists. It helps them reach a wider audience, grow their following, and increase revenue.
By targeting specific demographics, they can ensure their content reaches the right people, leading to more engagement and sponsorship deals. Plus, visually appealing ads can generate interest and drive traffic to sponsor pages, fulfilling contractual obligations and earning more income.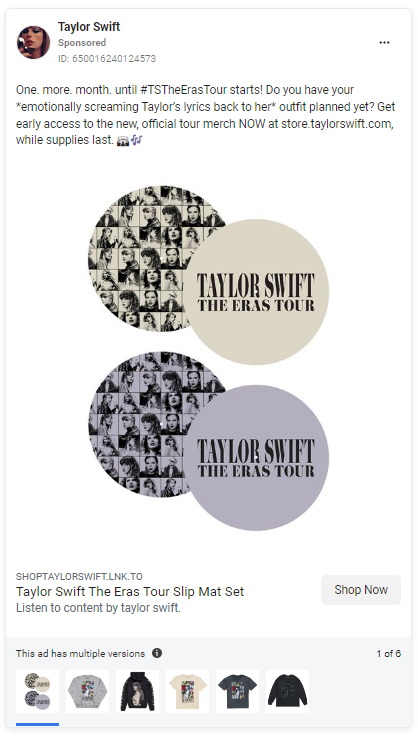 4. Non-profit organizations
For non-profit organizations relying on donations, Facebook ads are a game-changer. With just a minimal investment of money and effort, you can launch a $10 ad campaign and generate the necessary attention and drive you need to achieve your goals. The best part is that you can customize your target audience and reach out to potential donors who are likely to support your organization.
The advantages of Facebook advertising for nonprofits are not limited to raising funds. You can also leverage this platform to create awareness and promote your campaigns. Prominent NGOs like the World Health Organization, WWF UK, Crisis, and The Soil Association, among others, have already recognized the potential of Facebook advertising and are actively using it to further their cause. With customizable CTR buttons, you can easily direct your audience to donate or take other actions that support your mission.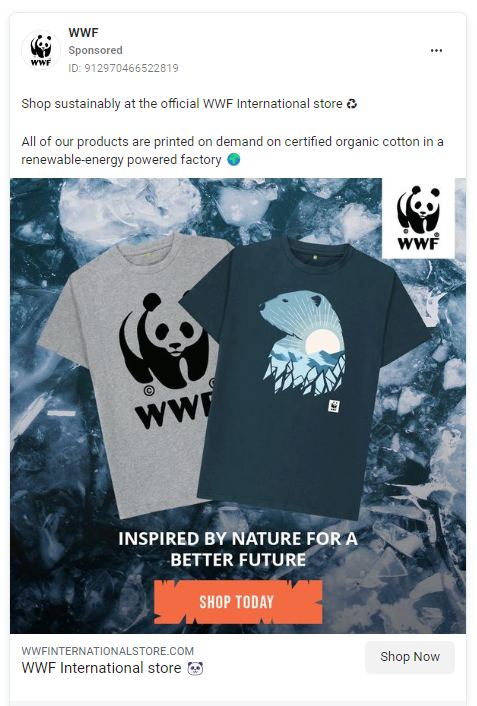 5. News sites and magazines
While you may not be selling a physical product, you are selling access to your content. Many magazines and news sites rely on subscription fees to survive. By advertising on Facebook, you can target non-readers who may be interested in your content and convert them into subscribers.
In today's world, high-quality journalism comes at a cost. Facebook ads offer an effective way to connect with potential readers and viewers. Additionally, Facebook has a feature that allows you to target people who have interacted with your content on the platform, making it easier to reach the right audience.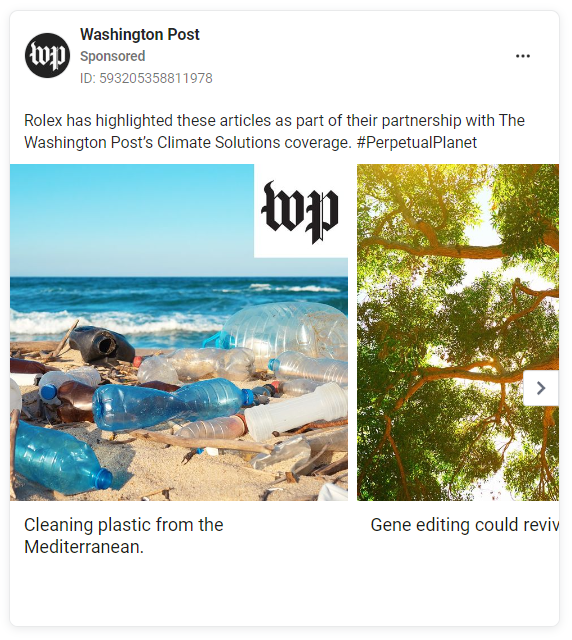 V. What Are The Types of Facebook Ads?
When you browse Facebook, you will notice Facebook ads vary in content. There are images, videos, and a combination of both. Each can achieve numerous objectives — be it to increase social media followers or boost brand awareness.
Here are the major types of advertisements on Facebook networks.
1. Images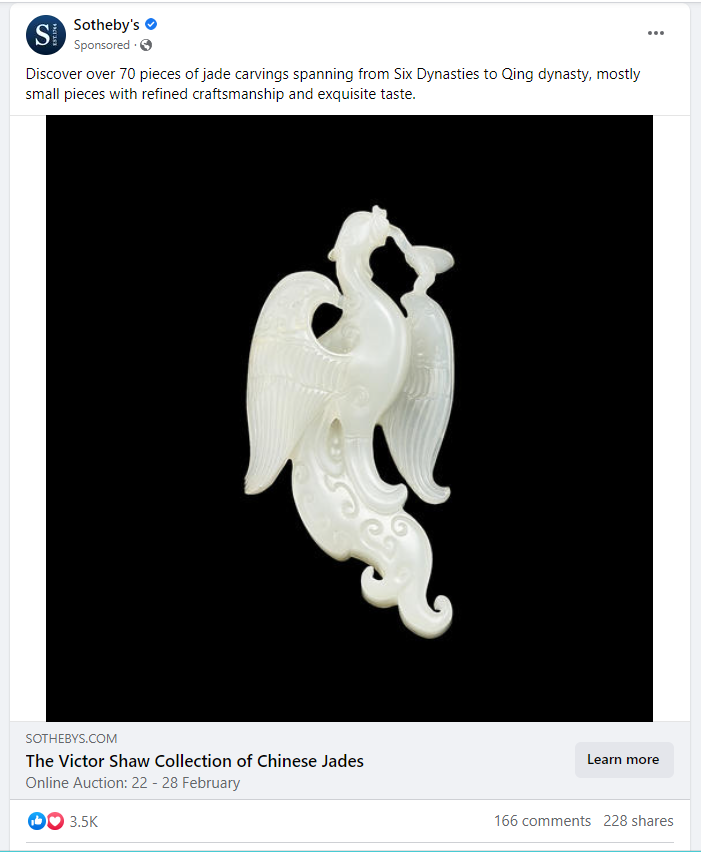 Image ads are the most popular type of advertising you can see on Facebook. It corresponds to most advertising goals. Whether to drive traffic or encourage conversions, a single, visually appealing and high-quality image can give you your desired results.
It's also a lot easier to create. It's not time-intensive nor resources-intensive to create image-based Facebook campaigns. As long as the picture is focused, uncluttered, high-resolution, and the message is clear, mage ads can do wonders for your brand.
There are specific design recommendations depending on where you place your image ads, but here's a general rule:

Ratio: 1.91:1 to 1:1 / 1.91:1 to 4.5
Maximum File Size: 30MB
Minimum height and width: 600 x 600 pixels
Note that you can upload the highest resolution you can get as long as it satisfies the ratio requirement. In terms of file types, you can upload a range of image types such as PNG, JPG, and more.
2. Video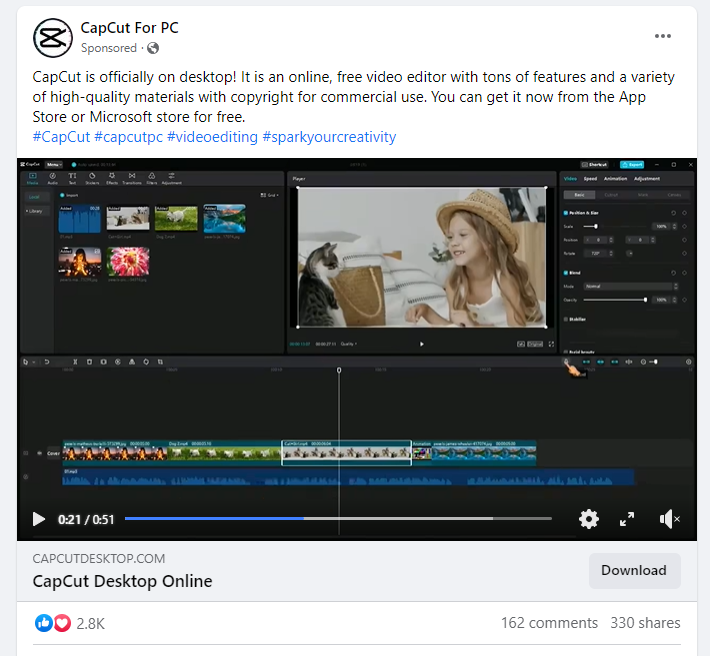 Videos have become one of the most popular and effective forms of advertising due to their ability to captivate audiences with moving images and sound. Unlike static images, video ads offer a powerful medium to convey a brand's message, tell a story, and showcase products or services in a more engaging and visually appealing way.
In addition, the longer length of videos allows for more information to be shared, making them a great tool for brand awareness and product launches. According to Facebook, videos account for 50% of the time people spend on the platform, highlighting the effectiveness of video marketing.
Moreover, social media platforms have recognized the value of videos and are incorporating them more into their algorithms. In fact, video content dominates social media, as evidenced by the high number of views and engagements on popular platforms like Instagram Reels and Tiktok.
Here are the general recommendations for videos on Facebook Ads:
Ratio: 1:1 (for desktop or mobile) or 4:5 (for mobile only)
Video Settings: H.264 compression, square pixels, fixed frame rate, progressive scan and stereo AAC audio compression at 128kbps+
Resolution: At least 1080 x 1080 pixels
Video Duration: 1 second to 241 minutes
Maximum File Size: 4GB
Minimum Height and Width: 120 pixels x 120 pixels
Most video types are accepted, and the video duration can last as short one second to as long as a movie (241 minutes).
3. Carousel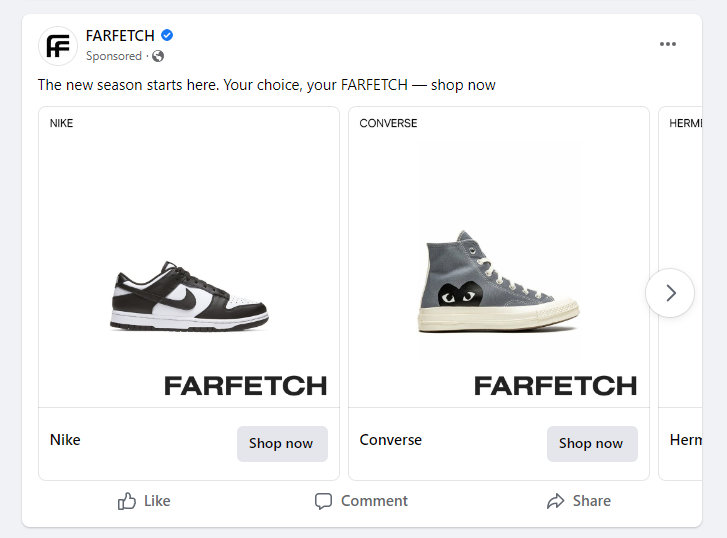 If you can't decide which to choose between images or videos, then Carousel ads are a perfect choice.
It is a special type of Facebook ad that showcases several images and videos in one advertisement. Each image or video has its own link that visitors can click to go to your target pages and sites.
Visitors can easily swipe between ad contents and view it without leaving Facebook or Instagram. So it's a perfect choice if you want to feature several sides of a product or you want to showcase your newly launched collection.
Also, Carousel is a little bit engaging. Compared to a single video or image, Carousel encourages visitors to not only look at the ad but also interact with it by swiping. In turn, it could nudge them to like or even comment on it, thereby boosting algorithm accuracy.
Here are the recommendations for the content:

Ratio: 1:1
Primary Text: 125 characters
Headline: 32 characters
Description: 18 characters
Landing Page URL: Required
Number of Carousel Cards: 2 to 10
Image Maximum File Size: 30MB
Video Maximum File Size: 4GB
Video Duration: 1 second to 240 minutes
Aspect Ratio Tolerance: 3%
Note that there are no maximum resolution requirements. Just upload the highest resolution that meets the required ratio. Also, most file types of images and videos, such as PNG, MP4, etc., are acceptable.
4. Collection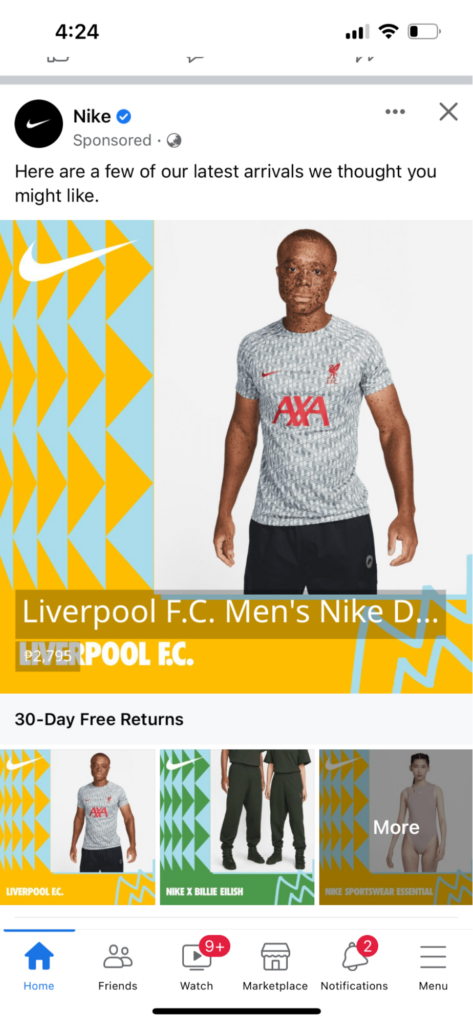 Collections are just Carousels in the sense that it comprises several contents — either images or videos, but they differ in terms of experience.
By tapping on the Collection ad, users will be taken to a fast-loading page called the "Instant Experience" where the video and images are presented beautifully coupled with captions and a CTA.
It mimics the design of a print catalog that's why it's also perfect for showcasing collections and campaigns. The images will be presented in a grid, so it's easier for the viewer to browse through the products.
It is an immersive experience that provides a lot more information than a single image, video or Carousel because it's a combination of these three.
The best part is that Facebook offers dynamic layout options so you can tailor your ad designs on your objectives or target groups.
Ratio: 1:1
Primary Text: 125 characters
Headline: 40 characters
Landing Page URL: Required
Image Maximum File Size: 30MB
Video Maximum File Size: 4GB
You can upload the highest resolution you can get as long as it agrees with the required ratio. And it shouldn't be less than 1080 x 1080 pixels. Moreover, most file types are acceptable, even GIFs.
VI. Where will the ads be placed?
1. Facebook and Instagram Profile Feeds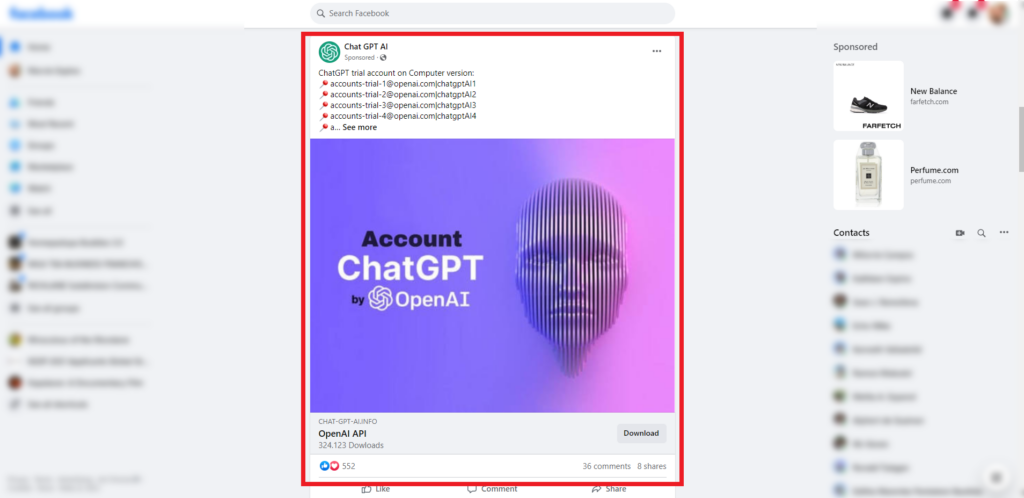 Facebook Feeds / News Feeds is the page where the status updates are located. It's full of images, videos, events, captions, words, etc. It's the home page that features your friends' social media content.
Placing your ads here will garner the most impact because people spend most of their time on this page.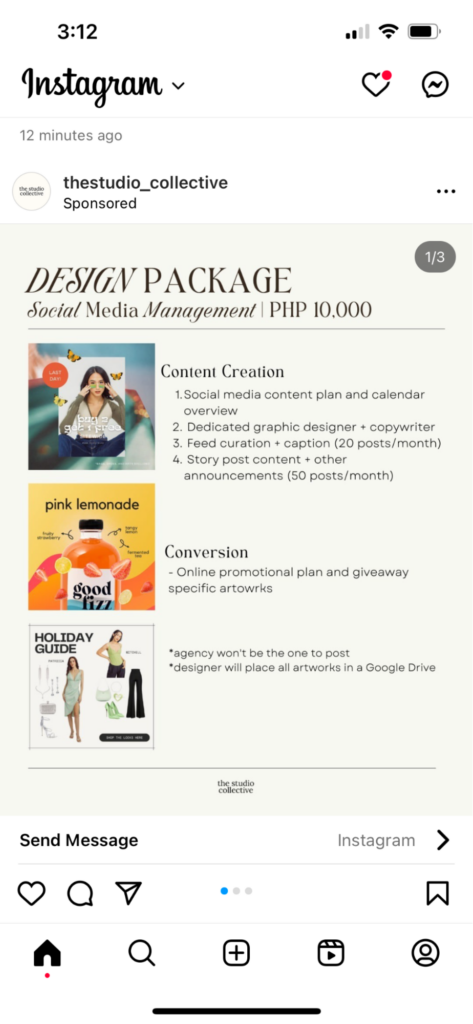 2. Facebook Instant Articles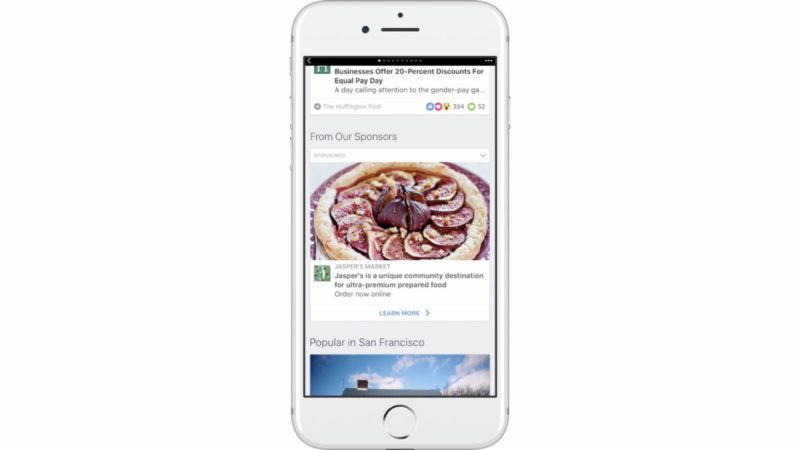 When you click an Instant Article, it feels like you're directed to the creators' web page, but it actually is a Facebook HTML page that is mobile optimized. That's why it's fast loading yet it mimics the design and format of the article on its home website.
An ad that is placed on Instant Articles can be seen at the middle or at the bottom of the article.
3. Facebook In-Stream Video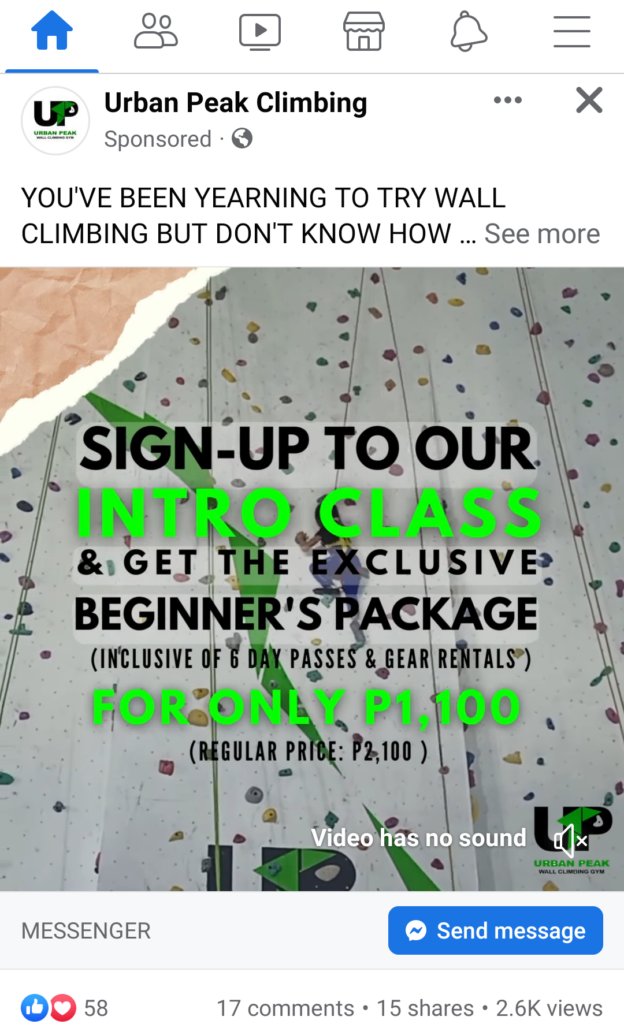 Facebook In-Stream videos are video content on Facebook Feeds. In-stream ads are either images or videos placed in the middle of the original video content disrupting the viewer with the advertisement.
4. Facebook Video Feeds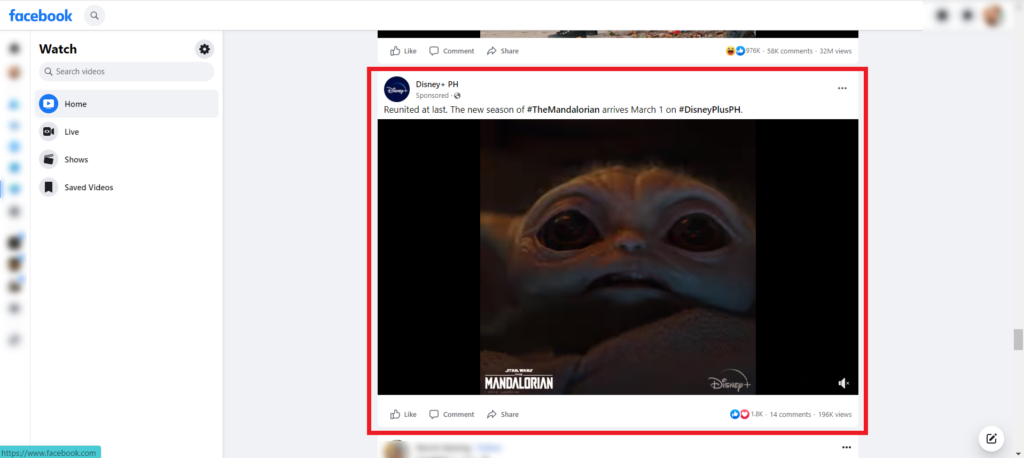 Facebook Video Feeds are just like News Feeds but specifically a long page full of video content. It acts as a separate page. Users can scroll through dozens of content and the advertisement can be in the middle of the page while scrolling containing your image, videos, etc.
5. Facebook / Instagram Stories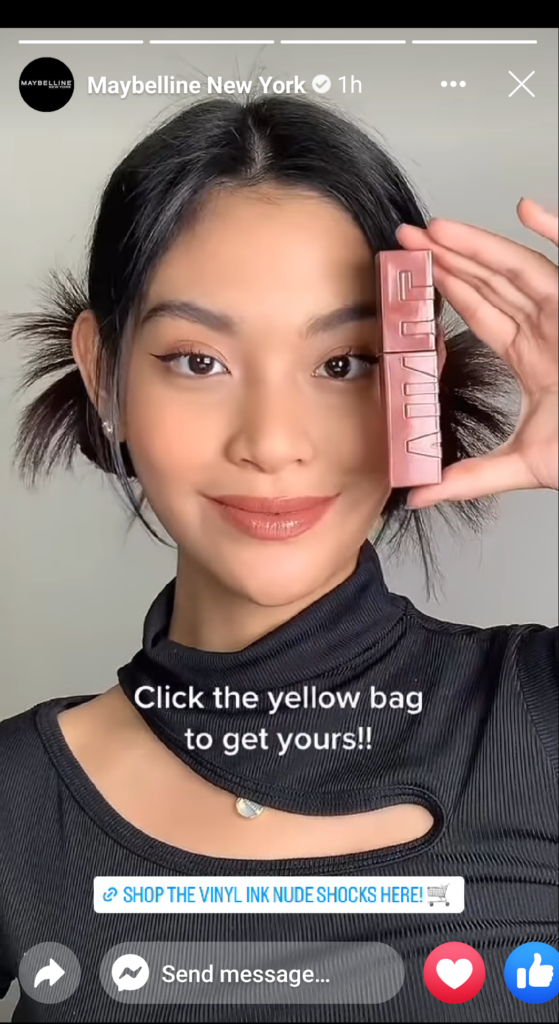 Facebook and Instagram Stories are images and videos at the top of the home page. These are content that users publish and can only be viewed for 24 hours. Users who view the stories can just swipe right for the next Stories of their friends and the ads can come on the next Story.
6. Facebook Search Results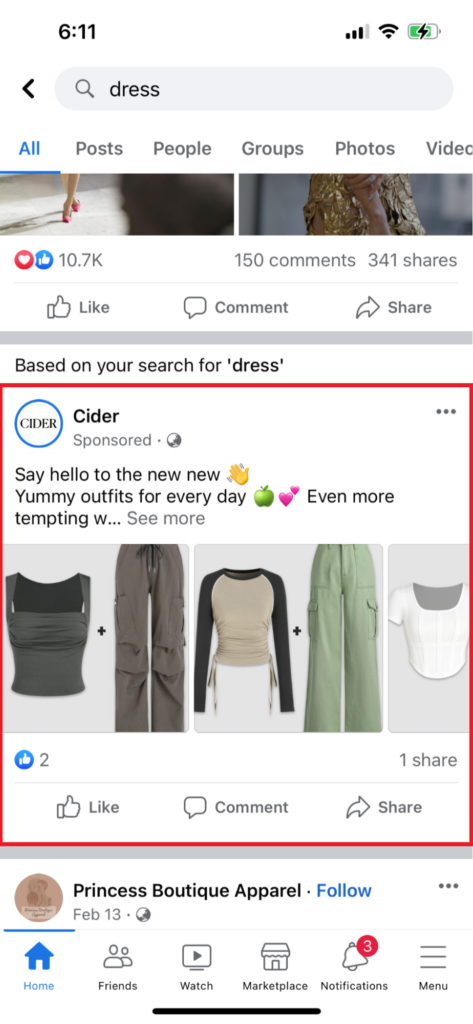 Facebook Search Results is a page full of content that is relevant to the users' search query. Search result ads are similar to Feed Ads. The only difference is it's aligned to the search intent, while the Feed Ads are placed by the algorithm according to your general interests.
7. Facebook Business Explore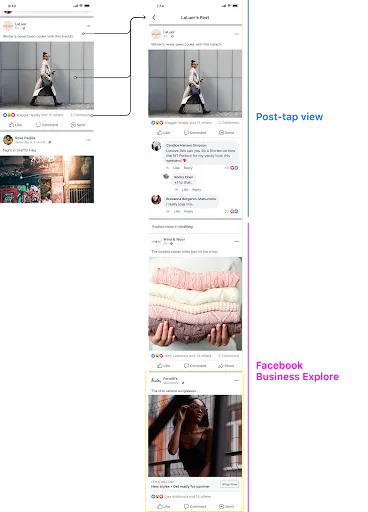 When a user clicks on an organic post from a business, it will show the entire content with its engagements. At the bottom is where the Business Explore will be. It's a selection of organic and advertisements from related businesses that the user might also find interesting.
8. Facebook / Instagram Reels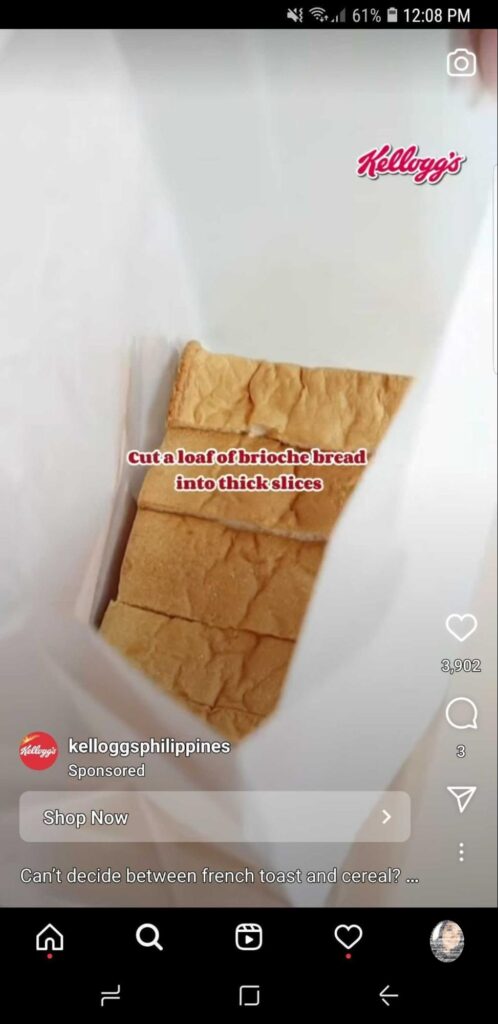 Facebook and Instagram Reels are swipeable lists of short and long-form video content. It takes the shape of the mobile interface, that's why it's immersive and engaging.
Since it's a continuous list of organic posts, having your ads in this format will surely make it less of an ad and more of user-generated content.
9. Instagram Profile Feeds
When you click on someones' profile feed, you'll see the images presented in a grid format. Click one, and the format changes to a list type that you can scroll the content through.
Some ads are sandwiched between pieces of content. This type of ads is similar to those on the main feed section. It is Facebook's way of expanding the reach of your advertisement.
10. Instagram Explore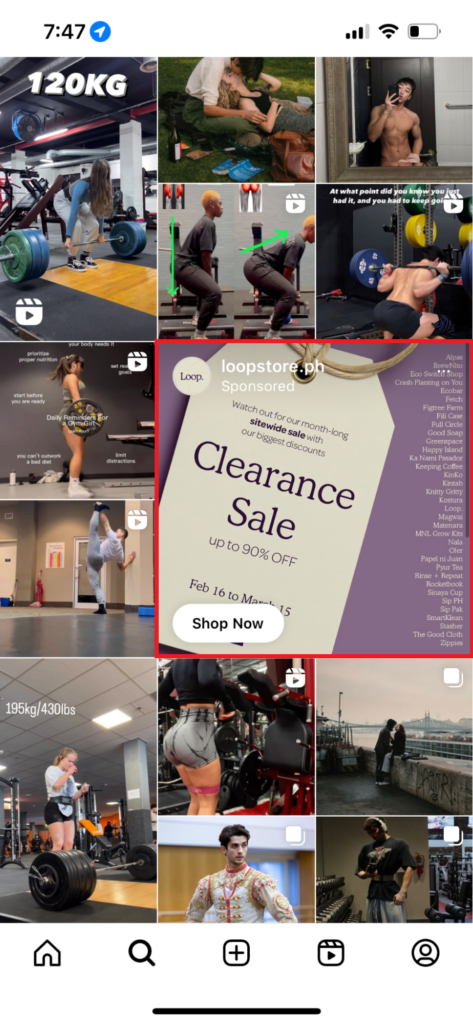 At the bottom of Instagram mobile you'll see a search icon. Once you click on it, you'll see a page full of content — images and videos alike. And then there's ads in the middle with frames slightly larger than most content.
The ads can be a video or an image. Plus, there has to be a call to action button at below left.
11. Audience Network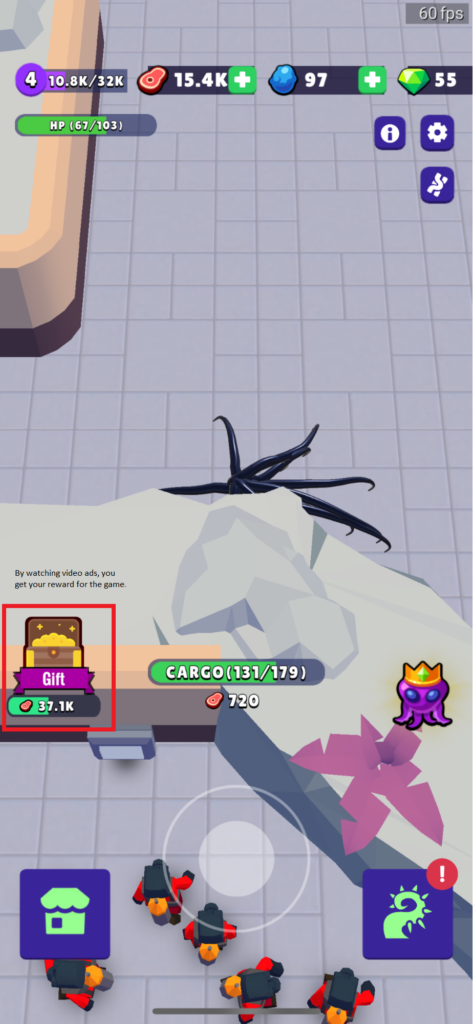 Audience Network is an advertising model that enables advertisers to place ads on Facebook's third-party apps. It uses the same Facebook algorithm and targeting capabilities. This way, you can reach your target audience even if they don't use Meta platforms or even while they're not using Meta products.
Ads in the audience network can come in many forms, such as native, banner, interstitial, and rewarded videos.
Native acts just like organic content on that app. Banner is a small box at the top of the page of the app that presents the ads like a banner. Interstitial ads are advertisements embedded on some buttons. When a user clicks on a button, they will be presented with an ad first and then the original destination after.
Rewarded video advertising is common on mobile games. Usually, users are encouraged to click on a gift or reward button in exchange for watching a video ad for a specific duration.
12. Messenger Stories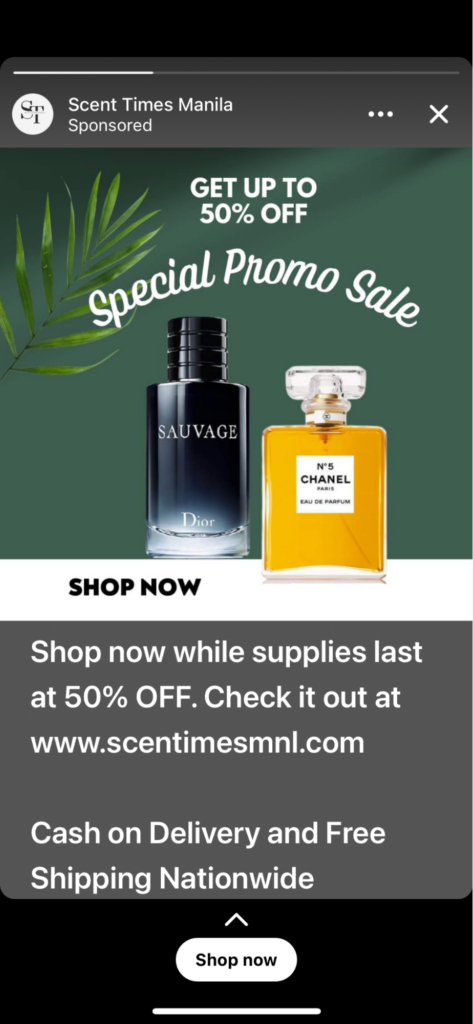 Advertisements in Stories are present anywhere you access it. If you access the Stories on the Facebook main page, Instagram feed, or through Messenger, you'll still see advertisements.
These ads are similar to Stories only that they're marked sponsored. They can be a video or an image, or a combination of both. It usually is a mobile format, and has a CTA button at the end of the ad.
13. Facebook Right Column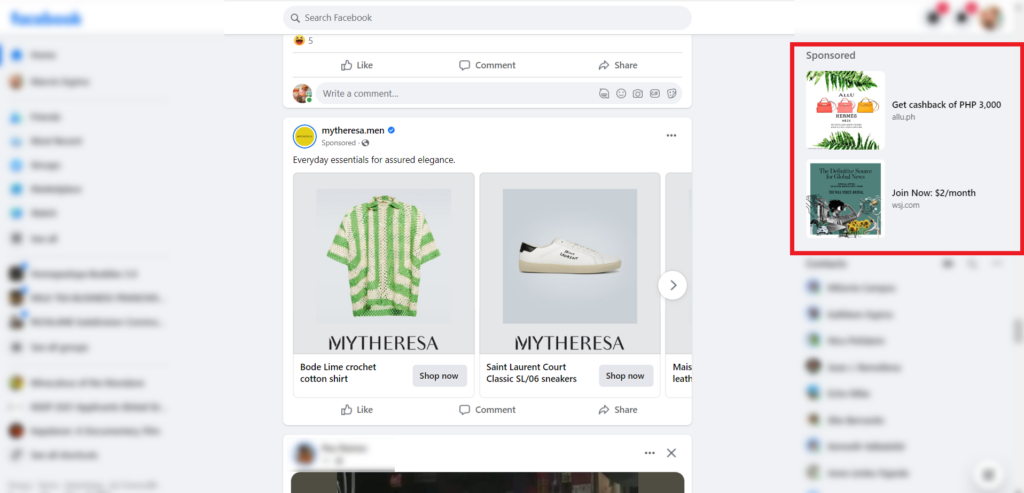 Ads in the right column are placed only in desktop versions of Facebook. You can see it on the right side of the Facebook news feed and other pages of the site.
Feel free to showcase a single image or a video or use the Carousel format to present up to ten pieces of content. Each image or video has its own link. Ads in these places are clearly visible; there's no other organic content soaking up the attention.
14. Facebook Groups Feed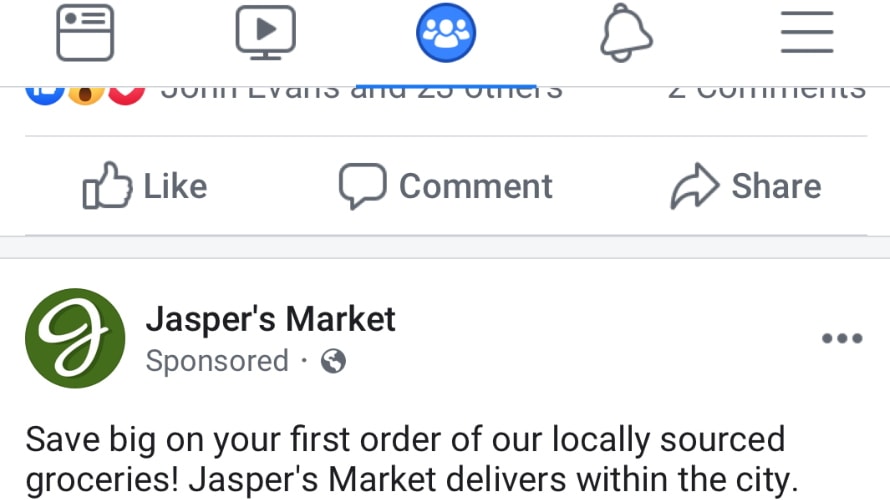 Ads in the Facebook Groups Feed are advertisements that are placed in a group's main page. This single-image ad placement can use the following objectives: Reach, Offsite Conversions or Link Click.
A group is a highly specific pool of people with similar interests. As long as you target these demographics and interests right, your group feed ads will convert well.
15. Instagram Shop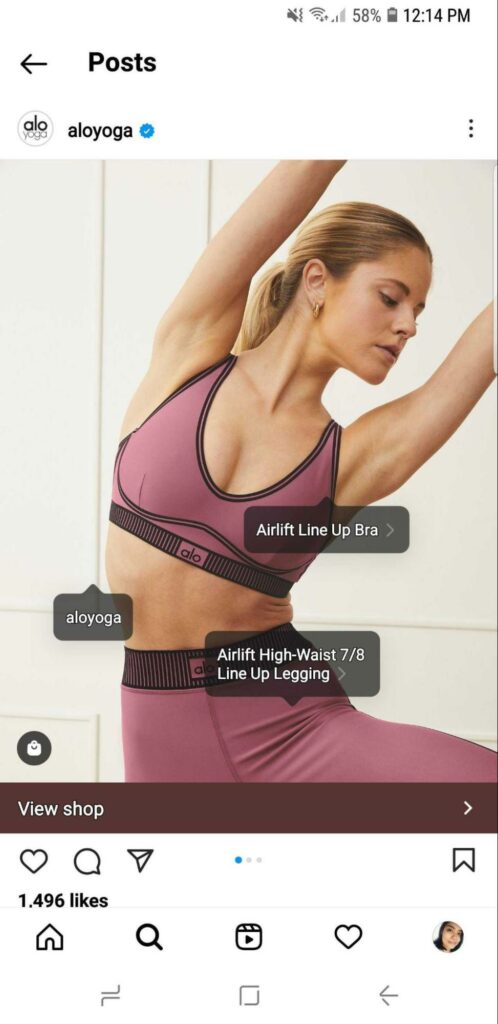 Instagram Shop ads are ad placements in the middle of Instagram shopping pages. It is a single image or video tile that has the same format as the organic post. But to differentiate from other posts, this ad is marked sponsored.
Clicking on the image will give you more information such as the caption, link to websites or pages, and other images or videos as a slideshow.
16. Facebook Marketplace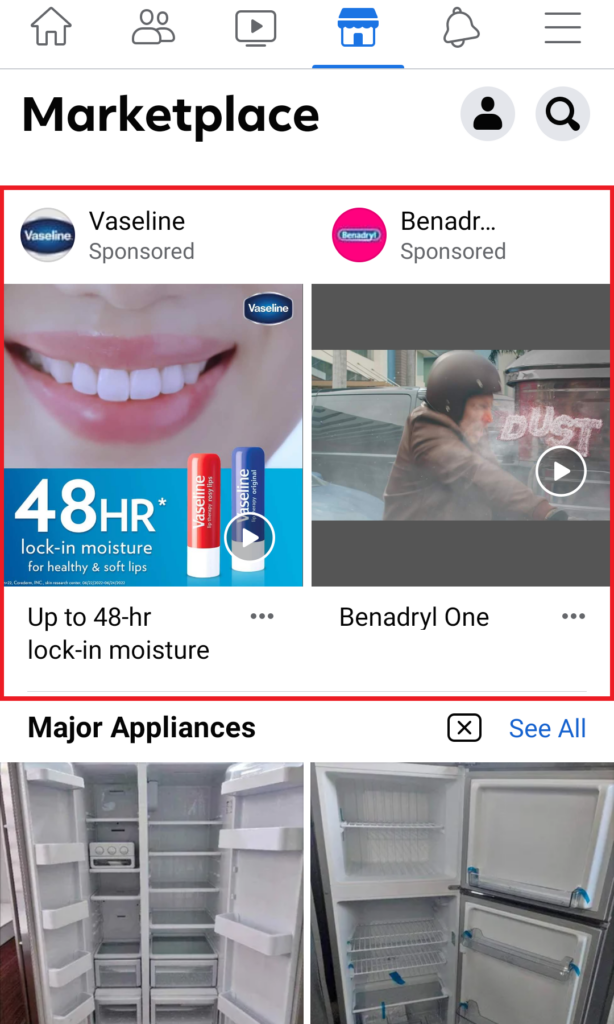 Facebook Marketplace is a new tab at the bottom of the Facebook mobile app or at the left of the website desktop version. It's an e-commerce place where Facebook users can buy and sell products and some services.
What visitors see when they click on the Marketplace button is a Feed-like grid of item after item. These are images with a few captions at the bottom containing the name of the product and the price. You'll see more info once you click on the image.
Here the ads are just like the organic images,only that they're labeled sponsored. Another key difference is a shop now button and a like button below it. This way, you'll get to the site easily and can report the ad if inappropriate.
VII. What You'll Need Before Setting A Facebook Ads
1. Facebook Business Page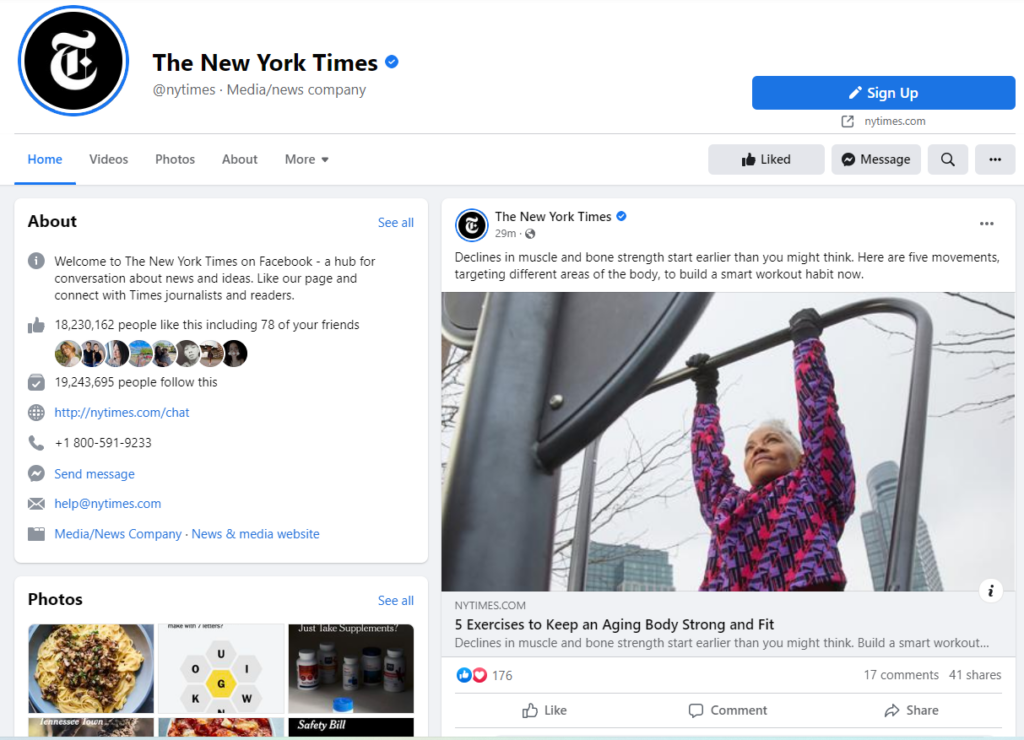 A Facebook Page is a vital tool for businesses to connect with customers, allowing them to discover and engage with your brand. Creating a page is straightforward and cost-free, and it provides an appealing appearance on both desktop and mobile, ensuring your business can reach customers on any device.
By having a Facebook Page, you have complete control over managing all aspects of your business, keeping customers informed with updates, promoting content, showcasing products, and providing seamless customer service experiences. Some of the information and materials you need for your Facebook Page is the about description of the brand, your Facebook-optimized logo, brand name, store address, website link, messenger button or contact details, and more.
2. Facebook Ads Manager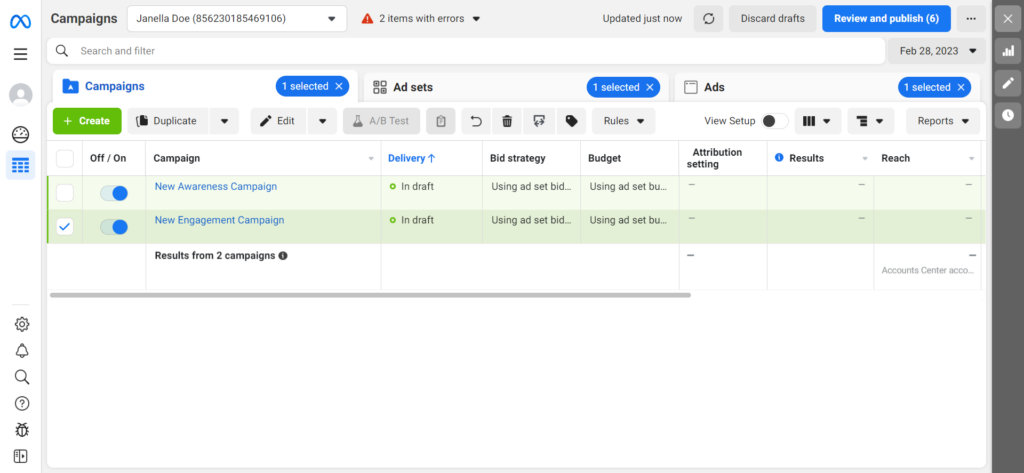 If you're looking to launch ads on Facebook, Instagram, Messenger, or Audience Network, Ads Manager is the platform of choice. This versatile platform is designed to help you with every step of the advertising process, from creating compelling ads to monitoring when and where they'll run and tracking how well they're performing against your marketing goals.
Whether you're at home or on the go, the Ads Manager app for iOS and Android enables you to stay on top of your campaigns. With just a few taps on your smartphone or tablet, you can create and edit ads, monitor performance metrics, and adjust ad budgets and schedules as needed.
3. Budget
Facebook ad costs are highly fluctuating. There are several factors that affect the cost of an ad placement such as relevance, competition, time of the day, season, location of the ad, demographics, etc.
For example, it's much more costly to place ads during the Christmas season than from January to March. It's also highly competitive for saturated industries like beauty products and mobile games. In terms of relevance, the more targeted you want an ad, the more expensive it will be. And there's much more that adds to the cost that's hard to pinpoint.
A general rule is to have a budget for the month that you can divide per day. Then that will shift depending on the outcome of your first campaigns. And how much is the least amount of ad cost you can spend on a given day?
Here are the minimal costs of Facebook Ads
At least $1 a day for ad sets charged for impressions.
Ads charged for clicks, likes, video views or post-engagement need a daily minimum budget of at least $5 a day.
Do note that Facebook will do its best to present your ad to its targeted audience. So the best practice is to create great content that people would actually read or view. Even if you compete with high-budget businesses, your ads might be selected if it is highly relevant and has good-quality content.
4. Content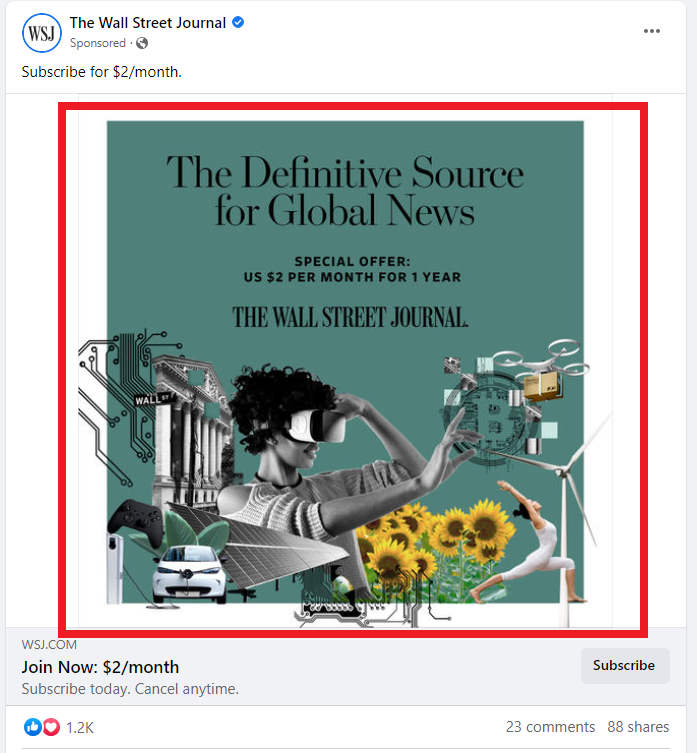 Ads are nothing without content. In fact, you can't create ad advertisements without these materials. What is content? Images, videos, clips, sounds, and more. These are promotional materials that you publish on a social media platform that mimics an organic post. It can be a picture of your product, a short film of your behind-the-scenes, or a list of customer reviews.
There can be a thousand ways to promote your brand through content. But what remains true is that it needs to be high quality. Meaning, the images are not pixelated, the videos are fast-loading, the words are legible, and the message is clear.
Although you can create content in the middle of setting up your ads, it's highly recommended to develop these materials first to avoid going back in circles. Besides, it's easier to publish your content on the ads manager once it's all edited and reviewed.
5. Caption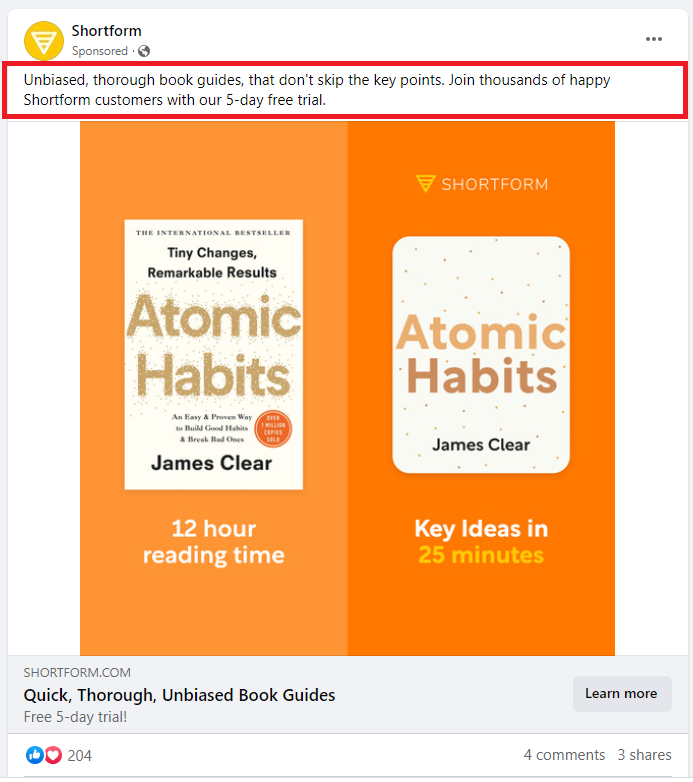 Creating an effective ad requires more than just having great content. While the content is the meat of your ad, the caption serves as the vehicle that drives attention to your ad. It's the first thing that people see, and it needs to be compelling enough to entice them to click and engage with your ad.
The caption of your ad is essentially its headline, and like a headline, it needs to be interesting, attention-grabbing, and concise. It should clearly convey the essence of your message and what your ad is about. Your caption is where you can showcase your creativity and ability to capture your audience's attention.
An effective caption should not only introduce your product or service but also explain why it's worth their time and attention. It should be designed to elicit an emotional response from your audience and appeal to their interests and needs. Captions should be carefully crafted and tested to ensure that they are compelling, memorable, and aligned with your brand's messaging.
Ultimately, the success of your ad depends on your captain's ability to capture your audience's attention and compel them to take action. With a well-crafted caption, you can increase engagement, drive conversions, and achieve your marketing goals. So, take the time to create a captivating caption for your ad, and you'll be on your way to a successful advertising campaign.
6. Facebook Pixel (optional)
Facebook Pixel is a powerful tool for businesses and marketers who want to measure, optimize, and build audiences for their Facebook advertising campaigns. It works by placing a small piece of code on your website, which allows Facebook to track the actions that users take on your site, such as adding items to a cart or completing a purchase.
By using Facebook Pixel, you can track and analyze the performance of your ads and see how they're driving user actions on your site. This allows you to make informed decisions about your ad strategy and optimize your campaigns for better results.
Moreover, Facebook Pixel can also help you build custom audiences based on specific actions users take on your site. For example, you can create an audience of people who have abandoned their cart or visited a specific page on your site. By targeting these custom audiences with tailored ads, you can increase the chances of converting them into customers.
This needs the help of a developer when installing. It's only optional, because you can definitely create and publish ads without it. But it's important when reviewing the performance of the ads after it has been published.

7. Instagram Page (optional)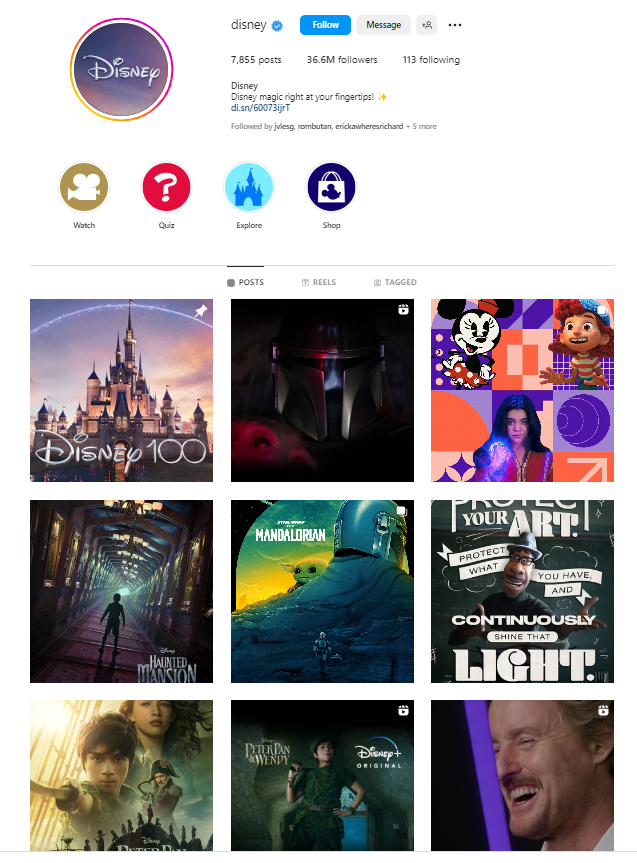 Having an Instagram Business page will make your ads more effective in case you want to publish them on Instagram.
The Instagram Business Page is a bit similar to a personal page but it has more analytics features and CTA buttons for businesses.
An Instagram page will also allow potential customers to easily browse your feature products without leaving the platform. Once they click on your ads, say on Instagram Reels or Facebook News Feed, they can be directed to your page that features more information about the brand, clickable links to purchase, or even message you for free customer service tools.
8. Website
While setting up ads on various social media platforms can be a great way to reach your target audience, there are certain requirements that you need to meet in order to use certain ad features. One of these requirements is having a website URL.
Having a website URL is typically required if you want to use features such as the "visit the website" button, which is designed to direct users to a specific page on your website. This is important if you want to drive traffic to your site and potentially generate leads or sales.
If you don't already have a website, you'll need to create one before setting up your ads. This can involve hiring a web designer or using a website builder to create a site that meets your specific needs. The website should be designed with your target audience in mind and should include information about your product or service, as well as contact information and other relevant details.
However, if you're not yet ready to create a website, you can consider using your Facebook page as a temporary website. While this may not be ideal, it can still be a useful way to showcase your business and provide information about your product or service to potential customers.
VIII. How To Set Up Your Facebook Ads
By now, you should be ready to create your Facebook ads. However, to create one, you will first need to have a Facebook Business Page.
1. Set Up Your Facebook Business Page
A Facebook Business Page is a page or profile for businesses, brands, or organizations. It's different from a personal Facebook account, as audiences can "follow" or "like" the page, and use it to connect and interact with their favorite business or brand.
A Facebook Business Page is needed in order to create Facebook Ads, set up a Facebook shop, or do other commerce and promotional activities. Below are the steps to create one.
A. Log in to your Facebook Account
First, you must log in to your Facebook account.
You can use your personal Facebook account, but we recommend that you create a separate account just for your business. Aside from being more professional, you'll have a clearer divide between your personal life and work life.
B. Create A Page
Once you are in your account, click "Pages" on the menu options on the left side.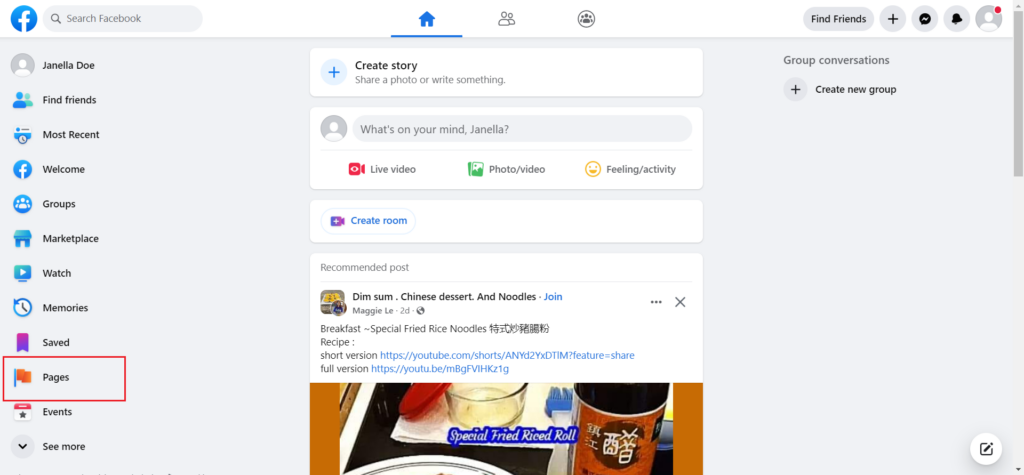 You will then be redirected to the Pages section. Click the "Create New Page" button.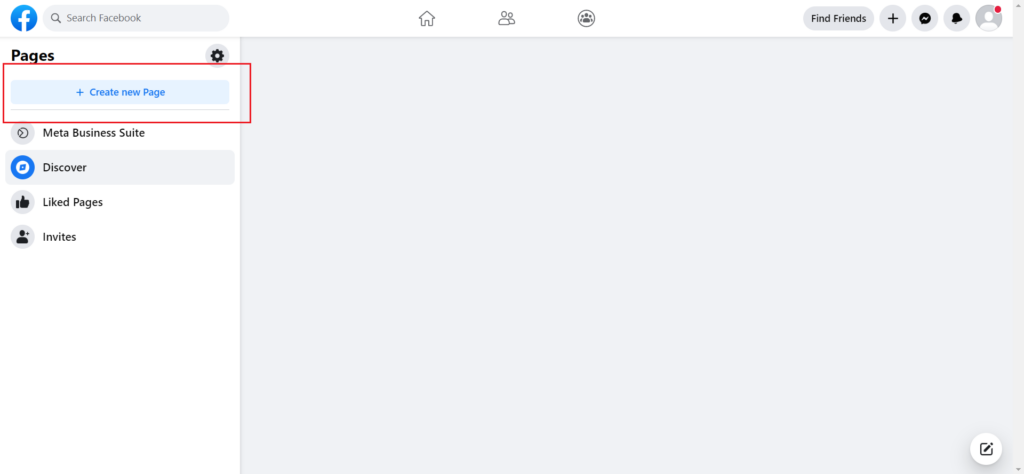 C. Fill up the required information
You now need to provide the Page Name, Category, and Description for your page.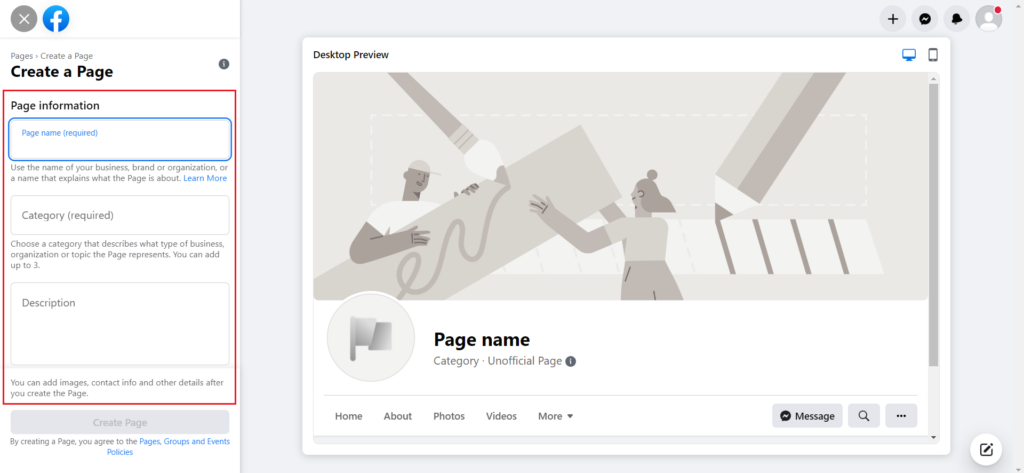 The Page Name is the name of your business, brand, or organization. Make sure to use a business name that is simple yet memorable, and can accurately represent your brand.
The Category should describe what type of business the page represents. In our example, since it's a clothing store, the categories used are "Clothing store" "Women's clothing store" and "Design & Fashion".
The Description is the text that appears on the "About" section of your page. Here, you should describe what your business is about, what products or services you offer, or provide a short insight on the purpose of your business.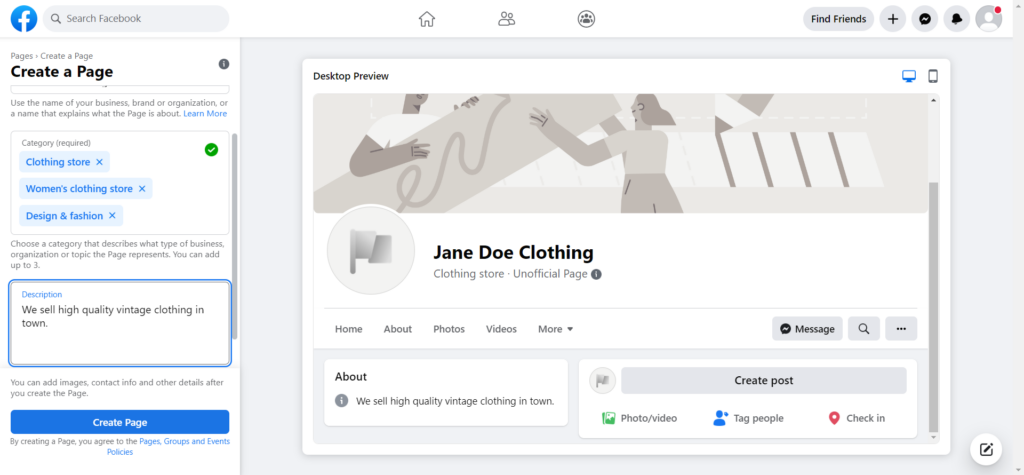 Once you are done, click "Create A Page".
D. Add Profile Photo and Cover Photo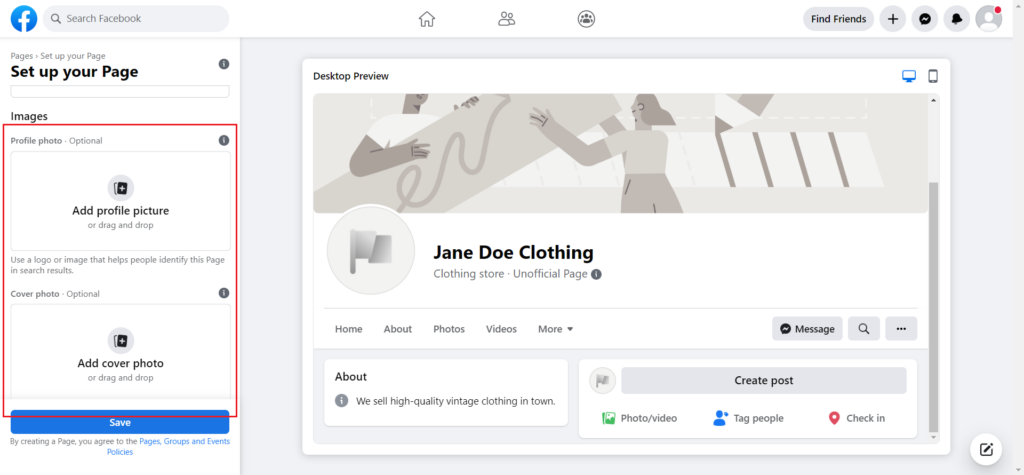 Your page should have your recognizable branding so your audience knows that they are at the right place. Use your logo as your profile photo, and use a similarly branded image for your cover photo.
Your cover photo can also be changed to match current events or promos that you may be running. If you don't have any promos, it's best to just stick to an image that fits your branding or aesthetic.
If you don't have a logo or cover photo yet, you can use our DIY logo maker or hire freelance designers.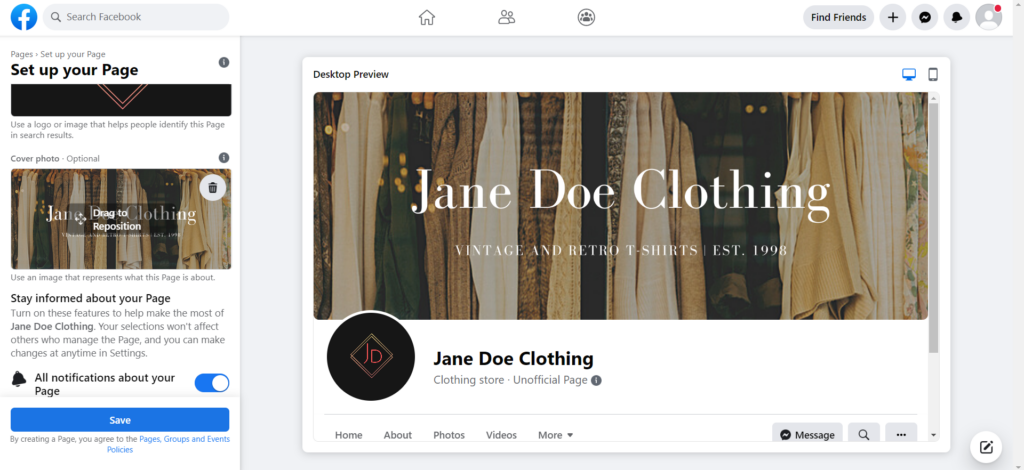 Once done, click "Save."
E. Edit the page
After creating your page, you can now edit the page to provide more information.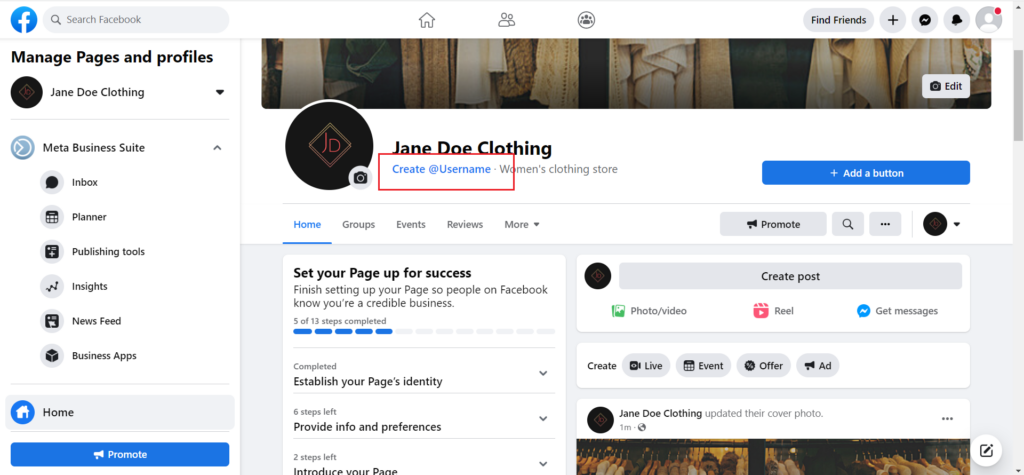 You can add a username, which is the unique @ or URL that makes it easy for your audience to find your page. However, you may encounter an issue like the "You're not eligible for a username" error prompt. This may be because your Facebook account is not yet verified, your page is newly created, you have created too many new pages recently, or you do not have enough page likes yet. Once you have resolved the issue, you should be eligible for the username.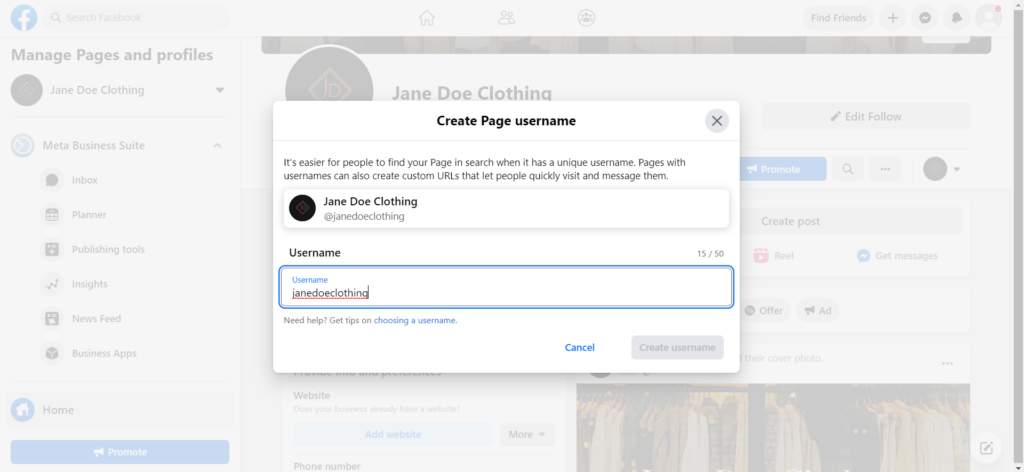 You can also add a button, which is the action that you want your audience to take when they visit your page. Some examples are "Follow", "Call Now", "Learn More", or "Shop on Website". Choose one that best fits your business.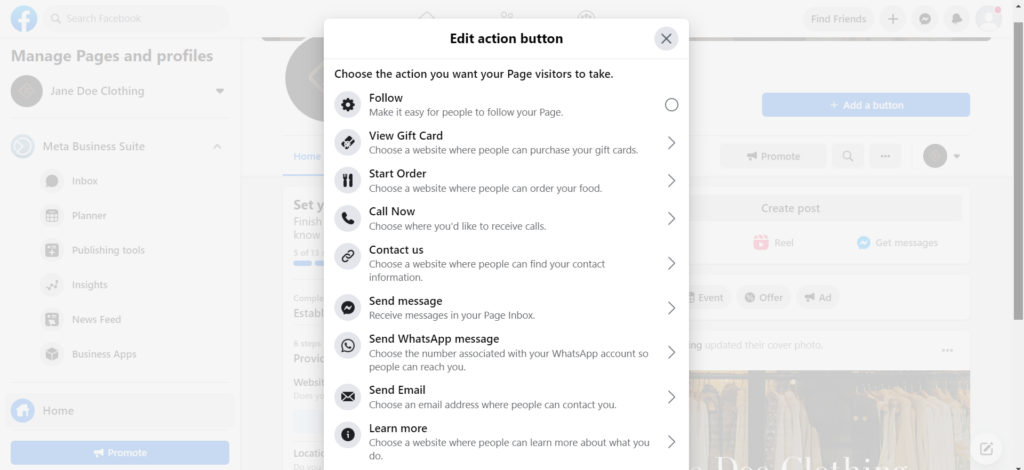 You should also update your page with relevant information, such as your website, location info, business hours, phone number, or messaging preferences.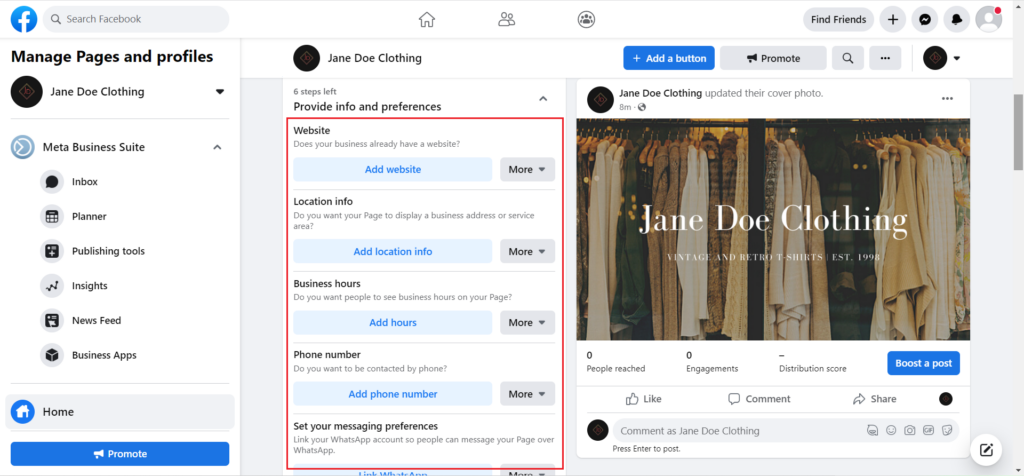 Make sure to update your page with the correct and accurate information so that your business page will look more credible and professional. It will also be important once you are running your Facebook Ads since your ads will automatically pull info from your Facebook page.
Aside from accurate information, your page should also be consistent with your brand identity. Make sure your marketing collaterals are all aligned with your brand style, and your writing style on the page is consistent with your brand voice.
2. Create Your Ad (via Facebook Ads Manager)
On Facebook, you have two options to create an ad. You can do so via Facebook Ad Manager (now called Meta Business Suite), or on your Business Page itself. For now, we will outline the steps on how to create an ad via Facebook Ads Manager.
A. Go to your Dashboard
Go to https://web.facebook.com/adsmanager to access your dashboard. Click "Create" to get started.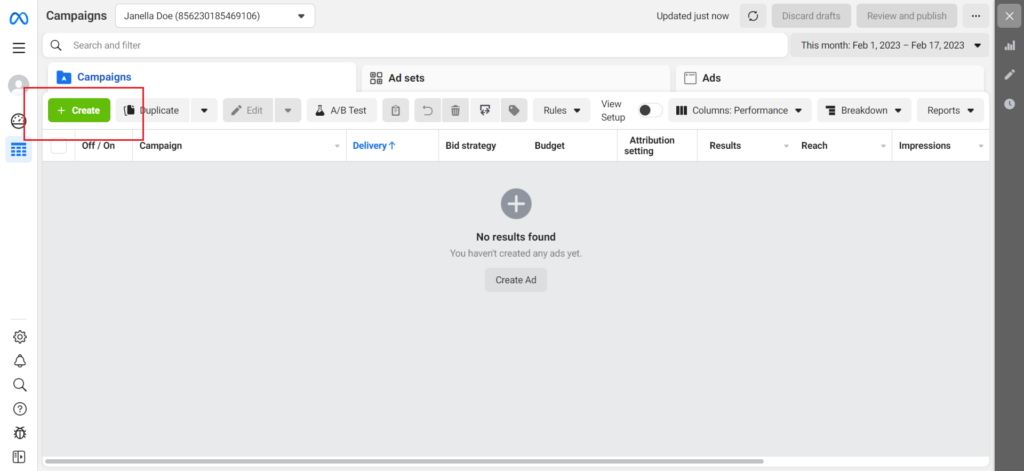 B. Choose An Objective
Before running any ad, it's best to decide your objective or overall goal for the campaign. In Facebook Ads, there are 6 options available: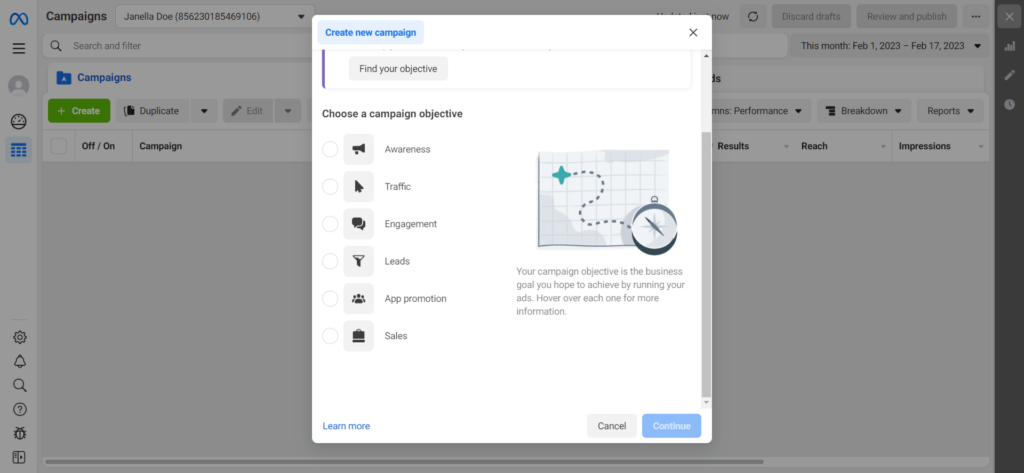 Awareness – Best for increasing brand awareness or store location awareness or boosting your page's reach or content views.
Traffic – Best for increasing traffic to a particular destination, for example, sending people to your website, blog, event link, or Facebook page.
Engagement – Best for getting messages, post engagements, event responses, or page likes.
Leads – Best for getting leads or potential customers for your business by encouraging them to call your business or sign-up to your forms.
App Promotions – Best for getting more people to download your app,
Sales – Best for finding customers who are most likely to purchase your products or services, as you can lead them to your e-commerce site or to your Facebook catalog.
Make sure that you know your goal, and that you choose an objective that can help you meet it. For our example, we are going for Engagement.
C. Name Your Campaign
Choose a descriptive name for your campaign, for example, "10% Off Spring Sale 2023" or "T-Shirts Black Friday Sale". This will make it easier for you if you are planning to run multiple campaigns, as it will be easier to sort and organize. Once done, click "Continue".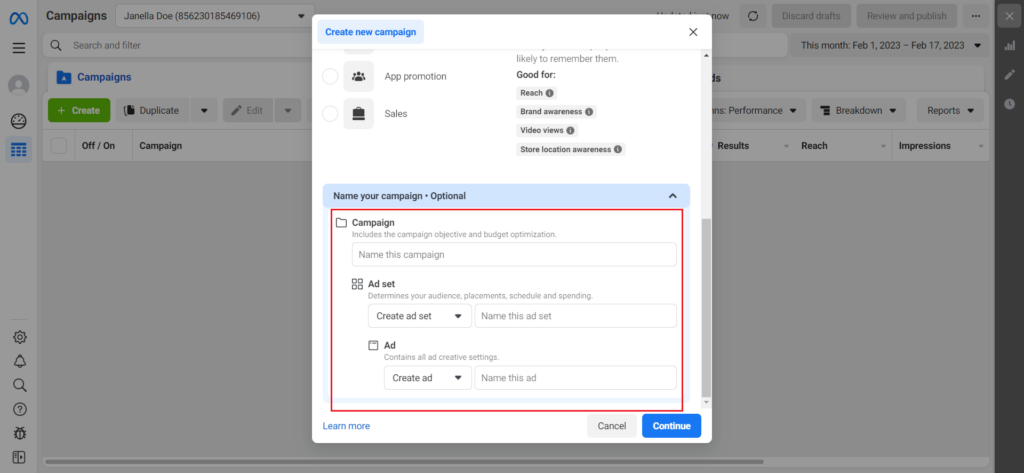 D. Edit Your Campaign
Since we are running an Engagement campaign in our example, you can choose where you want to drive engagement. Choose the one that best fits your business.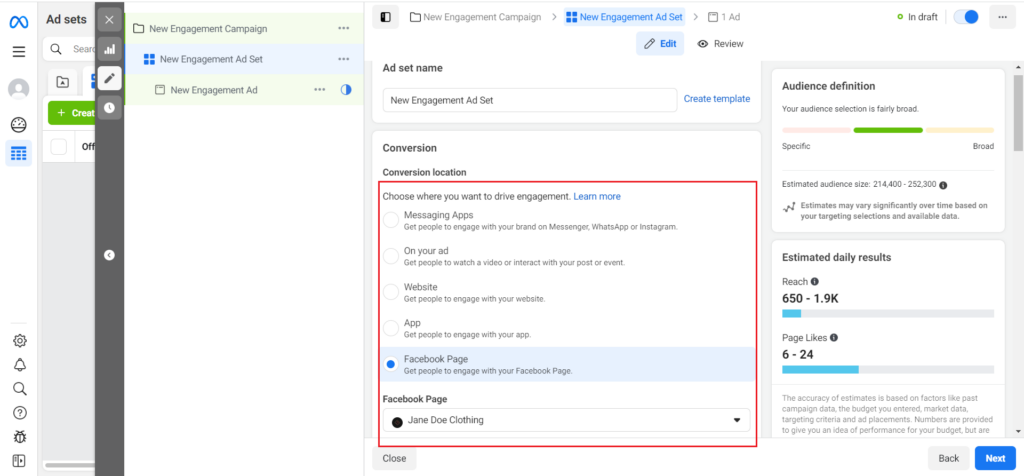 E. Set Your Budget and Schedule
Here, you can set the budget for your campaign. You can choose between a daily or lifetime budget. You can also set the schedule, meaning, you can choose if you want to run your ad for a specific date or time only, or to run it lifetime until you stop the campaign.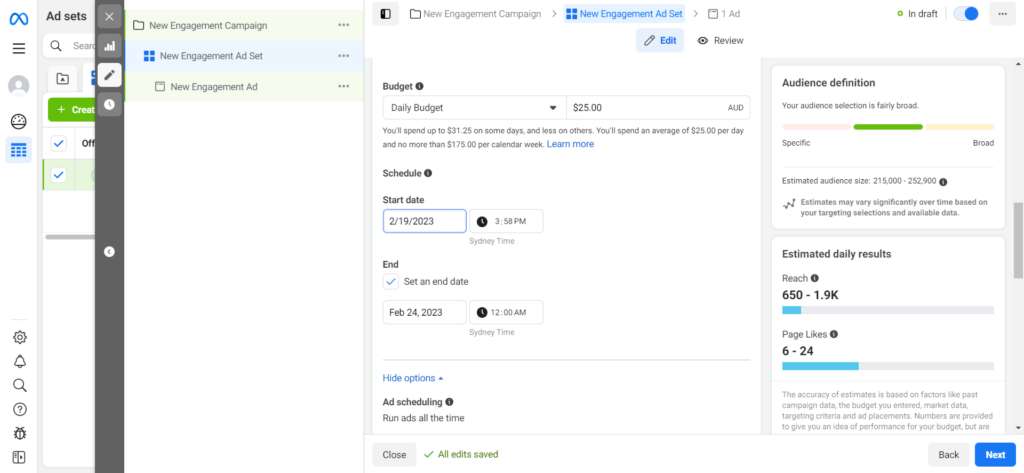 F. Set Your Audience
Here, you can set the target audience for your ad. You can specify the location, gender, and age. Depending on your changes, your estimated Reach or Page Likes will also change, so make sure you keep an eye on those.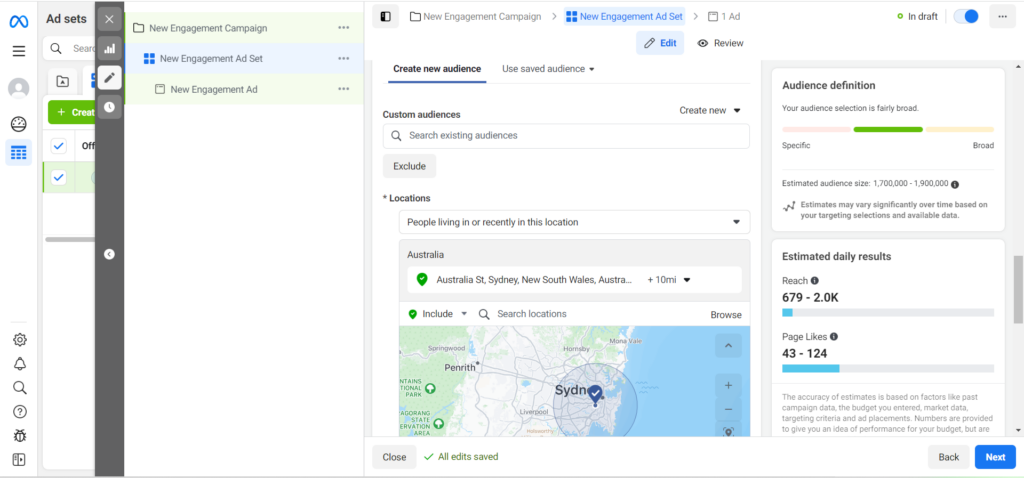 You can also do a more detailed targeting to specifically include or exclude people depending on their interests, demographics, or behaviors.
For Interest, you can reach your audience based on their interest, activities, hobbies, or the Pages they liked. These could be broad like "Food", to a more specific "French cuisine", to an even more specific restaurant.
For Demographics, these are based on education, employment, household, or lifestyle details. These could be broad, like working in the IT industry, to targeting an audience coming from a specific employer.
For Behaviors, you can target your ads based on your audience purchasing behavior, mobile device, mobile device usage, traveling behavior, etc. For example, you can target an engaged shopper or someone that is a frequent traveler.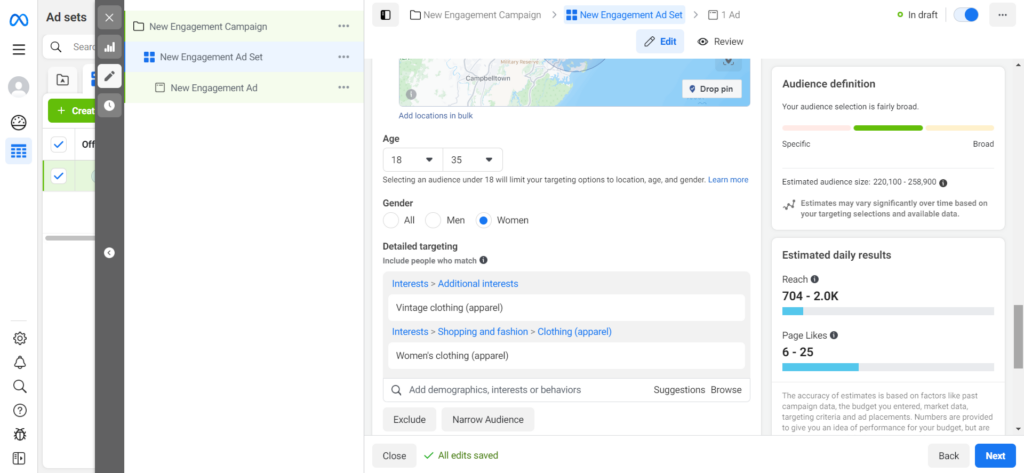 Here is an example of detailed targeting for our Jane Doe Clothing brand. You can target people that are interested in vintage clothing but exclude people that are interested in luxury wear or grunge clothing.
If you want a more successful campaign, we recommend being more detailed with your targeting, as you have a higher chance of maximizing your ROI by having the people that are more likely to be interested in your business see your ad.
G. Adjust Your Placement
"Placements" are the places where your ads will show across Meta platforms. It means, your ads can show in a Facebook Feed, Facebook Marketplace, Messenger Inbox, Instagram Explore, etc.
You can adjust your placement to be either Advantage+ placements or Manual placements. For Advantage+, Facebook will automatically decide when or where they'll show your ad based on their data and algorithm, to ensure that your campaign is optimized for success.
You can also do it via Manual placements instead. Meaning, you can manually choose where specifically you want your ads to appear. This is a good option if you already have data from a previous campaign. For example, if you know that you have greater results by having your ads in Facebook feeds, then you can run your ad solely on it and not include Instagram anymore.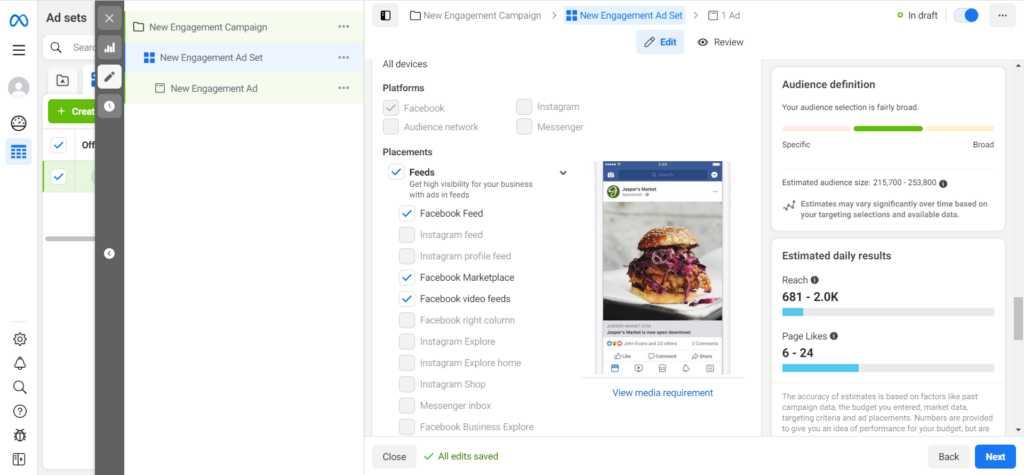 Aside from the placements, you can also adjust your ads to appear on specific mobile devices and operating systems. If applicable, you can also adjust Brand Safety, so that you can prevent your ads from appearing alongside content that's inappropriate for your brand.
H. Create Your Ad
First, choose between an Image Ad format or Video Ad Format.
Next, upload your ad.
You can then enter the text for your ad. This is essentially the caption that will appear with your ad. You can enter up to five different captions for your ads, and Facebook will automatically choose which caption will be displayed depending on the person that is viewing your ad.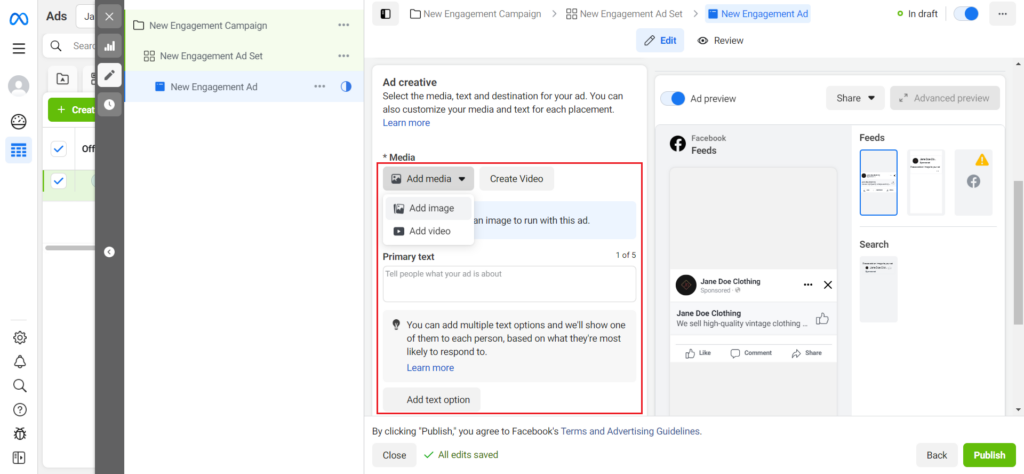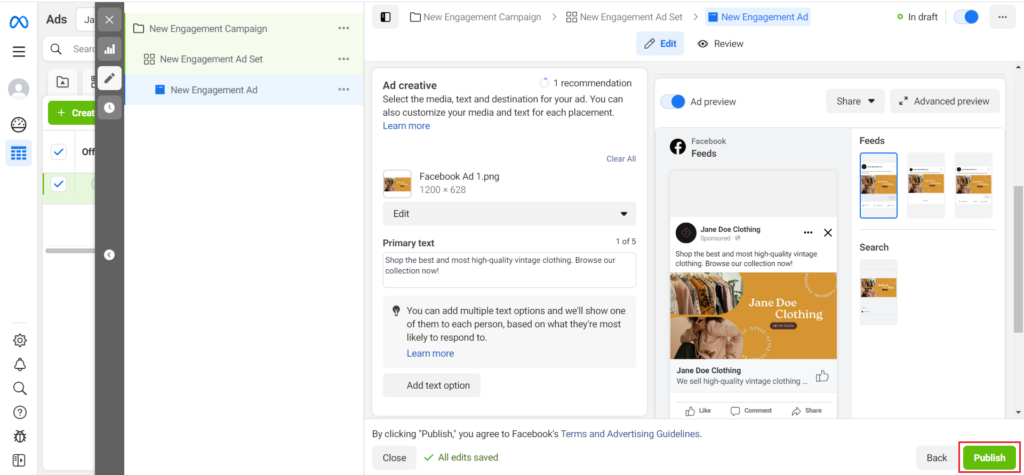 Once done, click "Publish" to run your ad.
3. Create Your Ad (via Facebook Business Page)
Now, we'll walk you through how to create an ad directly from your Facebook Business Page.
A. Go to your Facebook Business Page
First, log in to your account, and go to your Page. Scroll down and click the "Create new ad" button.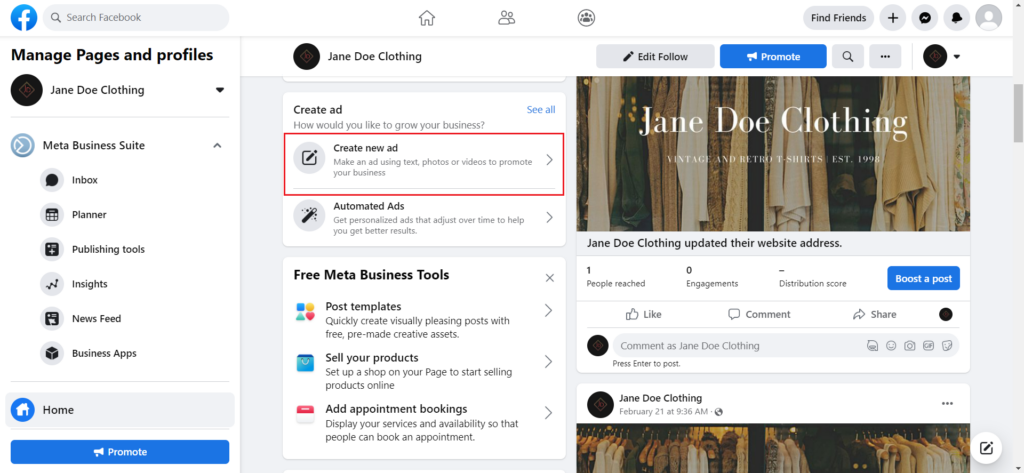 B. Choose your Goal or Objective
You will then be redirected to the ad creation page. Just like in Facebook Ads Manager, your first step is to choose your goal or objective for the ad campaign. Click the "Change" button to choose your goals.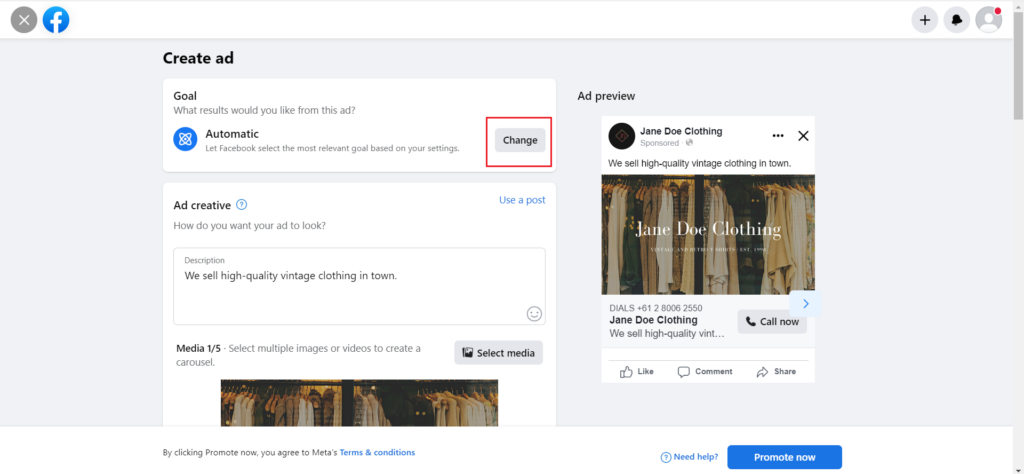 You can choose "Automatic", in which case Facebook will automatically select the goal for you based on the settings on your page.
You also have the following options for your goals:
Get more calls
Get more website visitors
Get more messages
Get more Page likes
Get more leads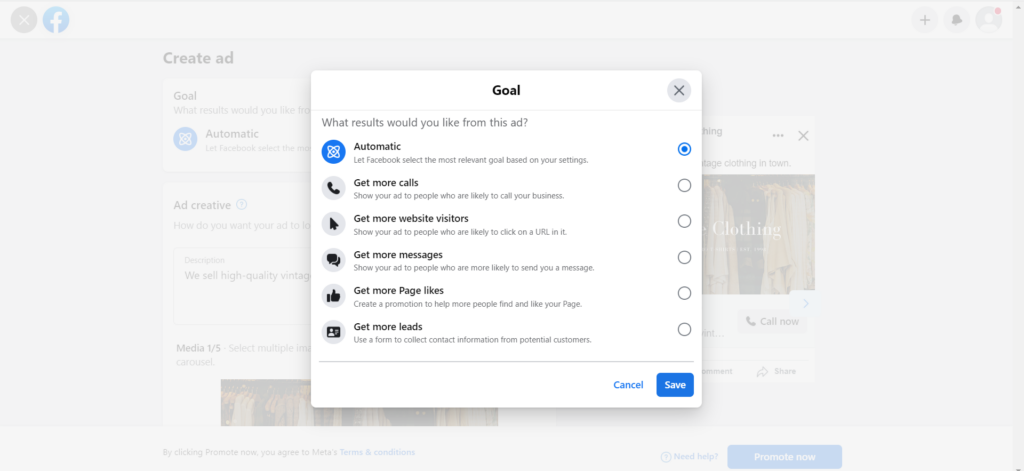 Choose the one that best suits your business, then click "Save".
C. Create your Ad
Now, you can start creating your ad.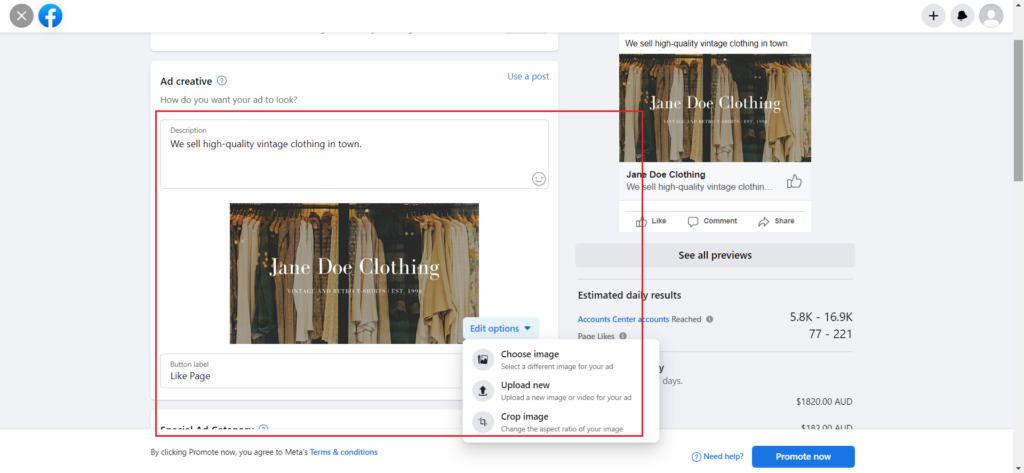 Edit the Description, which is the caption that will be appearing on your ad.
Next, select your media. Click "Edit Options". You can upload an image ad, a video ad, or upload multiple images or videos to create a Carousel ad.
Then, edit your Headline. Your Headline appears below your ad and is composed of only 25 characters. Think of this as your CTA text, so make sure your Headline is short but attention-grabbing.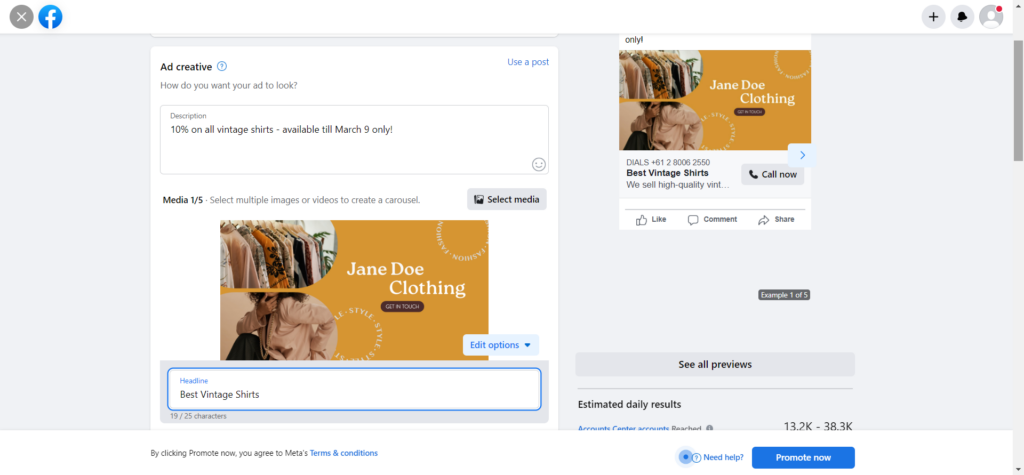 You can also use a previous post on your Page as an ad. Just click the "Use a Post" in the upper right corner, then browse through your previous posts. In this option, you can still change the description, headline, and add or remove media.
You can also change the CTA button that will appear on your ad. Some options are "Call Now", "Visit Website", "Download", "Sign Up" "Shop Now", etc. As always, choose one that best fits your business and your ad.
D. Adjust your settings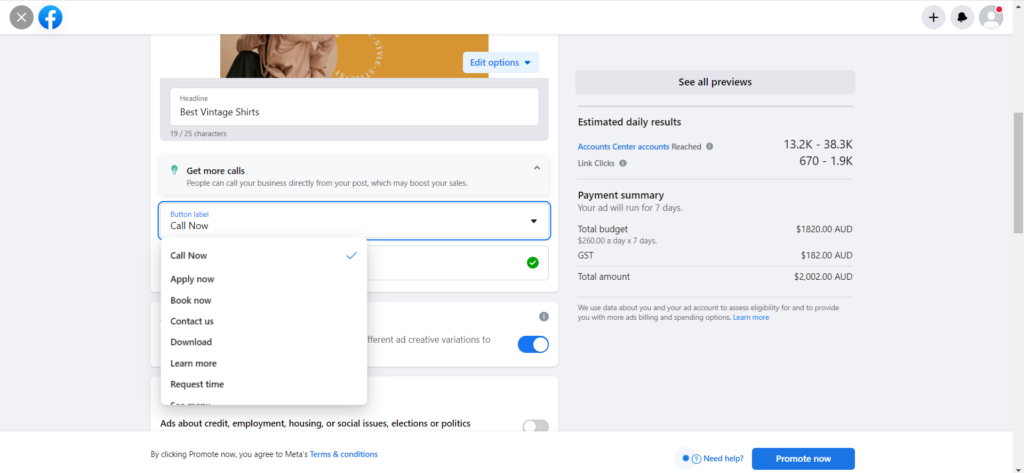 Facebook also offers the "Advantage+ creative" option. If enabled, Facebook will automatically enhance and create variations of your ad based on what your audience will most likely respond to. They could adjust the brightness of your ad, apply filters, vary the aspect ratio, or adjust the text.
You can also enable or disable the "Special Ad Category", if it's applicable to your business.
E. Set your Audience
Click the pencil icon on the right to edit your Audience. You can then select the age, location, gender, and interest of the audience that you want to target. Once done, click "Save Audience".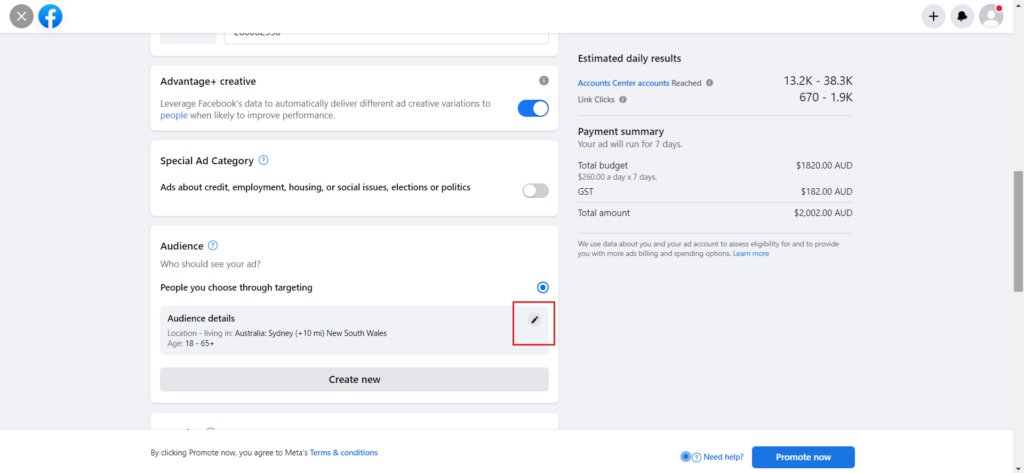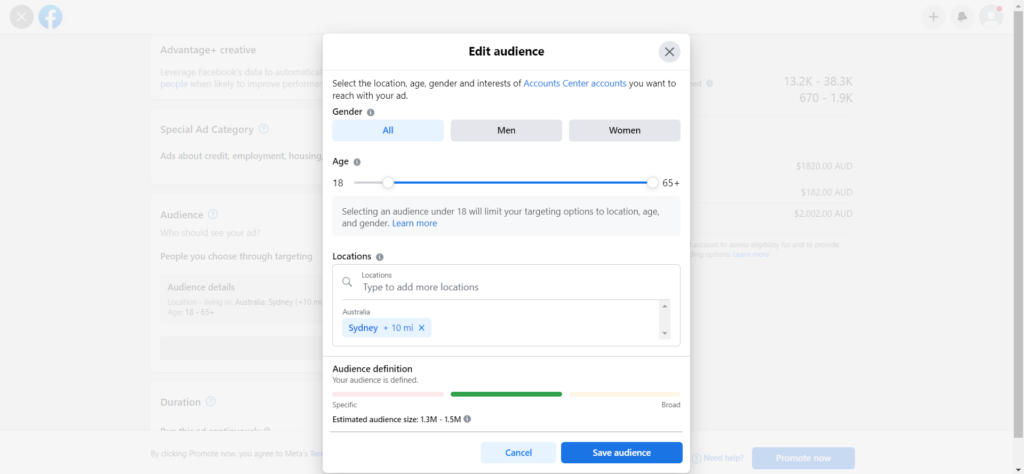 F. Set your Schedule and Budget
You can then adjust the duration of your ad campaign. You can set your ad to run for a specific time or date only, or to run it continuously until you decide to stop it manually.
You can also adjust your daily budget here. Your daily budget is essentially the average daily spend across a week. Meaning, it's not a hard cap. So if you set a daily budget of $10, Facebook will not go over a total of $70 per week, but there may be days where you spend $8, or $12.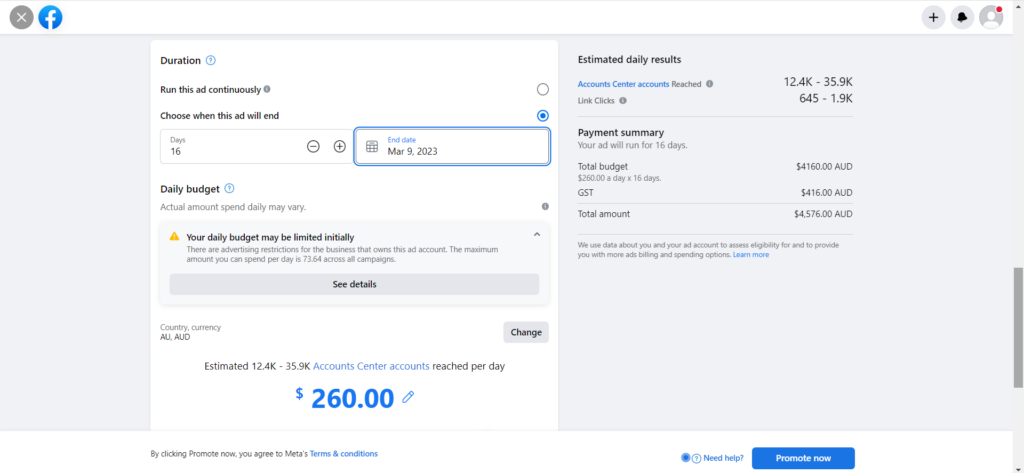 The higher your daily budget is, the more accounts you can reach. Of course, your budget should still depend on your goals, and then just further tweak it based on the overall data that you'll get from running your campaigns. We recommend starting with a minimum budget first to get a feel for your audience and their behavior towards your campaigns instead of blowing all your budget on one campaign.
G. Adjust your Placements
Just like in Facebook Ads Manager, you have the option to adjust the placements of your ad to be either "Advantage+ placements" or "Manual placements". Choose the option that best fits you.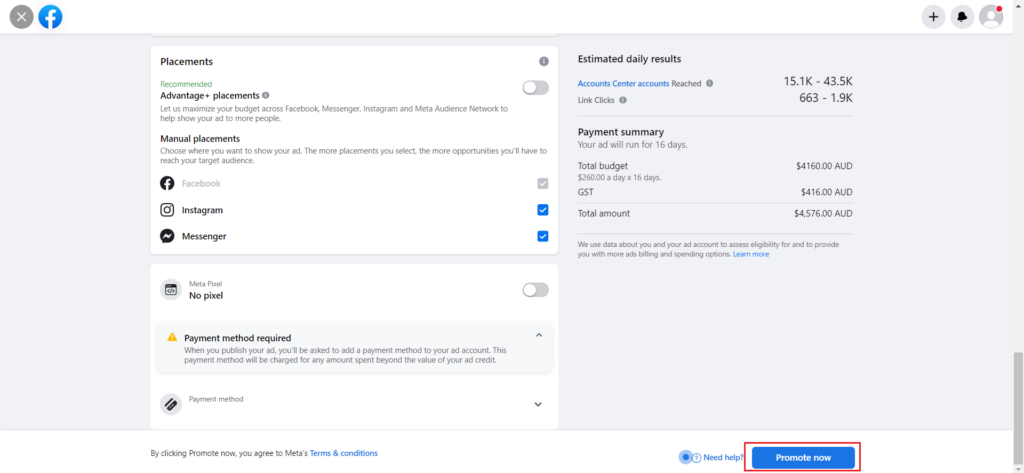 Once you're happy with your ad campaign settings, click "Promote Now" to start running your ad.
IX. Troubleshooting Your Facebook Ads
Now that you are running your ads, you might encounter some issues. Here are some common issues and how to fix them:
A. Why is my ad not running?
Check if your ad is not accidentally paused. You might also have run out of budget or run past your set date range, causing your ad to be automatically stopped.
Your ad could also still be pending review or approval. Facebook can take up to 72 hours to approve your ad, and once it is approved, only then can your ad start running.
Another reason is that your ad was rejected. If you received a notification that your ad wasn't approved, you need to either fix the reason why the ad was rejected or create a new ad entirely for it to start running.
One of the reasons why ads get rejected is having too much text in the image. Each image ative can only have 20% of text. Fix these issues first and try re-uploading your creatives.
B. Why is my ad not reaching anyone?
Another issue is that your ad is active but not reaching anyone. There could be multiple reasons why this happens.
First, your budget could be too small. For example, if you set a budget of only $1, Facebook won't be able to serve your ads fast enough for your campaigns to get traction. Or it could be that it loses the bid against big-budget competitors.
Second, your audience could be too small. While we recommended being detailed and specific with your target audience, it's also an issue if you are too specific. Your ad won't run if you have below 1000 users in your target audience.
Third, your ad could have little to no engagement. Facebook has three rankings to determine if your ad is relevant and engaging to its users:
Quality ranking – how your ad quality is compared to other ads with the same audience. Quality can be counted on how many people hide your ads from their feeds, or if your ad contains sensationalized or "clickbait" language.
Engagement ranking – how your engagement rate is compared to other ads with the same audience. Engagement includes clicks, likes, comments, or shares.
Conversion rate ranking – how your conversion rate is compared to other ads with the same audience.
If your ad is deemed as not relevant, Facebook will stop delivering your ads, which is why your ads are underperforming. Try using a creative with higher quality images or videos, use a different text and CTA, or target a different audience.
X. Best Practices For Facebook Ads
Successful and engaging ads don't just happen overnight. There are various strategies to improve and optimize your campaigns. Here are some tips:
A. A/B test your ads
A/B testing, or split testing, is essentially a marketing experiment where you run similar ads with a few variables changed and see which one performs better with your audience. You can test different variations of your creatives, text, audience, placement, and more.
For example, you are running an image ad of a shoe product. Ad A has the shoe in the middle of the ad, with a blue background. Ad B uses a red background. You then run these two ads at the same time and see which one performs better.
Another example is that you place the shoe on the left side, instead of in the middle. You can vary the CTA, something like "Shop Now!" vs. "Get it Now!". If you are running a video ad, you can change the music that you are using, or change the voiceover.
You can do A/B testing manually, by changing your creative assets, text, or your audience settings yourself. You can also do it via Ads Manager, where you can click "Create A/B Test", where Facebook will automatically make a duplicate of your ad to test against.
We recommend that you test only one variable at a time so that the results of the experiment are more conclusive.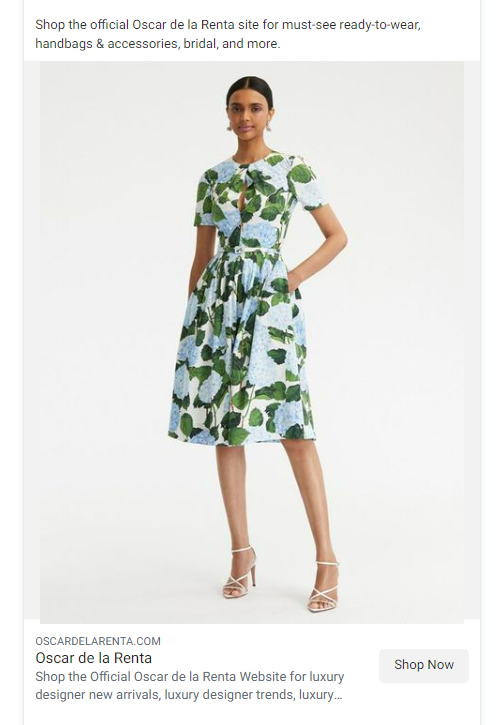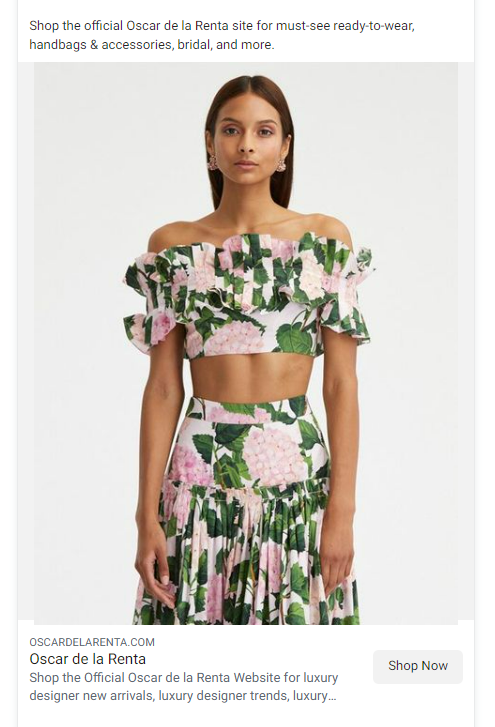 B. Look at Competitor Ads
Analyzing your competitor's ads can help you get better insights on how to improve your own campaigns. You can see what works and what doesn't work with your audience. And you can design appropriate strategies for your own ads — either copying competitors or adopting a different method to stand out.
You can do competitor research by going to Facebook Ad Library, checking your competitor's page, or using various free and paid analysis tools.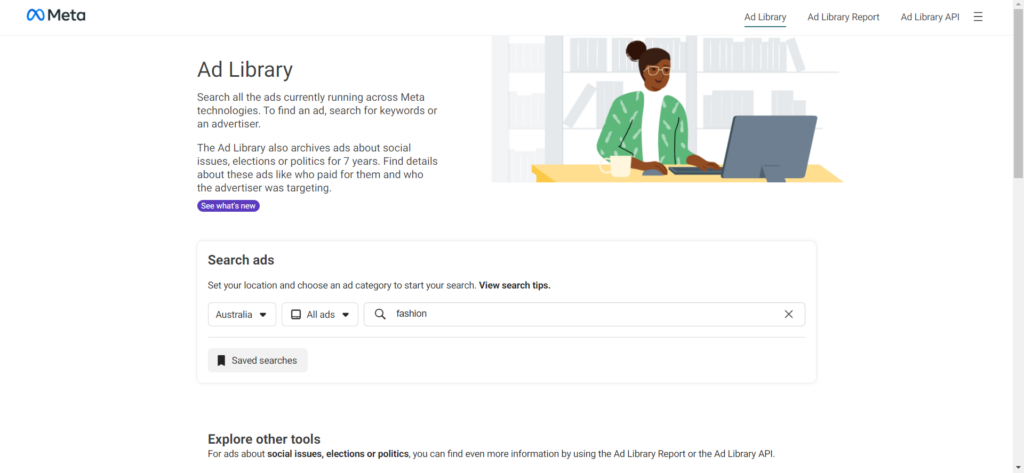 C. Experiment With Different Ad Formats
You won't know what works and what doesn't unless you test it out. Even if your Carousel ads are already working well, a video ad might work even better. Experiment with the different ad formats available and see which one works best for your audience.
D. Always add a CTA
Your CTA matters because it increases the chance of your audience taking action when they see your post. Without a CTA, the viewers might not know what to do next or what step they should take. They would just scroll over and move on.
By having a great CTA in your ads, it will be easier to convince your audience to take the action that aligns with your objectives.
E. Ensure that your creatives are high-quality
Having a striking and engaging creative is key to having a successful ad campaign. Here are some tips on how to improve the effectiveness of your creatives:
Use high-definition images for your ads and videos, not blurry or pixelated ones.
Use striking thumbnails. Use attractive and colorful visuals to get your audience's attention.
Write concise but powerful captions. People take just 0.4 seconds to scan an ad on mobile, and 2-3 secs on desktop. Make sure your captions are short but attention-grabbing.
Use shorter videos over longer ones. With people's dwindling attention span, shorter videos are proven to work better. Your ad should be 15 seconds or less to ensure that people will watch your ad all the way through.
Most people watch an ad with the sound off. Take that into consideration when creating a video ad, and make sure that your ad still makes sense even without sounds.
Optimize for mobile. Most people use smartphones, so we suggest using more vertical or square aspect ratio creatives over horizontal ones. This will ensure that your creatives will still look good even when viewed through a mobile device.
F. Make sure to track performance
The best way to know if your ads are successful is by tracking their performance. Monitor each change you do with the campaign, and see if any particular strategy or tactic works well. You can then use the data to make better advertising decisions going forward.
XI. FB Ads vs. IG Ads vs. TikTok Ads
How do Instagram Ads and TikTok Ads compare to Facebook Ads? First, let's get a quick overview of the two platforms.
Instagram has 2 billion active users and generated $18.16 billion ad revenues in 2021. Instagram Ads can appear in different formats such as image, video, carousel, stories, collection, or reel.
Instagram Ads are simpler to set up compared to Facebook Ads, as they have a simpler interface and fewer settings and options. They also have a higher conversion rate compared to Facebook, as a study revealed that ⅓ of their users have directly purchased something from their ads.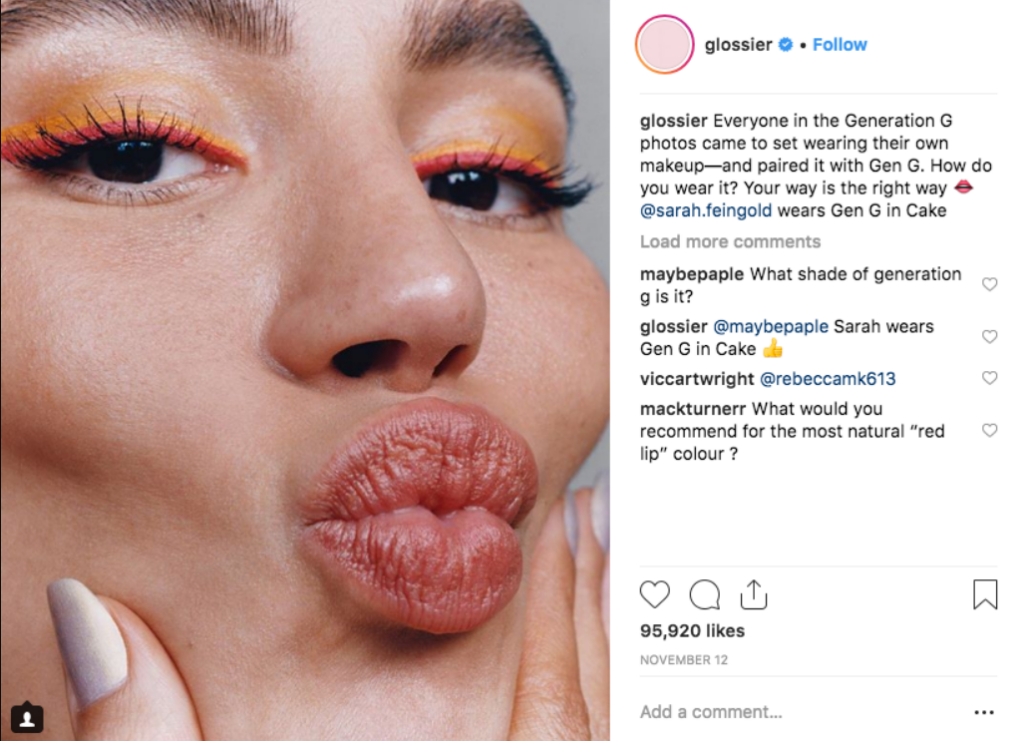 On the other hand, TikTok is one of the fastest growing video platforms. With over 1 billion users, it generated $4.0 billion ad revenue in 2021 alone.
Like Facebook Ads, TikTok Ads are also available in different formats. However, while Facebook Ads can appear on different positions in the platform (Feed, Stories, Messenger, etc.), the majority of TikTok Ads are served in the feed itself.
TikTok also favors more trendy content. You need to produce videos fast before your audience moves on to the next viral TikTok challenge.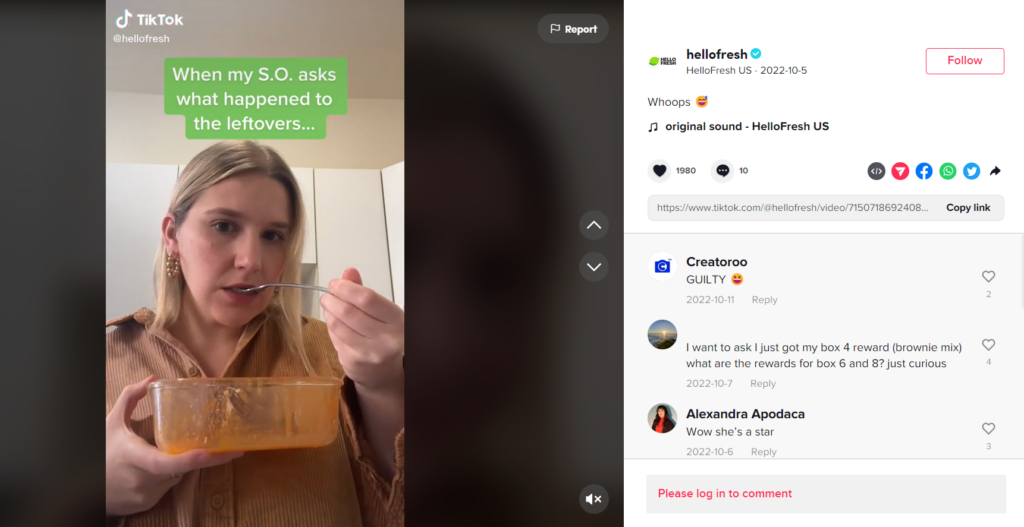 While each platform has different pros and cons (which would take a whole other article to discuss!), here is a quick comparison between the three:
Consider Facebook Ads if:
Your ads are more content-oriented (think shareable posts)
You have a wider range of audience
You have a wider range of industry
You want to run ads in a consistent, paced schedule
Consider Instagram Ads if:
Your ads are more image and visual oriented
You are targeting a younger audience
You have a bigger budget (as they have 2x more CPC or cost-per-click compared to Facebook)
You are in the lifestyle, apparel, jewelry, fashion, or beauty industry
You are trying to drive more sales to your business
Consider TikTok Ads if:
Your ads are more video oriented
You are targeting a younger, Gen Z audience
You have a smaller budget
You are in the entertainment, food, beverage, or beauty industry
You can create trendy ads, fast
XII. Facebook Ad Samples For Your Inspiration
Looking for some sample Facebook Ads for inspiration? Check out our list below.
Colourpop Cosmetics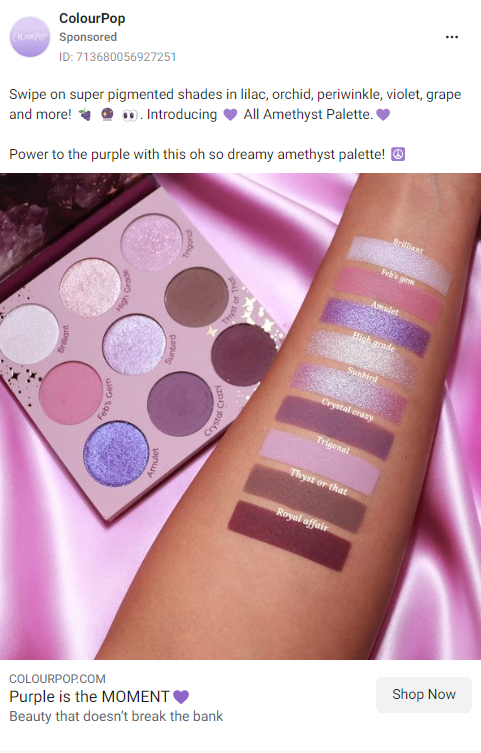 Whole Foods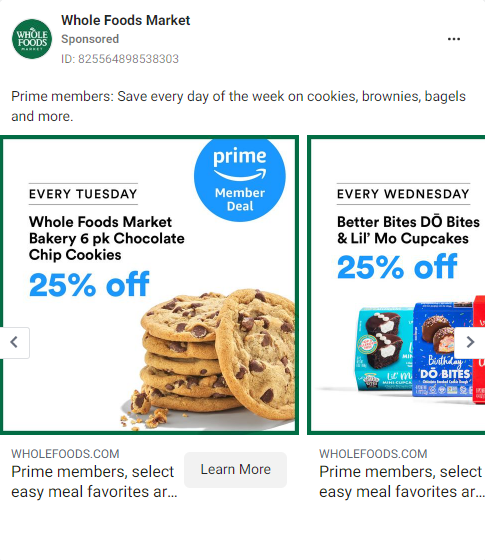 Taco Bell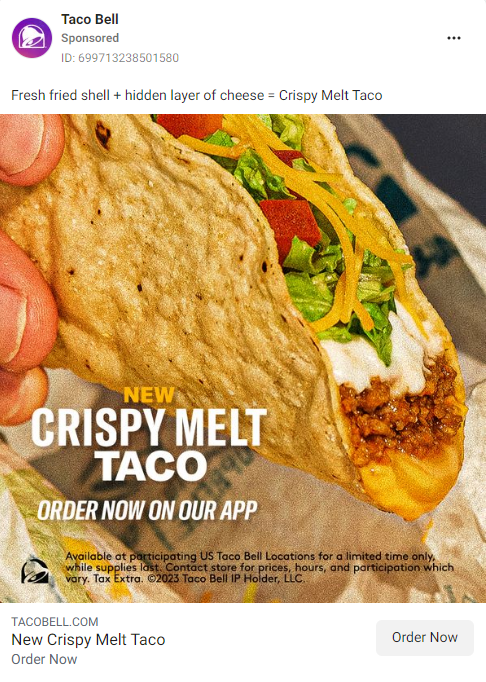 Hyundai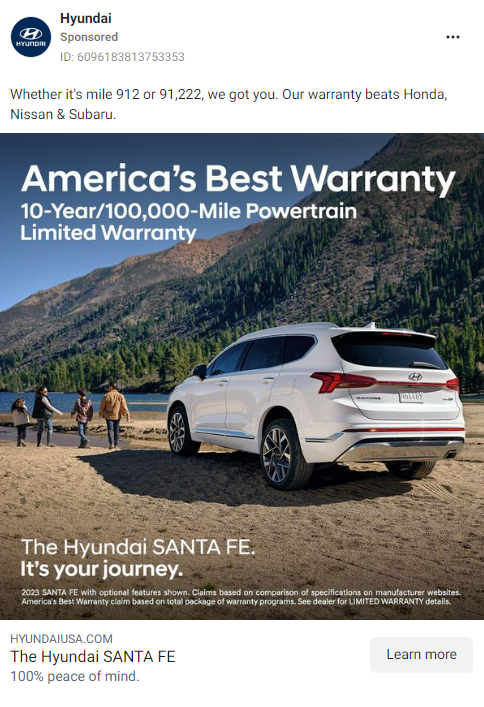 L'Oreal Paris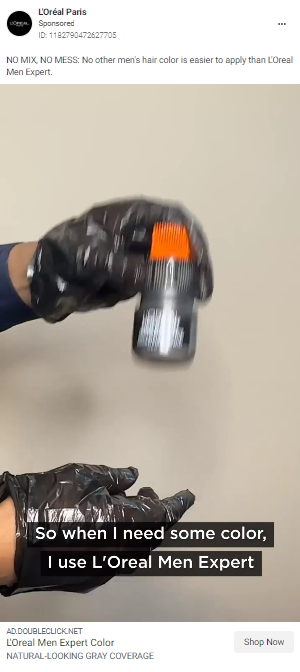 Spotify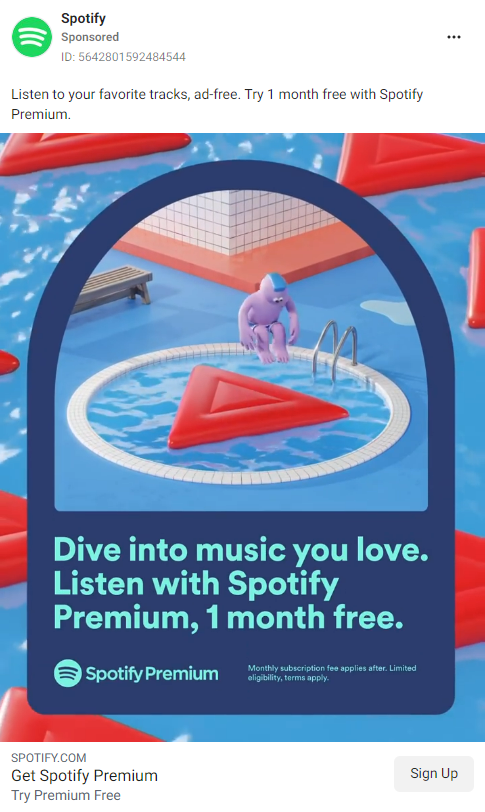 Gymshark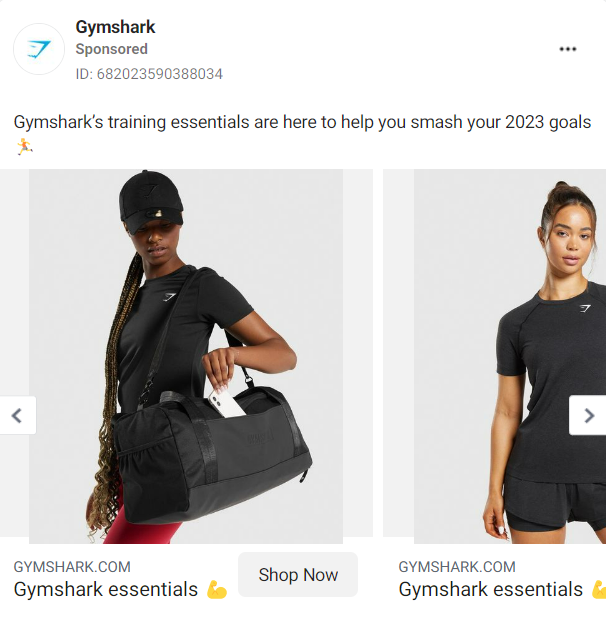 Monday.com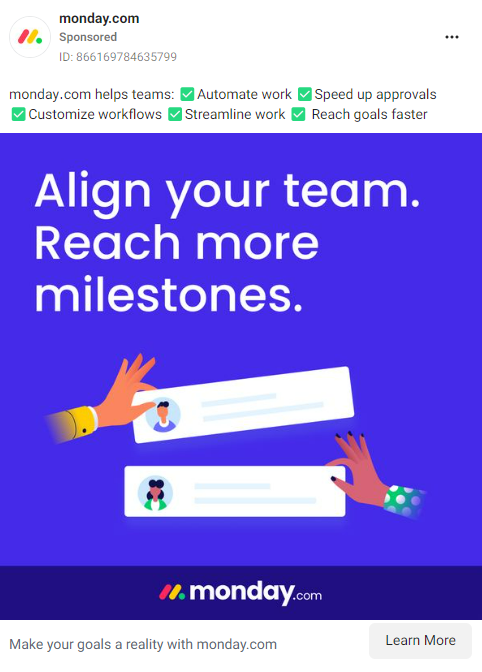 Grammarly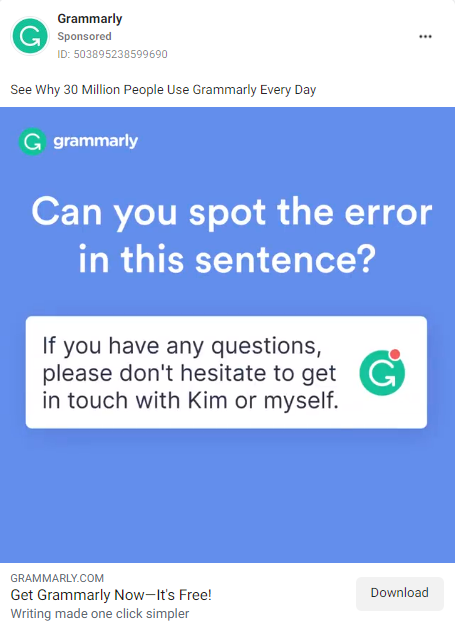 Orgain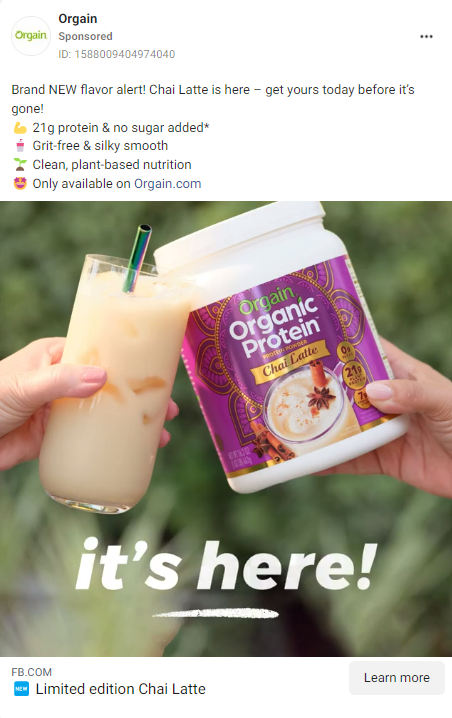 XIII. Conclusion
And there you have it. We hope our comprehensive guide on Facebook Ads will help you navigate the platform better and help you in running your own ads.
After all, Facebook Ads is a great way to drive awareness, traffic, and engagement to your business or brand. It's a key marketing strategy that you should incorporate, whether you are a small business or a large corporation.
Facebook Ads can help you build your brand identity as well. Make sure to include your logo design in your image or video creative to maximize this.
If you need help in creating your Facebook Ads, or other marketing materials such as Facebook Stories, Instagram Posts, or Twitter posts, then we've got it here for you.
Good luck, and we hope your business continues to prosper!