Instagram Stories: A Creative Guide
Reading Time:
6
minutes


Instagram has become a popular business marketing tool besides Facebook (META) and TikTok. And since the reels launched in 2020, it's become a favorite of Instagram's algorithm.
The engagement skyrockets to 22% if an account uses the reels option on Instagram. Now pair that with your Instagram stories templates, and voila! You have a short 90-second video and a strong story game showcasing who you are as a business.
Check out the ideas below for your Instagram Story Templates, where you can showcase your logo. You can even create your primary visual representation through our logo maker.
Instagram Reels vs. Stories
You can post anything from a photo to a video depending on your mood. You can even use professional video editing tools to create informational videos. Two of the most vital marketing tools from Instagram come from Reels and Stories.
Both tools shape your brand presence as a business. But they are different in five significant aspects:
Length
Purpose
Format
Viewing Span
Length
Stories allow your shared media to be seen for 15 seconds, whether it be a recent post for your feed (video or post) or an at-the-moment snippet of your daily activities. You can post around 100 clips per day for your page.
On the other hand, Instagram reels are 90-second videos that express ideas that you may have. Its strength lies in the audio you use, whether a trending one or an original.
Purpose
Which one do you want your page to focus on content creation or authenticity? The former is why you use reels. You express what you are as a brand better than a post. But if you want your brand to look authentic to your market, you choose stories since you build a sense of connection and exclusivity because of how long people will see your "story."
Format
Stories can be in any form. From videos to photos, it can work with anything. As long as you upload it from the story editor or post it on your page, anything is story-worthy. Reels, on the other hand, are purely 90-second videos.
Viewing Span
Like we said earlier, stories give off a sense of exclusivity to users who see them since they disappear after 24 hours upon sharing your media (photo or video). Aside from that, a "Close Friends" option allows you to set who sees your stories. They could be selected followers or the general public.
Reels have the same duration as posts since it has a specific tab on your Instagram homepage. People can visit it any time they want and shift from seeing what you've recently posted, whether it's a photo or a reel.
Now you know what makes them different. We'll focus on stories for this blog and show you our top picks for your next Instagram story.
Beauty of Instagram Stories
Reels are the more trending of the two most vital Instagram tools used for your marketing scheme. But do not repeat, DO NOT underestimate the power Instagram stories will give your brand awareness.
Think of it this way; reels are your bait, while stories are your hook. Instagram followers come to see your content, but they stay because of who you are as a business/influencer.
That's where stories come to play. Nowadays, users want to see authenticity from the brands they follow and possibly daily updates. No one wants to feel the fear of missing out (FOMO), so give them something to see.
It could be a tour of the office, or maybe what's for lunch or a new product launch coming up. Either way, showing what you're doing at the office or showing off previews of upcoming events and products is a great way to keep your market updated and grow.
Also, remember this: you can post reels on your stories, but not vice versa. Give that some thought and understand that your stories and reels need to work hand-in-hand to promote your brand to strengthen your Instagram feed.
Let's get into the creative story templates below and create your virtual "business card" for your market.
Instagram Story Templates to Share Moments
Make sure your story is eye-catching since you only have 15 seconds to show it. Check out the templates we have in-stored for you below to help you hook your market's attention. We divided them into six categories just for you:
Abstract
Shapes are a great way to frame and create unique styles for your story. This design will make your story pop, whether it be an abstract logo or shapes becoming outlines for text.
The abstract design is a great way to relate elements like shapes, typography, and even color schemes to create a fun yet professional look for your business.
Check out the templates below for ideas: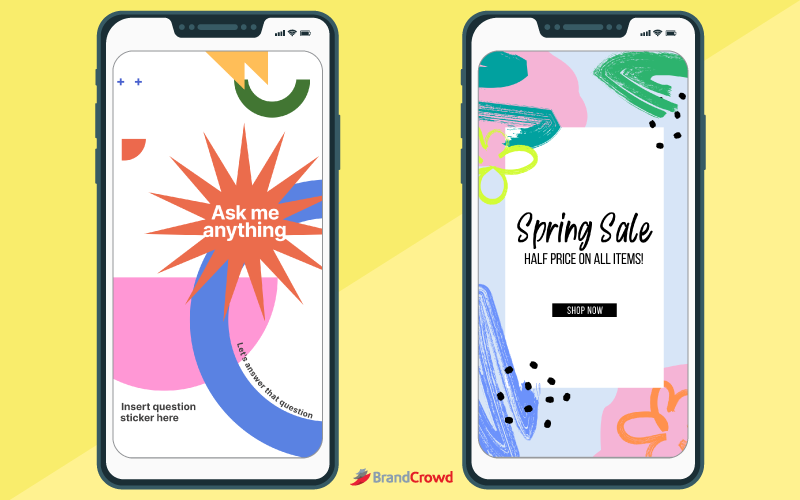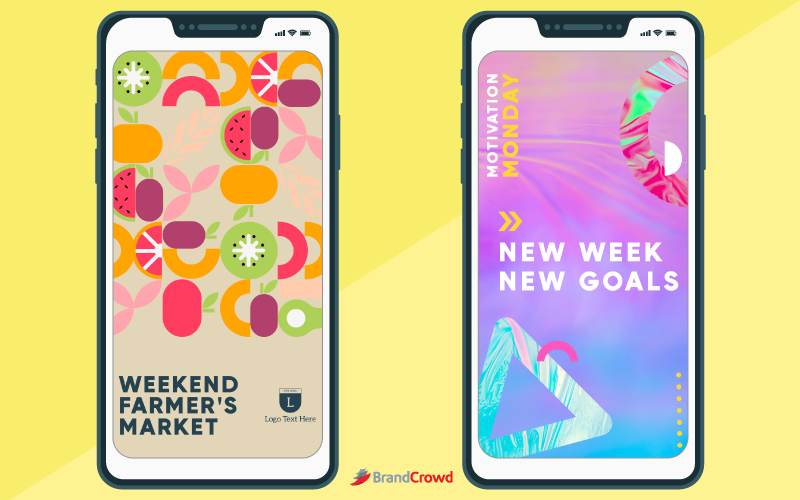 Framing
Create centered posts through framing. You'll look professional by putting one element (an image or video) inside a sophisticated shape like a circle, rectangle, or arc.
Aside from that, pair that with neutral colors or any color combination you want, and you'll have a great design at your disposal.
Find your framed template below: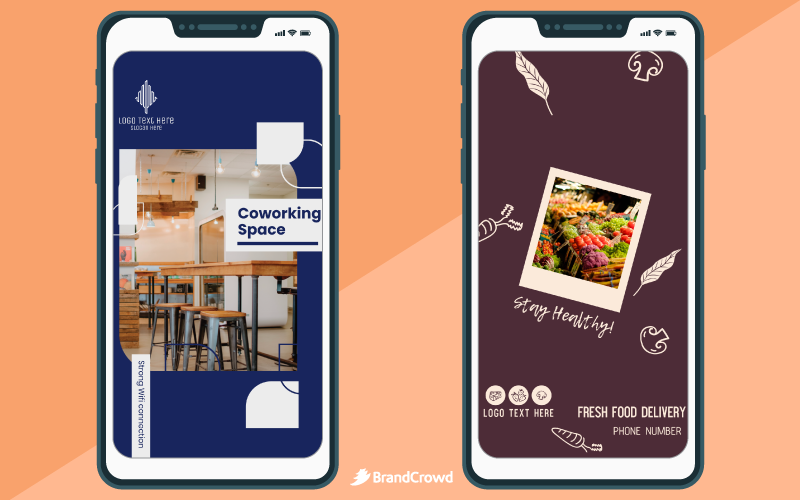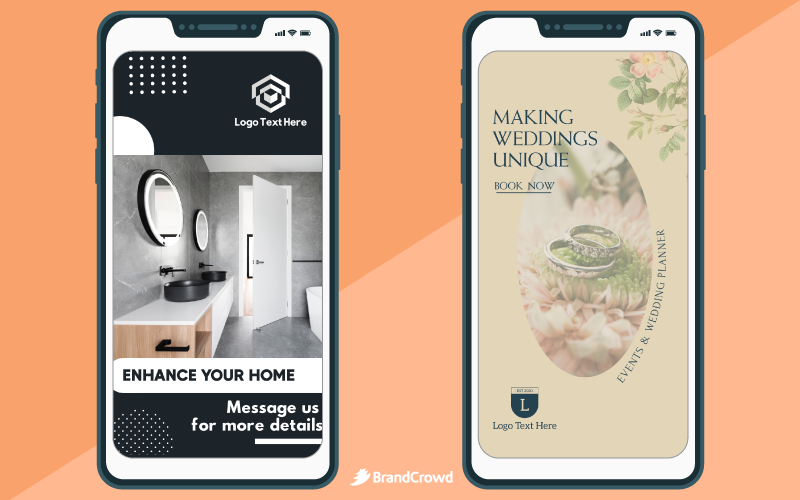 Gradients
Still a popular color scheme in logos and overall design, gradients are a beautiful mix of two colors fading into each other. They make your brand pop with a friendly vibe and allow you to simultaneously create an atmosphere that's calm and enticing.
Find your gradient template below: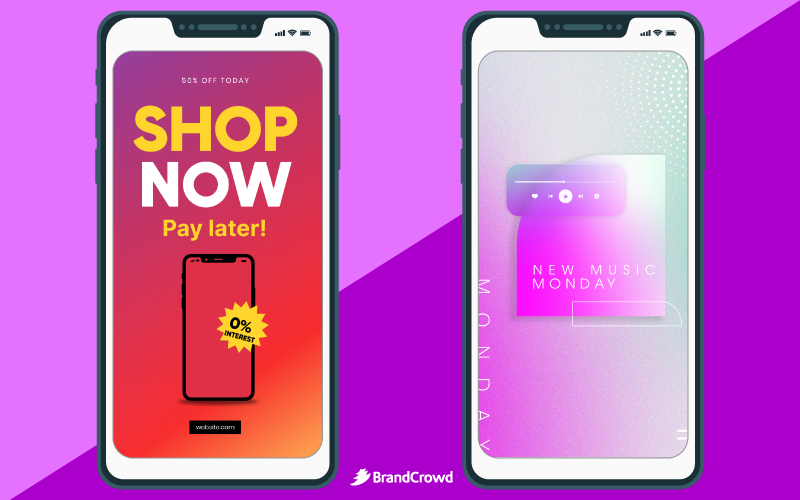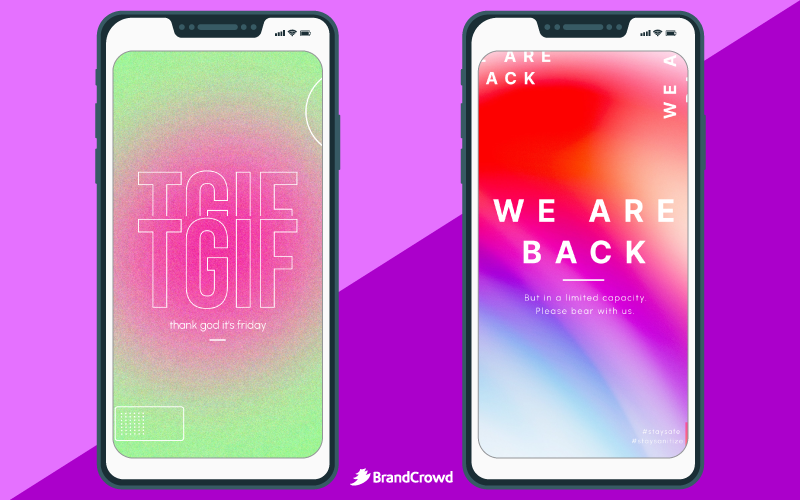 Handwritten
Adding a personal touch to your business' graphic design ensures that you come off as open and friendly with your customers. Another method to do that is using handwritten fonts. The typography is pretty and makes it look like you wrote something specifically for your viewers.
Get inspired by the typography-inspired templates below: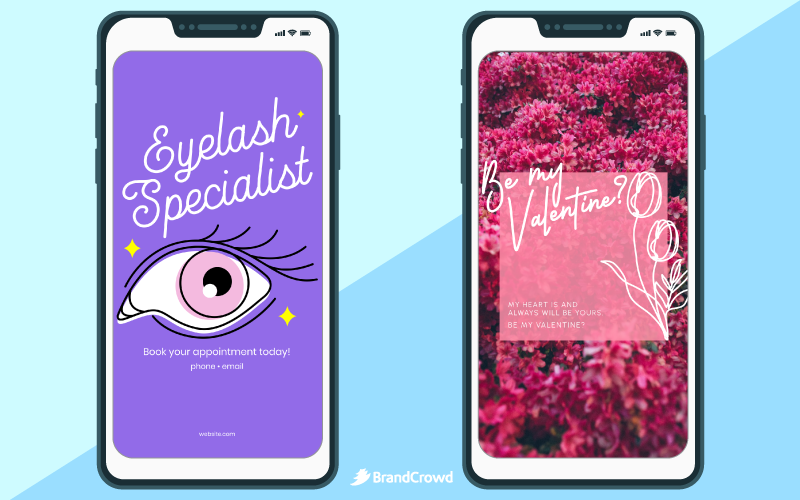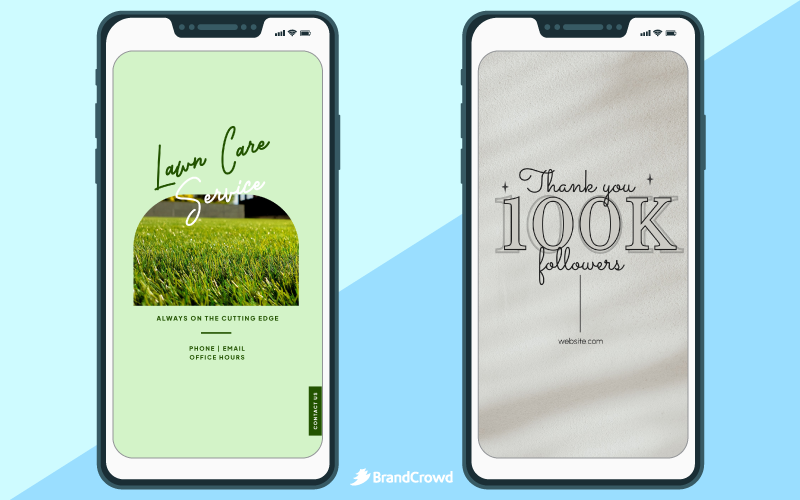 Overlays
A transparent design could work for your Instagram stories in the form of overlays. It directs the eyes of viewers to the essential aspects of your design. So you could use this to promote products, announce sales, or just create a particular style to base on for your posts and possible reel.
Find your overlay design below: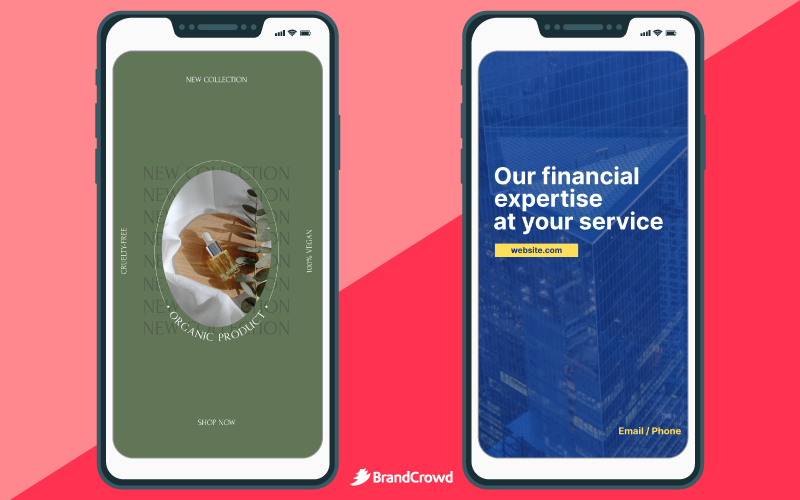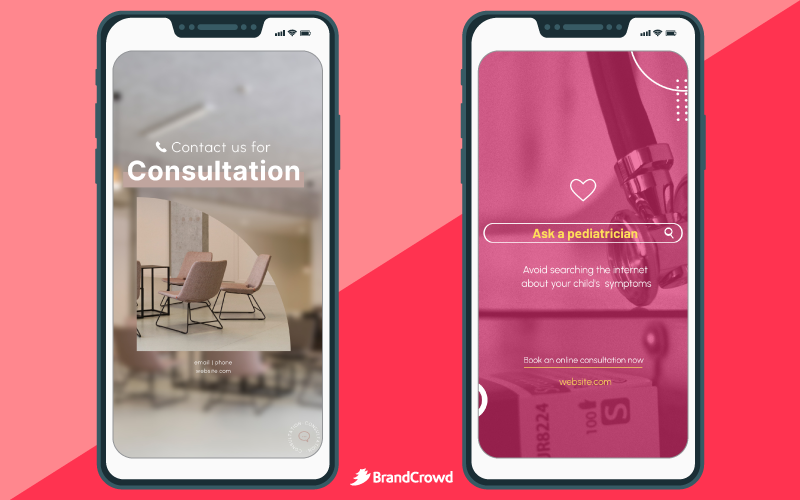 Text Heavy
The templates above are a mix of icons, images, and even videos, but this design relies solely on text to grab viewers' attention. Knowing the typography trends is a great way to make this template work.
Find your fresh template below: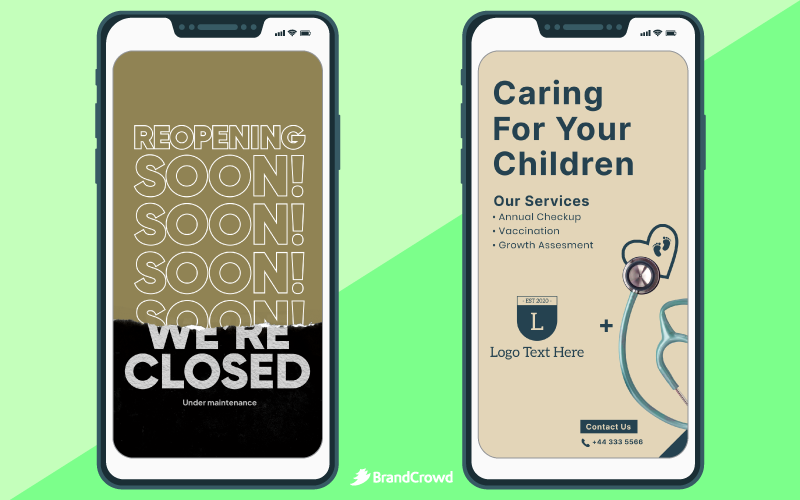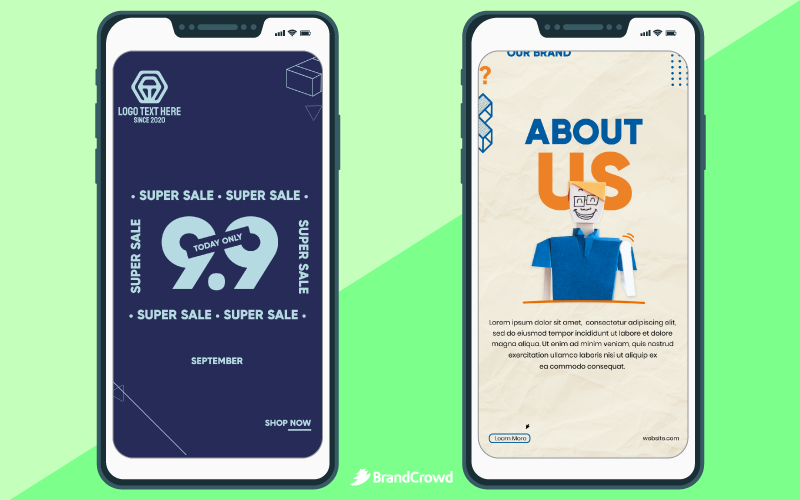 Use Instagram Stickers
Lastly, don't forget that you can add so much more to your design by adding in-house stickers from Instagram. They're cute, fun, and exactly what you need, especially if you want to get in with the trend.
Check out the designs below for ideas: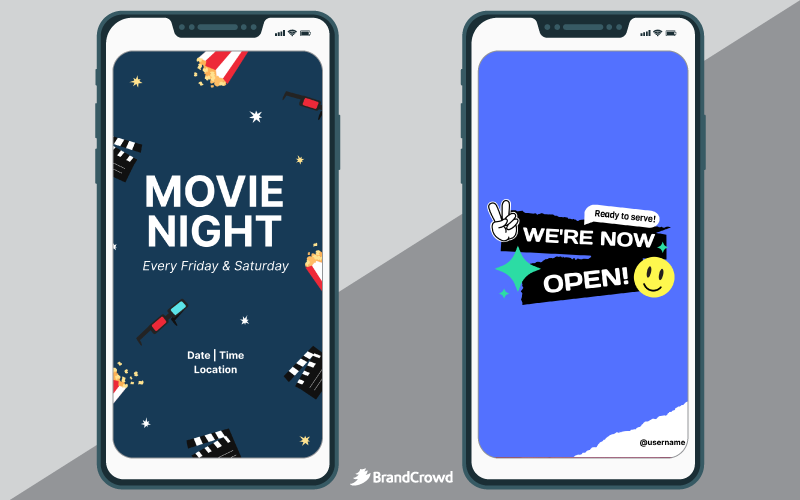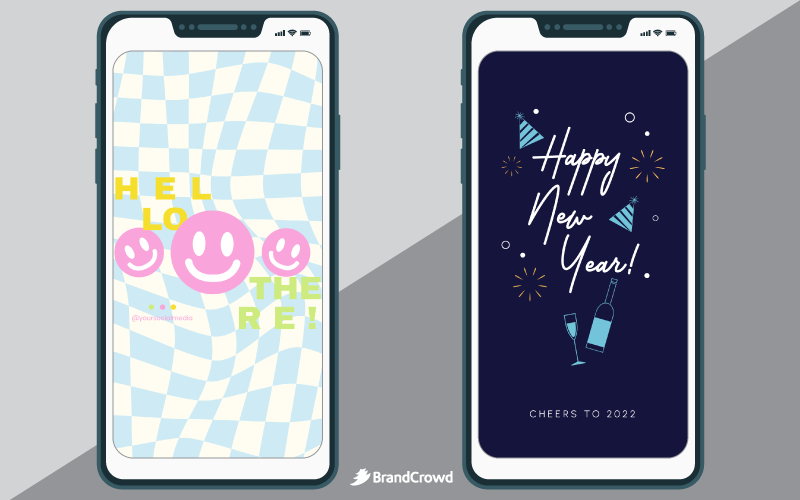 Create Your Hip Instagram Story Today
And there you have it, our top picks for Instagram story templates curated just for you. If you need any other help with other aspects of your branding like business cards, letterheads, etc., we're right here to help.
Share who you are as a business with your stories today!
Read More On Design Here: