Dissecting The Logo: USA Merchandise
Reading Time:
4
minutes


Hello Readers!
Dissecting the logo with us. We're featuring one of our clients and taking a peek at their logo design. Since the pandemic started, many businesses either closed or went online.
Our client chose the latter.
Introducing, USA Merchandise!
They are a small business that sells vinyl decals and creates t-shirts incorporated with graphics designed by designers worldwide. USA Merchandise also offers a wide array of trinkets and plans to add pet items to their catalog.
The company's founder is Terry Pavick, a retired general contractor in the service for 12 years. And since the pandemic started, he decided to put up this small business.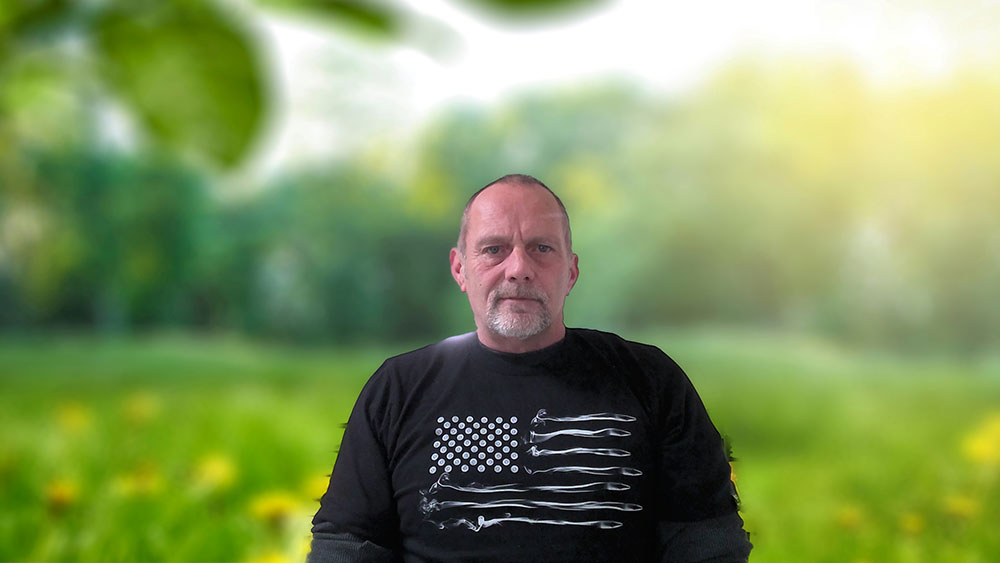 The company's items are not necessarily just from the USA, but all over the world, Pavick shares. And their products are handcrafted and eco-friendly to give 100% customer satisfaction. Take a peek at some of their products: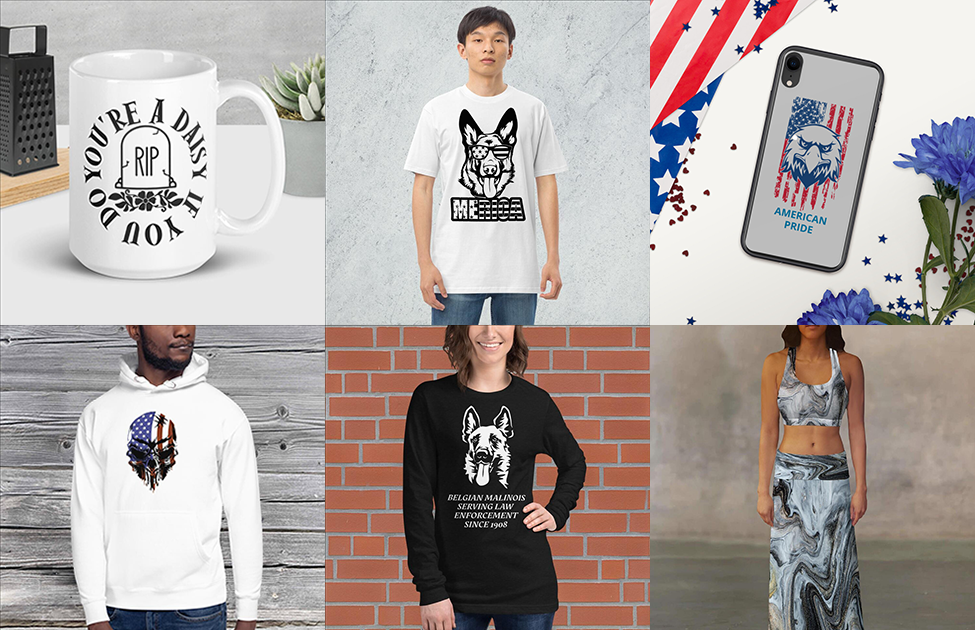 Here's an exert from the interview that we appreciated. You get a better view of what their brand's values are before we get into their design:
"…We just want to kinda go back to the small basic way of life like a small business. Everybody knows everybody. You can get a high-quality product for a decent price and everybody stands behind the product."
Dissecting the Logo
Now we get into the more technical stuff. Every business owner's thought process has come across this: what do I want our brand identity to look like online?
A portion of that thought goes to logo creation.
The eye-catching graphics of your business will determine the strength of your brand. Around 75% of consumers say that logos are one of the most identifiable aspects of a business (Renderforest, 2021).
Thus, let's discuss the logo choice of USA Merchandise.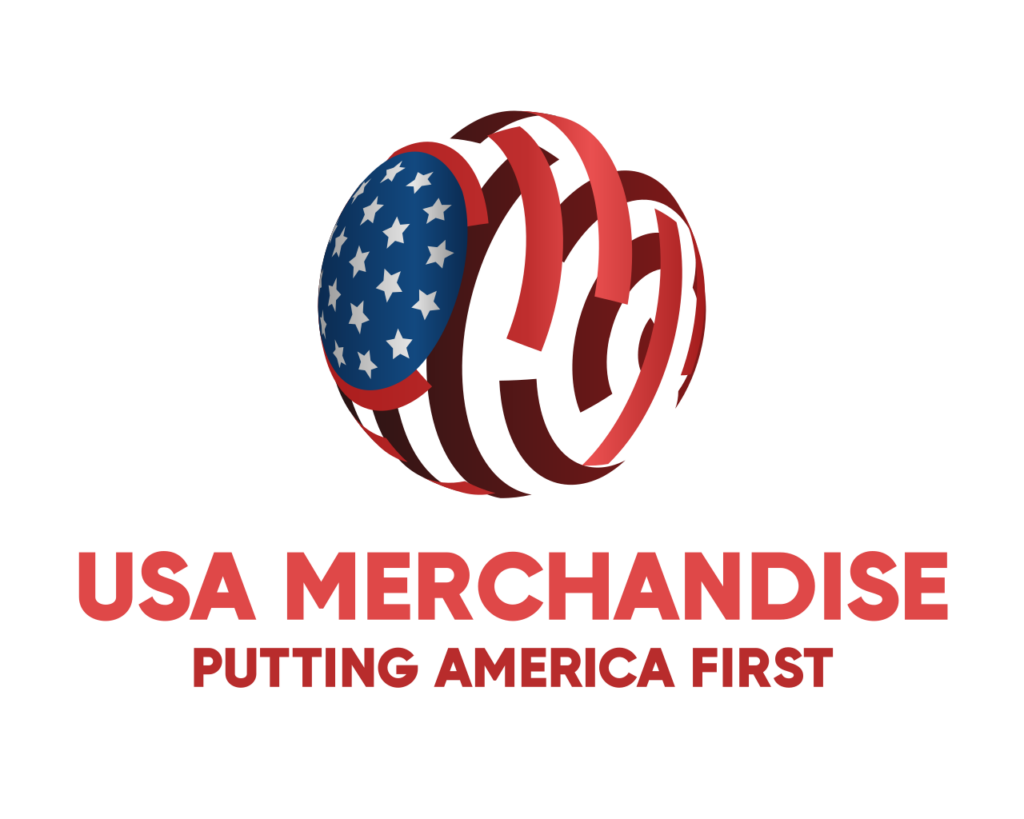 As you can see, they chose an American-themed logo with the flag incorporated in the circle. We love how the visual utilizes negative space in its design.
The lines form a sleek globe much like how they source their products. Also, do you notice the lines? They give that sense of movement like the lines are moving around the circle.
But the color of the logo is a muted red that doesn't irritate the eye. Now add that to the simple font and voila! You can now see USA Merchandise's chosen logo.
But how did they choose the logo exactly?
Choosing A Logo Maker
Not everyone is skilled enough to use editing software like Adobe Photoshop or Illustrator. Or the budget to buy them either. Thus, people turn to affordable logo makers online.
Here at BrandCrowd, we know we're perfect for the job!
We offer a wide array of DIY design tools like:
Business Card Creator
Logo Maker
Social Media Template Editor
Posters, etc.
In line with this, the statement below is what Pavick thought of our logo maker:
"BrandCrowd was the first one that appeared, but there was another one, I don't remember. They wanted all this information and money before I could even see the finished logo.
I was actually doing a Google search for logo-making software when I stumbled upon it (BrandCrowd's Logo Maker). I was like, I'll go ahead and give this a try.
It's just funny cause I was looking for a flag or something to represent the United States. And I just really wanted the flag detail going on and I was just scrolling through your designs.
And it let me do a mock-up and it showed a ball American flag. And I was like, 'Well, I've never seen anything like that. So it was a hit and I made a logo right there and bought the rights out to it so you could take it off of your website.'
The thing I like about it the most is… if you're like me, you create something and then you go back and go like, 'Well I can do that better so you change it a little bit. And I can do that with BrandCrowd.'
I can just go back there and log in. I can readjust my logos and get different sizes and backgrounds, business cards. So I stuck with that."
After sharing his experience, we asked Pavick how his logo experience was with us:
"Oh, it was simple. I typed the theme of what I was looking for and that's when all your templates popped up. And that's how I found my little round globe."
Then we asked if Pavick had any design strategy while creating the company's logo. Below is his reply:
"No, I was flying on a hip, I guess. Well it's gotta have red, white, blue, and stars and let's see what we can come up with. That's where the software in the platform came out so great.
It was cause it showed me different kinds of variations of flags and red, white, and blue stripes. And like I said, I saw that little marble-looking thing. And I was like, 'Oooo, I like that and I'm going to take it now."
See, our logo maker is customizable, easy to use and you get quality design and high resolution at an affordable price!
You Can Do It Too!
Lastly, we asked Pavick if he could give advice to his fellow small business owners. Here's what he said:
"Definitely get into the Google ranking cause that's gonna be your biggest advertisement. Nothing is going to take overnight. There's no such thing as get rich quick overnight.
I mean utilize all your social media platforms like Instagram, Facebook, TikTok, etc. Just stick with it. I mean if you believe in it, just stick with it."
And that's a wrap. You now learned how to use our logo maker and met a small business you could start to support.
Stay tuned for our next Dissecting the Logo session next month!
Read More On Design Here: