Setting up Your Brand's Social Media in 2021
Reading Time:
7
minutes


There are over 4.33 billion social media users today.
Brands are making the most out of this online platform to grow their business. Over 73% of brands claim that it's an integral part of their strategy as it creates an effective way for them to market their goods and services cost-effectively, according to the Sprout Social Index.
It's no longer a platform that people only use to share photos of their daily coffee cup or post countless selfies. Although you'll still see people use it for those types of things, it has evolved to a place that you can use to improve your marketing strategy.
Whether you are developing a personal brand or a small business, this article will teach you how to build your business social media accounts from the ground up. You don't want to pass on this opportunity for your business.
Check out the overview of subjects we'll talk about below.
The rules of social media branding
How to choose a platform
What you need for the setup
Final tip
Let's get right to it!
Importance of social media for businesses
You might be wondering why you should use social media for business. Well, you'll find the answer in this section. It's important to be aware of these perks before discussing how you can start your social media empire.
Esteemed brands don't spend time building a huge following on social media for no reason. It has a serious set of advantages that you can use to broaden your audience. From lead generation to brand building, you can accomplish a lot of business goals.
Here are some of the brand-building perks that you'll enjoy with a solid social media presence.
Builds trust – A brand that's active on social media gives audiences peace of mind. They become more familiar with a company and how they respond to various situations. Simply put, social media is another platform for brands to be transparent and become more accountable.
Grows website traffic – Once consumers follow a brand's social media, they become more inclined to visit the website. It is a chance for you to improve your numbers and up your conversion rate. Plus, it increases the odds of consumers purchasing and recommending your brand to someone in their social circle.
Makes company news accessible – Instead of posting your updates on your website, you can share on different platforms that your audience frequently visits. Social media will allow you to make your news more visible to the public. It is valuable for events, sales, and new product launches.
The rules of social media branding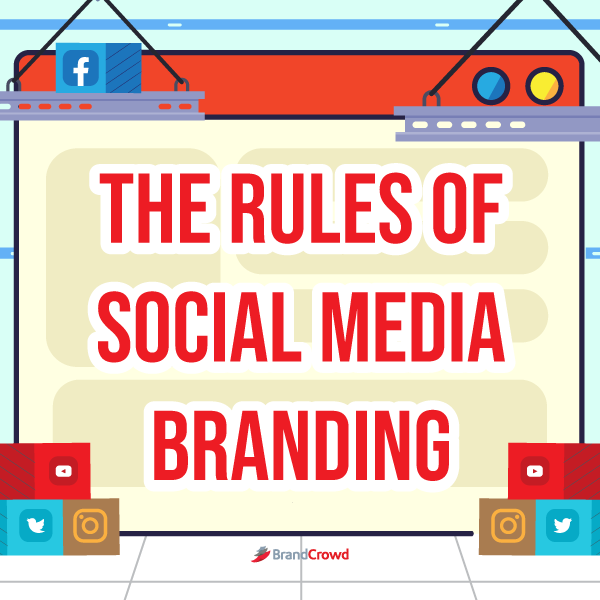 Before you head out to create accounts, it's essential to be informed about the rules that surround running a social media account for your business.
This will guide you to follow as you launch your account and maintain it properly. In addition, these directions will also help you avoid blunders in the future. Learn about them below.
Be consistent – Consistency doesn't just apply to a single aspect of social media marketing. It's crucial to stick to a dependable posting schedule, brand identity, and tone. This rule helps you make it easy for the audience to recognize your brand.
Reply fast – As mentioned in the previous section, social media is also a place where consumers can give feedback and ask for support. Giving a swift response will benefit you by making you appear like a hands-on company that cares.
Don't beef with other brands – You've probably seen brands banter on social media like Wendy's and Taco Bell. But that doesn't mean you should do it, too. It tends to get ugly fast, and you run the risk of being canceled. Instead, you should play safe and focus on lifting your brand up instead.
How to choose a platform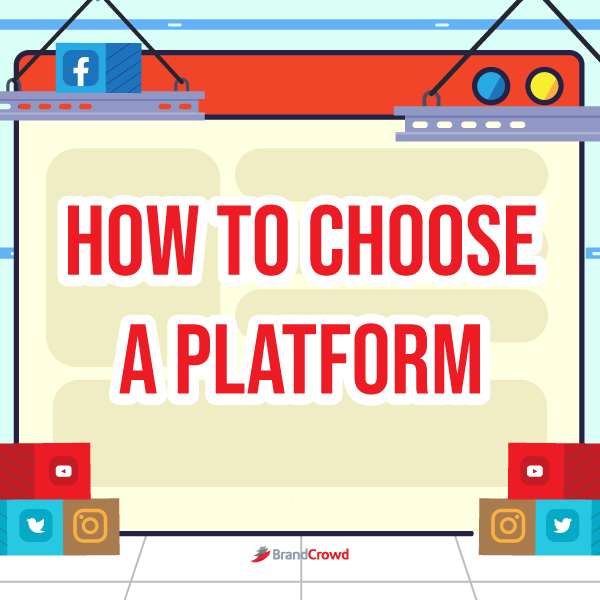 Picking the right social media platform for your business can be tricky. Some platforms work best for a particular set of businesses. That's why you want to find out that you're on the best possible ones.
Doing this also helps you avoid wasting efforts trying to maintain a social media platform that isn't appropriate for you. For small businesses, this could be a huge lifesaver.
Before you get your brand aboard a social media platform, here are the following things that you want to consider.
Here are the four steps to choosing a social media platform for your company.
1. Know your target audience
A brand could be posting the best content, but not posting it in the right place can be a massive waste of opportunity. Keep in mind that the medium is a message. It's a must for brands to establish their presence wherever their target audience may be. Otherwise, you run the risk of having your content ignored.
A helpful way to get around this is to catch up on social media demographics. Hard facts will help you create a data-backed decision for your business. For example, if you run an automobile manufacturing company, platforms with an older and more professional user base are your best bet. B2Bs benefit from apps like LinkedIn and Facebook as they are the most appropriate.
2. Determine your goals
Think about what objectives will benefit your brand the most. Will you be posting a lot of ads? Or do you plan on using the platform for eCommerce? For example, if you plan to carry out a lot of live videos for events, you might want to try websites that have features for this like LinkedIn, Facebook, Youtube, and Instagram.
Whatever your goal may be, the social media platforms you should choose should allow you to carry out those campaigns. It's essential to research what features a platform has before you consider using it.
3. Research your competitors
If it's still unclear what platforms you should use, you should try checking your direct competitors. Learning more about other brands in your industry will give you an idea of what sites they use to roll out their campaigns and get an idea of what will work best for your company.
You can try searching for their page or account on various platforms. From there, you can take the opportunity to learn more about their profile and content, among other aspects of their social media marketing strategy.
4. What content formats can you create right now?
Apart from your business objectives, it is also essential to evaluate what type of content you can create with the current resources you have available. For example, if you currently don't have the resources and time to produce video content, hold off on building your brand on channels like YouTube or TikTok.
You don't want to join a platform and not have the right content for it. However, you can use free content available on the internet or by signing up for a free online video editor where you can use a huge library of pro video or photo templates for your project. Stock video and stock image websites are great for quick graphics that you can use for your posts.
What you need for the set up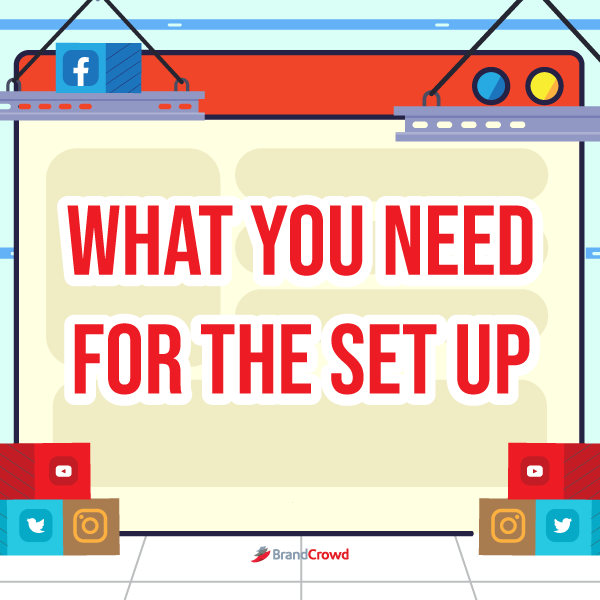 Once you've decided which platforms will be the most suitable for your brand, you can get to work.
Creating a dedicated account will make you more professional and, at the same time, allow you to compartmentalize work from play.
Setting up your business account is straightforward as long as you have the suitable materials and requirements. You want to pay attention and read instructions carefully. But don't worry if you make mistakes, as you can always edit them later on.
Be informed that the requirements you need may vary depending on the website you are using. It may include character limits, image dimensions, and other elements.
Before you head out to create your accounts, make sure you have the following things.
A logo – Your business logo is a versatile image that you can use as a profile picture.
A Google account- You need this for Google platforms like YouTube.
Banner – This will stand as your cover photo, and you can use this to display more information about your brand.
Updated address – Let people know where your office is if you have one.
Website link – This will help them locate your site and learn more about you.
Bio – This provides users with a brief description of your business.
Branded hashtags – Creating your hashtag will aid users in finding content about your brand.
Post templates – This will give you prepared posts that you can use to create a consistent look.
Business email – Having a separate email for your socials helps you have a dedicated address for business matters.
Final tip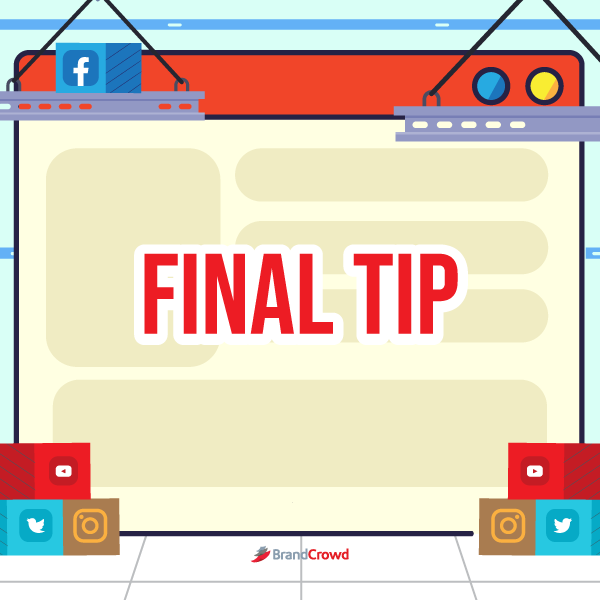 Here's a helpful tip that will boost trust for your brand: Get verified.
This tip doesn't just apply to celebrities and influencers. The blue checkmark is also a great thing to have for companies. This badge helps drive brand accountability and authenticity. Plus, it lets people know that they aren't engaging with a fraud or troll account.
Platforms require different documents like identification cards, updated information, and other similar details to get your application underway. But if you get denied, don't worry. Just keep trying. You'll be allowed to re-apply after 30 days.
Conclusion
There's no easy path to finding overnight fame in social media for businesses.
But knowing how to play your cards right will get you there with enough dedication. Sticking with this guide will help you start your socials right and create quality content.
Another excellent way for you to stand out is to pair each social media post with stunning graphics. Below are some quick ways for you to step up your social media game a notch.
DesignCrowd is a crowdsourcing platform for design contests. You can start a project for any graphic design project, be it for Facebook design or Twitter design. A community of freelance graphic designers will join your contest and submit up to 50 design proposals that you can choose from. Learn more about it today.
The BranCrowd maker gives you the chance to take a DIY approach. It has an artillery of editing tools with a social media maker that you can use to create stunning graphics to accompany your message. Browse its library of designs and personalize them to fit your brand best. Find the perfect design in minutes. Try it for free.
Read more articles on design and inspiration below: