Famous YouTube Logos: Highest Subscription 2022
Reading Time:
12
minutes


YouTube is the second highest visited platform on the planet. Any type of video content, you name it, they have it.
An array of educational, funny reaction videos and more are available to anyone that creates an account here. Join us as we look at the YouTube logo designs of the most subscribed channels of 2022 on the platform and tell you why they work.
How to Create A YouTube Channel Logo?
Before we dive into the top followed YouTube channels, let's get a bit into the algorithm and how to make a splash on the platform through your visuals.
YouTube, through the years, has been known for changing its guidelines since its first launch in 2005. YouTube's algorithm has been picky, from optimizing clicks and views to strong content monetization.
But that doesn't mean you can't win on the platform. You need to get into one of the three:
Viewer preference and history
Video Success
and Content for all audiences.
Ensure your video hits any of the categories above to appear on YouTube's suggested page. Then you start to think, why does my logo and or YouTube banner design even have to do with that?
Because after checking out your video, viewers would go to your central channel and check out your content. You need to communicate your brand and personality successfully.
So here are a few tips for creating your YouTube channel logo.
Visit brandcrowd.com.
Type your channel name.
Then tweak the filters from logo styles, color, font, and keywords.
Pick a template from thousands upon thousands from our catalog.
Edit it.
Ask for feedback in real-time from friends, co-workers, and or family.
And save your final output for your design needs.
There you have it, a mini guide to creating a YouTube logo for your channel. It's the same process when you use our banner maker as well.
Now, let's get into the logos of the channels with the highest subscriptions.
Famous YouTube Logos of 2022
We'll be taking a peek at the success of each of the 20 channels below. From their general content to their logo design, we'll tackle it all here.
Do you recognize any of the channels below?
T-Series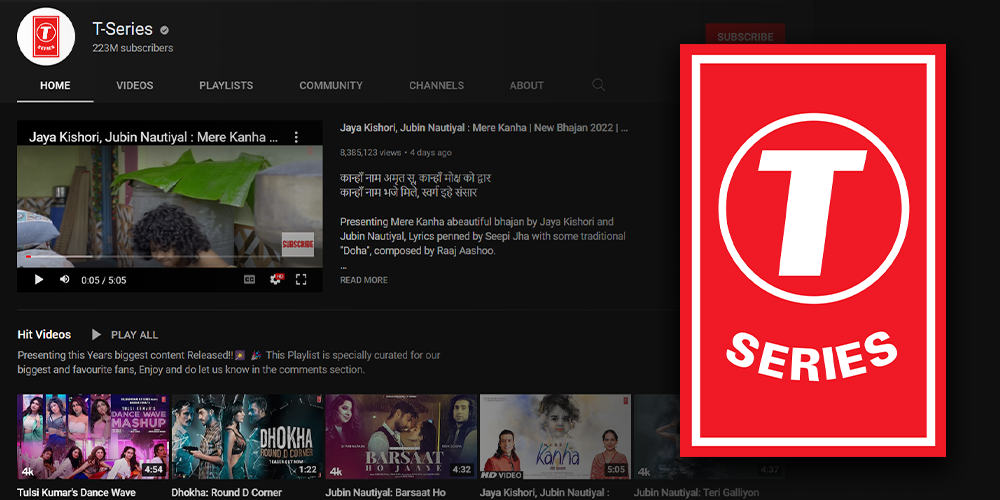 First on the list, we have T-Series, an India-based channel that went toe-to-toe with Pewdiepie (Felix Arvid Ulf Kjellberg) for the top spot. Eventually, they outranked Felix and gained the top spot.
It's a no-brainer why since they produce content regularly. T-Series have it all: a music video or a movie trailer. So their channel grew to 215 million subs in no time.
T-Series' logo is a bright red with an emphasized T with a circle around it atop the word series inside a rectangle. It's simple yet powerful because of the use of red.
According to color psychology, red signifies authority and vibrancy. Both are exactly what the type of content T-Series produces.
Cocomelon – Nursery Rhymes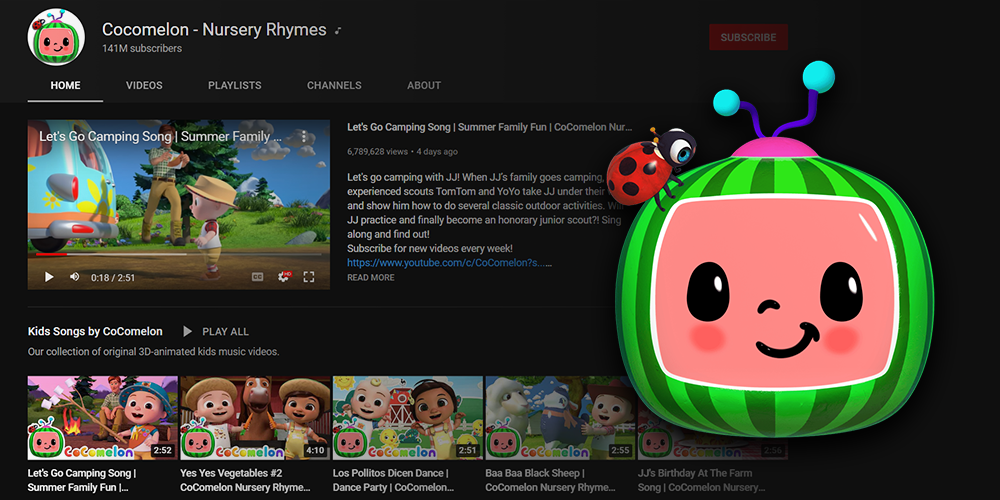 Next, we have a kid-friendly channel called Cocomelon. The pandemic forced everyone to stay indoors, and knowing children, they needed a source of entertainment.
Cocomelon stepped up to the challenge and became a household name with the type of content they create. The videos are animated to be at the toddler's eye level, giving a fresh rendition of nursery rhymes that we as children used to love.
Aside from that, they have a variety of content like live streams, music videos, and compilations so your toddler never gets bored. Because of that, their channel has racked up 135 million subscriptions to their channel.
Their logo reflects their brand itself since it's a mascot logo design that depicts a friendly face on an animated watermelon television.
SET India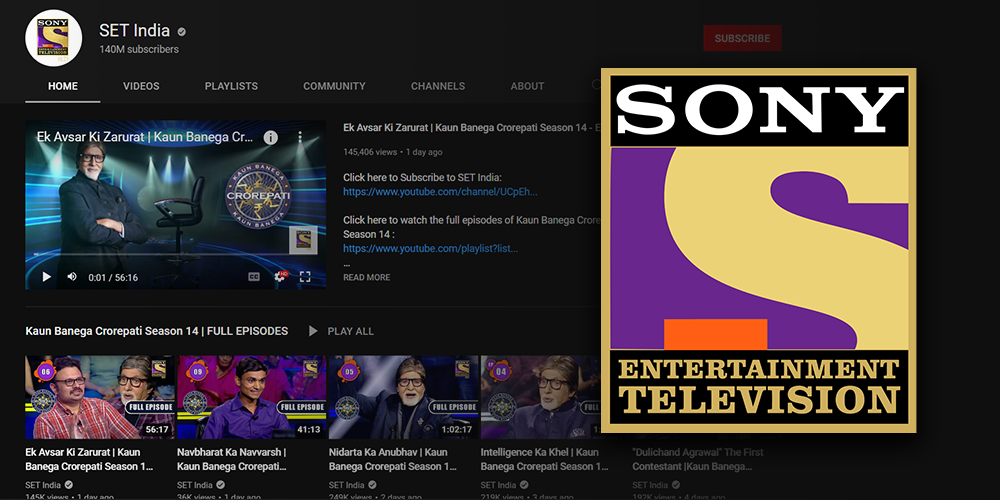 Of all the Sony Entertainment Television (SET) channels out there, SET India tops them all. Their content is a diverse video recap to complete television episodes of pre-existing shows they have that are exclusively on the telly.
But, their trump card is being an operation of 24hrs. The added spectrum of content includes comedies, dramas, and even thrillers. And so, their channel has racked up around 133 million subscribers.
Their logo is wordy and cluttered with the original SONY logo on top of an S in a predominantly yellow design with an orange tail and purple background. And on the lower part are the words Entertainment Television.
The orange, yellow, and purple represent the diverse and fun nature of the channel's content, while the added words, though cluttered, give it an air of professionalism.
It's like one of those sticker designs you'd see on Sony's products, specifically for tv.
Felix Arvid Ulf Kjellberg (PewDiePie)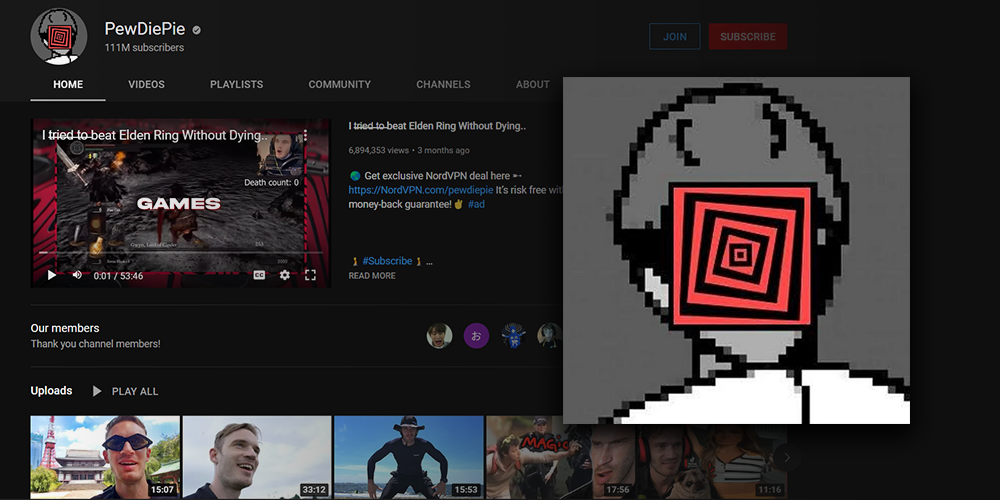 We finally get to Felix Arvid Ulf Kjellberg, a.k.a PewDiePie. He dominated YouTube for five years and seven months. Felix's content was a mix of game reviews, gameplays, and even meme reviews that pushed him towards his stardom today, with a whopping 111 million subscriber count on the platform.
Now looking into his logo, it's had four revisions since the channel made its debut in 2010. From the wordmark to the emblem of the blue fist inside the letter P, today, his logo is an abstract logo design.
It's now a black and gray pixelized design on the back of a head, with a square in the middle—four other squares inside, each titling to the side. It starts to look like a rabbit hole the longer you look into it.
Or like one of those optical illusions that draw you into itself. The logo design reflects what his content will do to you—draw you in to watch more.
Jimmy Donaldson (MrBeast)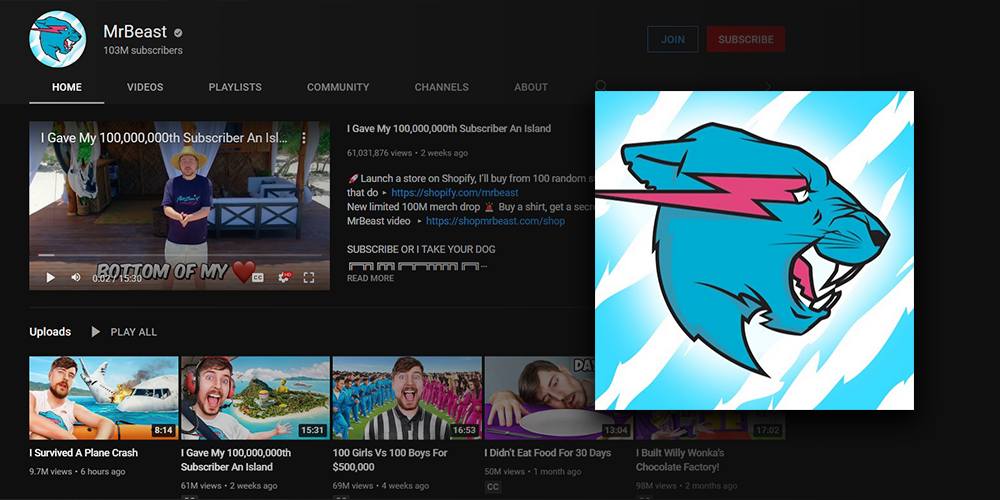 Have you heard of a real-life Squid Game? Well, Jimmy Donaldson, a.k.a. Mr. Beast, has done it. He beat the algorithm of YouTube at the age of 19 with his Counting to 100,000 videos that gained thousands of viewers in days.
He's also known for his other philanthropic videos by letter strangers competing for the prize of a car or a house and lot. It honestly surprises people what his following video content would be.
Mr. Beast has around 95.1 million followers who stay tuned to his videos. He even has a video on buying a whole supermarket to give the supplies to a soup kitchen and opening a shop where people can take anything they want for free.
Let's get into this philanthropic's channel logo. It's had at least three revisions, but the design we'll focus on is his latest one. It's a blue tiger facing left with a pink lightning bolt on the side of his eye.
The tiger is on top of his black wordmark. Overall, the tiger looks more cartoonish compared to his earlier designs which exude a more friendly and creative vibe which is precisely what his content is about—a diverse collation of videos.
Like Nastya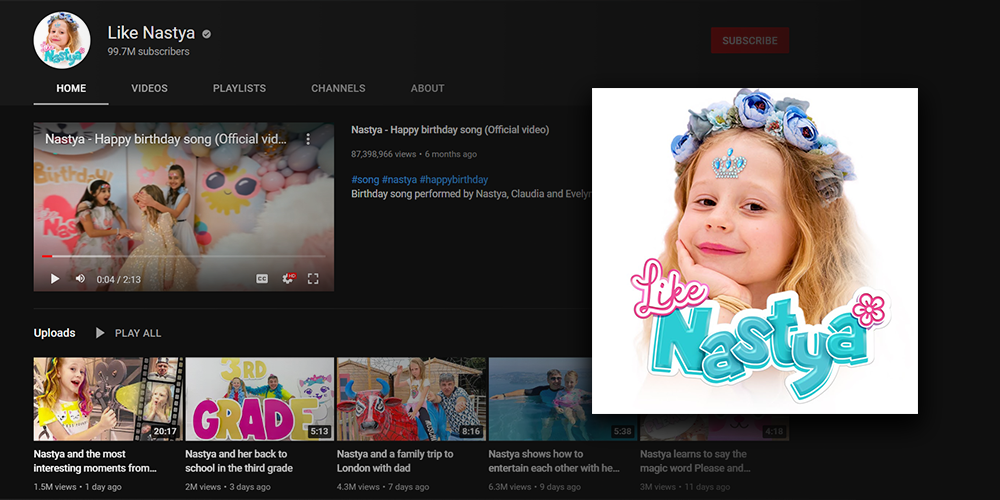 We have another child-friendly channel, Like Nastya. Her videos range from real-world questions like earning money honestly at her age to relationships with friends and family.
It's an educational channel for children, making her one of the youngest YouTubers at eight. Her subscriber count is 93.3 million, which reflects how much the algorithm loves her content.
Her channel's logo is her photo with a child-like font style for her wordmark.
WWE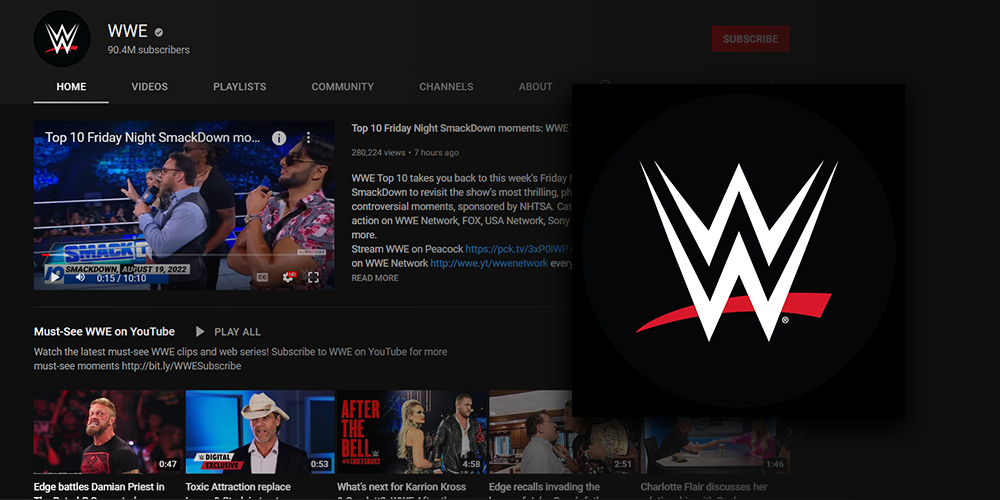 You Can't See Me!
Que the entrance of John Cena into the arena. That is one of the many lines that World Wrestling Entertainment offers.
Their channel has around 88.1 million subscribers who enjoy the diverse storylines the wrestlers offer despite the simulated actions, like in a movie but starting wrestlers. From romance to drama to comedy, ask for it; they've got it.
WWE's visual is a lettermark logo design of two Ws on top of each other to create the iconic structure. It's a minimalistic, flat look compared to the different designs that appear cluttered.
Zee Music Company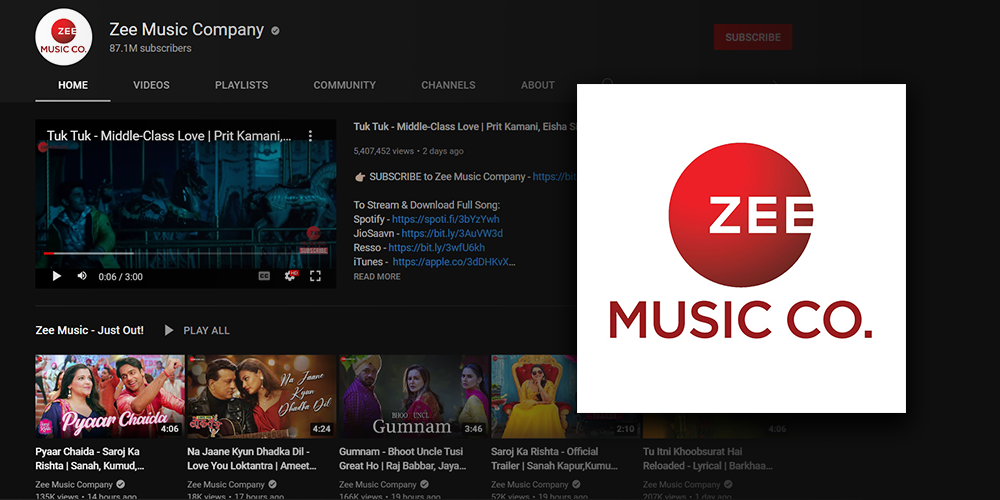 Another channel hailing from India; we have Zee Music Company. The company created is the second known music label in India after T-Series.
With a subscriber count of 83.8 million, their content is one of the key channels to keeping their music viral. Zee Music Company's content varies from singles to non-film music; pick a genre and find your vibe.
Their logo's simple yet powerful since the logo is predominantly red with a white background. ZEE is inside a circle on top of their wordmark, which gives it a sleek look.
Vlad and Nikki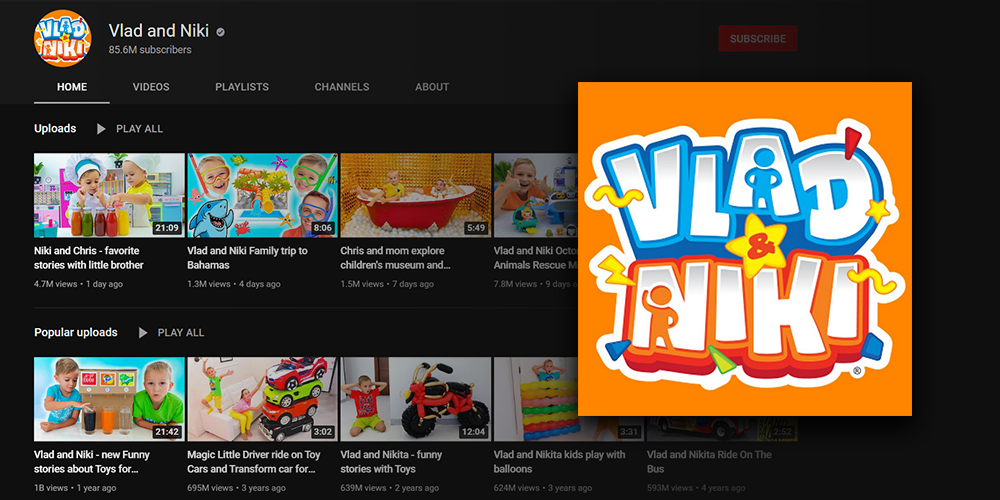 We've had individual and animated content creators for children. Now, we have siblings, Vlad and Niki. They're an adorable duo that creates content that touches on children's creativity.
They are a great pair that often show children play while "helping" their parents through their toys like cooking or creating healthy habits as children. Because of their lively and colorful videos, they have around 81.5 subscribers who stay tuned to their content.
The sibling's logo speaks volumes about what content they create. The typography and color palette make the logo pop, even if it's a simple wordmark.
From the blue and orange hue to the white space humans that make up A and N in their names, everything screams enthusiastic and secure fun for children worldwide.
5-Minute Crafts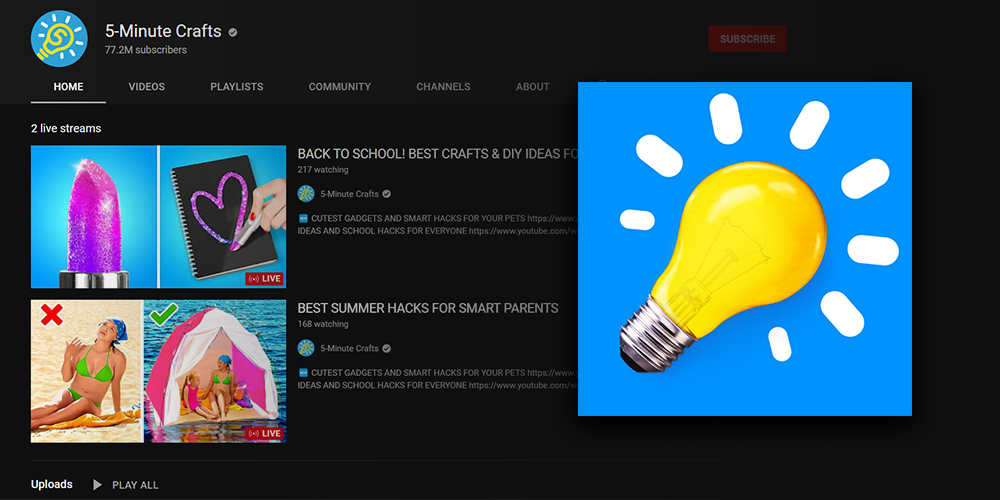 Don't have time to prepare for certain instances for hours? Take five minutes with 5 Minute Crafts. Despite some of the hacks not being five minutes or practical, this channel has hacked its way into the YouTube algorithm.
With around 76.6 million subs, their content is either used for reaction videos (like TikToker Khaby Lame and Kal Me Kris) or videos to watch to pass the time; their videos gain tons of viewers worldwide.
Their logo is a pictorial logo mark of a lightbulb shining with a blue background. It makes sense since some of their hacks are "bright" ideas.
BLACKPINK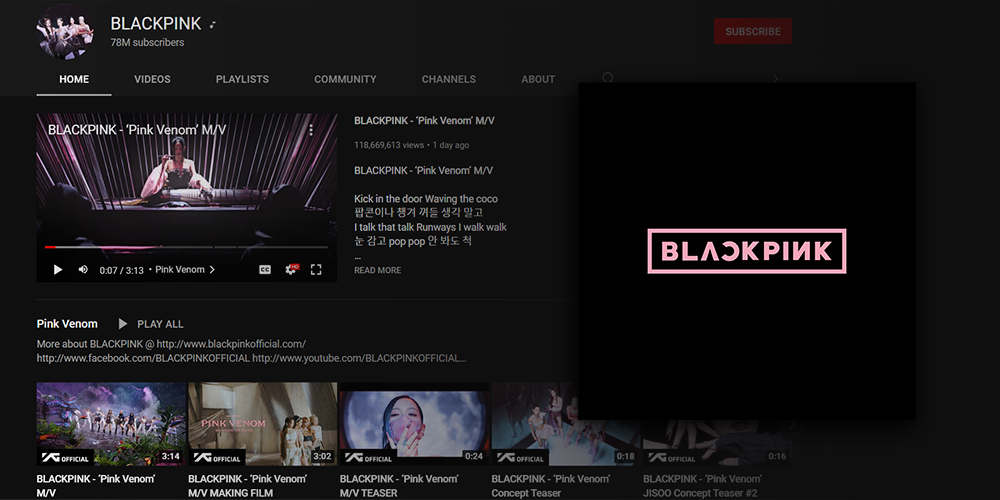 Hit you with that ddu-du ddu-du-du.
Do you recognize the lyrics? That's one of BLACKPINK's famous songs. Much like BTS, BLACKPINK is a favorite all-girl group from Korea.
From unboxing to music videos and interviews, the channel has everything to do with the four girls in general. Recently, they released a song entitled Pink Venom, which has gained 172,082,421 million views so far.
It goes to show how much people support them. Now, on to their logo. It's a wordmark with their name in a black and pink hue—which also shows femininity and power, which they embody.
Goldmines Telefilms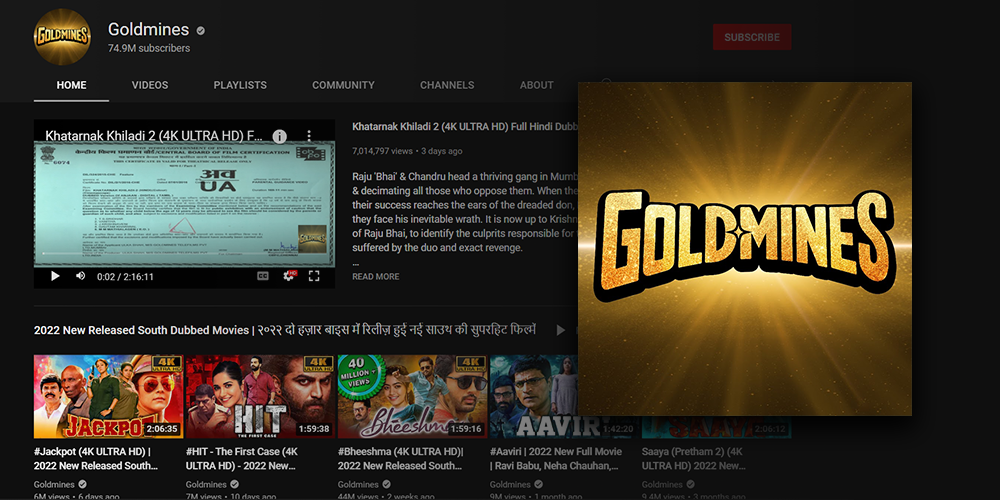 Another channel from the land of India, Goldmines Telefilms, is one of the contributors to YouTube's popularity in Inda and redefined the consumption of entertainment in the country.
Their subscriber count is 76.6 million who love movies. The defining characteristic of the channel is that they upload films with seamless dubs.
Goldmines Telefilms' logo is their name Goldmines in bold font and sparkly gold background. It exudes premium content, which they do provide through their movie uploads.
Justin Bieber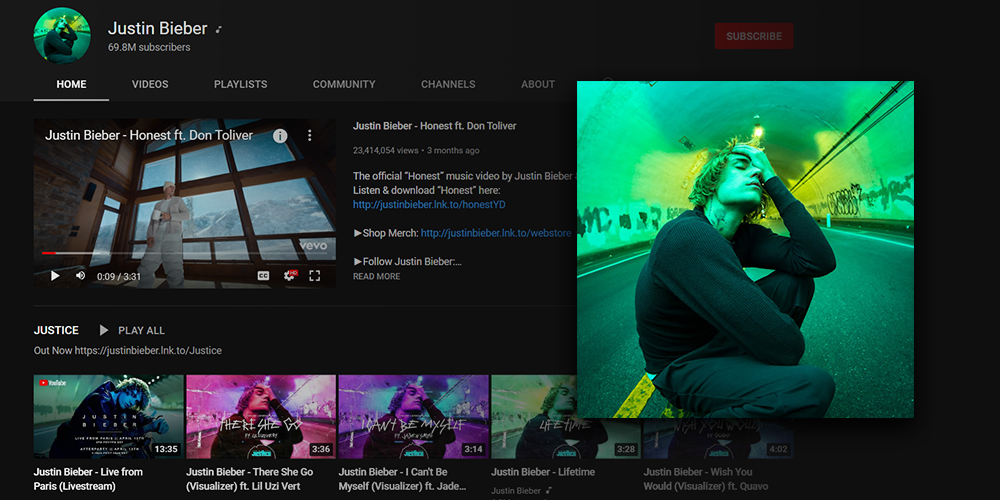 Another famous musician here is Justin Bieber. His subscription count is at 68.8 million. Some of the content the channel produces are YouTube shorts and music videos.
There are TikTok compilations featuring his songs like Peaches and Ghost. His special documentary about his life is also on the channel.
Lastly, his logo design is him posing in the middle of the road, and the color scheme is green. It looks like his real-life mascot, similar to Like Nastya minus the wordmark.
Konrad Cunha Danta (Canal KondZilla)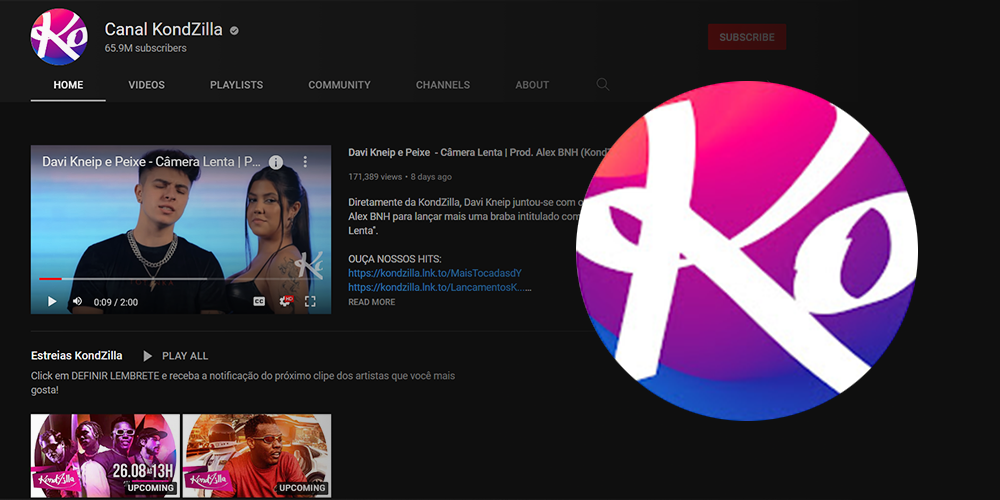 Another artist, we have a screenwriter, and director, Konrad Cunha Danta. Better known as Canal KondZilla. He's famous for directing pieces like Música Popular Caiçara and Imagination by MC Boy of Charmes.
His subscription count is at 65.6 million for his music videos that start individuals to duos to groups. If you want Brazillian music, you can find the right channel here.
Kond's logo it's a lettermark in gradient colors of orange transitioning into purple. His initials, K and O, are on top of the gradient palette. It shows the fun and diversity of his content.
Big Hit Labels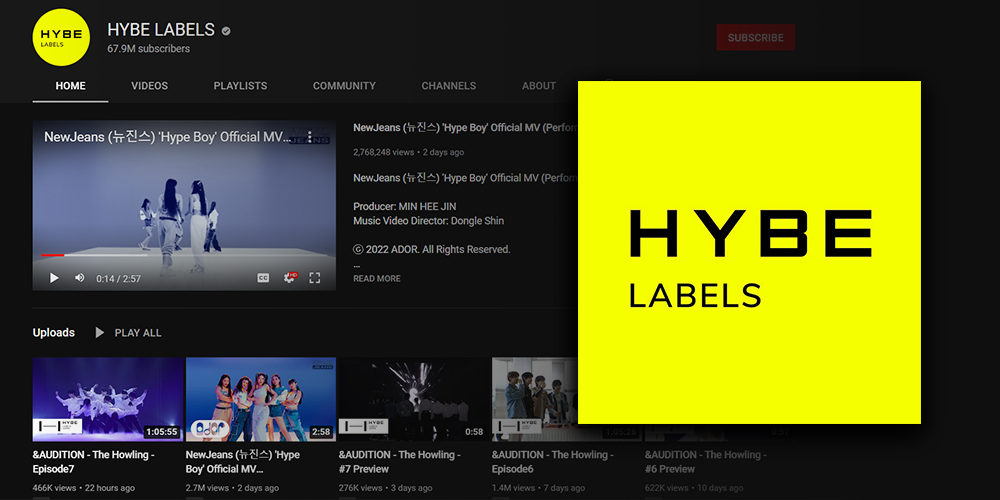 Are you looking for up-and-coming K-pop artists? You found the right channel with Big Hit Labels or Hybe Labels. They're famous for producing BTS, Zico, and New Jeans.
Their content varies from YouTube Shorts to music videos and auditions of aspiring debutants in the k-pop industry. Their follower count is 65.4 million people who love discovering new artists.
Their logo is simple yet professional. It's their business name in their signature font with a yellow background.
Shemaroo Filmi Gaane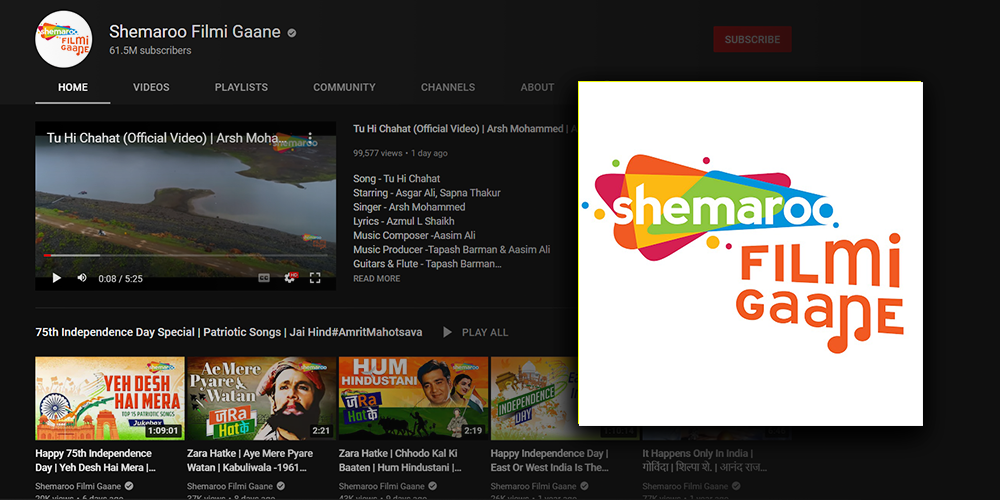 If you combine T-Series and Goldmines Telefilms, you get Shemaroo Filmi Gaane!
They have around 59.8 subscribers on their channel since they make music and retro, hit movies available to the platform, which people love. They have everything from movie snippets to music videos and even YouTube shorts for your daily Bollywood entertainment.
Their logo is a mix of abstract and wordmark designs. There's a splash of color and shapes behind the word, Shemaroo. While Filmi Gaane has a more distinct font with the letter, N has music notes (flats) as tails.
Dude Perfect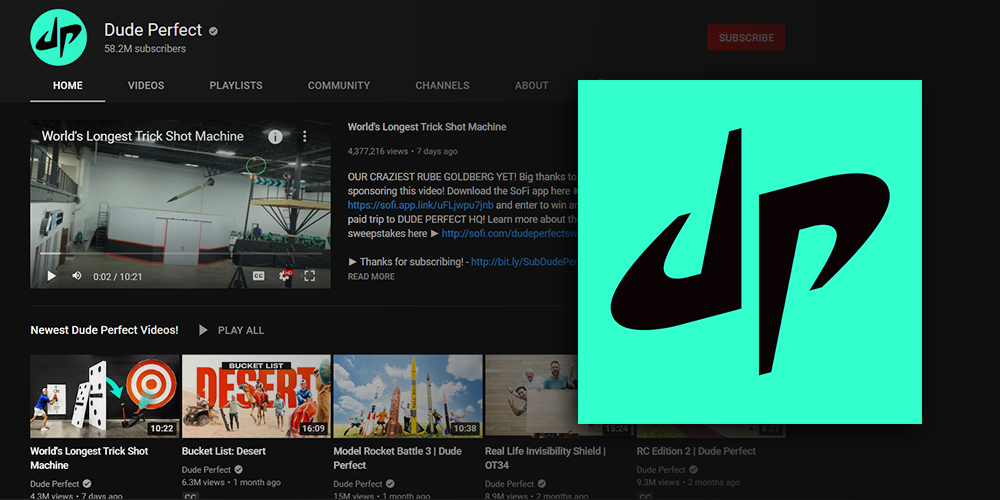 Do you want random videos of experiments to trending challenges you can do with your friends? Well, the Dude Perfect channel is for you.
They have 57.5 million subscribers who love his child-like activities. We say child-like because of videos like Demolition Derby Battle, Ultimate Mini Games Battle, and more.
Their logo is a lettermark of the group's initials in lowercase letters—d and p. At first look, the d would look like a J because of the gap between the tail and head.
But it's a lower case d and represents their brand well. Watching their content is a fun, exciting experience that their color, Bright Cyan, brings to the table.
Movieclips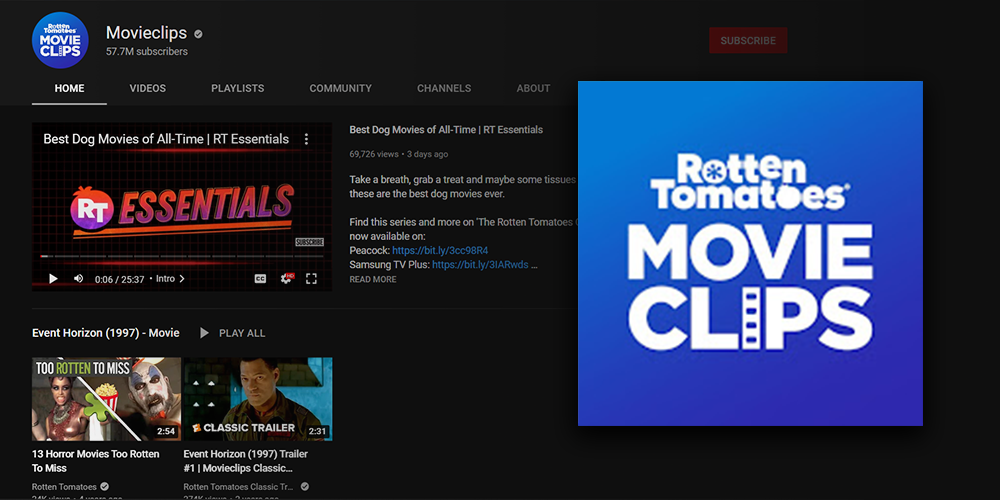 Do you want to watch certain scenes from a movie instead of the whole thing? Then Movieclips is the best channel for you.
From compilations to actual scenes from movies, they have it right here. They're the most extensive collection of movie clips online, hence the name.
Their sub count is at 56.9 million for their well-picked featurettes on the channel. From animation to real-life actors, they have it here.
Movieclips also collaborated with Rotten Tomates, so they review videos in the form of listicle types, like the one you see on WatchMojo, but movie specific.
Their logo has a blue background, and their names, Rotten Tomatoes and Movieclips, are in white. It exudes trust by color choice with I looking like a film strip.
The overall logo is a what-you-see-is-what-you-get kind of thing since we know Rotten Tomatoes gives reviews, and Movieclips is self-explanatory.
Ed Sheeran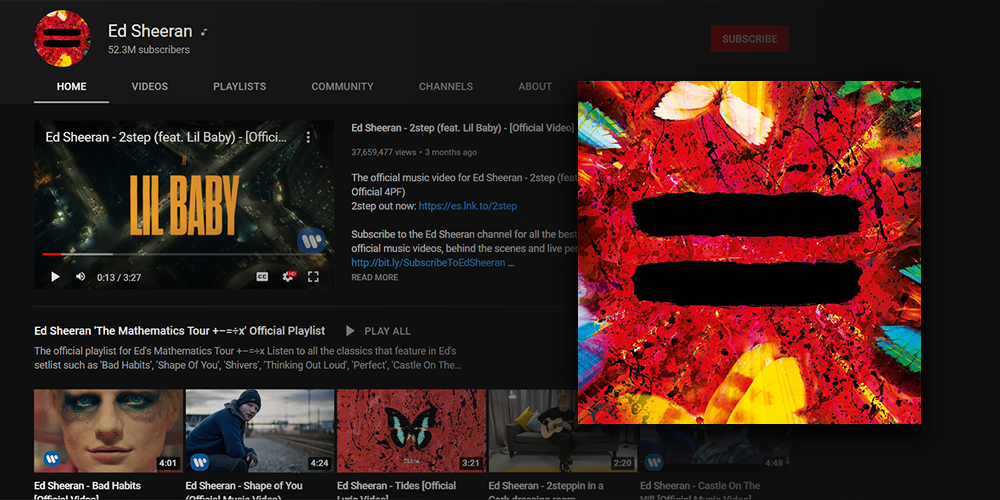 I'm in love with the shape of you~
Yep, we know you sang that line. Ed Sheeran is one of the artists on the list with diverse content types. From music videos to behind-the-scenes, YouTube shorts, and even tour diaries.
His channel connects with fans (51.8 million subs) like they're with him, preparing for songwriting and tours. Ed Sheeran makes sure he documents almost everything.
Ed's logo is his latest album =. It has a red background with black speckles and blurry butterflies that look like they're moving. The center is the equals sign which goes with his other themes like divide and X.
Ariana Grande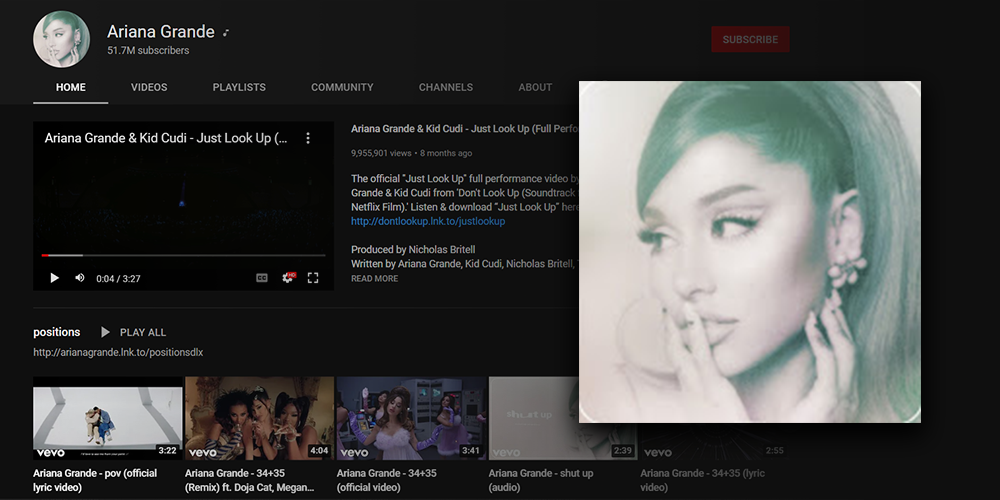 Lastly, we have Ariana Grande, another pop singer. Her sub count is 51.2 million, providing content like live performances, studio takes, some product plugs, and music videos.
Some of her latest hits are 34 + 35, Just Look Up, and Positions. One of the most popular videos on her channel is the music video with Nicki Minaj singing Side to Side, which they performed in the 2016 MTV Video Music Awards and the American Music Awards.
Ariana's logo is herself glancing to the side, her album cover for Positions. It looks vintage with the greenish hue of her hair and other features, while the background and her face are in flesh color.
Create Your YouTube Logo Today!
And there you have it! Our complete list of YouTubers with the highest subscription and their logo. We hope you learned more about your favorite artists or even how YouTube chooses which to put on the suggested home page.
To sum up, your YouTube logo needs to have:
Personality and or function that tells viewers you exist.
Choose a distinct color scheme for your brand identity.
Depending on your content, choose our logotype.
If you need more help with your design needs, like Instagram posts or Twitter banners—we know that other social media platforms promote your YouTube channel—just visit our homepage and find the perfect design for your brand.
You'll stand out with your custom YouTube logo and or banner from us today.
Read More on Famous Logos Here: