How to Create a Gaming Logo
Reading Time:
7
minutes


Globally, there are 2.7 billion gamers. Reports from Accenture estimate the number to increase by 400 million by 2023.
You could do different stunts to stand out in this saturated community and beat your competitors.
One of your options is to build a brand. This is great for all types of brands, be it an eSports team or a game developer company. Being a different company that is easy to recall is just one of the many perks that come with this.
And to build a brand, you need to have a face. A gaming logo will stand as a symbol of your company and drive brand consistency. You can use this for different gaming marketing assets like Twitch banners and Facebook event covers.
That is why today, we are teaching you how to create a gaming logo. But we're not just teaching you how to make a run-of-the-mill design. We're diving deep to help you create a design that will transform your identity. Check out the overview of topics we're going to discuss.
What makes a good gaming logo
How to create a gaming logo
What you can use to make a gaming logo
What makes a good gaming logo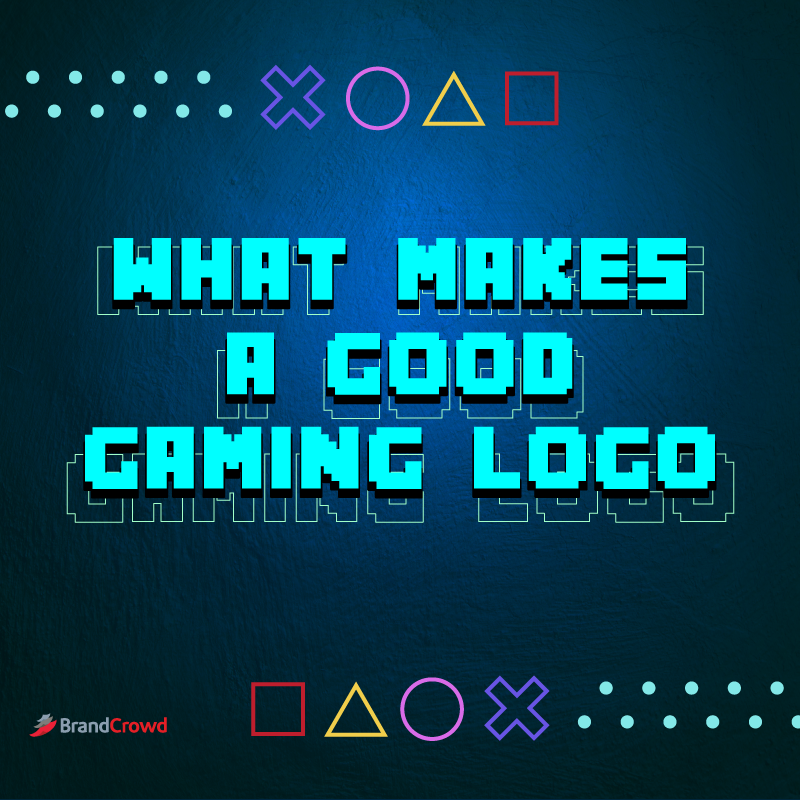 Putting a drawing and typography together doesn't automatically create an effective logo. It needs to have specific characteristics to help assure you that it can function its best as your graphic mark. This section will tackle the traits that will make your design a good one.
After all, you don't want to be a gaming company with a lackluster identity and an unengaging appearance. Remember that it only takes seconds for people to form a judgment about your business. So, you better make every moment count.
To become effective, a gaming logo needs to have the following qualities.
Simplicity
Paul Rand once said, "simplicity is not the goal. It is the by-product of a good idea and modest expectations." This trait is one of the main factors that keep a logo design striking. It tones down design saturation, and as a result, more focus is put on your brand name.
Timeless
A timeless design lets you have a design that is in fashion for a long time. This also means that you won't have to redesign your logo in the near future, allowing you to save money and prevent confusing your audience with an inconsistent look. To achieve this, you want to avoid incorporating too many trends in your design as these trends change frequently.
Easy to remember
Memorability allows your gaming company to be recognizable. Your target audience must be able to associate your design with what you do as a company. To create a unique design, you must be able to instill simplicity, as mentioned above. Originality will also help you create a more distinct look to prevent the consumers from mistaking you for another company with a similar design.
Adaptive
A versatile and scalable design that looks good regardless of dimension and application will unshackle you from creative limitations. For gaming brands, there are a ton of assets that you want to display your logo on. This includes your profile picture or your Discord channel, for starters. That's why having an adaptive design will let you do more. One way to check your logo's adaptability is by putting it on mockups and improving it accordingly.
Reinforces your identity
Your logo may embody the traits mentioned above, but it's not a great logo if it doesn't capture your personality. A gamer logo must represent your goals and personality. You can utilize design elements to create an image that embodies this. The design must also resonate with the entire team, from the clan leaders to the members.
How to create a gaming logo
Now that we've brushed up on what makes a good gaming clan logo, we can start discussing how to create one.
In this section, we're walking you through everything you need to do and consider getting a striking design.
All it takes are six easy steps, and we included an extra tip for you at the end to make sure that you have a quality design you'd be proud to display on your profile. You can follow this to create a cool gaming logo, Twitch logos, and more.
Spoiler alert: It's a lot easier than you think.
Decide what type of logo you want to make
There are various logo concepts that you can use as a foundation, including lettermark logos, combination mark logos, dynamic logos, the list goes on and on. Knowing what your options are should be the first step in your design process.
Once you are familiar with the various types of logos, you can decide which one is right for you. Whatever style you shoot for, you want to make sure that it goes hand in hand with your personality and goals.
So if you want to develop a cute personality, you can opt for a subtle logo influenced by kawaii design. Or, if you're going to be seen as authoritative, you can depict commanding characters or sophisticated typography.
Gather inspiration
Inspiration can be found in different places. You can search for it by looking at top team logos and eSports logos from the competitive scene or your favorite gaming YouTubers and streamers. But you can also do this by checking out logo design trends that you can use.
Putting designs that inspire you in one place, like a mood board, will help you stay in the right direction. You can create one by asking your clan members to add design elements that inspire and resonate with them. It's a great way to collate ideas and visualize them even more. This is also helpful when coordinating with other brands and designers to give them a clearer picture of what you want your assets to look like.
Pick an icon
If you decide you want to add a drawing to your design, you want to make sure that you pick something that catches the eyes of your audience. It could be a mascot or a symbol that alludes to your personality. It could even be an image of what you have to offer as a gaming brand.
This is another avenue for you to demonstrate your personality. You can use different art styles to give your audience an idea of who you are as a company or team. For example, you can use minimalist design, abstract design, and other styles for this.
Think of typography
Typography impacts your brand more than you'd ever expect. It's the art of presenting letters using elements like space, point size, and other features. You want to put an extra level of care and attention into this. Otherwise, you may end up with a great design but with hard to read text.
You want to focus on readability and legibility for a stunning typographic design. To work on readability, it's best to provide enough space and a clear text arrangement. On the other hand, make sure that each letter in the typeface you choose has distinct glyphs to ensure legibility.
Color it!
Color is one of the elements that will bring your design together. You can use color psychology to make the audience associate your visual identity with human traits. However, you can also guide your palette selection using the color theory to find a strategic way to create color harmonies.
Designers also recommend setting a limit to the amount of color you plan on using. It is best to stick to only two to three colors. This helps maximize creativity without ending up with a design that looks oversaturated. Plus, it aids in retaining visual coherence.
Work on the layout
Arranging every element in your design takes work. The layout is essential for keeping each aspect of your design in order. The design features must be given enough room to breathe and space according to their importance. You also want to use negative space to give more emphasis to the focal point of your design.
This is also the time for you to decide if you want to put a frame to your logo. Adding this element will allow you to give a solid silhouette to the design and make it less likely to be overshadowed by other components in projects like event posters, web design, and more.
Bonus tip: Ask for feedback
Before you settle with a design, it helps to gather insight into what people think about it. This can be done by asking a trusted social circle like family, friends, or business partners. It can also be done anonymously on online forums for logo design. You can ask questions surrounding first impressions, strengths, weaknesses, and other related inquiries. The answers you will get can help you spot room for improvement and revise them before making your debut as a business.
What you can use to make a gaming logo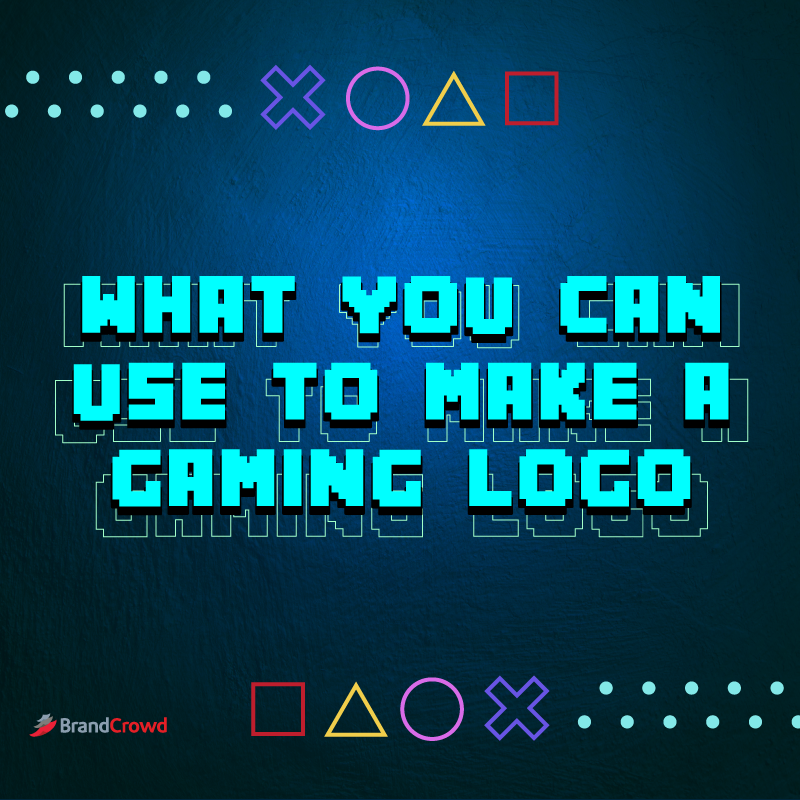 Are you itching to start creating your own logo? This section will show you some of the options you can use to get a game-changing brand mark. The options range from DIY to custom-made designs.
Take a look at them here!
A design software – Make a logo from scratch using a raster graphics editor like Adobe Photoshop or a vector graphics editor like Adobe Illustrator. You can take complete control of the design while using the advanced features of the software of your choice.
Design contests – A logo design contest lets you post your design brief and have a community of freelance graphic designers submit their bids for you to choose from. DesignCrowd is a website that you can use to receive up to 50 custom logos for your project.
Logo maker – Online tools like the BrandCrowd logo maker helps you create a design fast. It may be DIY, but it's a safe way to make a brand mark even if you don't have graphic design experience. It offers a vast library of professionally-made designs that you can choose from, and it comes with an editing tool to personalize it. In minutes, you can create the perfect logo.
Conclusion
This guide has shown you how you can get one and which logo makers are safe to use. The process of creating a logo for your gaming team may discourage some people. But it is worth your time and attention.
Video game and streaming companies need to take time and really evaluate a logo design before they use it. The process is crucial, and the result plays a strong hand in your reputation. If there's one thing you learned in this article, it's that with the right approach and tools, you can have a professional gaming logo like your favorite eSports team and gaming companies.
Read more articles on design and inspiration below: